British sports car manufacturer Caterham has revealed its retro-inspired Super Seven 600 and Super Seven 2000 models
Sussex-based sports car manufacturer Caterham has unveiled a pair of new models that draw inspiration from the Super Seven cars of the 1970s and 80s. The Super Seven 600 and 2000 each combine vintage styling cues and colour options, but add more modern mechanicals and drivetrains.
Caterham's revival of its Super Seven nameplate comes as the company prepares to celebrate its 50th anniversary in 2023. Noteable retro styling touches across both models include flared front wings, retro alloy wheels, a leather Moto-Lita steering wheel, a polished exhaust, and four exclusive colours: Bourbon, Ashdown Green, Windsor Blue and Fawn. A range of accent colour options are offered alongside an array of interior leather trim choices.
The Caterham Super Seven 600 is powered by a 660cc turbocharged three-cylinder Suzuki engine, the same as found in the Caterham Seven 170 and various Japanese-market kei cars including the Suzuki Wagon R.  Total output is 84bhp, enough for a 0-60mph time of 6.9 seconds and a 105mph top speed.
The Super Seven 2000 follows a more traditional route for Caterham, utilising a 2.0-litre Ford Duratec four-cylinder with 180bhp; 0-60mph takes just 4.8 seconds and top speed is 130mph. Caterham points out that this model is closely related to its Seven 360 model and so uses the firm's 'de-Dion' chassis; buyers can choose a standard or large chassis for this faster model but the Super Seven 600 is only available in the former format.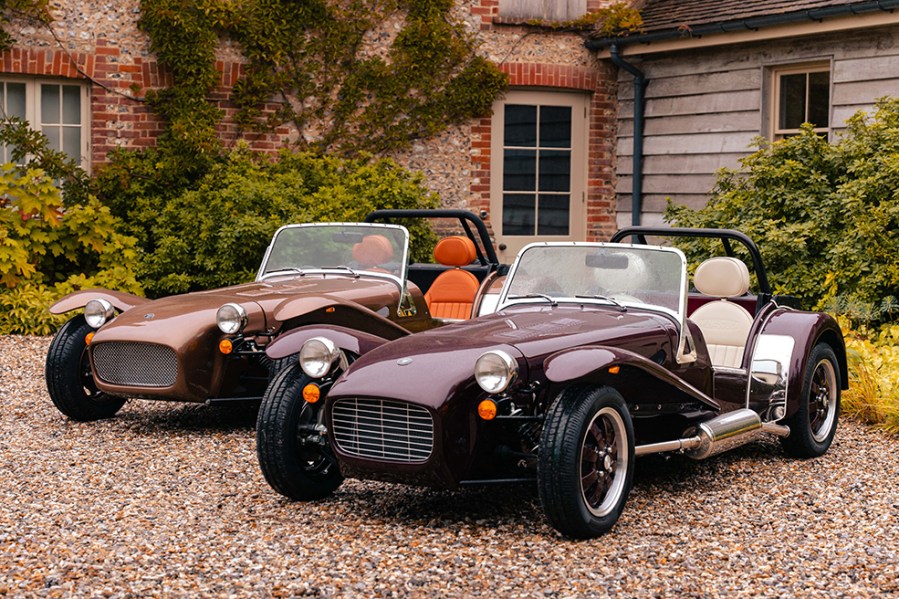 Both models can be fitted with a limited-slip differential as an option, while the more powerful car can be specced with a sport suspension package and upgraded front brakes. As with all Caterham models, each model can be purchased in kit form or fully factory-assembled. Prices (in kit form) start at £29,990 for the Caterham Super Seven 600 and £39,990 for the Super Seven 2000.
"With Caterham Cars celebrating its 50th anniversary next year, now feels right to be adding cars to our range that take inspiration from our past," said Bob Laishley, CEO of Caterham Cars. "We've taken what was great about Sevens of yesteryear, the design, look and feel, and reimagined them for today."