A gadget-laden 1965 Aston Martin DB5 used on the North American promotional tour for the James Bond film Thunderball has become the most expensive DB5 to be sold at auction.
Put under the hammer by RM Sotheby's in Monterey on August 15, the car surpassed its $4,000,000-$6,000,000 estimate to sell for $6,385,000 (around £5.27m) – well in advance of the previous £2.9m paid for a Bond DB5 in 2010.
The car was the star lot in a one-make auction evening titled 'An evening with Aston Martin', which took place as part of RM Sotheby's annual Monterey sale. It saw the most significant Aston Martin models and memorabilia offered, with a 1965 DB5 Shooting Brake also performing above expectation to sell for $1,765,000 (£1.46m).
The DB5's association with Bond films started in 1963, when Aston Martin loaned two cars out for the filming of Goldfinger. The movie really propelled the DB5 into superstardom, with a Corgi model of the car becoming the best-selling toy of 1964. Goldfinger's success both as a film but also as a marketing tool meant two more cars were ordered for Thunderball's release. Not only is the Monterey car one of them, it's also one of just three remaining cars in total, as the first Bond DB5 has been lost since 1997.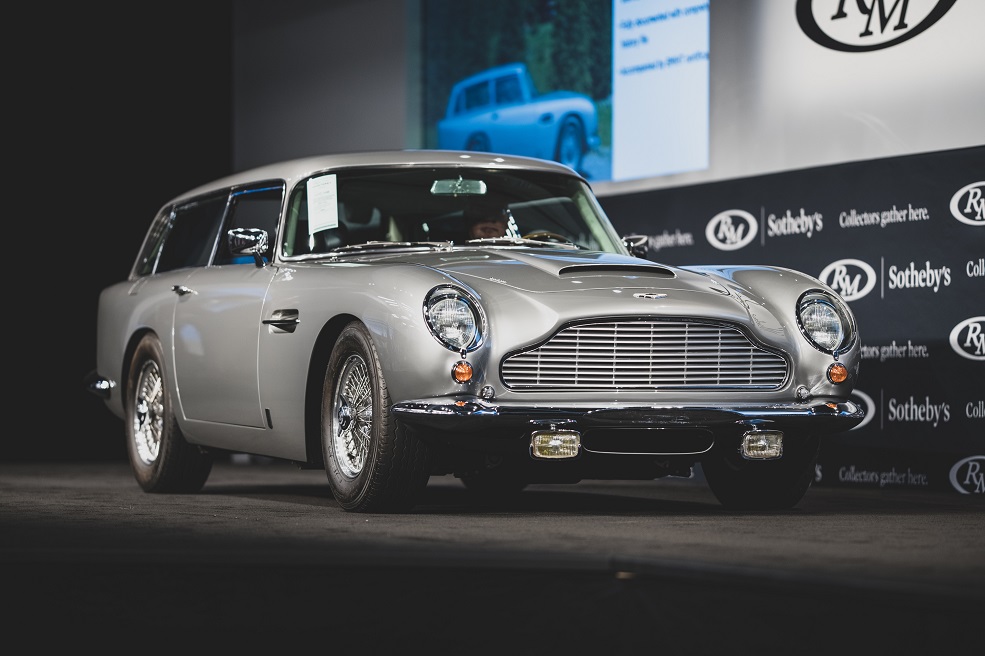 Wearing chassis number DB5/2008/R, the Aston was fitted with the full complement of 007 gadgets – 13 of them, including wheel-hub mounted tyre-slasher, those famous revolving number plates, and a passenger-seat ejection system. The history is impeccable too – it's had just three owners and was in the hands of a museum curator for 35 years.
Barney Ruprecht of RM Sotheby's said: "It was an honour to offer the iconic James Bond 007 Aston Martin DB5 alongside our partners at Aston Martin and Aston Martin Works. We are beyond thrilled with tonight's fantastic result and proud to have set a new record for the most valuable DB5 sold at auction."