Like them or not, electric vehicles aren't going away any time soon. Figures from the Society of Motor Manufacturers and Traders (SMMT) revealed registrations of zero-emission electric cars more than doubled in February compared to the previous month, while experts at Auto Trader believe the cost of buying an electric car will match conventional petrol or diesel models by 2025 – a 'tipping point' that will see electric vehicle sales equal and then overtake their internal combustion-engined counterparts.
The British public's perception is changing significantly, too. Almost three quarters of car owners (71 per cent) surveyed by Auto Trader said they'd consider buying an electric vehicle as their next car, which is a huge leap from the 25 per cent who answered positively when asked the same question in 2017.
"Plug-ins account for a tiny share of the UK's registered stock, but the market is growing exponentially," said motoring journalist and EV advocate Alex Grant when speaking to CCB. "The total more than doubled, to over 150,000 vehicles, between 2016 and 2018. This is hardly surprising; new models are usually quick and fun to drive, offer usefully long ranges and charge quickly, while costs are falling and consumers are ever more aware of the harm caused by exhaust emissions. Ironically, the biggest hurdle facing today's EV market is long waiting lists."
One of the biggest worries has always been the infrastructure needed to power an electric vehicle, but strides are also being made in this respect. Last week, a £9m electric car rapid charging scheme was officially opened in Milton Keynes by local councillors. Meanwhile, Jaguar Land Rover announced the creation of what it claims is the biggest electric car charging site in Britain by installing no fewer than 166 smart charging outlets at its Gaydon engineering facility, in readiness for every new Jaguar and Land Rover model line to be electrified from 2020.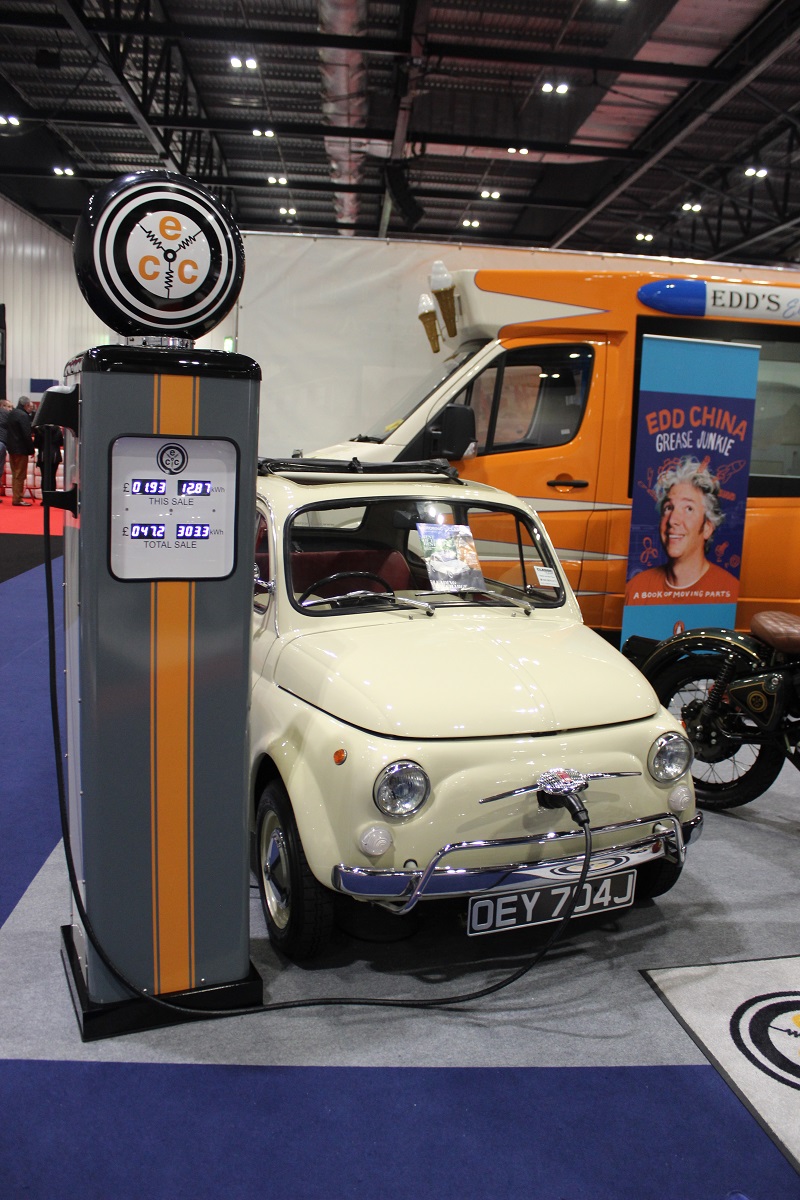 Classic EVs
But has the softening towards EVs in the wider car world been reflected among historic vehicle enthusiasts? There's no doubt such vehicles are growing in number. Recent major classic car events such as Rétromobile, The London Classic Car Show and Retro Classics have seen a larger turn-out of electric classics than ever. The major manufacturers have been in on the act too, with Jaguar Land Rover Classic setting the ball rolling with its E-Type Zero due to go into production next year, and Aston Martin Works announcing a fully-reversible electric powertrain conversion for its iconic older models. Independent specialists are thriving too, with firms like Electric Classic Cars and London Electric Cars performing multiple conversions on a wide range of cars from Fiat 500s to Ferraris, plus the launch of Swindon Powertrain's Swind E electric Mini and RBW Classic Electric Cars' MGB Roadster.
For some, the conversion debate is a straight non-issue – a sacrilegious move akin to putting a digital face on Big Ben. We have sympathy with such a view, but in a world where petrol and diesel cars are being increasingly vilified by taxes and stringent urban clean air zones, there's an increasing number of advocates who believe that such conversions are necessary to future-proof the industry and keep classic cars on our roads.
At the recent 2019 London Classic Car Show, a 'Big Electric Classic Debate' was held with a panel of guests including Edd China, Electric Classic Cars founder Richard Morgan, TV's Jonny Smith, racing driver Tiff Needell and ERS Insurance bespoke underwriter Tom Donachie. The results of YouGov poll conducted for ERS were announced, revealing that only 19 per cent of those surveyed believed it was appropriate to convert classic cars to electric power, with 43 per cent against the idea.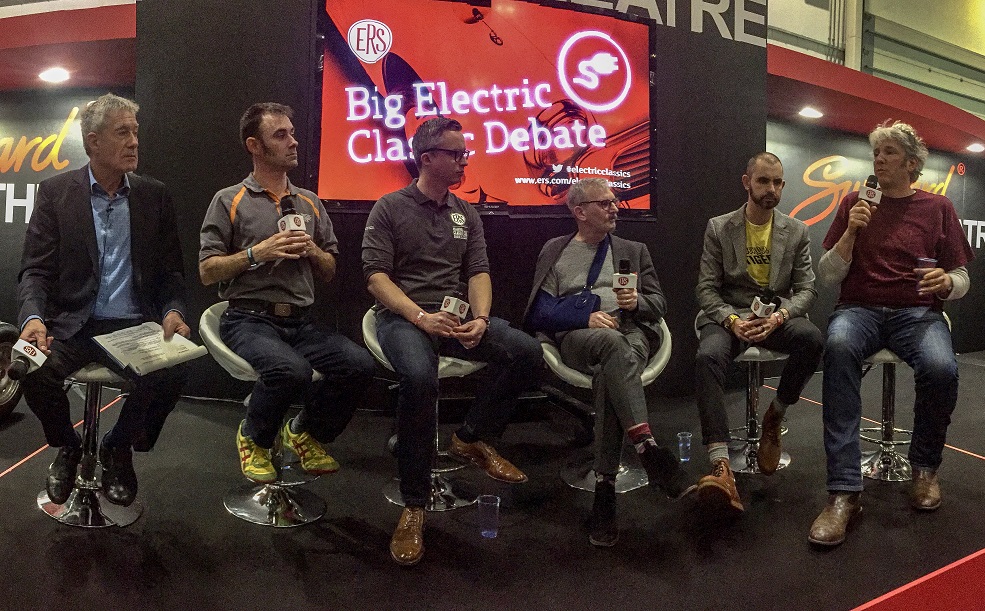 However, this was seen as a positive by Smith, who felt that almost 20 per cent so early on in the game was a positive. The panel unanimously agreed that an electric classic was still a classic, with only Needell acting as devil's advocate. However, though aghast that Morgan had converted a Ferrari 308, even Tiff began to warm to the idea after Smith suggested only cars with unremarkable engines should have a powertrain swap.
"I would buy a Citroën DS and convert it to EV tomorrow, because it would float along like a flying saucer and it would suit that car," said Smith. "Would I do it to a Lamborghini Countach? I probably wouldn't."
The panel also spoke of how the low-maintenance nature of electric powertrains could open the classic scene up to a wider and younger audience. Donachie cited an ERS study that showed maintenance worries put many young motorists off owning an older vehicle, so it figures that the reliable, turn-on, turn-off nature of an EV would hold appeal.
One positive side effect is that versatility of a converted classic means they will be used more often, as Morgan testifies. "I've been electrifying classics for about four years, and one thing I didn't expect was that found a lot of customers were starting to use classic cars as daily drivers, which they would never have been beforehand."
One of the major criticisms of electrified classics is cost, but in line with new EVs, prices are reducing as technology filters through. "The knock-on effect is a growing supply of increasingly affordable donor cars to scavenge these new-generation electric vehicle parts from," added Alex Grant. "Electric conversions won't appeal to purists, and some classics are so defined by their original engines that they ought to be left standard, but it's usually a complementary swap. Going electric should be no more controversial than fitting a newer engine."
Will we ever reach that stage? At the moment, it seems a long way off. But what recent debates have highlighted is that you don't necessarily need to have a binary view on this issue. Could we look forward to a scene where they co-exist in harmony, perhaps with an EV for the weekdays, and a V8 for weekends? We'd love to hear your thoughts on this one…