We'd made it to Paris in our Renault 21, and now it was time for a detour en route back to the UK… Classics Car Buyer's News and Markets Editor Jeff Ruggles discusses the return leg.
Having arrived in Paris in our 32-year-old Renault 21 Symphony, there was one rather fundamental issue facing us. Basically, anywhere inside the Boulevard Périphérique ring road – and that's all the important touristy bits – is subject to a low emission zone. Cars over 30 years old are allowed in providing they can prove their old-timer status, but neither staff writer Matt Bell nor I could speak French beyond ordering a beer and didn't fancy arguing with the authorities. Oh, and we'd conspired to leave the V5 in the office. Best to stick to driving out of hours, then…
In any case, our hotel was located right on the Périphérique, and was within an easy Metro ride of the Paris Expo where Rétromobile was being held. Rather than risk the parking costs at the event venue we simply left our Renault in the very secure car park under our hotel, but even this set us back to the tune of 71 Euros over the three days. Ouch.
We both really enjoyed the show, and it was certainly worth the trip for that alone. However, we couldn't come all the way to the French capital without a bit of sight-seeing, especially as Matt hadn't been to Paris before. So, having photographed automotive exotica in the Artcurial auction, we managed to squeeze in trips to the Eiffel Tower summit, the Louvre, Place de la Concorde, Montmartre and the area around the Moulin Rouge, which Matt particularly enjoyed. And being only 24 years old, he could go up the tower for half price, while I had to pay full whack!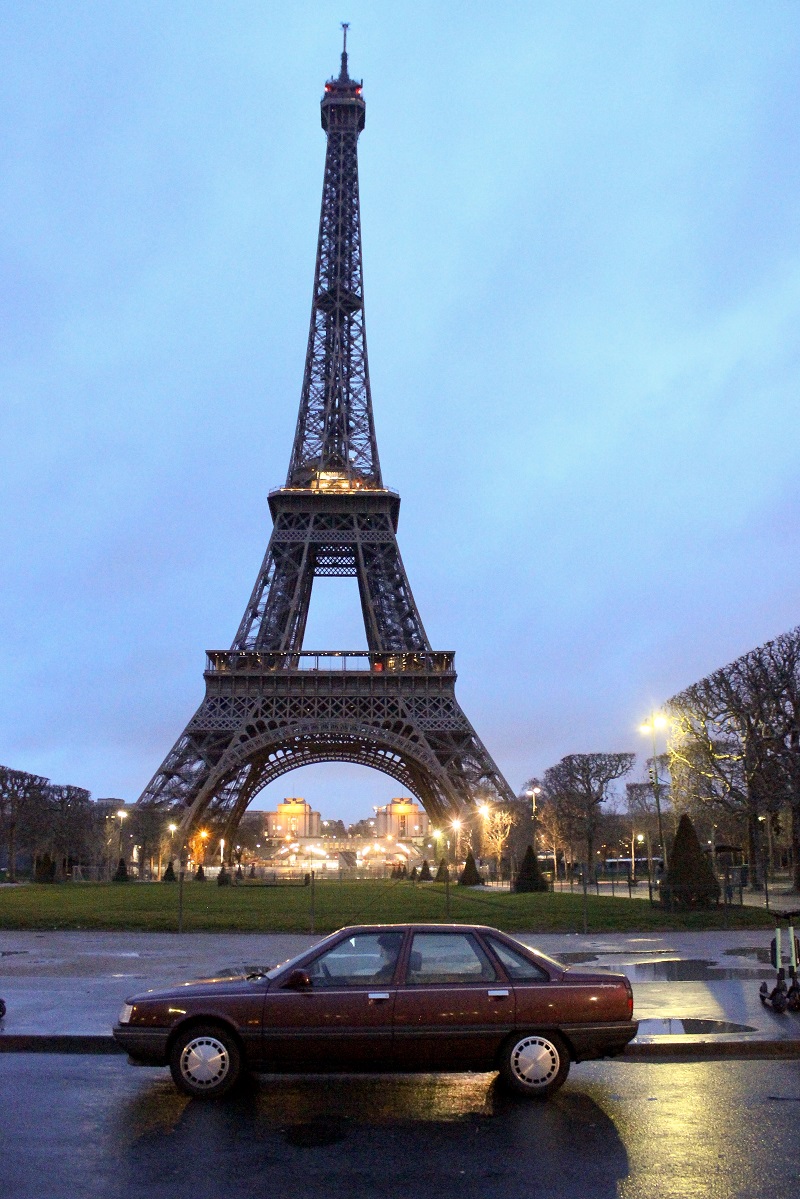 The following morning saw us rise at the crack of dawn, determined to squeeze in a drive through the centre of the city before the Friday traffic got too bad or the emission restrictions were in place. The car had run well so far and hadn't suffered from overheating, but we didn't want to push our luck.
Coolant topped up and oil checked, we immediately made a beeline for the Eiffel Tower for that all-important photo with the Renault. Although the lights on the tower are switched off in the early hours of the morning and it was now both eerily quiet and pitch black, it still made for an impressive sight. From here we headed straight out of the city, but that meant battling morning rush-hour traffic around the infamous Arc de Triomphe roundabout – the terminus of twelve radiating avenues including the Champs-Élysées. This is pure chaos theory at work, with no defined lanes and everyone giving way to the traffic flowing onto the roundabout rather than cars already circulating. I have to admit it's always been an ambition to drive around this manic roundabout and actually survive, but Matt was at the wheel as we approached, and that's the way it stayed as he made it round unscathed. Expert work.
With composure regained, it was back to the Périphérique – which itself is the busiest urban highway in Europe – and back up the toll motorways to Calais. At least, that was the plan. It won't have escaped the notice of anyone driving through northern France that the motorways are boring, and expensive to use. Keen to avoid the monotony, we opted for a detour to, ahem… another country. That's not quite as silly as it sounds – we were both keen to visit Bruges in Belgium before heading back to the UK, and it wouldn't add more than two hours to the overall trip, especially as there was a huge pile-up reported on the road towards Calais.
Leaving the motorway, we negotiated our way north-east using the leafier D-routes instead. This was broken up by a mid morning stop in Saint-Quentin, a picturesque cathedral town south of Lille. Here we manged to get the boucherie (butcher) and boulangerie (bakery) confused in our quest for croissants, but it was otherwise a pleasant stop.
Aiming to make Bruges by midday, we refuelled negotiated the bust round around Lille and crossed the Belgian border. Upon our arrival we drove straight into the beautiful central area, parked up and began exploring. That basically meant heading straight for the infamous 2be 'beer wall' bar, where Matt was able to experience a nice Belgian ale as his driving duties were over for the day. No such luck for myself sadly, but I did spend my remaining Euros on some to try at home. Our stop in Bruges was only brief, but well worth the detour – it's an amazing city, and super-friendly too. Even the police smiled and waved us through a random spot check they'd set up on the outskirts.
That just left the blast down the coastline and back into France, bound for Calais. The choppy seas and wind had delayed boats all day, but we were lucky and ours was on time. While boarding a chap in an old Mercedes apologised for parking approximately one millimetre from the Renault's rear bumper, before congratulating us, to paraphrase, for 'keeping that old thing going'. His version contained a few more profanities…
The crossing was horrendous. The choppy seas meant we could barely stand, and I quickly turned rather green. Fortunately though, we both managed to hold it together, and before long we were back on home soil. The Renault had proved tricky to start at times and this was no exception, but it always fired into life with a little bit of choke. The fact it ran cooler on higher octane fuel suggests the fuelling might be a little weak, so we'll be sorting that as soon as possible.
Despite being a Friday evening, the journey back to the Kelsey offices in Peterborough was a breeze. We didn't encounter any serious hold-ups at all – even through the Dartford Tunnel. We'd managed to go the whole distance on just two-and-half tanks of fuel, and with no hiccups apart from an immobiliser-related failure to proceed on the first day. Driving my 2018 MINI such a distance would've inevitably related in backache and a headache, but not in the Renault. The comfy seats and soft suspension make it an excellent mile-muncher, even if it does mean a little door handle scraping when cornering.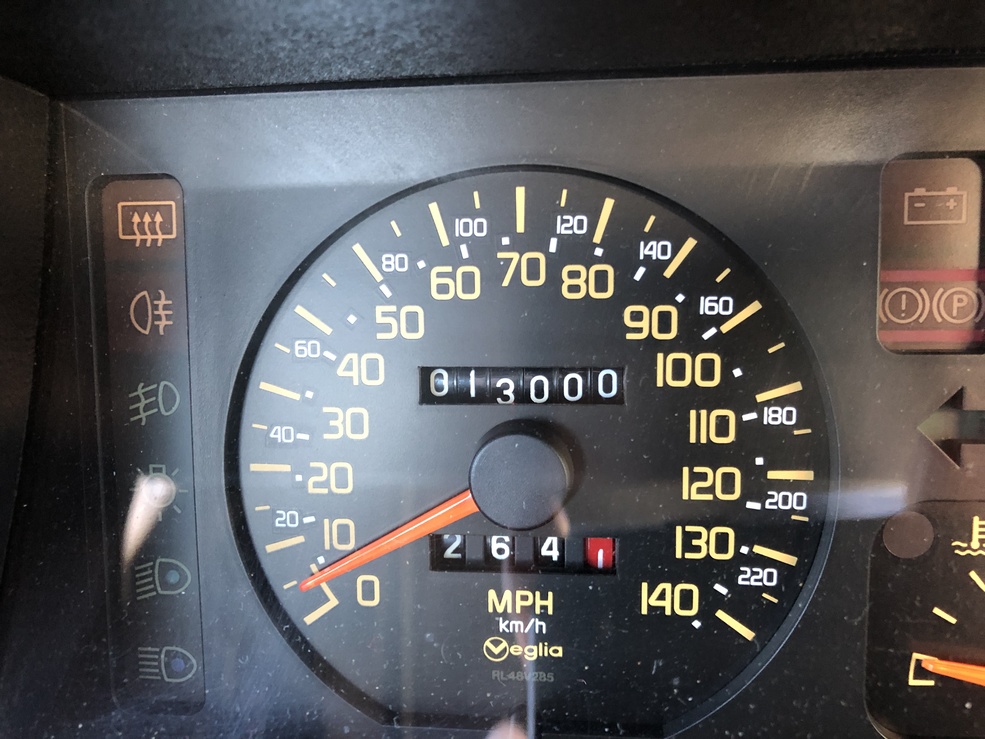 In a Hollywood finish, our trusty Renault rolled over to 13,000 miles exactly as we entered the office car park. That's incredibly low for a 32-year-old car, meaning there's plenty of scope for many more adventures to come…