These were the cars which forced the world to take the Japanese car industry seriously. Icons in their own right, they spearheaded a push into foreign markets which shocked domestic manufacturers from Abingdon to Zetland. Expensive, rare and sophisticated, recognition came late for these cars; as a result, prices are rising steadily. Buy now – if you can afford to do so
TOYOTA 2000GT (1967-1971)
A distillation of the best Europe had to offer, the 2000GT hinted at the febrile potential within Toyota. With the help of Yamaha, engineers took the Crown's straight-six, added a twin cam head – and found 150bhp from just two litres of displacement. If its engine was a miniaturised Jaguar XK in philosophy, its backbone was a scaled up Lotus Elan chassis. Using the concept sketches of BMW 507 stylist Albrecht von Goertz as inspiration, designer Satoru Nozaki produced the final shape – a low slung coupe with pop up headlights and a hatchback tail.
Small and cramped, a special roadster model appeared in the James Bond film You Only Live Twice: desperate for its products to be seen on screen, Toyota took the roof off the 2000GT to allow Sean Connery to fit inside. Intensive hand built production of 351 2000GTs, including 62 left-hand-drive cars prized in the US, took four years; in that time, a legend was born.
Worldwide collectors have come to acknowledge the 2000GT as the first seven-figure Japanese classic car. In 2013, a left hand drive 2000GT, original apart from some cosmetic fettling, fetched $1.15 million at auction; at a more recent RM Sotheby's sale this year in Arizona, a similar 1967 car found $665,000 (£476,000) around the block. The market may have chilled slightly towards the 2000GT, but you're still looking in the region of £500,000 to park one in your garage.
MAZDA COSMO 'L10' (1967-1972)
With the Cosmo, Mazda proved that the Rotary engine had a future. Intensive testing, instigated by Kenichi Yamamoto, made Felix Wankel's design honest: installed under the bonnet of the Cosmo, it begat a legacy which may well have a future as a range extender.
Series I cars, built between 1967 and 1968, ran for 343 units; peakier, more delicate and rarer than the Series IIs (833 built) which followed, any L10 Cosmo is a fair bet financially, despite the high costs involved with restoration.
Finding a seller willing to disclose the price of an L10 Cosmo publically is difficult. Nevertheless, we found three Series Is for sale with visible price tags: a 1967 car in Portugal, via Car and Classic, for £79,500, another first year L10 listed Stateside on Hemmings for the equivalent of £93,000, and a 'custom painted' early 1968 car at Fast Classics, stickered at £100,000. Bank on around £100k to buy you a good L10 Cosmo from Japan and you won't be disappointed.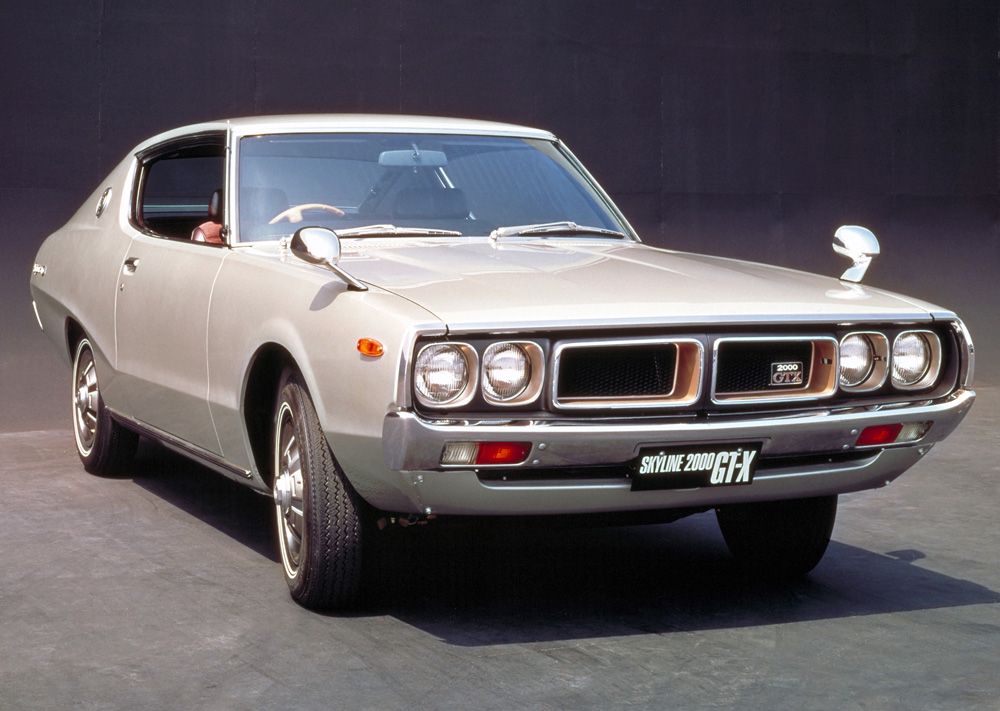 NISSAN SKYLINE C110 'KENMERI' (1972-1977)
The fourth generation Nissan Skyline eschewed the angular styling of its 'Hakosuka' (box Skyline) predecessor for coke-bottle histrionics: away from the saloon and station wagon variants offered, the C110 range also sired the rarest GT-R variant of them all. With just 197 cars built, the aforementioned KPGC110 fastback boasted the same 160bhp 2.0-litre straight six as its predecessor; alas, its year long career was cut short by the Fuel Crisis only for the nameplate to reappear two generations later on the 1989 BNR32.
Nicknamed the 'Kenmeri' Skyline because of a popular domestic advertising campaign (featuring a married couple, Ken and Mary, touring the countryside in a Skyline saloon) prices for the C110 start at around £26k for a GC110 saloon, as advertised on Japanese car broker website JDM Expo. Faux GT-R modifications, to the KGC110 coupes and GT-X models are incredibly popular – in fact, finding a completely original C110 Skyline, even in Japan, is incredibly difficult.
When examples of the KPGC110 GT-R appear, asking prices are ambitious: an original but average car sold for $176,000 (£126,046) at the Monterey Historic Car Week in 2015. JDM Expo recently parted with a near concours GT-R, charging the new owner $260,000 (£186,127) for the privilege. Exclusivity doesn't come cheap.