Biggest NEC Restoration Show yet attracts a bumper spring crowd.
There's something special about a classic in its as-found or part-finished state that really resonates with enthusiasts, and once again, the Practical Classics Classic Car and Restoration Show celebrated such vehicles brilliantly. Taking place at Birmingham's NEC on March 22-24, this event features not only the pristine completed classics you'd expect of a major national event, but also the bits you wouldn't normally see.
People certainly responded, too. This year's event had more halls, more clubs and more visitors than ever before, with 20 per cent more floorspace, another 25 clubs compares with the previous year (making a total of 174), 1300 cars and almost 29,000 attendees. Clubs really made an effort too, with members getting their hands dirty on some brilliant live displays, as well as unearthing significant rare finds.
As well as the cars, a host of TV motoring celebrities were also in attendance. These included Fuzz Townshend and Tim Shaw of Car SOS, Salvage Hunters: Classic Cars duo Drew Pritchard and Paul Cowland, Wheeler Dealers' Mike Brewer and Vicki Butler-Henderson and Alex Riley of new show The Car Years, with all speaking on the live stage.
Mike was also on hand to reveal the results of the Lancaster Insurance Pride of Ownership competition. Visitors had voted on all three days for their favourite out of the 20 classics on display and it was John Smith's 1964 Volkswagen Type 2 Microbus that took the winning spot by just 16 votes. Second place went to Ian Thompson's 1971 Ford Escort Mexico, while Tom Morley's 1989 Metro came third.
Over on the Carole Nash Barn Find display, Steve Cato's 1973 BMW E9 CSL won the audience's hearts and votes to be crowned Barn Find of the Show. There was stiff competition in the display of 20 rusting relics which included a Bedford CA Tipper, a Jowett 10 Saloon, a Renault 8, an MGA and an all-steel Mk2 Mini Countryman.  Meanwhile, the Sporting Bears Motor Club saw their fundraising efforts through the popular 'Dream Rides' create £15,700 for children's charities across the UK.
Next year's Practical Classics Classic Car and Restoration Show, with Discovery, will take place on March 27-29 2020. For more information and updates, visit www.necrestorationshow.com.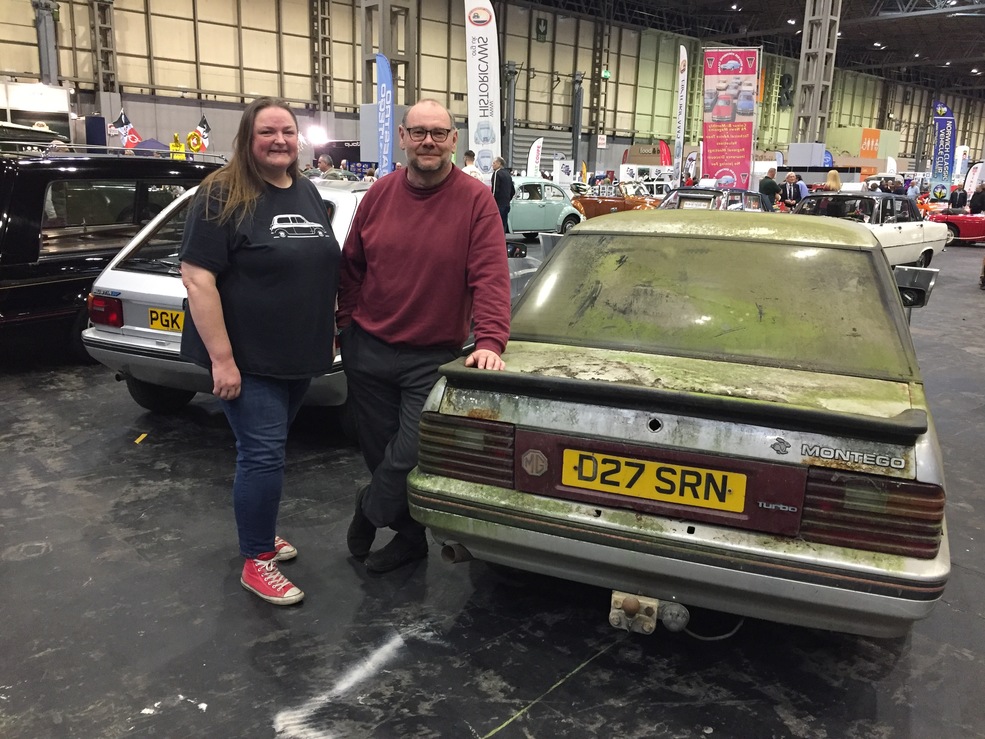 Epitomising the fascinating 'as-found' cars at the event was Mark Horsley's MG Montego Turbo, as displayed on the Maestro and Montego Owners' Club stand. It was last on the road in 2007, and even had a bird's nest where the headlight should've been. Mark, pictured here with fellow club member Tanya Field, plans to fully restore the car, and having already rescued a fire damaged Maestro Turbo, he's certainly got form.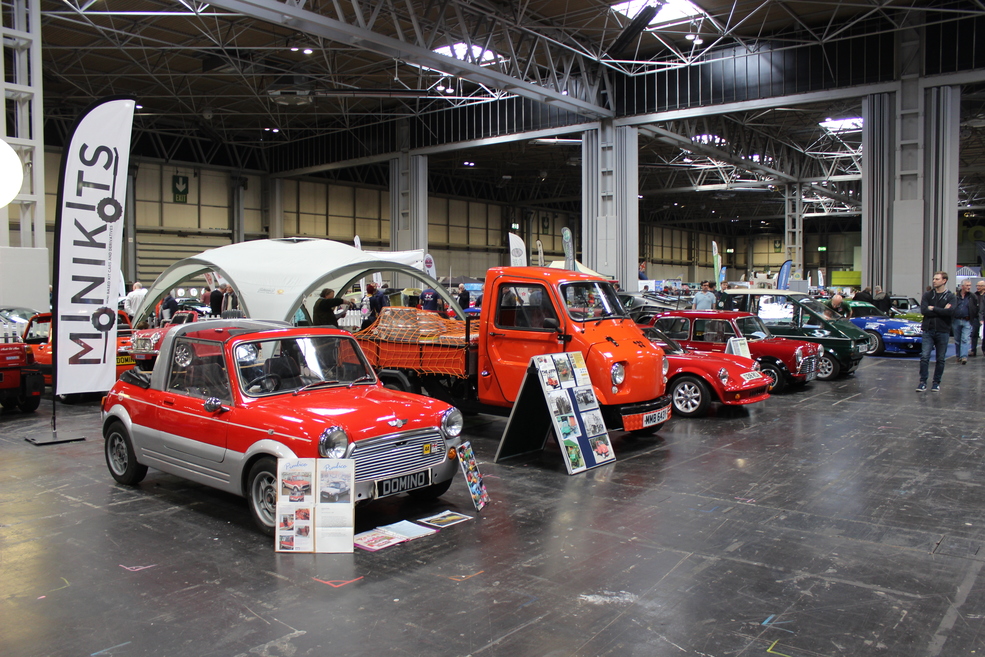 Minis are always well represented at this event, but not always in this form. The 'Minikits' group made its event debut with a fantastic stand featuring a variety of Mini-based derivatives and kits, including a Marcos, a GTM Cox Mk1, a GTM Cox Coupe, a Mke GTM Rossa, a Jiff Pick-up, a Mini Minus, a Domino, a Stimson Safari and an Elswick Envoy!
The MG Car Car Club's Young Members' Branch made its event debut at the NEC as one of five MGCC displays, with a superb ZS, a Midget and an MGA project. Adjacent was the club's ZR/ZS/ZT Register, which had a bold yellow ZR bought for just £180 and put back on the road, making it the ideal campaign car for the club's new 'Save the Zeds' campaign.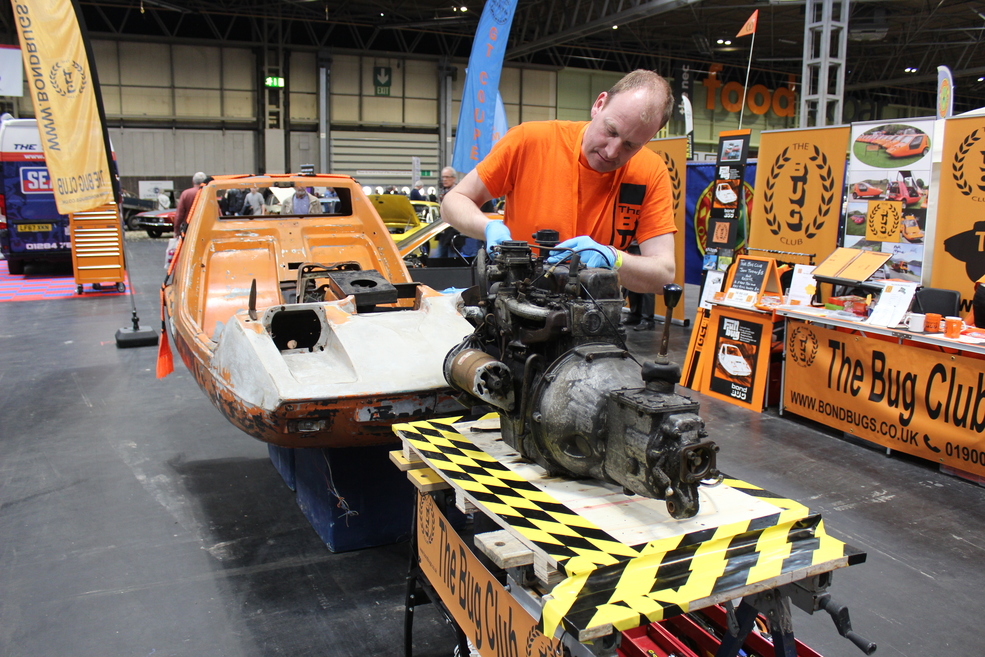 Live action proved to be a big part of the show. Here, Si Price gets started on stripping down the engine for his Bond Bug project.
The Carole Nash barn find display proved to be a popular attraction, with a diverse range of vehicles including a Bedford CA Tipper, a 1967 Bond Equipe, a Ford Mustang, an NSU Ro 80, a Fiat X/19 1300 and the 'Barn Find of the Show' – Steve Cato's 1973 BMW E9 CSL.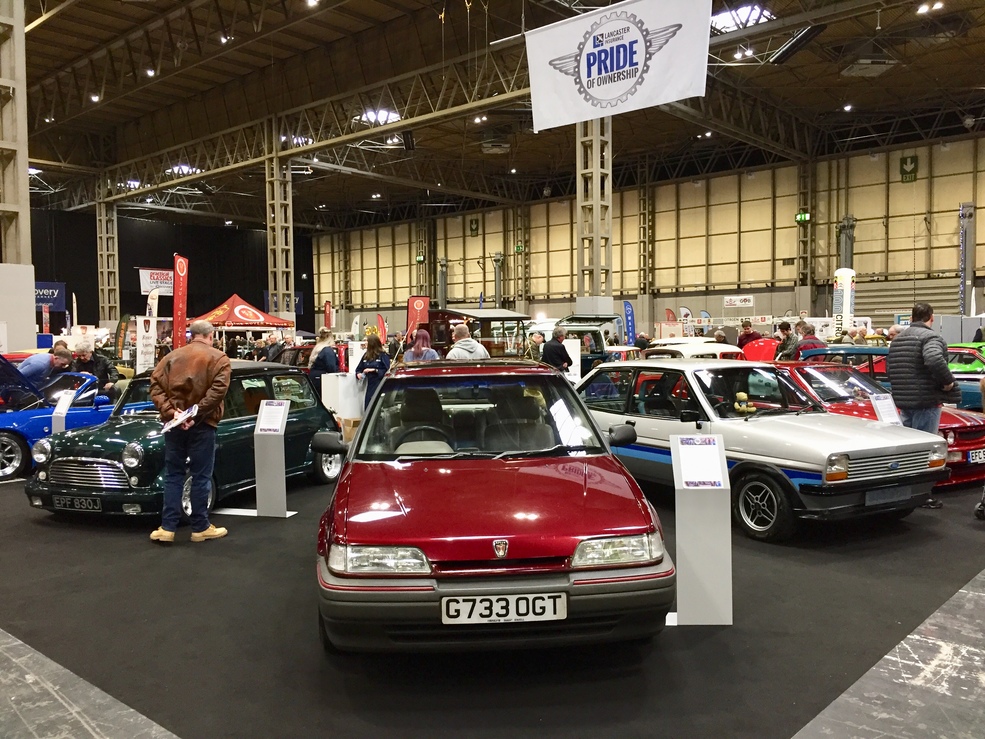 A selection of 20 cars battled for honours in the Lancaster Insurance Pride of Ownership display, located at the centre of Hall 5. The selection included Richard Grant's Rover 216 GTi, an example of the R8 Rover that celebrates its 30th birthday this year. John Smith's 1964 Volkswagen Type 2 Microbus was the winning entrant.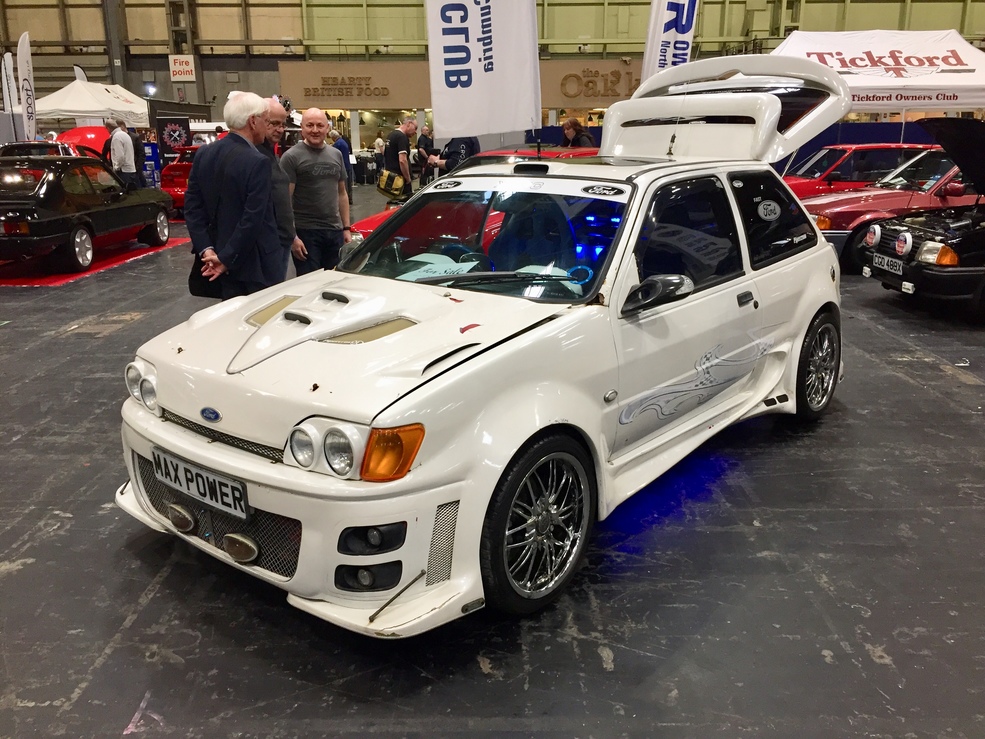 Another car to reach its 30th anniversary is the Mk3 Fiesta, though they didn't start life looking like this Max Power-era customised example. With Eric Coolen's wild body-kitted Scirocco also appearing in the Pride of Ownership, could such styling be primed for a comeback?