Halloween Drive-In Movie Night – Brooklands Museum – 31st October
The historic Race Track at the Birthplace of British Motorsport is the setting for a spooktacular event on Halloween as Brooklands Museum in Weybridge, Surrey welcomes horror film fans for a drive-in movie night.
There will be two films showing on a screen at the bottom end of the Finishing Straight with cars assembled in rows stretching up to the famous Banking. The evening is divided into two: at 4.15pm kids will be able to come in with parents and try a specially themed spooky workshop before heading back to their cars for the showing of Hotel Transylvania (Cert U) which begins at 5.30pm.
Next, from around 7pm, there will be a change round where youngsters leave and the adult ticket holders park up. They then have the chance to embark on a short Museum night tour before The Rocky Horror Picture Show (Cert 15) is shown at 8.30pm.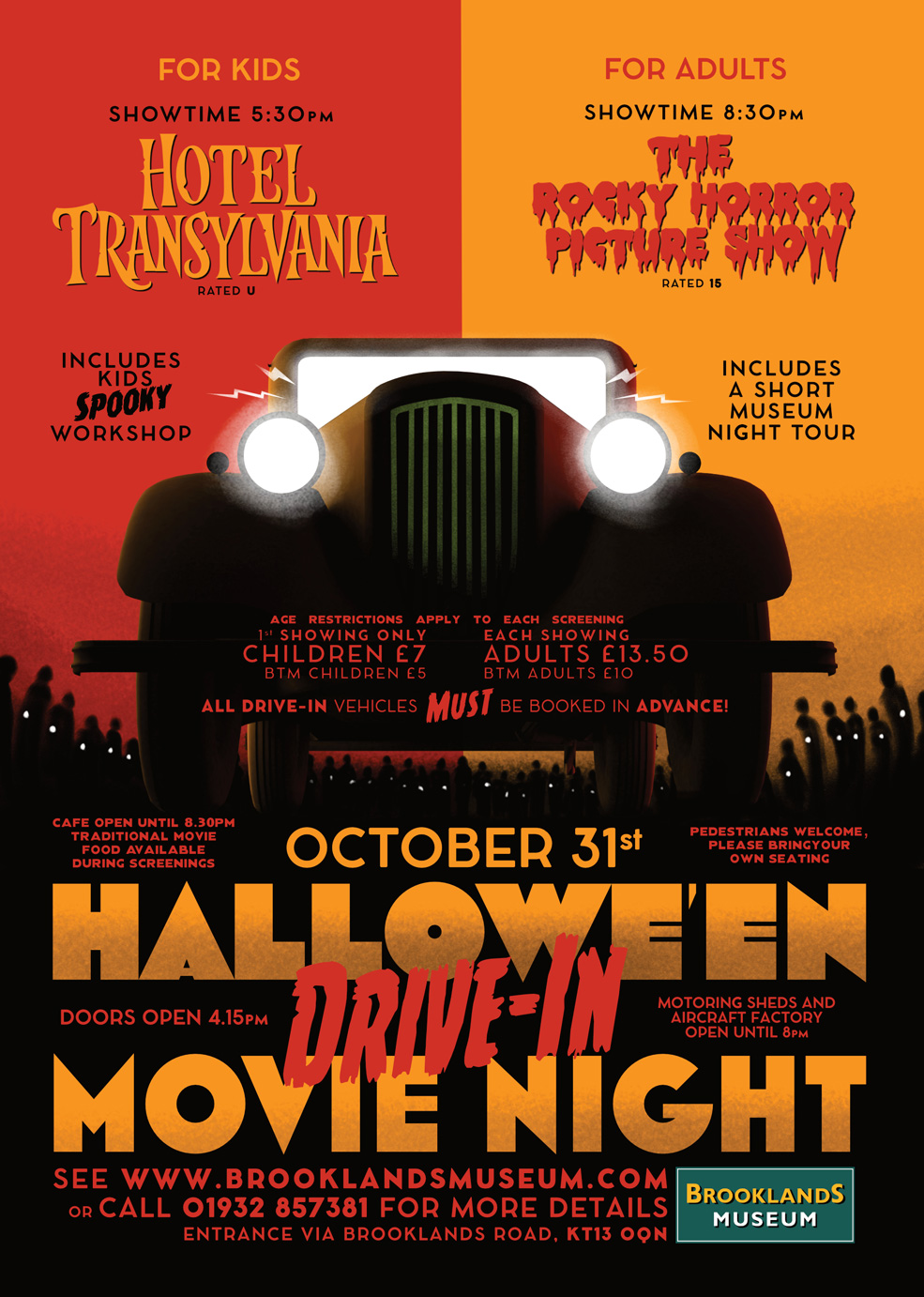 Throughout the evening, traditional cinema fayre of popcorn, hotdogs and drinks will be available outside while the café in the Clubhouse will be open until 8.30pm.
The Motoring Sheds and Aircraft Factory exhibition areas will be open until 8pm so visitors will also have the chance to see the displays before each film if they wish.
Tickets are sold for each film separately and the age restrictions for each will apply. Cars MUST be booked in advance as this is expected to be a very popular event. No cars will be allowed entry on the night if they have not booked.
Pedestrians are also welcome to turn up. However, anyone arriving on foot must provide their own seating as none will be supplied.
For more info see Brooklands Museum