Classic Ford Show
2024 Classic Ford Show date announced soon – watch this space!
The 2023 Classic Ford Show was a major success. Here's a round up of the show that kicked off the summer, bringing the best of the UK and Europe's classic Fords getting together!
Words: Simon Woolley  Images: Adrian Brannan
To paraphrase The A-Team's cigar-chomping Hannibal Smith, we love it when a plan comes together, and on a sunny Sunday in May, it did just that as the reborn Classic Ford Show made a triumphant return to the West Sussex countryside.
After 2022's sun-soaked but tentative first event at the South Of England Event Centre, could the Classic Ford Show repeat the trick in 2023? Thankfully, yes — though with heavy rainfall in the weeks leading up to the show, some last-minute tweaks were needed to the layout to avoid some soggy ground. But no matter, on the day the sun was out and so were the smiles, as 1000s of enthusiasts descended on the event centre.
Moving the Classic Ford Show from a track-based to a static event would always ruffle a few feathers, but after last year's successful first out at the new venue, we knew it could work, and more importantly, we knew what to work on. So this year we tweaked and fine-tuned the format, and added some extra attractions too.
The new venue, which features indoor and outdoor spaces, gives us plenty of scope to try some new features, and taking over the Queen's Hall was the Top 60 (up 10 cars from last year!) showcasing some of the finest cars and vans out there right now.
The classics would always remain of course, including The Great Unveiling (now in its 15th year!) bringing five fresh builds to be seen in public for the very first time. And not forgetting the clubs, who are essential to the Classic Ford Show, and who brought along an incredible selection of Fords.
So, a huge thank you to everyone who supported the event — the Classic Ford Show will return in 2024.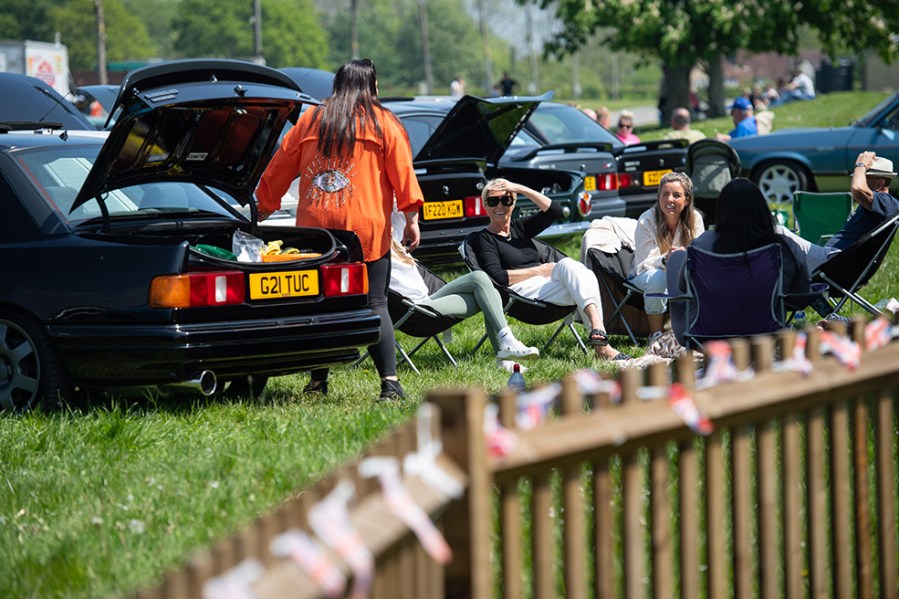 The Great Unveiling
It's been an amazing 15 years since we first introduced The Great Unveiling to the Classic Ford Show, with some truly stand-out builds uncovered in that time, with many of the cars (and vans) going on to become icons of the classic Ford scene. So it was fitting then that the five cars to be revealed at this year's show were truly special and a brilliant snapshot of where the scene is in 2023 — we're pleased to say one that's incredibly healthy.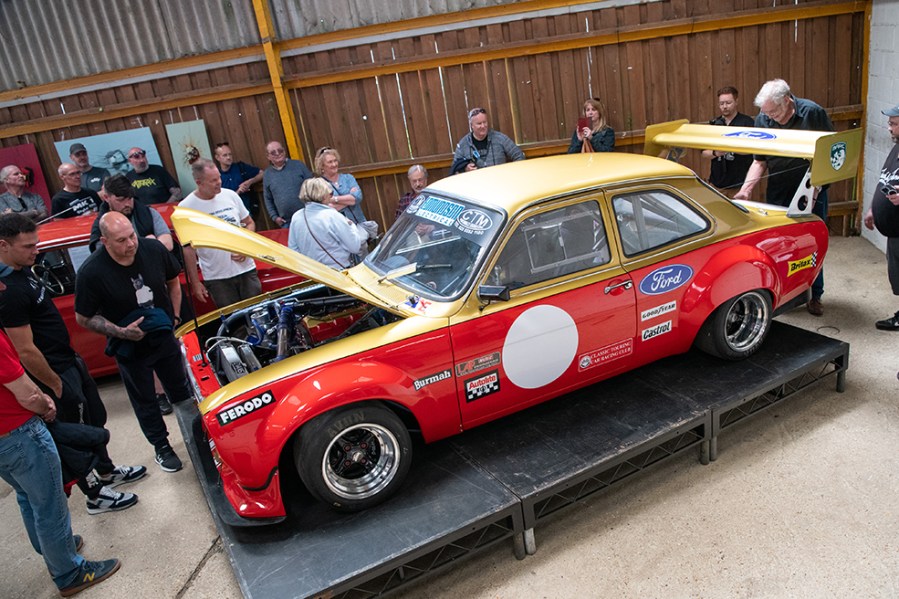 The first car get its cover pulled off was Nigel Baker's Alan Mann Racing-liveried Mk1 Escort. Now this car actually appeared in Classic Ford magazine way back in 2006, but it's been out of sight for a long time since with Nigel giving the car a significant revamp, including major chassis mods — and a supercharged ST170 motor. It looks wild, and we can't wait to see — and hear — the car in action.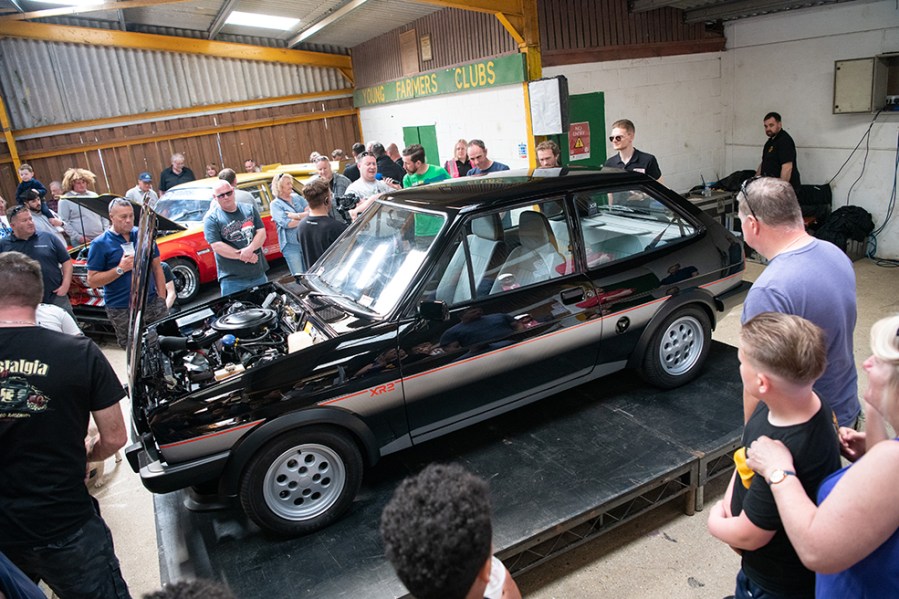 With Ford canning the Fiesta in 2023, we were particularly pleased to pay tribute to the model with two examples in the Unveiling, and next up was Marc Cushing's Mk1 XR2 — a car he first owned and regretted selling many years ago, before being able to buy it back and give it the restoration it deserved. The result is now a spectacular example of what has become a cult model in the classic Ford canon!
If Marc's Mk1 is standard, then Kev Sammut's is anything but, and how he and his family and friends managed to keep this beast under wraps is beyond us. Featuring a full spaceframe chassis with a full-house Cosworth YB mounted longitudinally, this road-legal strip weapon is out of this world.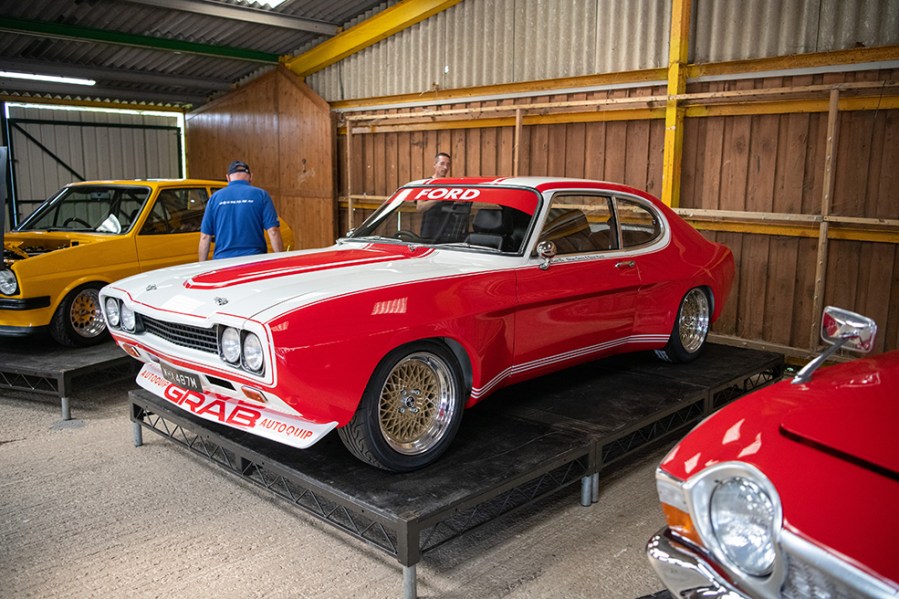 Who doesn't love a Cologne-arched Capri? Perhaps getting the biggest gasp at the unveiling was Brian Davis' ETCC Mk1 tribute, which quite frankly, no-one was expecting. The absolutely amazing, beautifully-finished Capri bowled us over with its level of finish, and complete with a worked 3.1 Essex V6, and even better, longtime racer, Brian plans to enjoy it as much as possible.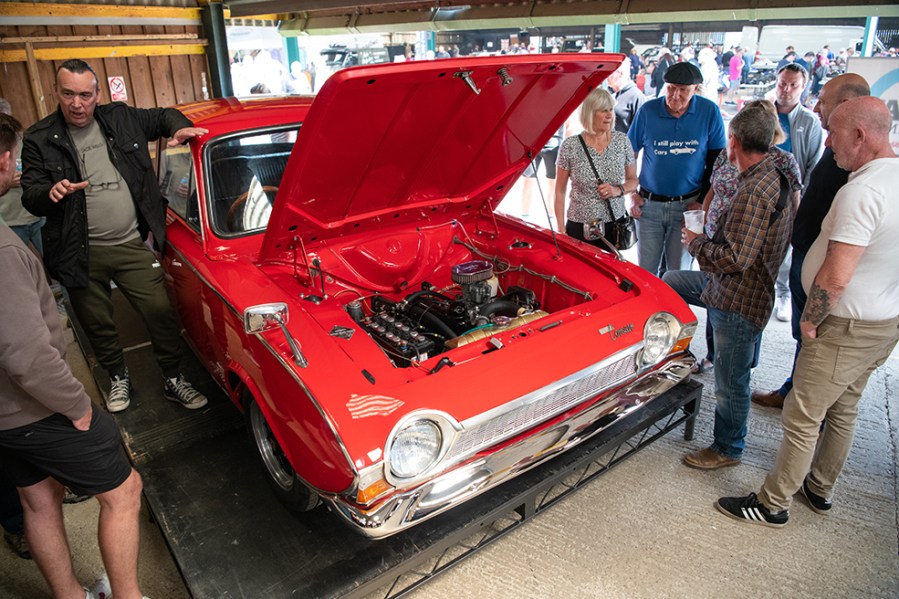 We love it when friends and family get involved in a build, and with Geoff Scorah's rare two-door Corsair GT, the result is something truly special. Off the road for 30 years, the Unveiling was just the incentive Geoff need to get this longterm project finished, with a big push required from everyone involved, including the Corsair Owner's Club who helped source some of the hard-to-find trim.
Top 60
Last year we introduced the Top 50 to the Classic Ford Show, so this year we had to do one better and put together the Top 60 — in part to help Burton Power celebrate their super-impressive 60th anniversary. Taking over the Queen's Hall, the indoor display saw 60 (actually 61) of the UK's finest Fords on show, with brand-new builds, including Adrian Hall's utterly bonkers Mk2 Transit, alongside some established classics such as Zak Williamson's sleeper Mk4 Escort Estate. Burton Power naturally joined us, handing out a huge stack of their anniversary catalogues, as well as displaying some of their fine wares and doling out some excellent advice.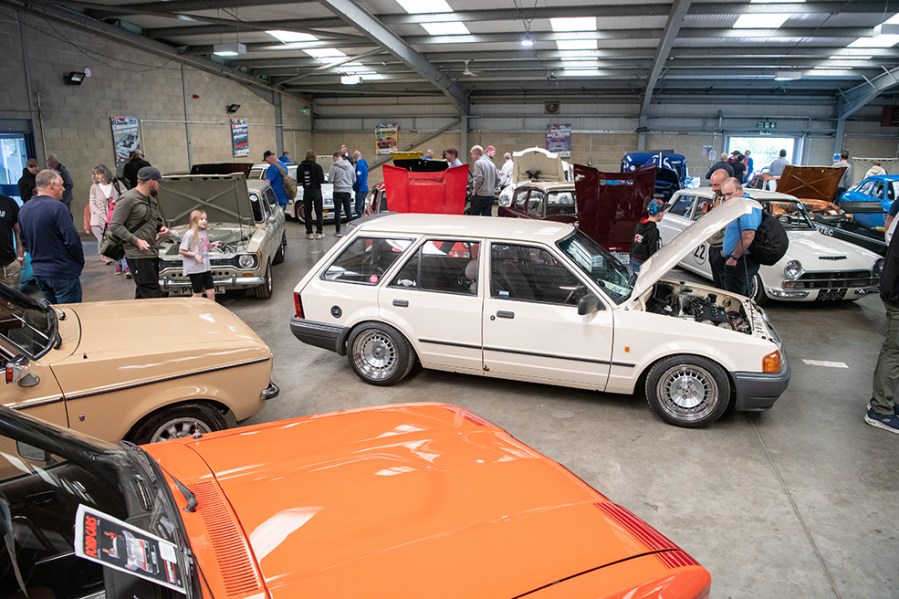 2024 Classic Ford Show date announced soon – watch this space!