BMW's initial attempt at replacing the Issigonis original, the R50/R52/R53 MINIs, will never be cheaper than they are now. Here's our handy guide to understanding the models and getting hold of a good one.
The big questions asked during the classic Mini's 41-year production life often revolved around a successor for Alex Issigonis' iconic original design. Issigonis himself had experimented with the 9X project at the tail end of the 1960s, and BL had a go with the ADO74 and ADO88 that led to the birth of the Metro. But from there, it went quiet. The Mini went through the doldrums in the 1980s, but thanks to the Japanese and the reborn Mini Cooper, it was cool again by the following decade. And after buying Rover in 1994, BMW seemed to have identified the Mini as a priceless brand – and were determined to rejuvenate it.
BMW head Bernd Pischetsrieder immediately encouraged his British design staff to start looking at new schemes, so Rover started serious work on a new Mini. At the same time, BMW also began to beaver away in Munich under American-born Frank Stephenson.
Both teams faced other for a presentation in 1995. Rover's initial approach, badged 'Spiritual', was a revolutionary design with the engine was under the rear seats, driving the rear wheels. Rover saw it as the first of a new range, and so also showed a larger derivative of this car, called 'Spiritual Too'. BMW, meanwhile, presented ideas that were closer to the design eventually chosen, but that didn't stop Rover wasting much of the winter making more refinements. In 1996, BMW made the decision to bin everything Rover had done, favouring Frank Stephenson's design yet handing over the task of engineering it to Rover. What was to be the E50 had now became the R50 – the R standing for Rover.
The rejected Spiritual and Spiritual Too designs met the public in 1997, but only as controlled 'leaks' to get everyone talking about the next-generation Mini. Another red herring came when BMW decided to celebrate the 30th anniversary of the Mini's last Monte Carlo Rally victory, and commissioned a running two-seater concept car named ACV30, where 'ACV' stood for 'Anniversary Concept Vehicle'.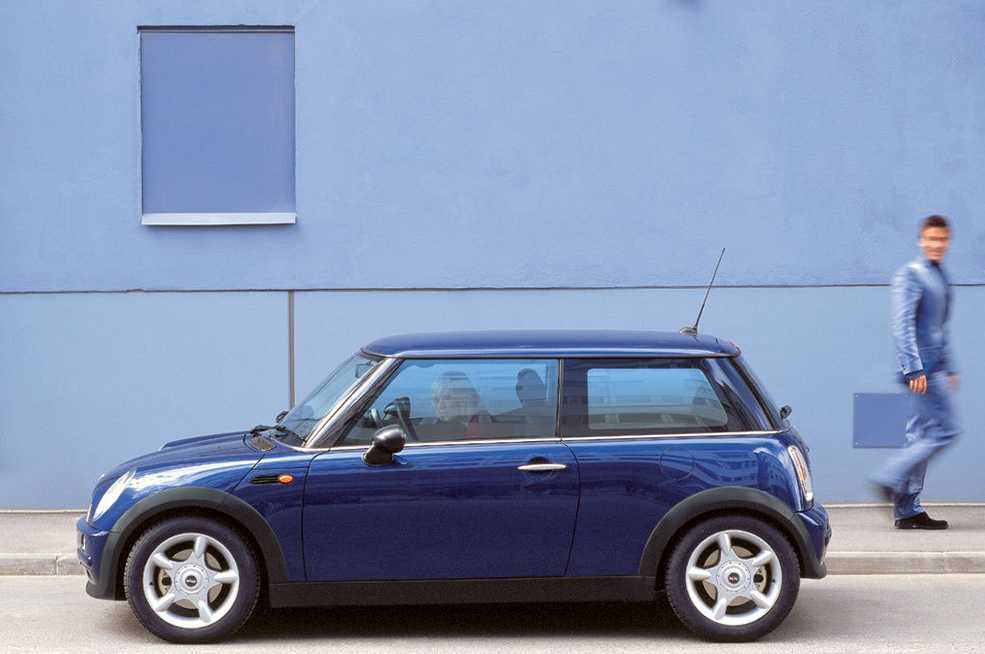 In September of that year, the R50 finally made its debut at the Frankfurt Motor Show. It was almost a hoax because this was only a 'skin prototype', based on the modified platform and running gear of a Fiat Punto, with a Punto engine and gearbox!
Production models would be powered by a brand-new Chrysler engine – a joint venture between BMW and Chrysler after BMW had abandoned plans for its own new power unit and the K-Series had been rejected for being too bulky. The new W10 'Tritec' motor was a 16-valver with a single overhead camshaft, and proper prototypes took to the road in late 1997. However, Rover's sale to the Phoenix consortium and BMW's decision to keep the MINI brand, plus the subsequent switch of all production facilities from Longbridge in Birmingham to Cowley in Oxford, meant it would be almost another four years until the New MINI was finally revealed in production form.
The last classic Mini rolled off the Longbridge line on October 4, 2000, but it wasn't until July 7 2001 that MINI dealers opened for business within BMW retailers across the UK. There were two models available to buy – the 90bhp One and the 115bhp Cooper, both using the 1.6-litre Tritec motor. Buyers were attracted by the new MINI's mixture of cheeky but sympathetic styling, build quality, impressive safety features and low running costs, which were helped by the 'TLC' package. This covered all servicing charges for the first five years or 50,000 miles, and could be transferred to the next owner. With the memorable 'It's a MINI Adventure' ad campaign also at work, there was soon a long waiting list for new cars, with residuals very high and second-hand examples quickly being sold for more than the cost of new one!
Sharp steering and playful handling were key highlights of the Cooper, but with 115bhp it offered warm- rather than hot-hatch performance. A slightly faster John Cooper Works (JCW) factory-approved conversion came next, but the need for a truly rapid MINI was solved a year later when the range-topping Cooper S arrived in MINI showrooms.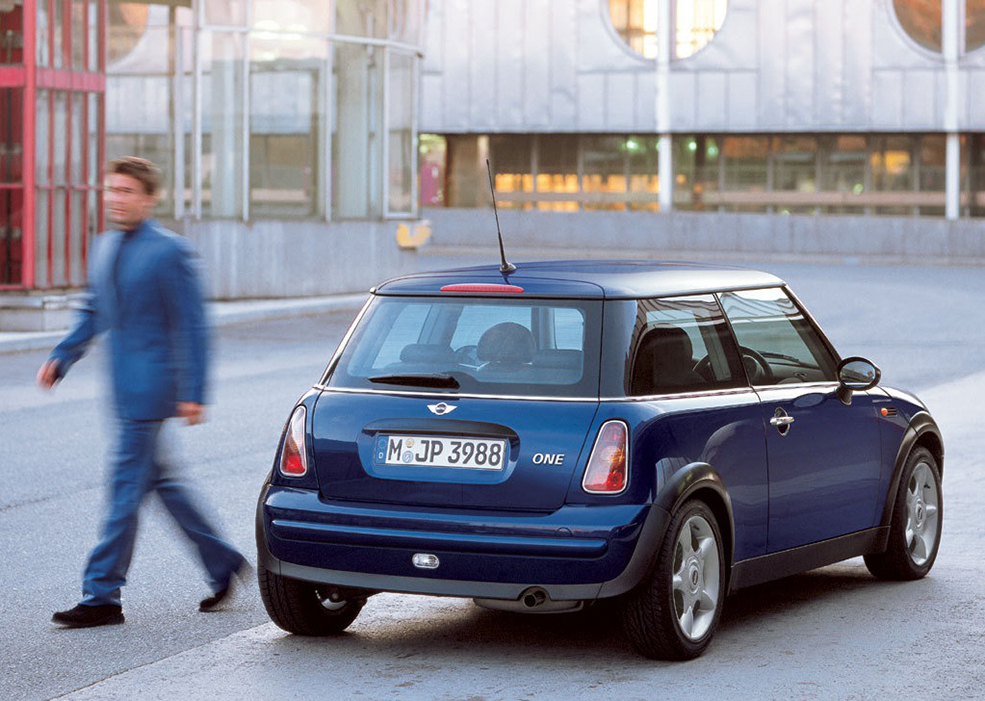 More importantly, the R53 Cooper S as it's known, was the car that reintroduced the MINI brand to the U.S. market in March 2002. The addition of an Eaton M45 supercharger and strong Getrag six-speed manual gearbox to the standard 1.6-litre Tritec engine, meant that the performance more than lived up to the pre-launch hype. Power jumped to 163bhp, with the 0-60mph sprint down to just 7.2 seconds and a licence-losing 135mph top speed capability.
A frugal 74bhp, 1.5-litre Toyota D-4D diesel-engined One D arrived in 2003, along with the official, much-anticipated JCW tuning pack for the Cooper S, taking performance to 200bhp, with 0-62 acceleration in just 6.5 seconds and a giant-killing 142mph top speed.
July 2004 brought R52 Convertible versions of the One, Cooper and Cooper S, which coincided with the whole range getting a facelift. This included new bumpers, trim changes and lights, extra options and a stronger, more reliable Getrag five-speed gearbox for the One and the Cooper. At the same time, power for the Cooper S jumped to 170bhp and a limited-slip differential became available as an option. Power for the JCW tuning pack also increasing to 210bhp, identifiable by different injectors and a JCW air box.
Final developments for the first-generation MINI revolved around the range-topping Cooper S, with a proper six-speed automatic version launched in 2005, rather than the CVT auto for the rest of the range. The One D also received a power upgrade to 88bhp, though unlike the rest of the range it always retained pre-facelift bumpers.
On top of the One-based Seven, Cooper Park Lane and Cooper S Checkmate special editions in 2006, the first-generation New MINI's final hurrah was the limited-edition, two-seater GP. It was 50kg lighter and had a unique bodykit with some ground effect aero, uprated JCW brakes and unique four-spoke alloys. It was finished in Thunder blue with a Pure Silver roof and was assembled by legendary Italian coach builder Bertone. Priced at £22,000, it was sold out before it even hit dealers and is now an established collectors' item. Production of the R50 and R53 MINIs eventually stopped in 2006, after 130,000 had been sold in the UK alone.
As an upmarket car, MINIs were offered with a myriad of different options, meaning very few cars are the same. The Salt and Pepper packs for the MINI One brought many of the diverse options together. The Salt pack included items that really should have been standard anyway, such as floormats, front fogs and a rev counter, but with the £750 Pepper pack, you got alloy wheels, and from 2004, chrome bumper inserts.
The Cooper was also offered with the Pepper package, but you could also have the Chili option, which added more lavish wheel/tyre options. The Cooper S had its own variation on the Chili pack, including xenon headlamps and half leather trim. With all the boxes ticked, it was possible to push a Cooper S above £25,000!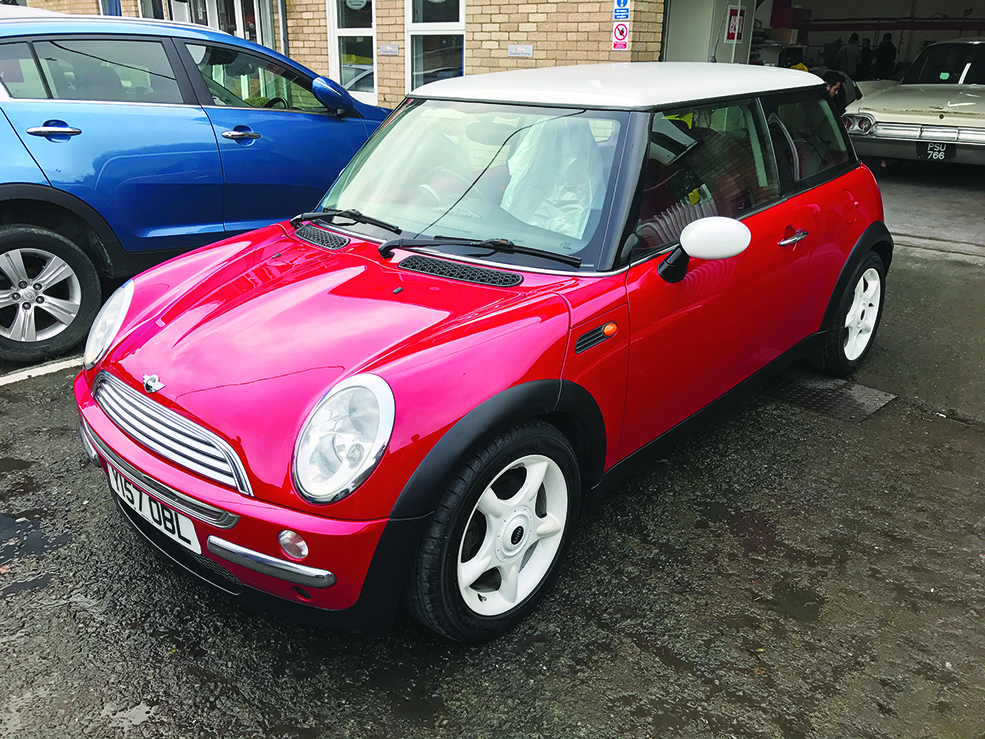 Exterior
Build quality and paint are generally good, but you've got to remember that the earliest R50s are nearly 18 years old now, so watch for lacquer peel on all panels and stone chips on the front bumper, bonnet and windscreen. You should be able to pick up replacement bumpers and even panels if you're looking at one of the more common colours, such as Pure Silver, Electric Blue and Chili Red, but other shades may be more difficult.
The doors and rear quarters are sturdy but still vulnerable to parking dents, so check them next. Remember that any damage to the rear quarters will be particularly hard to fix, especially around the rear light area.  Also check for poorly repaired crash damage in other areas, paying attention to panel gaps all round. Scuffed or cracked plastic trim and kerb-damaged alloy wheels are common too.
These cars are generally quite corrosion resistant, but check for rust nibbling the bottoms of the doors and around the rear boot handle, as well as under those rear lights. Rust is also common on the horizontal door shuts where moisture collects under the sealing rubber, so check here too. It's prudent to get the car up on a ramp and check the underside as it can get tatty, especially around the rear subframe area.
Engine and Transmission
Engine mounts do wear, so listen for clonks and vibrations on the test drive. All models use a little oil, but if you're looking at a Cooper S, the addition of the supercharger means it tends to drink more (around 250ml per 1000 miles is usual!). Start it up and listen to any odd rattles from the top or bottom of the engine. If the noise is from the top, it could indicate hydraulic tappet or timing chain tensioner problems. If it's from the bottom, this is more serious and could suggest a costly rebuild. It's common for the dipstick to break on the Cooper S models. If this is the case, walk away unless the price takes this potential minefield into account.
First generation cars are also notorious for oil leaks. Normally, its quite a simple problem such as the crank sensor O-ring, but this requires the car to be into 'front end service mode', which requires the front bumper assembly and radiator to be removed. The same goes for the sump gasket, which is a more involved job. Other failure point include the crank seal and the rear main oil seal. This seal sits around the crank behind the flywheel and often leaks engine oil over time, potentially causing premature clutch slip. Spark plugs seals and rocker cover gaskets can leak too, but are easily sorted.
The Cooper S's Eaton supercharger shouldn't give any trouble, but if the car you're looking at has done 100,000 miles or more, it could probably benefit from a rebuild from a specialist. Superchargers that have been fitted with uprated pulleys will be more susceptible to this. Other Cooper S engine concerns revolve around overheating, which can cause cracked cylinder heads. The reason for this common failure is that the cooling fans are prone to faults and as such don't cut in. The thermostat can be a problem on all models too, either leaking when the seal goes brittle or the unit seizing altogether and causing the car to overheat. Replacing it is fiddly, but within the scope of a home mechanic.
On One and Cooper models, check the condition of the exhaust back box, as they do rot and peel back like an onion. The stock Cooper S system can also corrode, and isn't cheap to replace.
On the move, if you're looking at a pre-facelift One or Cooper (2001-2004), make sure you work your way through all five-gears and that it has a sweet change, as the Rover-derived R65 'Midland' gearbox is fragile and a common failure point. Clutch failure is common too, while CVT automatic transmission versions are also known to be problematic and are best avoided. Some folk have fitted to the Cooper S six-speed Getrag 'box to Midland-equipped cars, but you'll also need to swap the flywheel, starter motor, gearbox mount, gear linkages and driveshafts.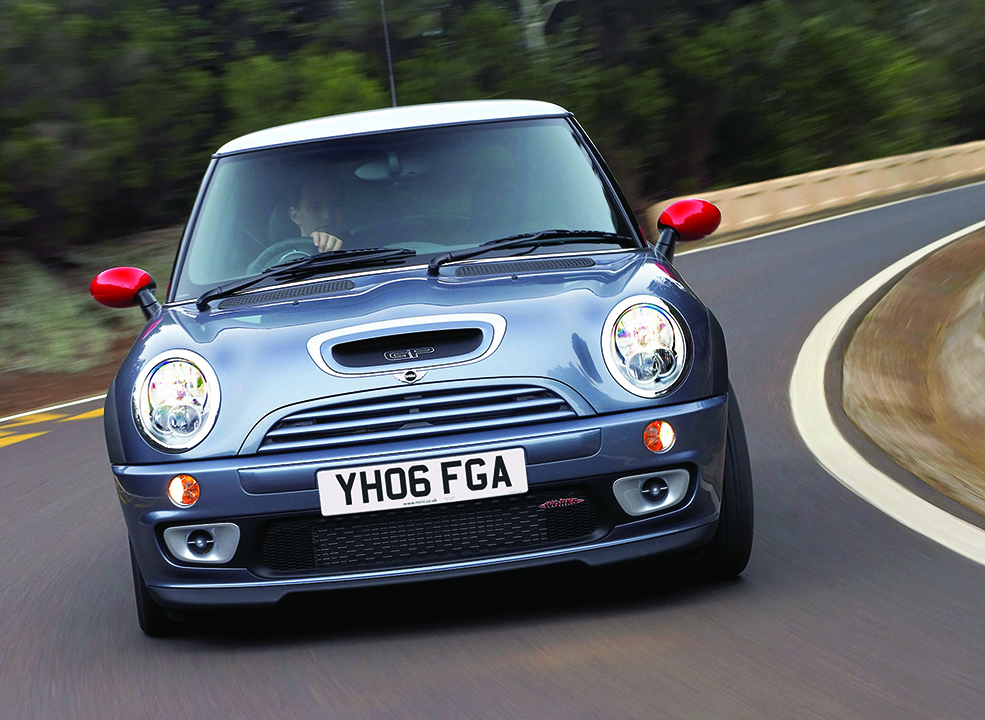 Running gear
When driving, listen carefully for knocks from the suspension. All the usual suspects can wear, including the ball joints, front control arm/wishbone bushes and anti-roll bar bushes. The strut top mounting areas under the bonnet can also 'mushroom', causing alignment issues.
Being discs all round even on the One, the brakes are generally good, although only really just adequate for a Cooper S driven enthusiastically. The rigid brakes pipes underneath the car can also suffer from corrosion and may well need replacing of they've never been done.
Electrics
Early R50 MINIs in particular have known electrical issues, so make sure everything works and watch for warning lights. Pay particular attention to failing tyre pressure sensors, which can cause the ABS and traction control lights to be triggered and are an obvious MoT failure. Some cars may now be showing airbag warnings, so be wary of that too.
Check that both the electric windows and the central locking work. If air-conditioning is fitted, does it blow cold air? If not it could just need a simple re-gas, or more seriously, the pump could be failing. A giveaway is damp carpet in the front, which is also bad for the condition of the ECU and body module (known technically as the BC1 unit) that lives under that carpet.
On Convertible models, check that the hood goes up and down as it should, as electrical failures can be costly to diagnose and repair. The same goes for models with the panoramic glass sunroof – check it works. Many rattle, so count yourself lucky if yours doesn't.
The whining of the power steering pump might be a characteristic of the first-generation MINI, but it's a known failure point. So on the move, make sure it is working well and at standstill listen for any odd noises. Also check for fluid leaks.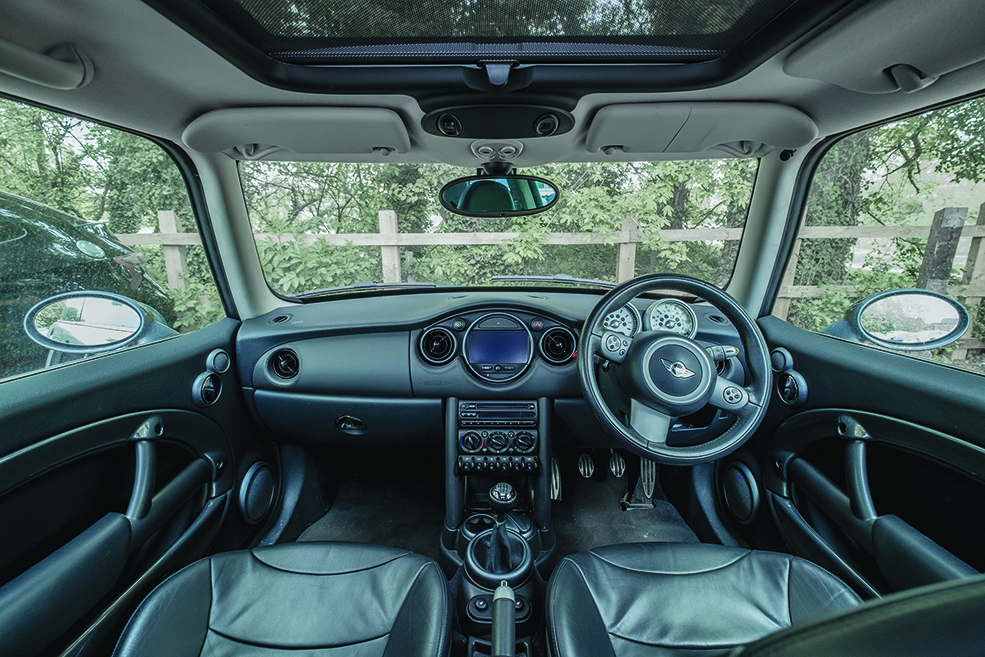 Interior and trim
Expect some scuffing to the side bolsters of the front seats – especially on the sporty models. Make sure they fold easily too, as early models have been known to lock in the forward position. So many MINIs are being broken for spares, however, that replacement trim can be had cheaply.
Expect scuffing to most of the interior plastics at this age – they look better quality than they actually are!  A few rattles seems to be par for the course, especially with the earlier cars.
Running costs
The Tritec is generally a strong engine as long as it's regularly maintained. It is also chain-driven, so cambelt replacements are one less thing you'll need to worry about.
R50, R52 and R53 first-generation MINIs all work on a variable servicing schedule, meaning servicing might not be needed for up to two years or 16,000 miles, although it could be even more.  Expect to pay around £120 for an interim Inspection 1 service at a specialist and around £220 for the more involved Inspection 2 service, also at a specialist. You'll also need to budget £50 every two years for brake fluid changes. Air-conditioning, if fitted, should also be checked at every service – a re-gas will cost around £80.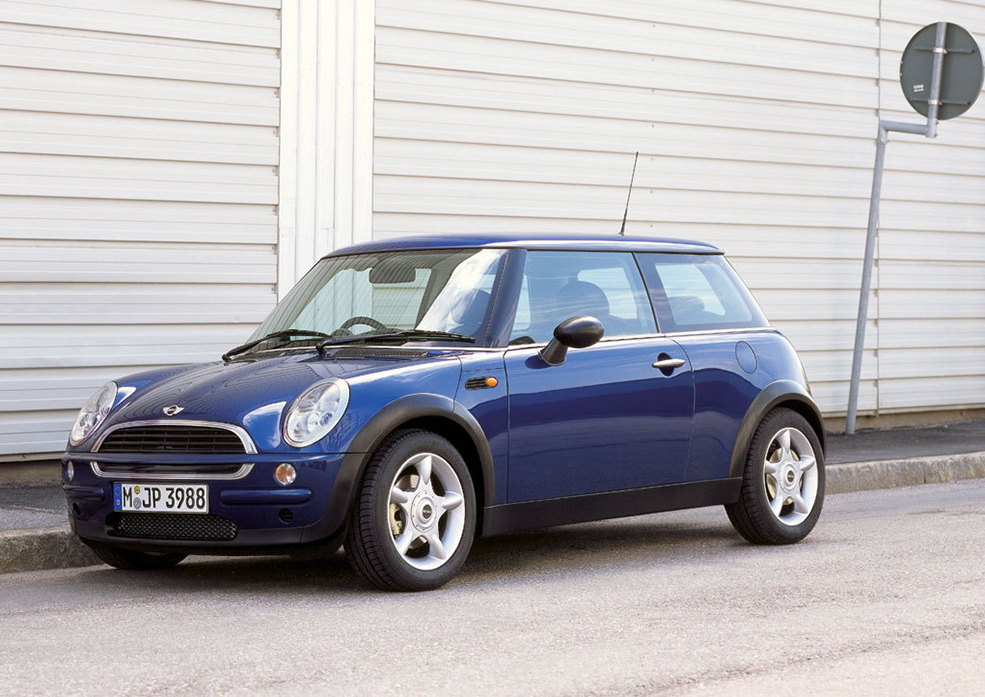 How much to pay?
First-generation BMW MINIs will never be as cheap as they are now, as they tend to be worth more in parts rather than as a whole car.
Earliest Ones and Coopers are on a Y-plate are becoming sought after, especially the ex-MINI 'OBL' registered cars. Expect to pay £1000-plus for an 'OBL' One or Cooper, but only around £800 for a standard 2001/51 One and just £950 for a standard, 2001/51 Cooper – perhaps less. News editor Jeff paid just £450 for his 2003 One, albeit carrying a Category D marker. Better condition cars with lower mileage will inevitably command higher prices. Unless you really want an early MINI though, buy a later car, as the quality is better. Prices rise according as the cars get newer, with post-facelift Ones and Cooper often north of £2000 and limited edition models such as the Park Lane commanding an extra premium.
What about the R53? Well these look to be picking up after a lull. The first '02' cars are becoming collectible, but prices still start at around £1500 for the earliest cars privately, to which you'll need to add another £500 for a car at a dealer, both with over 100,000 miles. Prices for the earliest 2003 JCW converted cars start at around £2800. Later post-facelift cars command higher prices, with most pitched around the £3000-£3500 mark. JCW cars will again be priced higher. It's a buyers market, so any bodywork or electrical issues should have you looking elsewhere.
The highest priced first-generation MINI is the R53 Cooper S GP, with values on the increase. Prices start at around £11,000 for an 80,000-mile example.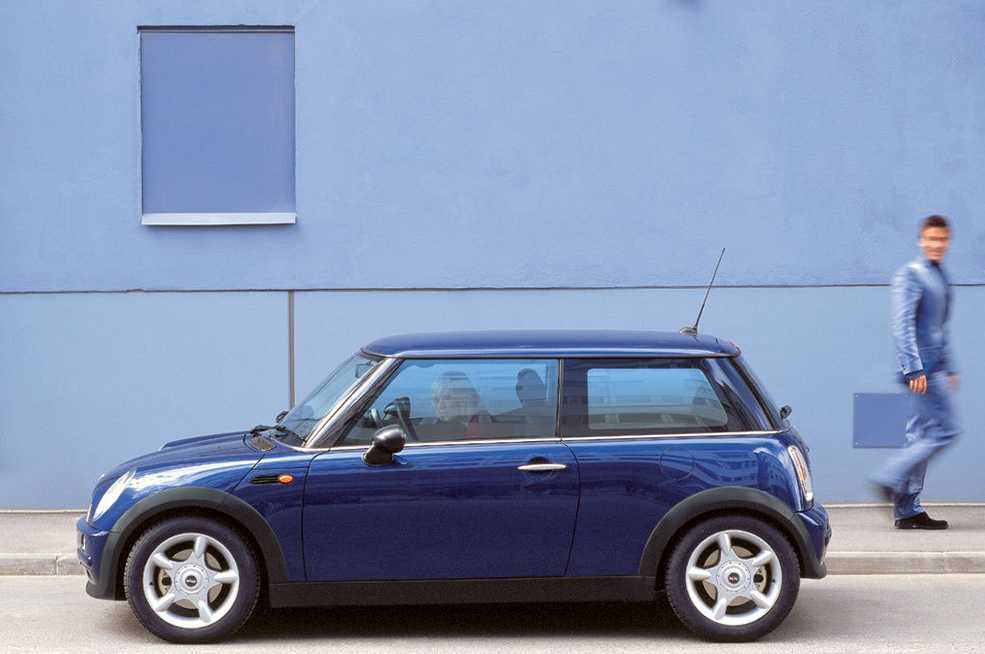 Verdict
The first-generation MINI is now becoming accepted as a modern classic, and has appeared more and more at Mini events as the animosity between the classic and modern Mini scenes has softened. With prices from well under £1000, they represent extraordinary value for what is a premium small car. Despite being 18 years old, it's clear why the MINI was such a success. It has dated well, especially in light of the bloated models now produced by BMW, and feels a lot better built than many contemporary rivals. It's also great fun to drive – especially in Cooper S form.
With so many cars being broken for spares, you shouldn't have to struggle too much if you need replacement parts, and there are plenty of aftermarket specialist catering for these vehicles too. Buy a good one, and you'll be getting a whole lot of fun for banger money. And with values as they are, the only way is surely up.