VW's Type 1 'Kaefer' running gear did far more than just push around the people's car: it was put to work before, during and after World War Two – as collectors are finding out
KÜBELWAGEN TYPE 82 (1940-1945)
Not to be confused with the later Type 181 'Thing', also a military vehicle, the Kübelwagen Type 82 ('tub car') repurposed Beetle running gear to best serve the Wehrmacht.
Brutally simple, slab sided and basic, the Kübelwagen had been on the cards long before war was declared. With taller tyres, a limited slip differential and portal gearing, the two-wheel drive Kübelwagen served as the wartime Jeep's antagonist, effective in almost every military theatre, and very nearly as capable.
Kübelwagens were particularly prized in the desert, where their light weight and air-cooled engine, pirated straight from the Type 1 Volkswagen, better suited the terrain. Many were captured and evaluated by the Allies; most that survive today were either abandoned in situ or shipped abroad.
One major change was implemented in the Type 82's life – when a larger 1.1-litre engine from the Schwimmwagen (Type 166) became standard fitment.
Just over 50,000 Kübelwagens were produced during World War Two, and their mechanical similarity to the earliest Beetles makes them incredibly sought after, despite their less than salubrious origins.
A trawl of the internet threw up several Kübelwagens for sale; their worth, particularly with collectors in the US, appears to be rising. James D Julia auctions sold a battered but running 985cc 1941 Type 82 for $74,750 (53,586) two years ago; it was joined around the same time by a 1945 1.1-litre example in France listed at 62,000 Euros (£54,519) on bug-bus.net. American resource oldbug.com currently has 1945 Kübelwagen for sale at $95,000 (£68,077), suggesting the market has some way to climb before hitting its ceiling.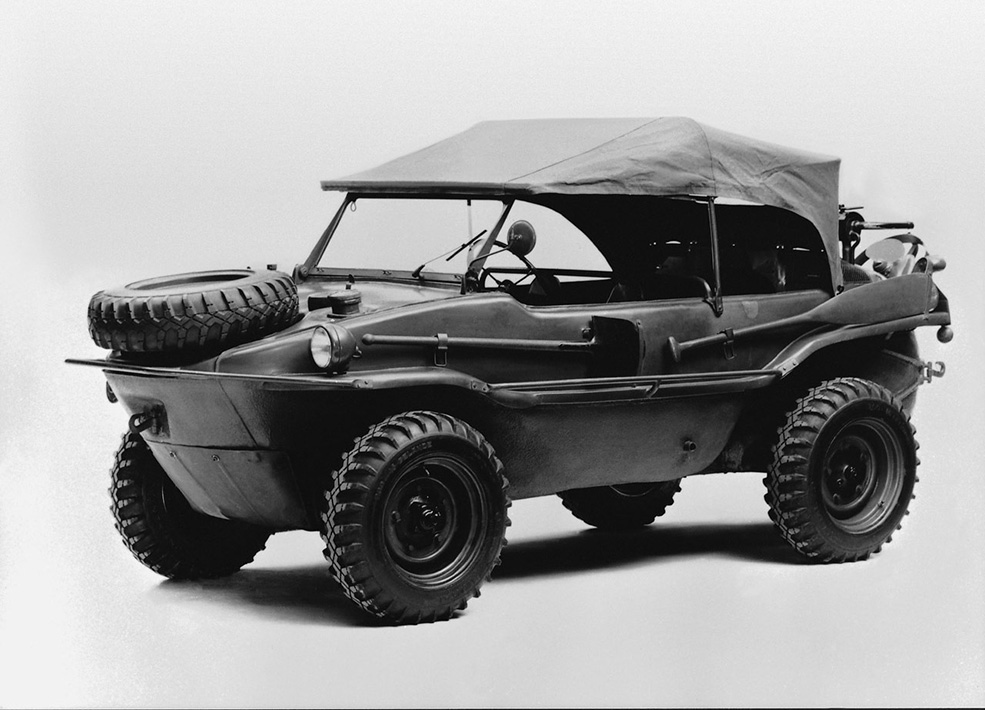 SCHWIMMWAGEN TYPE 166 (1942-1944)
Thought to be the most widely-produced amphibious vehicle yet, the Schwimmwagen, as its name suggests, took Beetle mechanicals off the beaten track – and into rivers and lakes.
With specially reinforced hulls mated to a Beetle 'spine' chassis, nearly 16,000 Schwimmwagens were produced in a two year period, split between the VW works in Fallersleben (Wolfsburg) and Porsche's factory in Stuttgart; fewer than 200 are thought to survive.
Values are determined by originality and functionality – those lucky enough to afford a Schwimmwagen take great pleasure in demonstrating them at events.
Between Car and Classic, and oldbug.com, we dredged four Schwimmwagens out of history's lake, priced between the equivalent of £61,000 and £125,500.
HEBMÜLLER CABRIOLET TYPE 14A (1949-1953)
Factory endorsement is the best thing a fledgling coachbuilder can hope to receive; after World War Two, the industry was seriously short of business.
Under British control, Beetle production was restarted and the range rationalised: by the late Forties, attention had turned cabriolet versions, with two firms – Hebmüller and Karmann – receiving contracts to build two and four seat Kaefer drop tops respectively.
Sold through VW dealers, production of the Hebmüller Cabriolet Type 14A was curtailed by a factory fire after little under 700 cars were built; Hebmüller eventually went bankrupt after it lost its plant.
Copied badly in the Seventies and Eighties by the likes of VW parts specialists Wizard, real Hebmüllers Type 14As fetch a pretty penny on the rare occasions they're brought to market.
Oldbug.com currently lists an early 1949 'Heb' for $195,000 (£139,758); two years ago, American auction house Mecum listed a 'Heb' which failed to meet reserve, despite attracting bids of $250,000 ($179,177). Has the market reached its limit for these vehicles? We should be told.
ROMETSCH BEESKOW (1950-1957)
Looking for all the world like the illegitimate love child of a Panhard Junior, Alpine A106 and 'pre-A' Porsche 356, the Rometsch Beeskow (named after its designer Johannes Beeskow) served as a poster child for its maker. Best known for its limited run of four-door Beetle taxis, Rometsch branched out into coupe and convertible production in the early Fifties, hoping to undercut Porsche 356 sales with its 'Beetle for high society'.
Using contemporary Beetle running gear, production of the aluminium panelled Beeskow was eventually halted by Volkswagen's refusal to sell chassis to Rometsch, either directly or via dealers; sales were also squeezed by the appearance of the cheaper Type 14 Karmann-Ghia.
Approximately 120 Beeskows were built, and around 33 survive, six of them coupes.  Values are hard to determine – reckon on at least $50,000 (£35,585) to bring one home.