What to do when you want a taste of vintage Volkswagen camping experience but don't have a budget that goes through the pop-up roof.
The Volkswagen camper was just right. Its size well balanced: small enough to manoeuvre on the road but big enough inside for a small family to call a holiday home. Designed as a utility van by the Germans, it was wonderfully simple to maintain and easy to use, while also being impressively resilient. At one time it was also an irresistible combination of style and value. The £50,000-plus split-screen camper of today is something of a different case though. As it's become more of an antique collectable, it's only reasonable that those who are looking for a balance of practicality, usability, and romanticised holiday style consider the other, more affordable VW campers of the later years. In fact, the continued success of the VW campervan has gone along with significant improvements to the recipe, and so you can often find yourself getting an arguably better van for less money. But simply avoiding the lofty T1 split-screen models doesn't mean you can't find yourself spending vast sums to have and keep one, so it's still rather important to tread carefully.
T2 (1967-1979)
After its 17-year run, the original VW Transporter 1 was replaced by the T2. It was modernised in some key areas; bigger windows did away with the distinctive tiny pillars of its predecessor and improved visibility, significantly improved rear suspension provided far superior stability, and an uprated 12-volt electrical system brought its auxiliaries up to date. However, it is still a considerably old van today and the prospect of owning one shouldn't be taken lightly.
Once you're on top of any required renovations and maintenance as we'll come to discuss, the driving experience isn't as simple as many are used to. The gearbox can be difficult to navigate, handling enough to reconfigure your learned responses, and then slowing all of it down with brakes that tellingly only found front discs in 1970. There's no intermittent setting for the wipers, a heater that will keep your jacket on, and levels of performance and noise in a very much different order to your daily driver.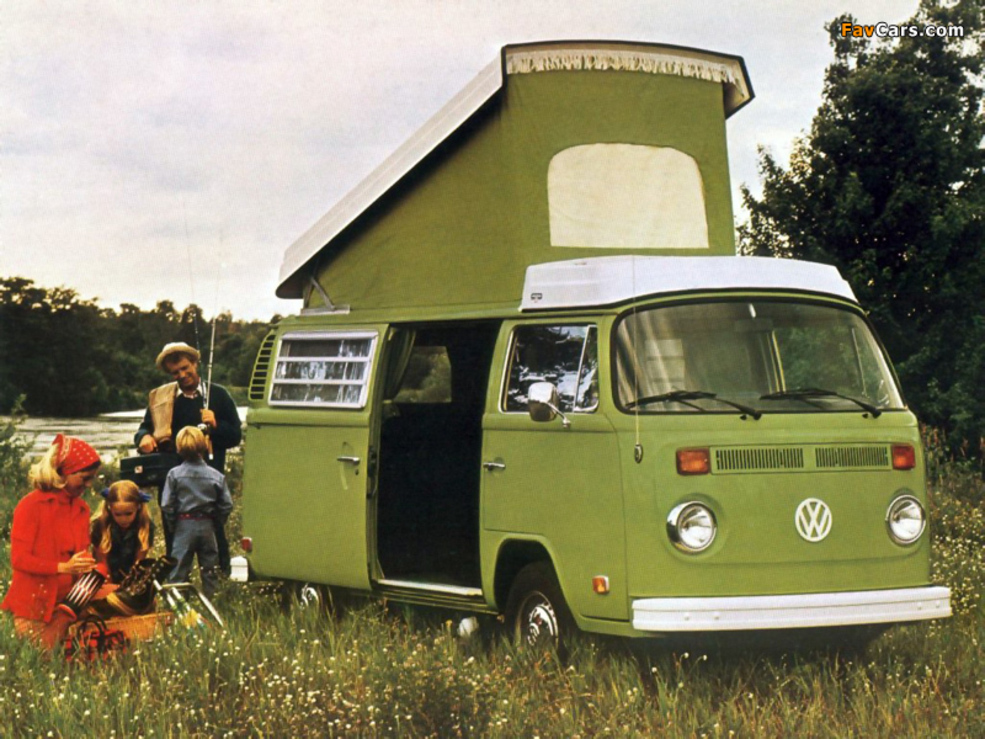 You'll also have to service it regularly, at intervals as frequent as 3000 miles. When buying one you should be sharp on whether the previous owners have been diligent on oil consumption, timing, valve clearances, belts, and, ideally, if all of it has been recorded. Look for oil leaks that might suggest poor seals and check for excessive movement of the end float which can suggest a worn internal bearing. Gearboxes also require frequent oil changes so make sure this has been done in the recent past.
Perhaps the biggest challenge with early VW campers though is the corrosion of bodywork and chassis. Despite most being off the road during the winter months, many are left on driveways, especially since many don't fit in standard garages. Be diligent of inspecting body panels for filler and cast an eye over the front panel which can rust from stone chips. Be aware that there can always be more underneath what's superficially visible.
Underneath you should be just as sharp-eyed. Concealed box-sections can hide big rust, so look in detail and make a considered judgement. Be sure to pay particular attention to chassis rails, sills, outriggers, and jacking points, and be wary that underseal can cover up rust. Wheel-arches can also be prone to weather damage, so check from underneath as well as from the interior at the door sill. While here also check behind the front seat squabs, along the side panels. At the back check that the engine bay structure is in good condition and that no acid leaks have caused damage from old batteries of the past.
It's a delicate balance to weigh up how much it might cost to put right one van against buying a more expensive, better condition example. The range for T2 models stretches from around £7500 for projects up to above £20,000 for the finest. Improvements made to later models somewhat balance the charm of so-called 'Early Bay's, and tend to not influence pricing too wildly. In 1971, the 1600 engine provided a small bump in power, while an available-new Type 4 engine provided a significant increase up to 67bhp and would go up again in 1974. The so-called 'Late Bays' are those with the 1973 facelift which featured some cosmetic changes that might be enough to put some off enjoying the more modern mechanicals, but it's generally the trim, colours, and specific conversions that really command the buyer. Dormobiles, large Viking roofed pop-ups tend to be more popular than tin-tops or high-roof conversions, while the iconic Westfalias tend to be the most desirable. Just be wary of imitations or modified examples.
T3 (1979-1990)
Until 1983, the otherwise new T3 carried over the air-cooled engines of the T2 in both 1.6-litre 50bhp and 2.0-litre 70bhp forms. For the remainder of its life, there was a range of water-cooled petrol and – for the first time – diesel engines with modern performance to match the modern design of this 1980s van. The gearbox was kept for the petrol models, and while the new diesel gearbox was perhaps stronger has still proven to be vulnerable and can be especially expensive to replace. When buying, keep a good grasp on how the van has been treated and what work has been done for the mechanicals.
Pay attention to the suspension, too. The T3 had a new suspension design at the front that incorporated tie-rod ends that are remarkably difficult to replace, so plan for the hassle if you hear clonking or any other untoward noises from the front end.
Fortunately the mechanicals remain rather solid otherwise, and so there is little more to go wrong with the T3 than the T2 – with the later engines in particular requiring less regular maintenance and therefore reducing any risk of damage that could be passed on at the point of sale. The good news continues by some greater degree when it comes to rust; underneath it isn't half as bad as it can be for T1 and T2 models. Follow the same inspection advice as for the older vans, but you needn't be quite as concerned. It's actually the bodywork that will require most of your attention in this respect; the flexible sealant used in the seams between panels proved troublesome. After years of weathering, the sealant dries out and exposes unprotected metal in gaps that trap moisture; rot can quickly take hold and is tricky to fix. To make things worse, panels aren't always readily available, so before you write off what can look like minor surface corrosion, look closer and research whether you can source replacement panels. The only other particularly vulnerable places are the expected rear arches and the metal piece immediately above the rear bumper.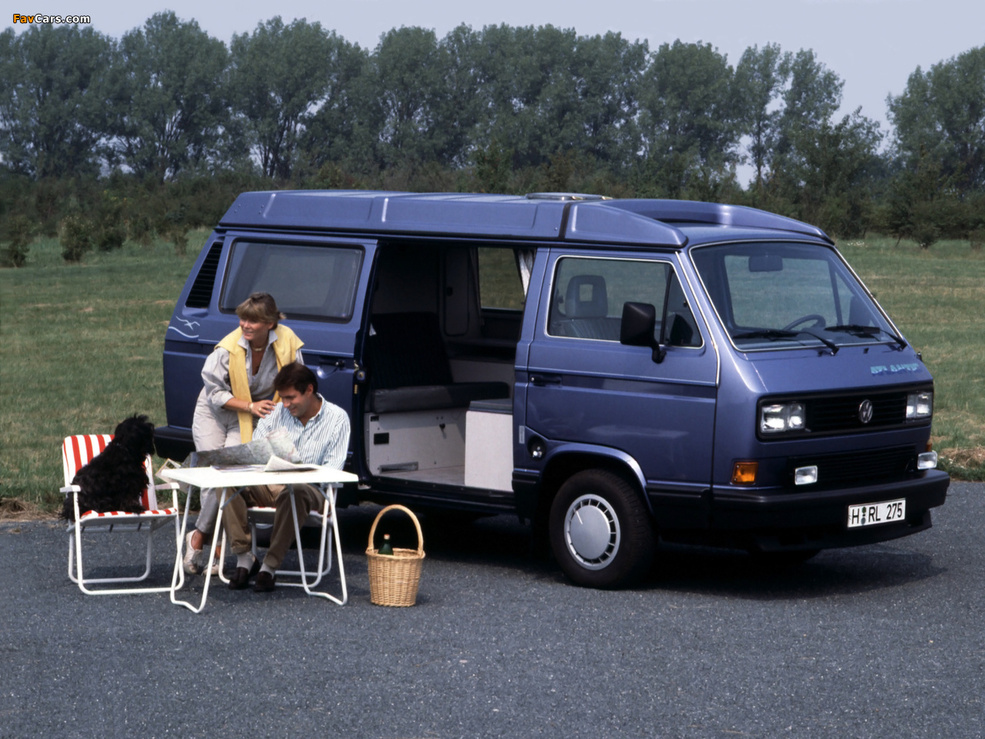 The available range conversions are largely the same as made for the T2, only expanded and some can be impressively more refined. Despite being less desirable than the older models as a whole, priced between £5000 and £15,000, there is a strong market for the top models – as shown by a range that treads into T2 territory. The famous Westfalia California model can be considered more desirable than the higher-specification Atlantic model for various reasons, but most likely for the name and image. If you're after what is arguably the nicest of the T3 campers, check that the bodyshell code, found on the inside pillar of the passenger side is a '253-xxx' one and that it matches its corresponding panel on the front-right chassis outrigger. Westfalias are almost all left-hand-drive though, so there is another price to pay on top of the £3000-£4000 premium that applies over other conversions (such as Holdsworth, Autosleeper and Danbury).
T4 (1990-2003)
It could be said that the T4 is the best van that VW ever made. As difficult as it is to measure something of so many components, the balance of modern engineering, design simplicity, conversion equipment, and even style achieved by the T4 camper range is at the very least compelling.
The range of T4 campervans is again wider than previous generations and many of the coachbuilders had upped their game on quality & design, but the Westfalia models remain the most desirable. This market spans from £15,000 to around £8000, while vans cheaper than this are in day van, owner-converted condition and can be less than £5000.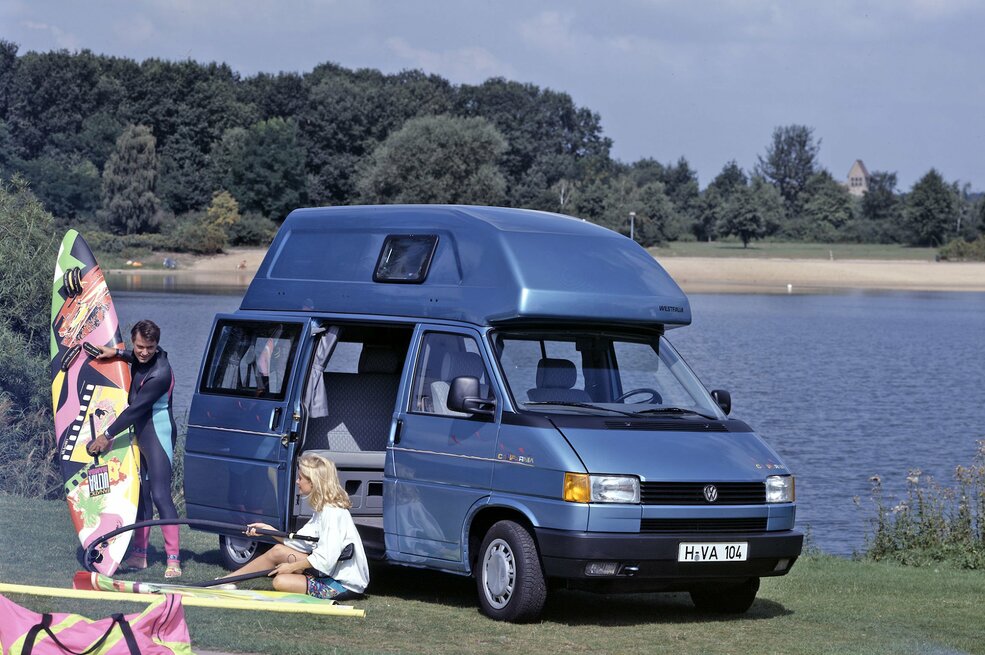 Being a considerably more modern vehicle, the cost of running after buying should be factored in. A £15,000 T4 Westfalia will be a significantly more affordable prospect than a £15,000 T2, and for some more enjoyable. Rust-proofing on the T4 is much improved and so most are solid, but still cast a keen eye over the usual suspect areas. Wheel-arches and the area around the windscreen can attract corrosion, but fortunately the flaky flexible panel sealant of the T3 is gone.
The interiors, with their comprehensive fittings and electrics, are worth a good amount of your attention when viewing any T4 camper. As with all VW conversions, try to trace the electrics and keep an eye out for bodged modifications. Check that everything works and be sure to ask the owner what runs on the leisure battery and what doesn't, so that you aren't caught out in the future. It can also demonstrate how much they know about the running of the van. While there, ask for a demonstration of the operation of the roof (if it's a pop-top) and ensure that it goes up smoothly and that it is in good condition. Look at the mounting points and the general structure of the roof, as well as the condition of the fabric and rubber weather seals. Mouldy fabric can point to worn seals that can be difficult to accurately replace.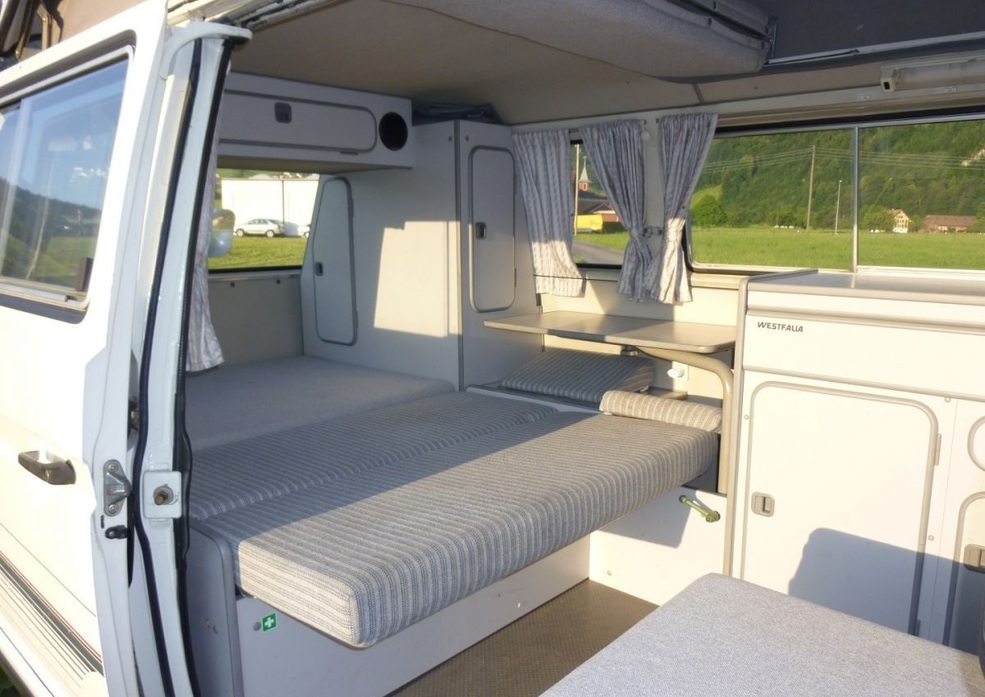 At the front, continue to look at all the interior fittings such as the door seals and trim panels, before looking at the engine. The early 1.9 diesel engines are remarkably strong, but those with turbocharging are definitely worth having for the increased performance. Later 5-cylinder diesel engines offer even more performance but can present more problems, so give them a closer look. None should smoke after initial start-up. Petrols can be thirsty but work well; check that the hydraulic tappets smooth out once warmed up, as they can be noisy after prolonged inaction. All engines are interference units, so include the cambelt in your thorough service history inspection.
Conclusion
It may seem like a great deal of trouble to buy into the VW campervan experience, and it certainly can be, but it can also provide a tremendous amount of enjoyment. There is little to compare with the feeling of setting off into the countryside with your classic van, picnic prepared, blankets stowed, and sunshine patiently waiting for your leisurely drive to the campsite. Parked up with awning and chairs out, cup of tea in hand, and sun setting on the horizon, it can make a lot of sense. But you need to balance that with the money and time cost maintaining the van, and be sure that you can cope with the prospect of sitting on the side of the road waiting for recovery, worrying about overheating in traffic, or even the nuances of navigating 60-year old driving controls. Some might consider the T4 or even the Brazilian imported T2s that were built during the T5 era as lower-hassle options, and while they have smaller VW badges on the front, they still carry that certain style that contemporaries can't quite match. So if you're set, just put some real thought into what it is you want, can maintain, but don't banish the heart from the decision entirely.