Porsche worthy of a Sultan could fetch £700,000 at Coys' London auction
A special 1995 Porsche 993 Turbo Cabriolet once owned by the Sultan of Brunei will be put under the hammer by international auctioneers Coys along with more than 80 classic and sports car at their 'Spirit of Motoring' auction in London's Royal Horticultural Halls on October 17th.
The car is one of only 14 of the 993 Turbo Cabriolets produced by Porsche and is the only right hand drive example in existence. It is estimated at £500,000 to £700,000.
Porsche's 993 Turbo model had garnered praise from the media and owners alike, but the marque had not produced a cabriolet version. Herr Fritz Haberl, owner of the significant MAHHAG southern German chain of dealerships based in Munich, was convinced there was a market for a 993 Turbo Cabriolet, and approached Porsche with the idea.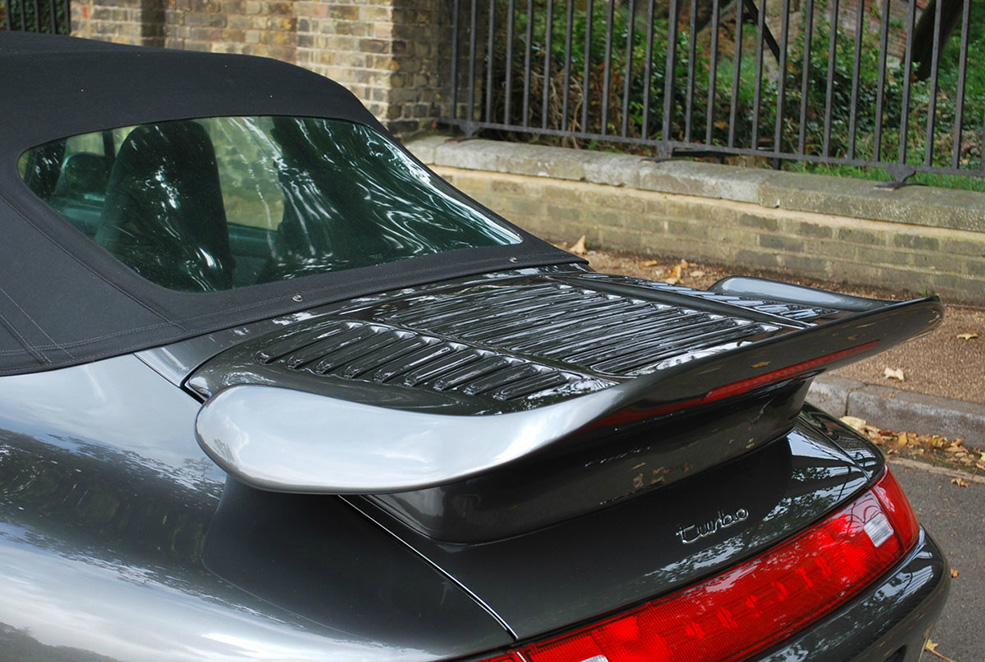 Things went rather quiet after the meeting and just when Haberl thought he had reached a dead end, Porsche came back with a response: if Haberl could find 12 buyers up front, Porsche would build the cars.
Chris Routledge, CEO of Coys, said: "These were set to be one of the most exclusive models Porsche had ever built, and hid much of their performance potential under a subtle and stylish cabriolet exterior. Porsche eventually built just 14 of these cars with the chassis number sequence 8501-8514, the car on offer being chassis number 8513."
Haberl reportedly sold six cars to Germany and the rest went to clients throughout the world. Chassis #8513 found its way to none other than the Sultan of Brunei, where it was registered to his collection in May 1995.
Routledge added: "The retail price at the time was U$D176,000. These exclusive cars were fitted with unique features, including 17 inch cup alloy wheels, electrically operated Komfort seats, rear spoiler, air conditioning and a special four-brand exhaust system, amongst others. The Porsche certificate of Authenticity for #8513 extends to two pages in order to cover the many options fitted!"
This unique 993 Turbo Cabriolet, which has been part of a significant European collection since 2009 and shows just over 9,000 kilometres on the clock, offers collectors a rare chance to join a tremendously exclusive club.
The auction also features a selection of investment quality classics, including a 1971 Ferrari Dino 246 GT  (estimated £200,000 – £250,000), a 1965 Jaguar E-Type Series 1 rebuilt to semi-lightweight roadster specification (£180,000 – £210,000), a 1938 Bentley 4 1/4 Sportsman's Coupe by De Villars displayed at the 1938 Paris Motor Show (£120,000 – £140,000), a 1955 Austin Healey 100 M specification from the Sorn Castle Collection (£48,000- £60,000) and a 2004 Mclaren Mercedes Benz SLR with just 1,945 km from new (£200,000 – £250,000).
Other important lots on offer range from a 2004 Ferrari 360 Challenge Stradale (£130,000 – £160,000) to a 2016 Evanta DB4 GT Zagato (£130,000 – £160,000), a 1934 Bentley 3.5 litre Drophead Coupe by James Young (Refer Department), a 1967 Porsche 911 Short Wheel Base (£100,000 – £125,000), a 2001 Honda NSX Targa (£75,000 – £95,000), a 2004 Ferrari 360 Spider (£75,000 – £95,000) and a 1962 Porsche 356B 1600S Cabriolet (£110,000 – £130,000).
See for the full Spirit of Motoring catalogue