H&H AUCTIONS REVIEW, IMPERIAL WAR MUSEUM, DUXFORD, NOVEMBER 15th 2017
Topping the prices at the Imperial War Museum's Duxford Car Auction was a £155,200 1966 Jaguar E-Type S1 4.2 Roadster with gangland shooting history in the North East that had inspired a reference in Mark Knopfler's song 5.15am and was cited as an inspiration for the crime movie Get Carter.
By the end of the five-hour auction, 88 or 67% of the 131 classics in the glossy catalogue had sold, over 25% of them via the auctioneers' own on-line platform with 0% internet surcharge. Sale total for cars was £2.17m including buyer's premium.
The most surprising performance of all though was that of a 1943 International Harvester M5 Half-Track which had been employed during the Allied liberation of Europe in WW2, after which it was given a peace-time overhaul by Mercedes in Germany before serving the French army in French Guyana and ending up in South America.
In receipt of a 2500-hour, 'chassis-up' resto that took 27 years, and liveried in the markings of the Polish 10th Regiment Dragonders, the road-legal personnel carrier that can be legally driven on a car licence joined an anonymous buyer's private army for a regime-crushing £138,000 – although the guns used in the catalogue photos had been removed and were not included.
A rare in right-hand drive Mercedes-Benz 300B Adenaur Cabriolet, unearthed after decades of dusty slumber in a northern barn was estimated at £50,000-£70,000, but made a very bullish £106,904. All the barn finds successfully flew off to pastures new as did nine popular classics from a private Irish cache which also sold out, led by an ultra-low mileage 1958 Hillman Imp Californian which made a record busting £21,160. Eight of the cars consigned from the Old Hall Collection also found new homes.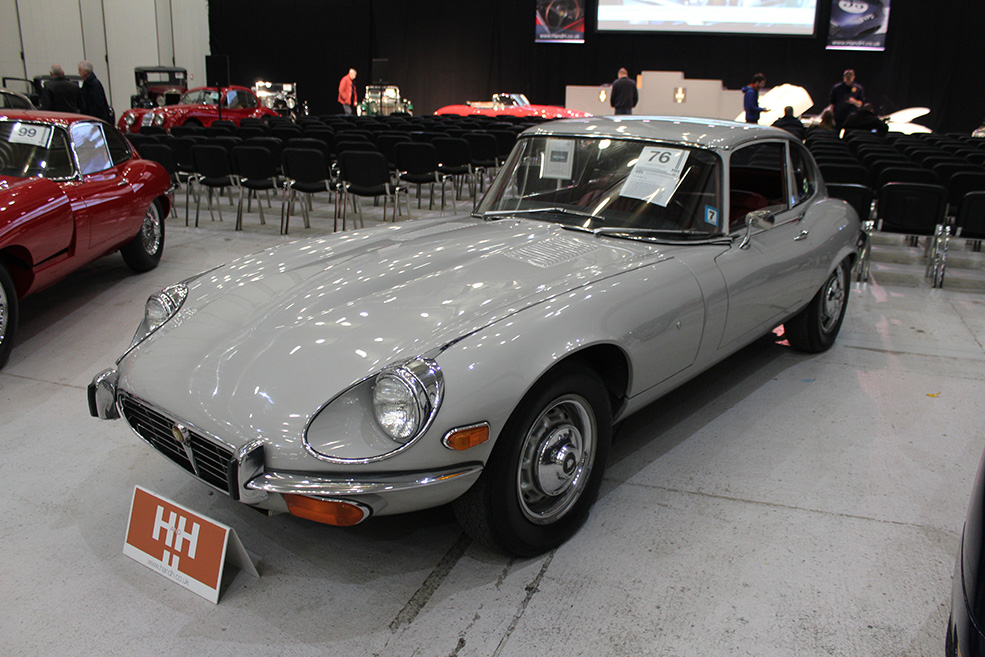 Consigned by music producer Pete Waterman without reserve, this 1970 E-Type may well be unique, being a Jaguar factory manufactured Series 3 Fixed Head shell with 2+2 seating, but 4.2-litre straight-six rather than the V12 engine, which sold here for £81,000.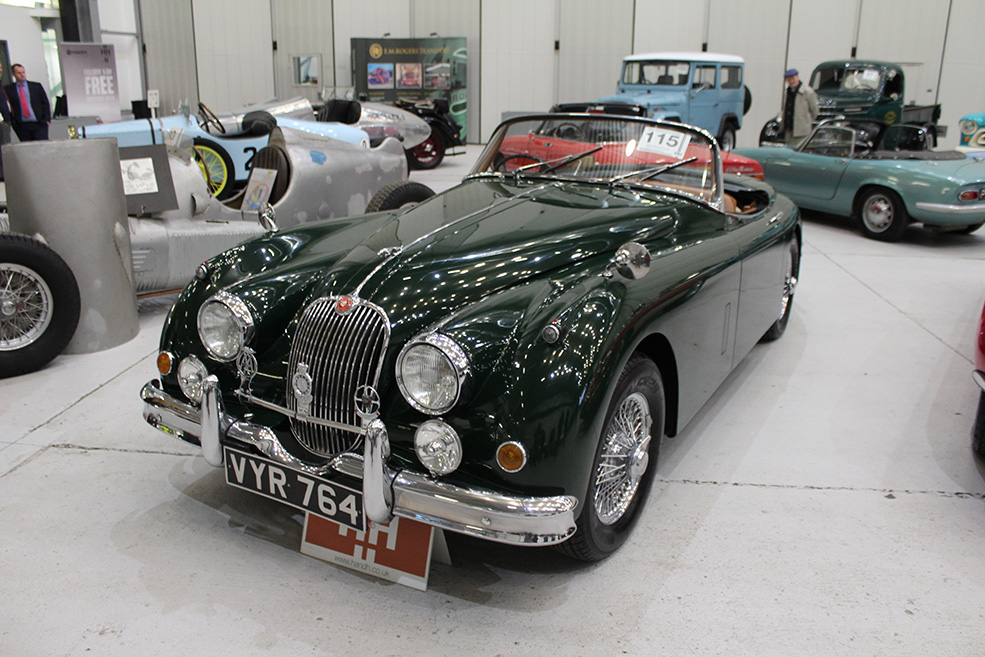 The seventh right-hand drive XK150S Roadster to be driven off the Browns Line production line in 1958 had been upgraded from 3.4 to a later 3.8 engine with Coopercraft brakes during extensive restoration before making £135,000.
International Harvester M5 Half-Track troop carrier of 1943 vintage had seen service with the Polish forces during the Allied liberation of Europe before selling for a punchy £135,000, £25,000 more than forecast.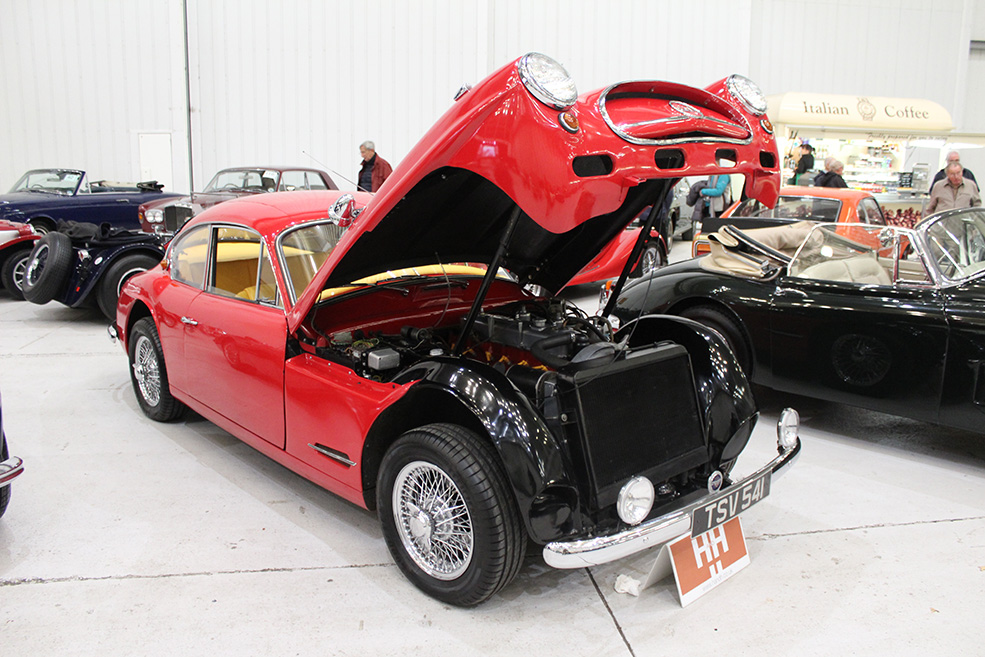 A former Jensen Owner's Club concours winner, this 1958 541 Deluxe had been preserved in dry storage for 20 years before restoration and made £45,400.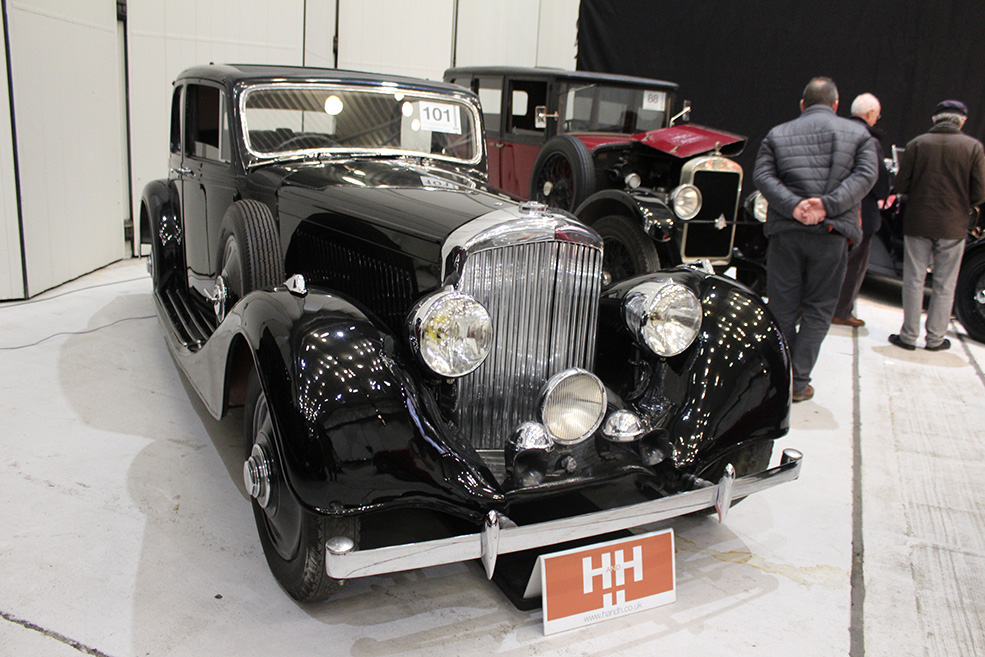 £45,000 (£15,000 below the guide price) was accepted for the Bentley 4¼-litre with pillarless coachwork by Vanvooren which had bought by Jean Paul Boucheron of the jewellery dynasty in 1936, since when it had never been fully restored and only sparingly driven.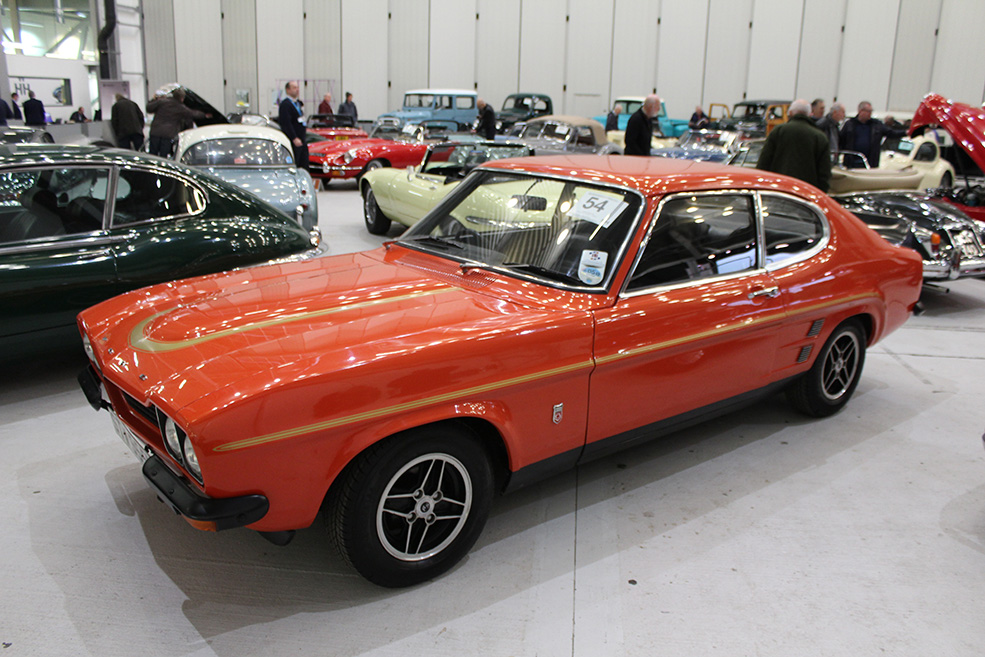 Only 250 Capri RS 3100s were produced back in 1974, sporting uprated brakes and suspension, relocated track control arms for negative-cambered front wheels, flared arches, chin spoiler and large rear ducktail. This one sold for £46,225.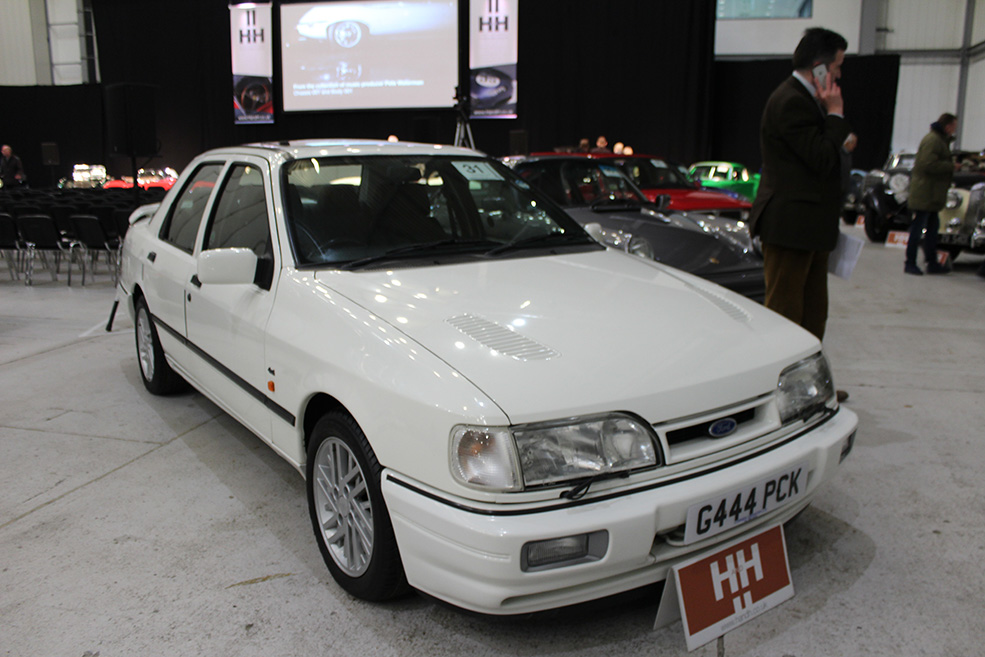 More than the forecast £35,438 was paid for this 1990 Ford Sierra Sapphire RS Cosworth 4×4 with just 15,843 miles covered by two owners in the last 27 years.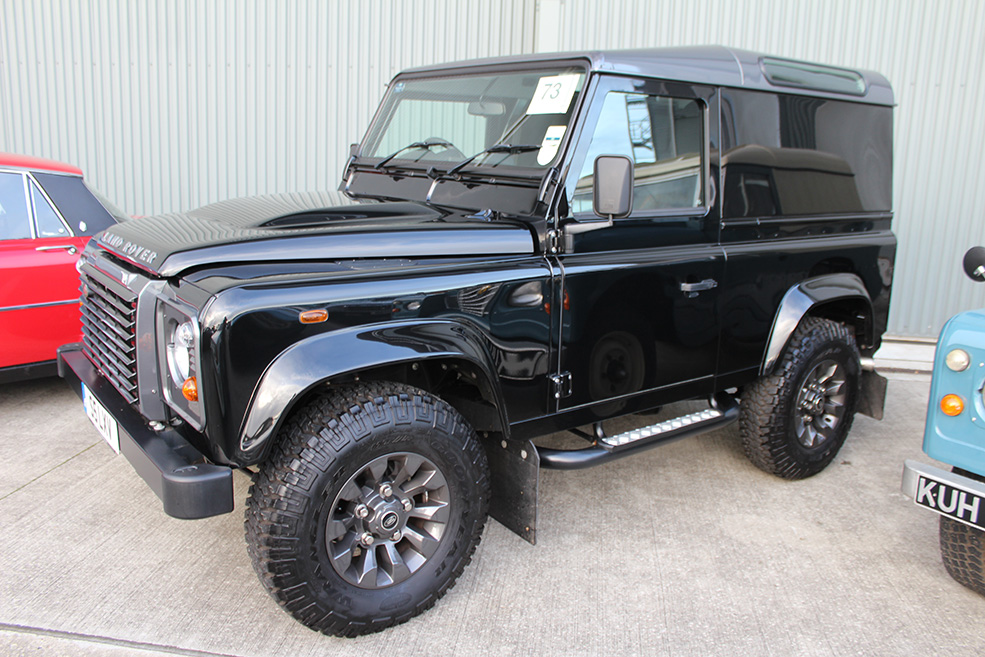 Already commanding classic status, this 2013 Land Rover Defender 90 LXV 65th Anniversary Edition showing 3500 mud-free miles changed hands for the first time for £30,375.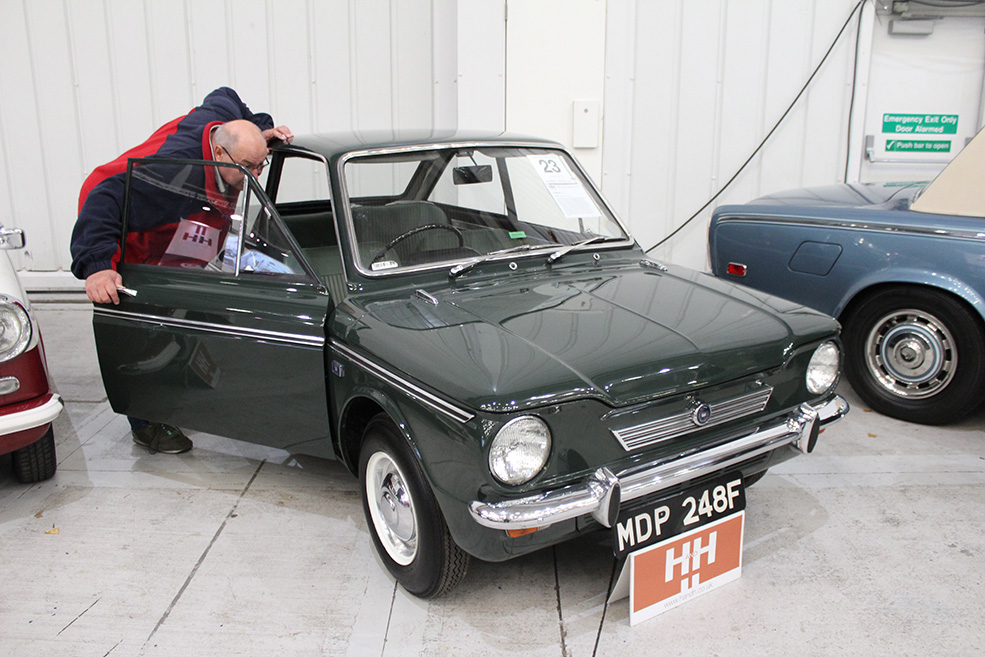 A world record £20,700 was established by this unregistered 1968 Hillman Imp Californian fastback with just 82 miles clocked up from new 49 years ago, presumably all on trade plates.
The former Patrick Collection 1978 Stag had been colour-changed to Jade Green at the Patrick family's request even before it left the Triumph showroom and came to market from Ireland with only 10,800 miles to sell for £20,588.
A Herald 12/50 with folding 'Skylight' (Triumph-speak for fabric sunroof in 1964) had never been welded or sprayed, it was claimed. Freshly dusted off from being dry-stored in an Irish collection for the past few years, it sold for £8213.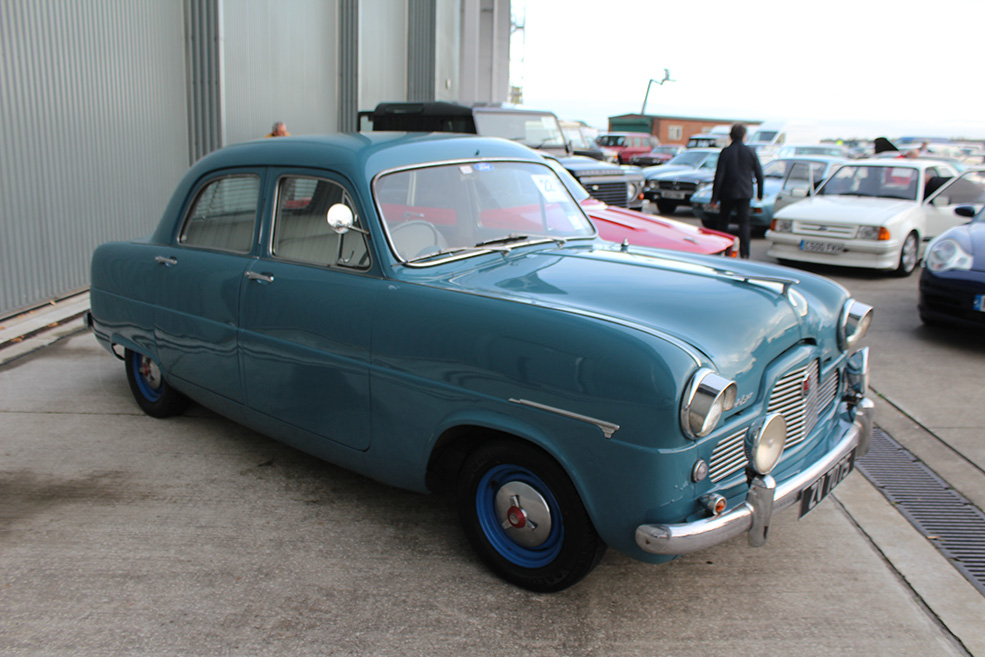 Sporting a tubular exhaust manifold, and with front and rear bench-seats retro-trimmed, this 1953 Zephyr was hammered away for £5738.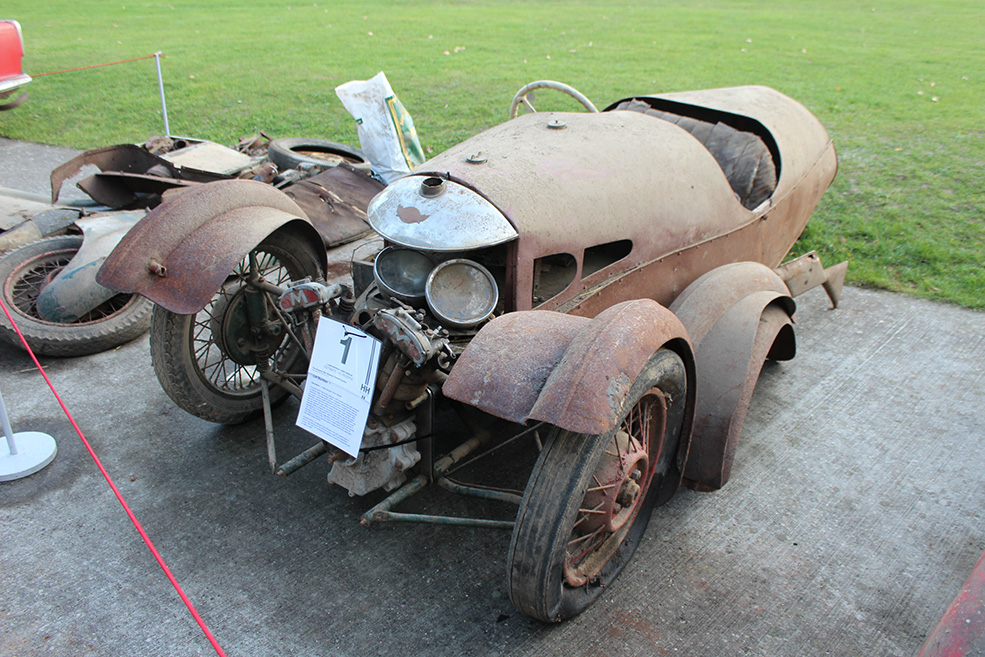 This Morgan-Matchless three-wheeler with barrel-back sports body had lain unclaimed on the vendor's farm for over 20 years. Although incomplete and with chassis number indistinct, the 1930s car was bravely taken on for £7313.
After dispatch from Morgan's Malvern works to a London dealer in July 1947 unpainted and with no trim, a flat-rad 4/4 had subsequently lost its original Standard engine before being 'farm found' 20 years ago powered by a Ford 1172 side-valve. The project was acquired for £4950.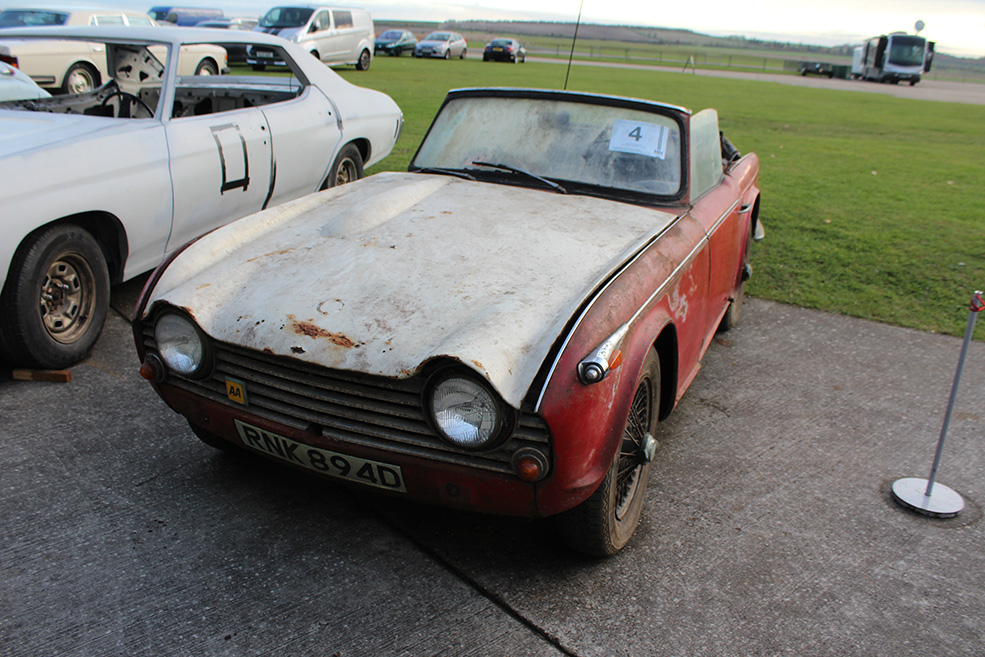 Another lot which had been off the road for many years was this right-hand drive 1966 Triumph TR3A. Last run in 2016 and looking mostly complete, the dusty TR was carried off for £4669.