DVCA, ATHELHAMPTON HOUSE, DORCHESTER, NOVEMBER 30TH 2017
Although the going was statistically soft for DVCA, the Stalbridge auction firm still sold a 1970 Jaguar E-Type S2 4.2 Roadster in their auction tent pitched beside stately Athelhampton House near Dorchester for £110,000 with premium, which was the lower estimate forecast.
Admittedly the Coventry classic had been pro-restored to concours standard and upgraded with Broadspeed T5 box and better brakes and suspension.
Where cars sold however, they did sell for decent money. The subject of a major restoration and with excellent period and retro-event history, a 1958 Triumph TR3A made the necessary £24,800.
Even though some corrosion was beginning to erupt at the bottoms of the front wing, a previously restored 1967 Volvo P1800S soared above its £17,000 top estimate to sell for £22,550. A 1981 Porsche 924 Turbo from one lady ownership for the last 24 years went for £7260, within the estimated band, and a 1999 Porsche Boxster 2.5 was even cheaper at £3190.
A 1988 Daimler-badged XJ40 3.6 with a mere 31,400 miles to show for it was a lovely favorite armchair on wheels for £5170. Virtually unused since the 1990s onwards, and with under 400 left, an increasingly rare 1974 Jensen-Healey for improvement to paint and interior had come to market in deepest Dorset for the first time in 41 years. The great Donald Healey's brain child was bravely, if not wisely taken on for £5060.
A 1964 Hillman Super Minx Convertible meanwhile offered open classic motoring for four on a lovely summer day for £6820, a recently resprayed 1974 MGB GT £3245 and a Cabriolet version of the Peugeot 205, which looked tidy enough, went to a new home for £3000.
The proverbial one lady owner for 29 years 1986 Toyota MR2 Mk1 also looked ready for much buzzing in the lanes when hammered away for £2600 by new house auctioneer Mathew Denny. Including premium, one of the most collectible (and affordable) Toyotas cost the next owner £2860 with premium.
DVCA charges clients 10% premium (subject to VAT) on hammer prices bid.
UK-supplied 1970 E-Type Series 2 4.2 Roadster had been treated to bodywork renovation by WatJag in the Peak District and to exceptional repainting by Adam Wells of Bude during total restoration to concours-standard before selling to a Jaguar collecting couple in the tent for £110,000.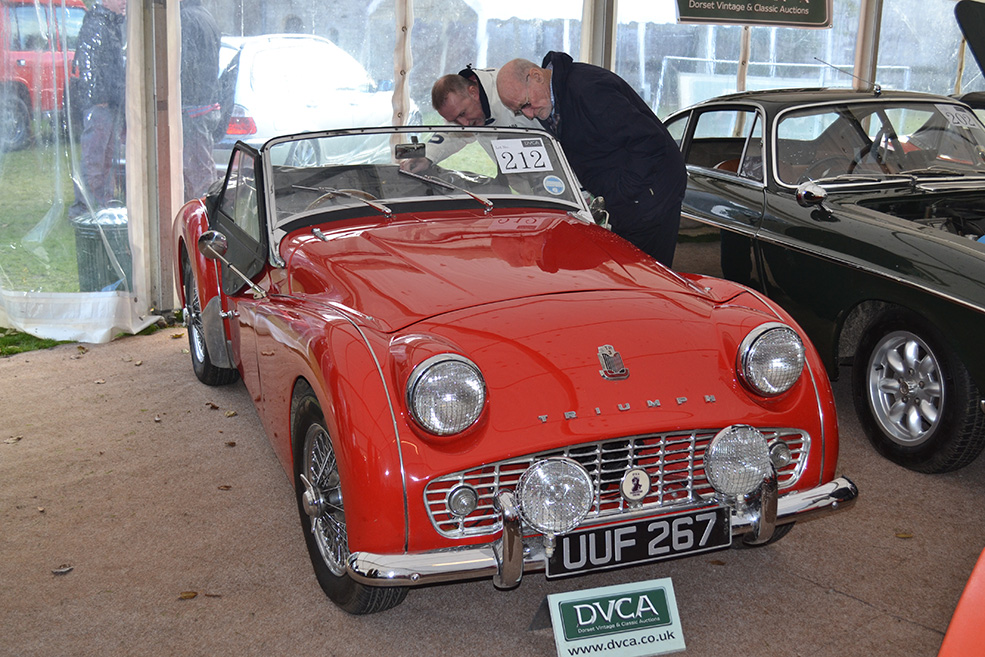 From competing in the Brighton Speed Trials in the late 1950s to being driven to the Arctic Circle in 2009, a TR Enterprises-rebuilt 1958 Triumph TR3A upgraded with 2189cc motor had more recently been historic rallied in France. With three files full of history, the well-travelled TR fetched £24,300.
Despite the lower rear areas of the front wings showing some signs of corrosion, the previously restored, repainted and upgraded 1967 P1800S still sold for a way over top estimate £22,550.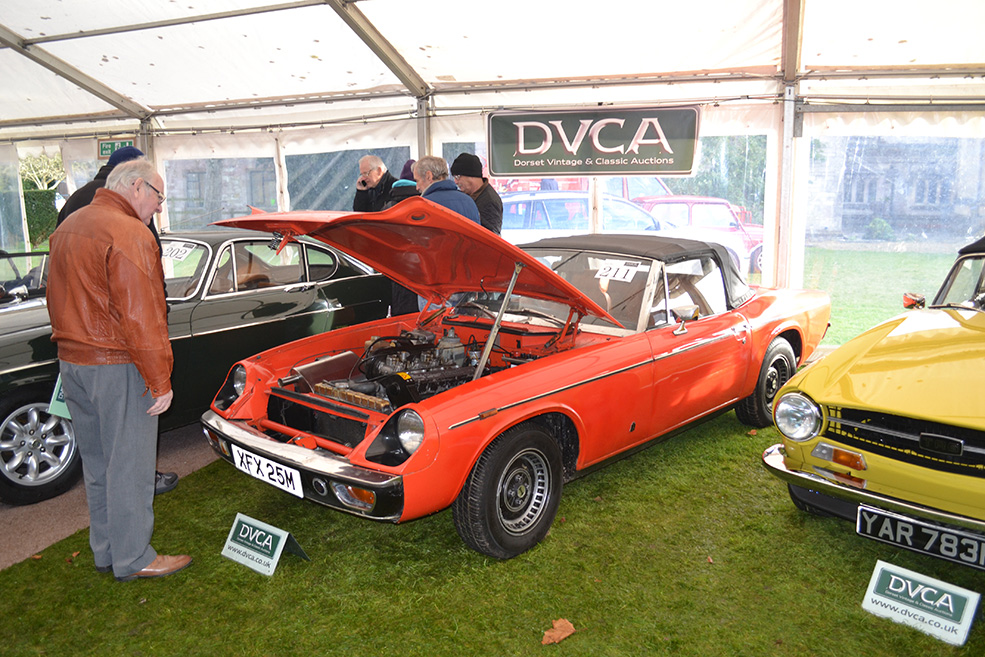 Having been one family owned for 41 years, a 1974 Jensen-Healey with 1973cc Lotus 907 power unit and componentry from both Vauxhall and Chrysler parts bins had been a former JDOC concours winner. Now in need of improvement to paint and interior, the now rare sports was acquired here for £5060.