BRIGHTWELLS AUCTION, LEOMINSTER, 27TH SEPTEMBER
Buyers spent just under £1.3m on three quarters of the 130 classics auctioned by Brightwells on a mid-week afternoon in Herefordshire in front of a huge crowd, including reporter Stratford Godfrey, who saw a 1966-manufactured Jaguar E Type S1 S1 Fixed Head top the prices by selling for £10lk and an apparently hopeless 1936 Lagonda LG45 project taken on for £33k.
There were no signs of any pre-Brexit slowdown at the Brightwells auction centre just outside Leominster in Herefordshire, where a car park overflowing crowd of enthusiasts snapped up 95 classics, 73% of the 130 auctioned, for £1.3m including premium with further post-sales in prospect. Apart from the large 'live' audience of punters, some of whom had made long journeys from the EU mainland, overseas interest was also strong with registered bidders participating via telephones and on-line from afar afield as Abu Dhabi and Australia.
Top cat was a really sharp 1966 E Type S1 Jag Fixed Head with matching chassis and 4.2 engine numbers and sumptuous Suffolk & Turley re-trim that occupied pole position next to the rostrum and deservedly sold to an English collector for an applauded £101,200 with premium. The best Coupes, it seems are now fetching only about 20% shy of the best Roadsters. Whilst the now electrification obsessed JLR themselves have been charging well over double the amount paid on a Wednesday afternoon in the Welsh Marches for a works-restored E Type S1 FHC under their 'Classics Reborn' programme.
E Types continue to magnetise the auction public with an ex-US open 1974 S3 in ogle-Turquoise parked outside the main door to the viewing sheds much viewed. Recently converted to right-hand drive by Powerbell Services at a cost of £7615, the manual-shift V12 Roadster also sold, though for a below forecast £63,800. Very much more affordable to buy, but certainly not to complete was a 1969 S2 2+2 Coupe, a stalled and dismantled resto-project with another ex-US shell with part- engine and Getrag 5-speed box and loads of stuff missing, bravely taken on for £12,650 and heading for the Czech Republic.
A 1937 Triumph Dolly Special with fetching open sports-bodywork in fashioned in aluminium soared above estimate to finish on £37,400 and faces a new life with a Belgian owner. A restored 1966 Mini Cooper S Mk1 sold for £35,200, about £34,500 more than it cost its first owner 50 years ago. A Mini City E auto which had been driven less than 12,000 miles by one lady owner since new in 1990 made £8800.
Following what he described as "a temporary post-election blip" in the summer, Brightwells Classic Car Specialist James Dennison was delighted with a return to the auction house's customary higher sale rate: "While buyers are definitely more choosy these days than they were year or so back, there is no slackening in demand across the board, with enthusiasts just as keen to buy useable classics as they ever were, while the more serious collectors are prepared to pay increasingly high prices for the very best cars, as evidence by the excellent results we achieved with the Series 1 E Type, the Sunbeam Tiger and the Chevrolet Camaro.
"The pre-war market also remains strong with buyers competing fiercely for interesting lots, like the Lagonda LG45 project and the Triumph Dolomite Special, both of which smashed their pre-sale estimates. While more modern classics are still going great guns as shown by the excellent results achieved by the Maserati 3200GT auto sold for £14,300 and the Bentley Arnage T £31,350."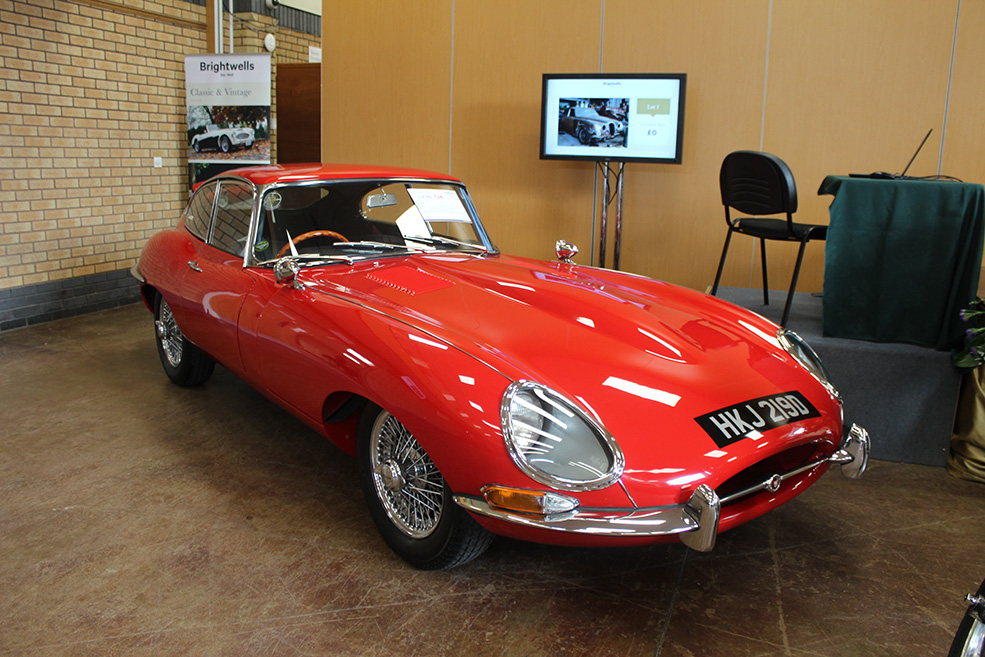 Top priced car at the latest Herefordshire auction was a 1966 Jaguar E Type S1 4.2 Coupe with uprated Coopercraft brakes and all matching numbers still matching sold for £101,200.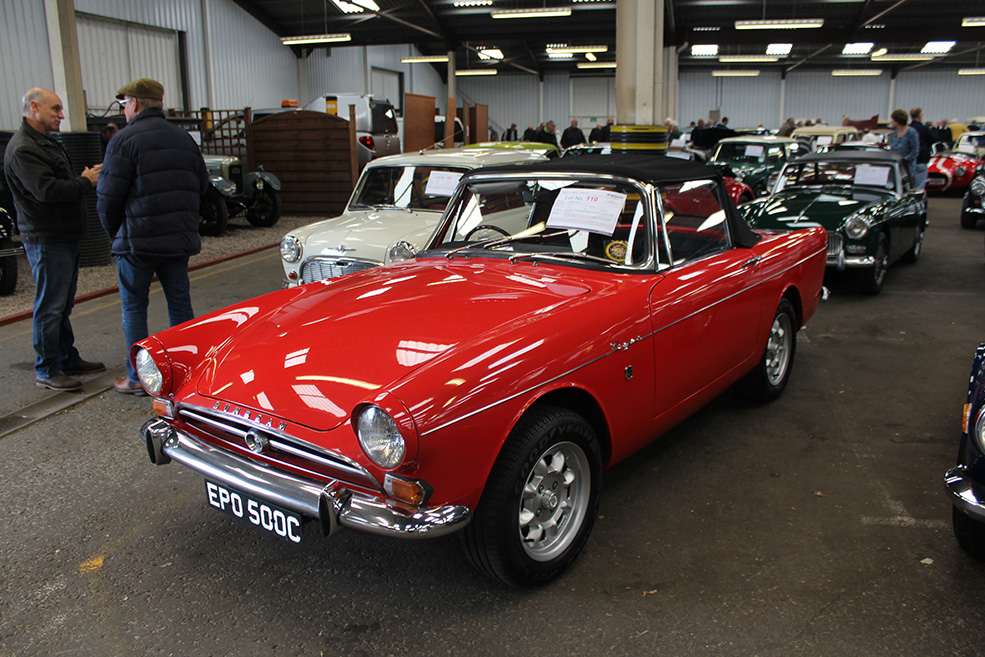 Sunbeam Tiger Mk1, the first to be registered in the UK in 1965, had been recently restored at a cost of £40,000 and fetched £53,900, £5900 more than the top estimate figure forecast.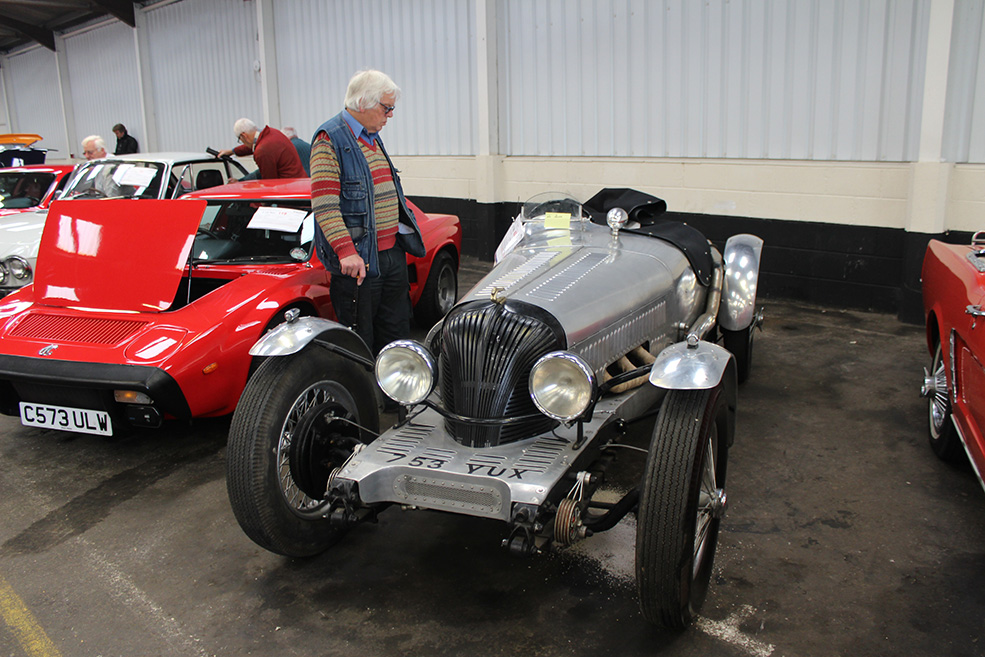 Wade supercharged pre-WW2 Triumph Special had been based on a 1937 Dolomite 14/60 Saloon donor. With 1767cc engine and event-enabling VSCC papers, the Lightweight Sports motored to a £37,400 result, £7400 above the guide price.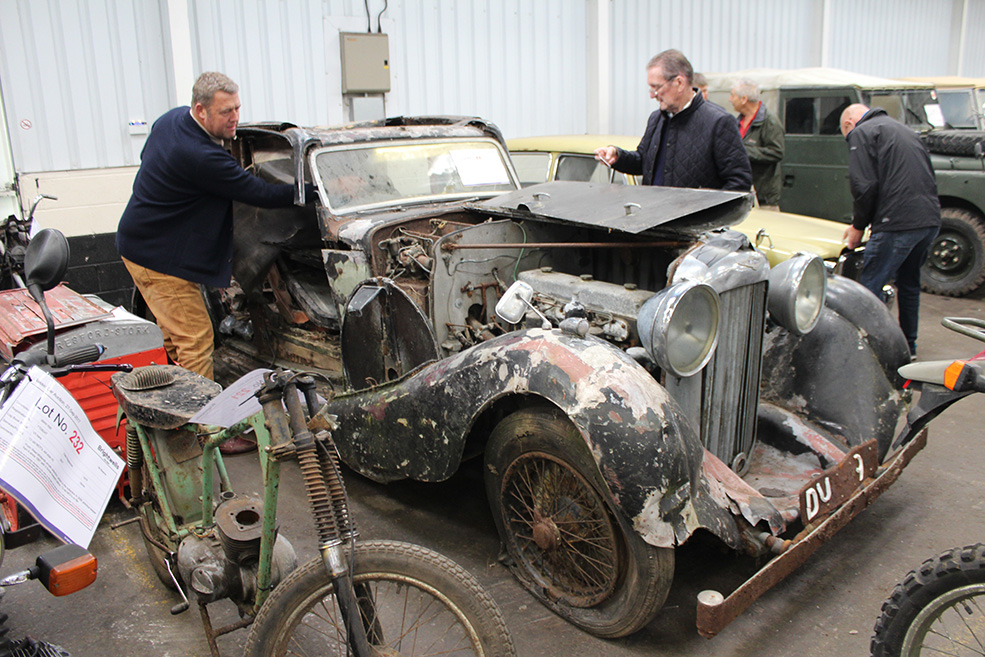 Despite requiring full restoration, an almost spares-only 1936 Lagonda LG45 Saloon project with desirable Meadows 4.5 engine excited a winning bid of £30,000, before being trailered away for £33,000 with premium, £13,000 more than had been forecast by the auctioneers.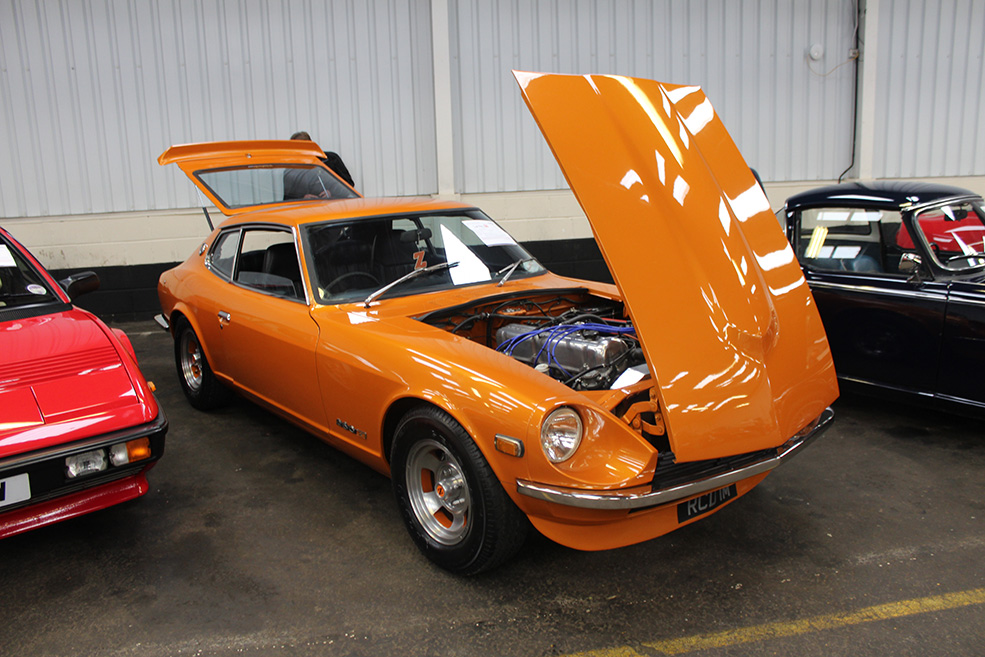 Recently restored, upgraded and with rebuilt engine, an original RHD 1974 Datsun 260Z 2+2 Coupe in period Burnt Orange with 87,000 miles on the clock fetched a cool £21,340, £5340 more than top estimate.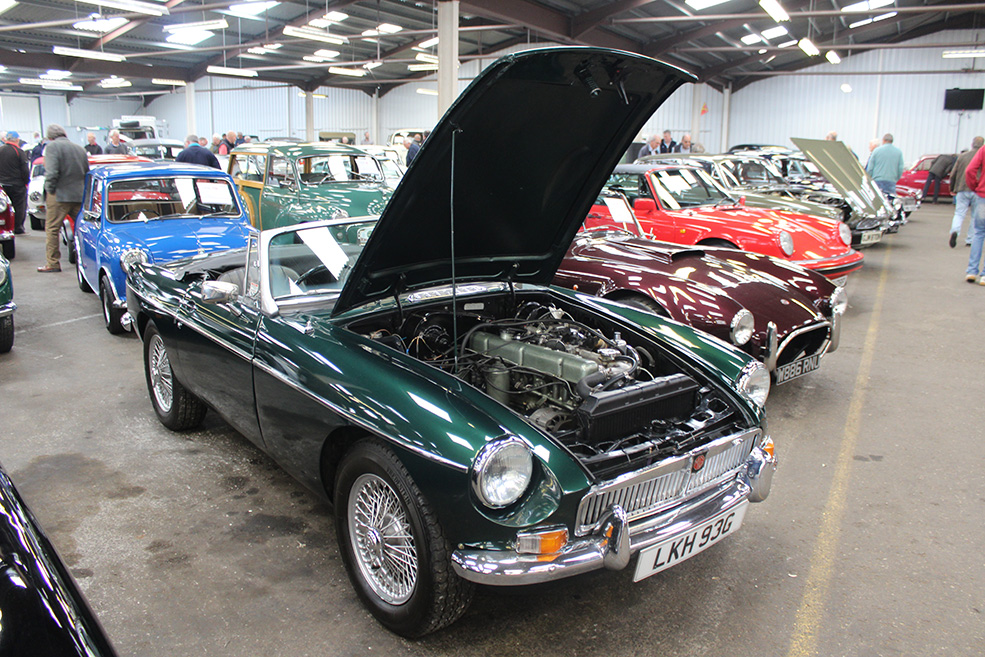 A within estimate band £20,900 was paid for a 1969 MGC Roadster with 3-litre 6-cylinder engine and overdrive gearbox that had been in receipt of a back-to-bare-metal respray and a new hood.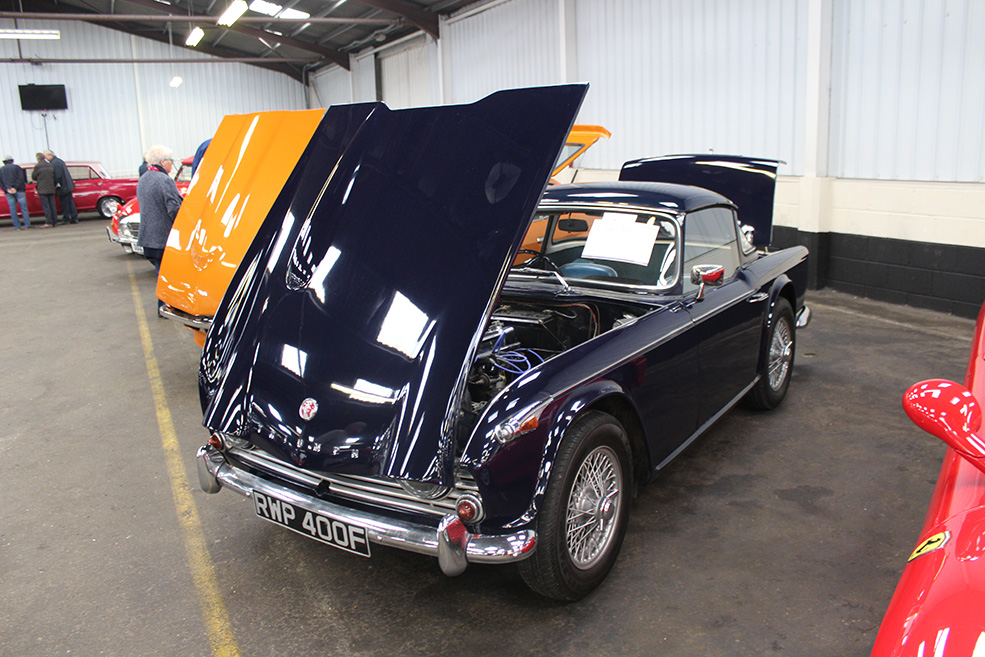 Although last repainted some 13 years and 39,000 miles ago, a 1967 Triumph TR4A with overdrive and fixed rear screen 'Surrey Top' options nonetheless sold for £19,250, £2250 above the guide price.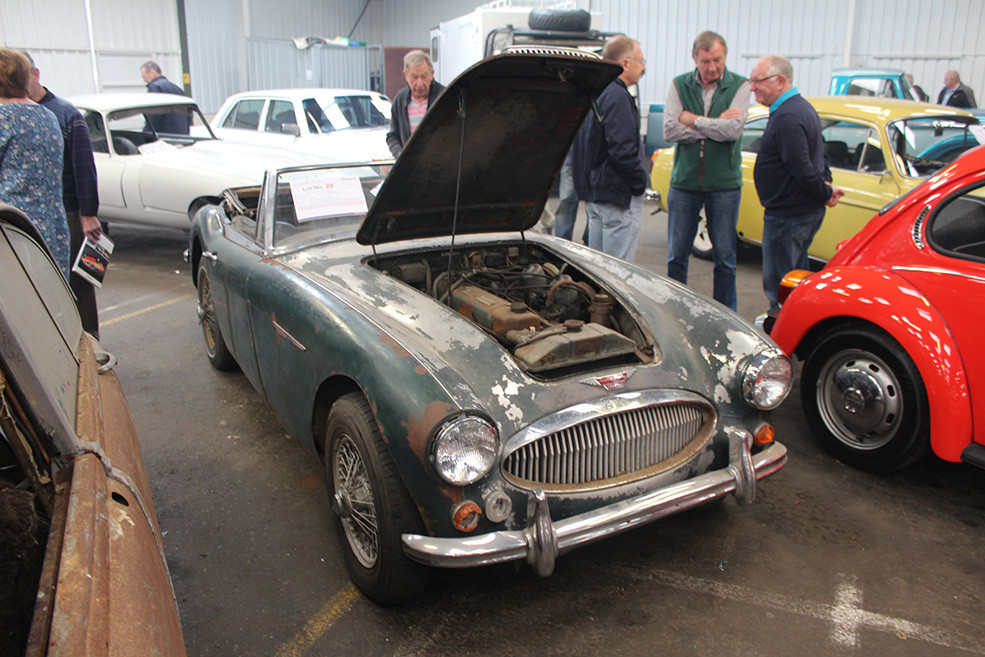 Former US market 1965 Austin-Healey 3000 Mk3 BJ8 Phase 2 left hooker, actually likely to be a relatively straightforward restoration project beneath scabby paintwork, was taken on for £16,500.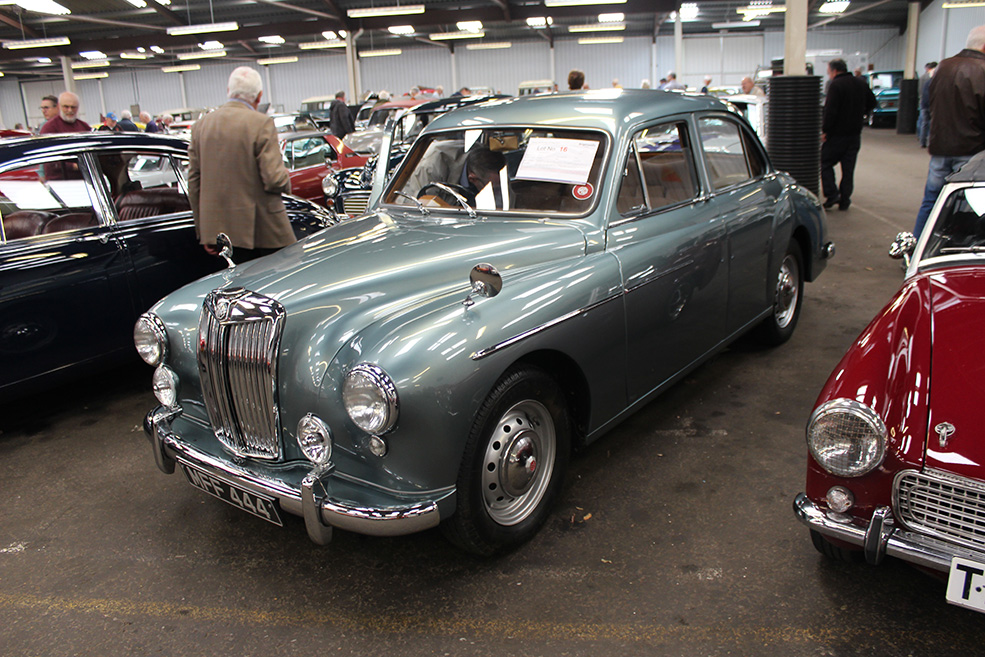 Fully restored by an MG specialist at a cost of over £20,000 in 1998, 4000 miles ago, a 1958 Magnette ZB with the smaller rear window of an earlier car made £14,300, nearly £2000 more than predicted.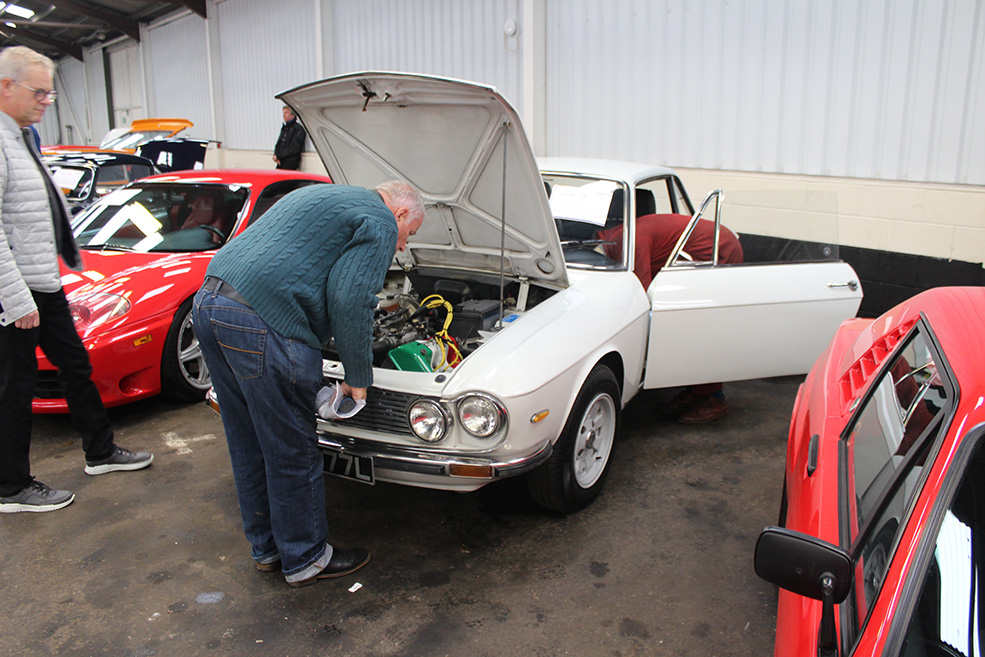 Two owner 58,000 mile 1973 Lancia Fulvia 1.3S S2 Coupe in once fashionable Bianco Saratoga with slightly more flared 1.6 HF wheel-arches and V4 cylinder head in Italian colours raised £13,970.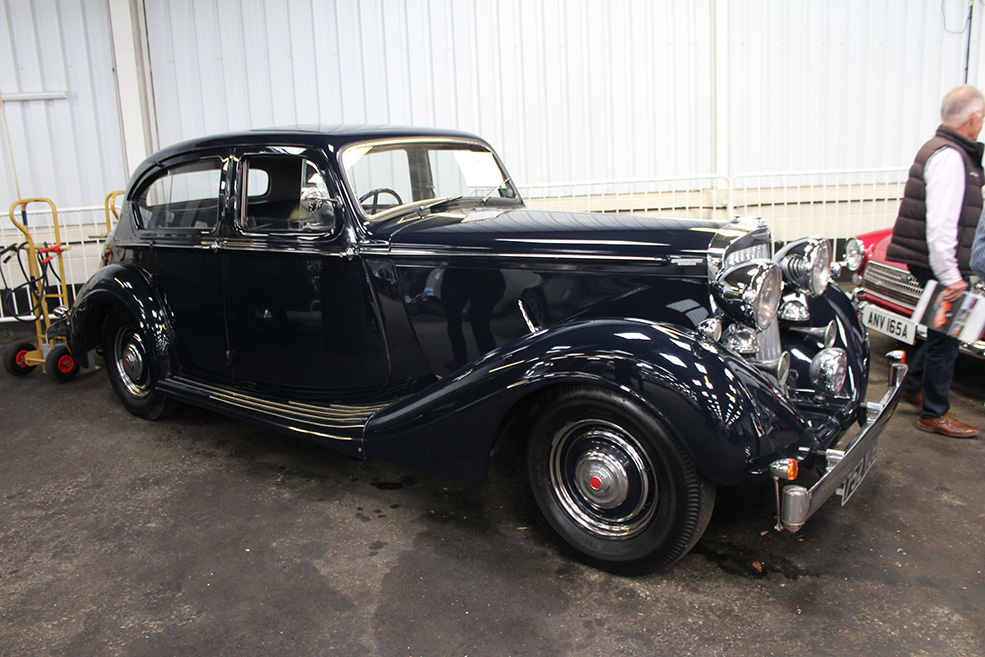 As seen by daytime Beeb TV viewers in several episodes of 'Father Brown' (the crime-solving Catholic priest played by Mark Williams), a 1939 Sunbeam-Talbot 4-Litre had returned home from Australia in 2011 and was successfully auctioned for £30,800 six years later.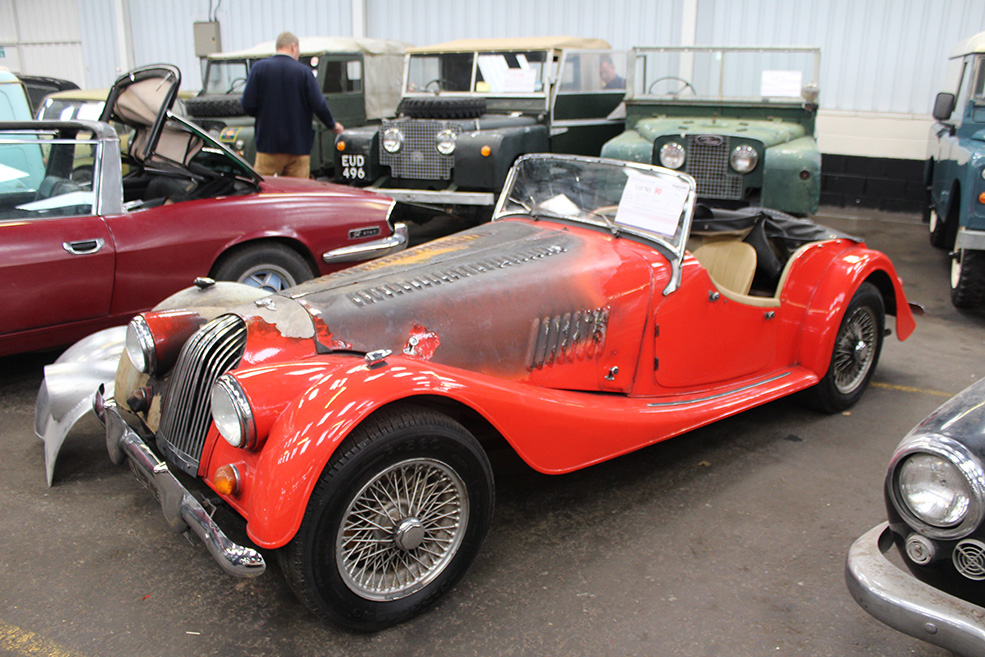 Domestic garage fire damaged 1969 Morgan 4/4 Ford 1600GT engine 2-Seater Sports with one heat-buckled ali-wing and molten hoses and wiring under-bonnet was nonetheless well bought for £12,100.
British Leyland era Mini Clubman Estate 998, driven 56,000 miles since new in 1975 by one owner who had the Sherbert Lemon bodywork resprayed 15 years ago, fetched £6050.
Seemingly nicely restored by the vendor after spending nine years storage in a neighbour's garage, a chic 1978 Citroen Dyane 6 changed Francophile owners for £5610. The obligatory French beret was extra!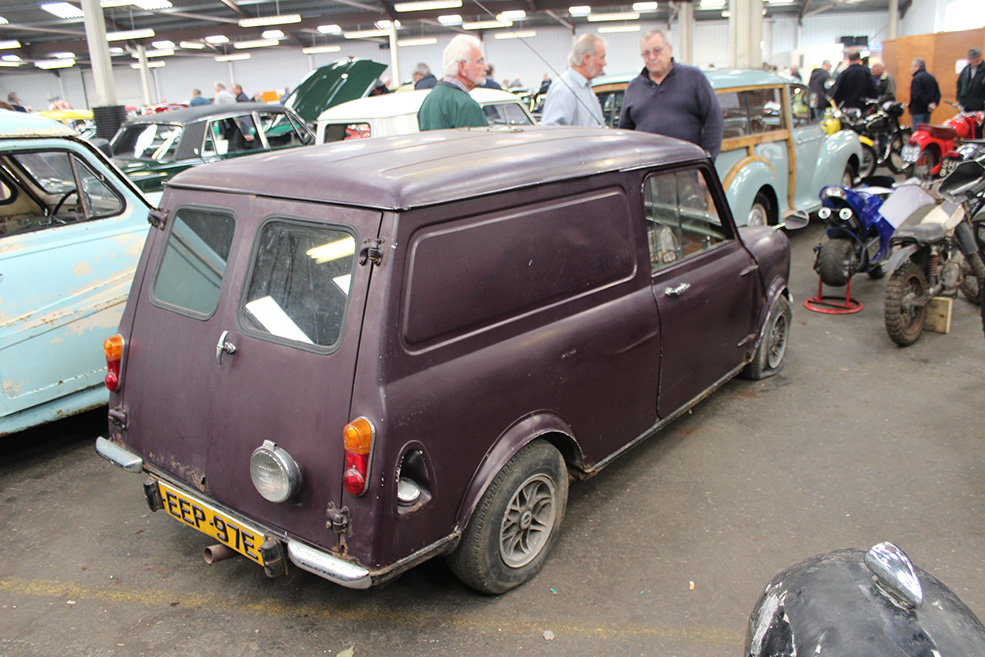 Despite not being driven since 1978, a tatty looking 1967 Mini Van with modified 1275 engine, straight-cut box and Cooper S brakes without DVLA ID was transported away for £5060.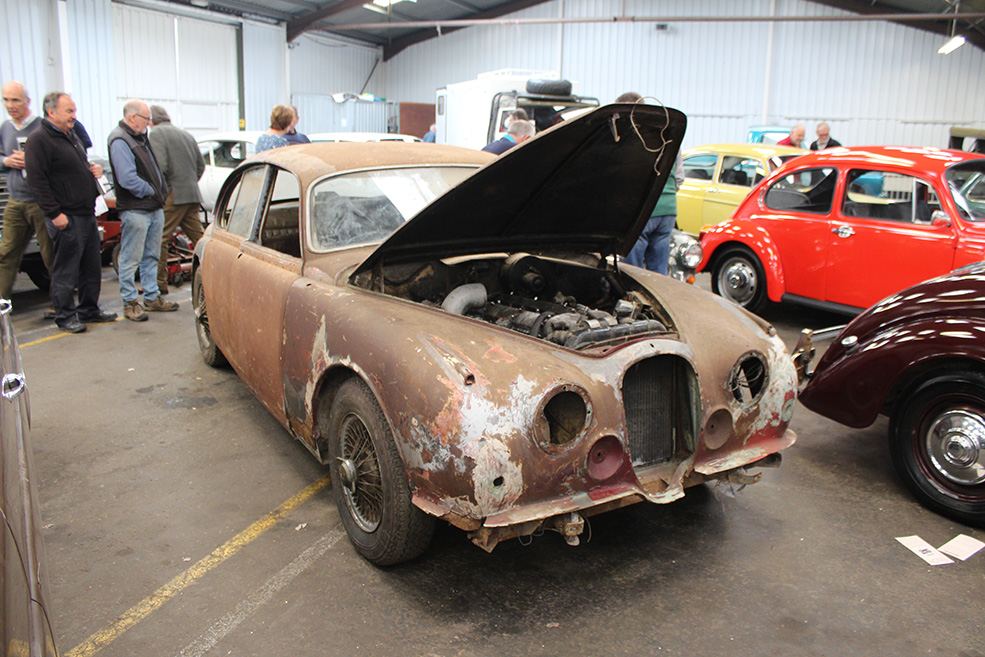 Barn-found and inactive since 1980, a 1962-made and cosmetically-challenged Jaguar Mk2 with believed to be a 3.8-litre engine from a MkX, but no documents, was hammered away for £3300. Restored minters can fetch over £65k, say Brightwells.