Classics World's Rob Hawkins test drives and reviews the Mk1 Morris Mini Minor…
This Morris Mini Minor was first registered on the 14th May 1962, four months before the Mk2 Mini was introduced and Hydrolastic suspension was fitted. This particular car originally had Old English White paintwork, so it should have either Porcelain Green, Satin Beige or Tartan Red seats, but these have been replaced at some point in its life with later vinyl seats, possibly from a Mini 1275 GT as they have a semi-bucket feel to the backs and bases.
The car's first owner lived in Enfield and kept it for 17 years. It was then sold to its second owner, who lived in Peterborough. By 1993, it was with its third owner, who lived in Scotland. The car remained in Scotland until it recently came to the Classic and Sports Car Centre in North Yorkshire.
The documentation on this car is reassuringly extensive. There's a file containing copies of all logbooks dating back to 1962, various MoT certificates and an invoice file from the 1990s with receipts for all of the work that has been done and the parts that have been bought. Shoes, flexi-hoses, cables and wheel cylinders have been renewed for the all-round drum brakes, along with steering components such as rack boots, CV boots and track rod ends. Suspension components ranging from knuckle joints and radius arms to dampers and wheel bearings have been reconditioned or renewed. The engine hasn't been rebuilt, but there are receipts for fitting a new gearbox gasket set, renewing engine mounts and new clutch components including an oil seal, master cylinder, clutch plate, release bearing and ring gear, so the engine has probably been removed before.
During the 1990s this Mini Minor required some bodywork repairs, including new sills and quarter panels and various trimming work was also carried out. These are some of the common rot spots on most Minis, including the front panel and wings and the rear valance, floors and boot.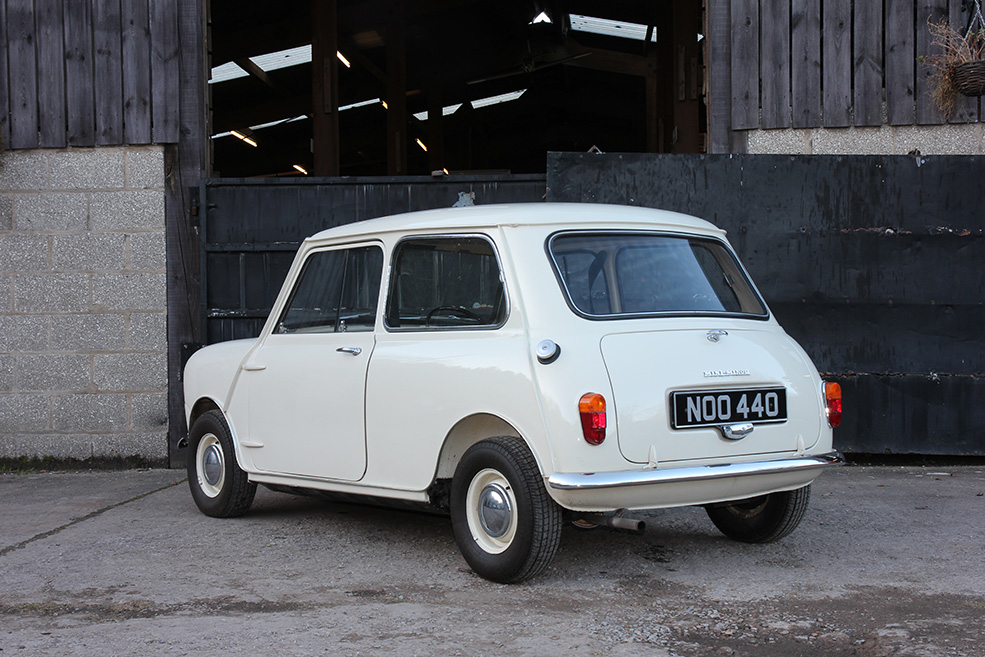 ON THE ROAD
The later seats don't look too out of place inside this sixties Mk1, although period seats can be fitted instead. The floor starter, to fire the engine into life, adds a touch of nostalgia, and the magic wand gear stick isn't as daunting as it may seem to find the gears. It can feel like stirring soup at times, but once you're familiar with the gear pattern, gear changes can be completed quite swiftly. However, the fun of driving an older Mini is in its gear changes. First gear has no synchromesh, so it requires a little mechanical sympathy to ease the gear stick in.
Surprisingly, the 34bhp that the standard 848cc A-series offers is remarkably lively. Press the throttle pedal gently and the engine responds with enthusiastic acceleration. Working up the gears takes a little patience at first, especially moving from second to third, but once mastered, the apparent vagueness of the gear stick isn't a problem. – and it looks authentic.
This Mini's suspension consists of rubber cones and telescopic dampers at all four corners with upper and lower arms and tie-rods at the front, and radius arms at the rear. The handling and ride quality are comfortably well-sprung with no nasty crashes from the suspension when negotiating rough sections of the road. The car corners well and its steering is adequately positive and predictable through the bus-sized steering wheel.


VERDICT
This Mini Minor probably doesn't appeal to Mk1 purists, unless they are looking for a vehicle to improve upon and add authentic parts. The missing period interior and tatty engine bay are its downfall, but this is reflected in the price.
There are cheaper projects out there, but the really cheap ones are either in need of a restoration or not actually a Mk1 – and we have spotted a few, including a Mini advertised as a 1967 Mk1. Thankfully, this Mini Minor appears to have the documentation to back up its status and the fact that it hasn't been fully restored, which is usually a few plus points in most people's opinion.
With the rarity of Mk1 Minis, finding an unrestored example isn't easy, so maybe this Mk1 is a good starting point.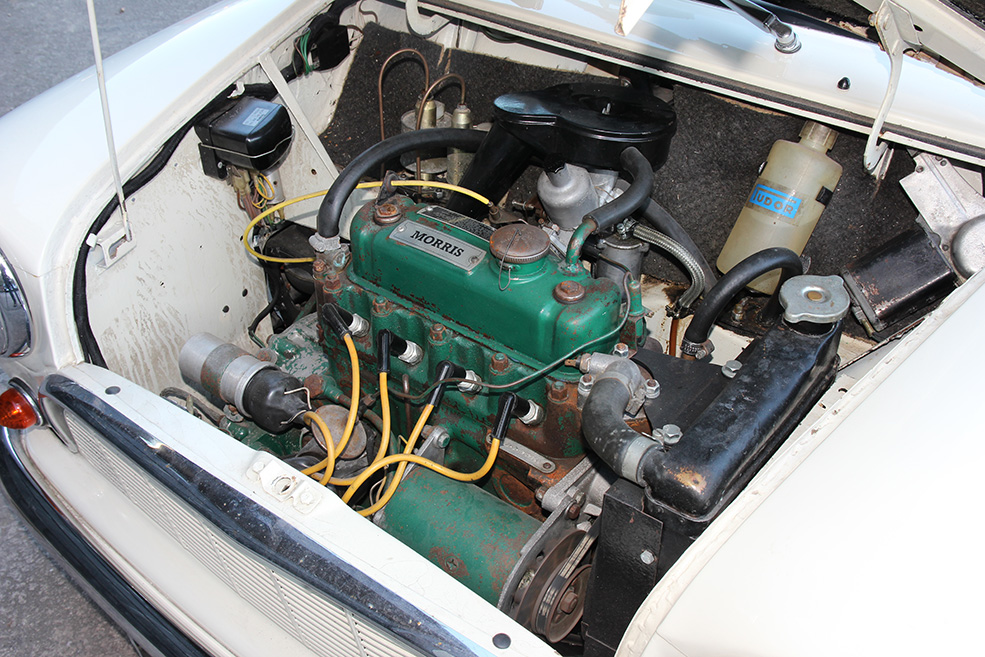 Mk1 Morris Mini Minor Tech Spec
ENGINE: 848cc
POWER: 34bhp
0-60MPH: 29.7secs
TOP SPEED: 75mph
GEARBOX: 4-sp manual