We take a brief look at the Saab 9000 – the Swedish marque's first executive car and, some say, the last of the real Saabs
By the late 'Seventies, having established a reputation for building durable and interesting cars, it was natural that Saab should have their sights set on breaking into the lucrative executive sector of the market.
But although the company's car division was profitable, its sales figures lagged behind those of its main European rivals. So when it finally decided to introduce an upmarket model it made sense to team up with another manufacturer to share the costs of developing a new platform.
Accordingly, Saab joined forces with both Fiat and Alfa Romeo (then state-owned) to develop what became known as the 'Type Four' platform – a project that would give rise to not only the Saab 9000 but also the Fiat Croma, Lancia Thema and Alfa Romeo 164.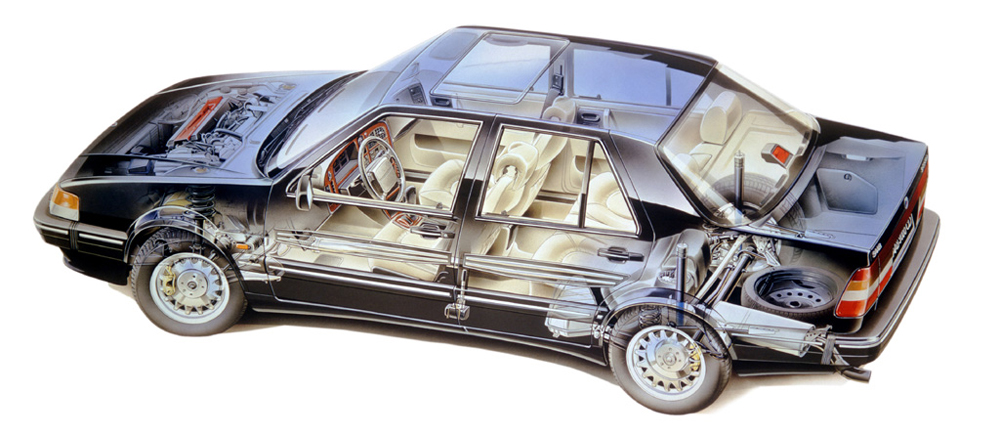 THE FIRST AND LAST?
When launched in 1984, the Saab 9000 represented a break with tradition – not only was it the first Saab to be aimed at the executive market, it also had a transverse engine and column-mounted ignition barrel.
Traditional or not, it would later come to be regarded by some as the last 'true' Saab, being the final new model introduced before the automobile division was severed from the rest of the company and General Motors took their first steps to outright ownership.
At launch the 9000 was available only as a five-door liftback. There were no engine options either – the first cars all came with with Saab's trusty, Triumph-derived 2.0-litre 16-valve turbocharged unit. In this guise, the 9000 was rapid by the standards of the day: the manual version could attain 138mph and sprint from 0-60mph in 7.7 seconds. Its midrange acceleration was even more impressive.
The 9000 wasn't just good in a straight line. It had excellent roadholding too, with high levels of grip in all conditions. But although the handling balance was pleasingly neutral, torque steer and the sudden arrival of boost mid-corner could cause turbocharged 9000s to feel a little lairy in inexperienced hands.
Oddly for an executive car (but perhaps not for a Saab), the 9000 was shorter than the company's medium-sized car, the 900. In spite of this, the 9000's better packaging and longer wheelbase meant it not only looked bigger than the 900 but was also roomier.
As with all Saabs, the 9000 was progressively upgraded and revised. A normally aspirated version of the 9000 joined the range in 1985 and a booted version – known as the 9000 CD – went into production in 1988. In the same year a higher performance variant, named in honour of rally ace Erik Carlsson, was offered to UK purchasers. With 200bhp, a colour-coded bodykit and stiffer suspension than the standard 9000, it soon acquired cult status.
In 1990 a catalytic converter arrived along with a new 2.3-litre engine, initially available only in normally aspirated form. A turbocharged version was offered in 1991 and gave rise to a new and even more rapid version of the Carlsson.
Electronic traction control was also introduced in the same year. Optional on some versions and standard on others, it effectively tamed the 9000's propensity for torque steer.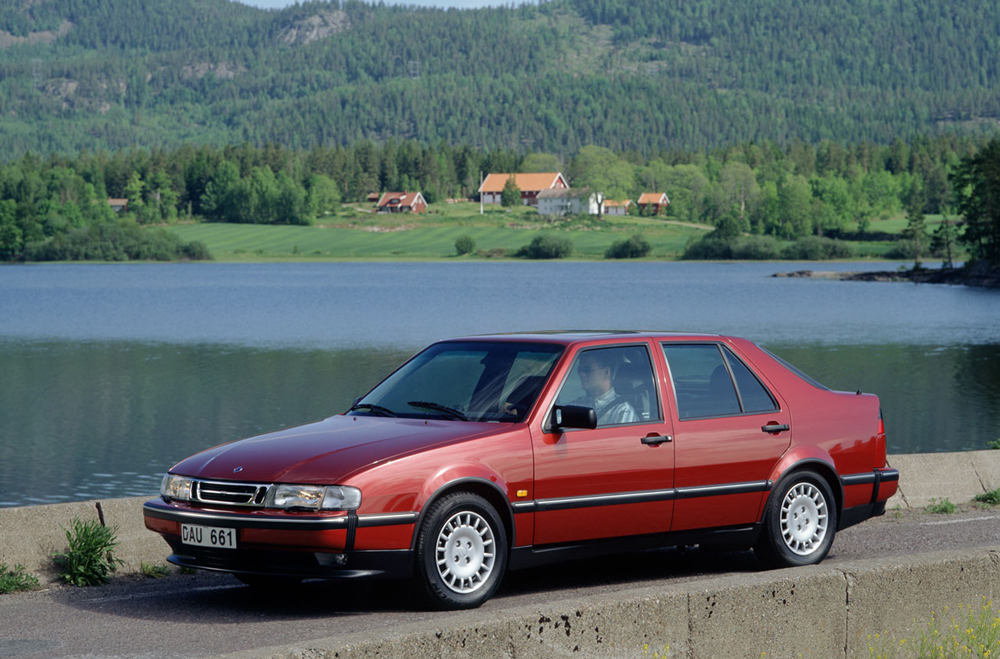 NEW FACES
Unlike many cars, the 9000 range did not receive regular facelifts. Indeed, it took until 1990 for the liftback version – by then known as the 9000 CC – to gain the reworked front end that the CD had sported from launch. It was a short-lived makeover. A new liftback model, the 9000 CS, with a restyled nose and tail appeared in 1992. The CD, however, retained its original styling until it received the CS-style front end in 1994.
A new performance version of the 9000, the Aero, was launched in 1993. Available in both manual (225bhp) and automatic (200bhp) guises, it featured a bodykit, sports suspension and Recaro front seats. In manual trim it was capable of just shy of 150mph and, as tested by Autocar, could out-accelerate the Lamborghini Diablo, Lotus Esprit S4 and Porsche 928GT from 50 to 70mph in top gear.
There were no diesel, soft-top or estate versions of the 9000, but a 3.0-litre General Motors V6 petrol engine was offered between 1995 and 1997. Although a smooth and refined unit, it lacked the punch of the four-cylinder turbocharged engines and did not find favour with buyers.
The 9000 range soldiered on until 1998 when, after a production run of just over 500,000, it was replaced by the new 9-5 range. It may or may not have been the last 'true' Saab, but it successfully took the marque into new territory with no little distinction.
HOW MANY, HOW MUCH?
The 9000 may have a common platform, but Saab's engineers took pains to add the marque's traditional qualities of strength and durability to the mix. And with the UK being a traditionally good market for Saab, it is perhaps no surprise to find that there are several times more 9000s (1600) still on UK roads than all the other Type Four cars added together.
The 9000 has yet to find its feet in the UK classic car market. Consequently, its value lags far behind its ability. Running examples with a current MOT can be picked up for under £700 and it is even possible to pick up a rare and desirable first generation Carlsson for under £3500 – great value by any standards.
TECH SPECS:
Saab 9000 Turbo 16 (1985)
ENGINE: 1985cc
POWER: 175bhp
TOP SPEED: 138mph
0-60mph: 7.7 seconds
ECONOMY: 26mpg
Saab 9000 Aero (1993)
ENGINE: 2290cc
POWER: 225bhp
TOP SPEED: 149mph
0-60mph: 6.9 seconds
ECONOMY: 23mpg