This Bentley Continental offers turbocharged performance, effortless long-distance travel, all matched with a grace and style available from few others.

The name says it all, doesn't it? Continental. Glamour, speed and the ability to travel distances in style and sophistication, Bentley's impressive Continental heritage meant that when the new model arrived in 1991, it had a lot to live up to. Officially described by Rolls-Royce as 'the first new style Bentley since 1952', there was no denying the company's confidence. It was based on the original concept, called 'Project 90', which was unveiled at the 1985 Geneva Motor Show. So positive was the response to this full-size glass fibre mock-up, together with the resurgent interest in the Bentley marque itself, this became the first model since 1965 not to share a body with Rolls-Royce; it would stand alone, a decision that undoubtedly influenced its success.
The Continental R (code-named 'Nepal' by the engineering department) was designed and built entirely at Crewe. This was a significant change from previous Continentals that were offered out to coachbuilders to complete, although Mulliner Park Ward was involved in developing the body shape. The Continental R filled the space left by the Carmargue, sharing with that model an eye-watering list price. When launched in 1991, the initial press release had the price as £160,000, only for that to be tweaked upwards soon afterwards to £175,000, when the new VAT rate was announced in that year's budget.
The sleek shape had more than a nod to a more modern Bentley, to an exciting future, rather less obviously classic, and benefitted from work in the wind tunnel; the windscreen was raked to lower the vehicle's drag coefficient, enhancing fuel consumption, lowering wind noise and raising the model's top speed. It is said that when the model was unveiled at the Geneva Motor Show, the assembled audience broke out into spontaneous applause. Now, that didn't happen when the German rival on the page opposite was unveiled, that's for sure. For all the Mercedes-Benz saloon's stark and simple efficiency, the Bentley Continental R has a grace and elegance that surely makes it the more desirable by miles – long continental miles.
While based on the Turbo R, it benefitted from a number of developments to that model. All Rolls-Royce and Bentley models since 1955 had had 15 inch wheels, the Continental R sat on 16 inch wheels and low profile Avon tyres, raised to 17 inch in 1994. Powered by the company's revered 6750cc V8 engine, now using a new four-speed GM automatic transmission, the 325bhp turbocharged power unit would offer a near 150mph top speed and somehow heave the Bentley's 2.4 tonne bulk to 60mph in just over six seconds. Further performance versions, the limited edition Continental S (385bhp) and the Continental T (420bhp) followed during the model's production life, the Turbo R's original platform being well able to cope with these extraordinary power outputs. An open-topped version, the Azure, became available in 1995, produced with some assistance from Pinninfarina, and emphasising just what a superb original shape the Continental R has, that it can also look so good as a convertible.
Behind the wheel, a Continental R is not as intimidating as might be imagined, but it is a big vehicle and thus must be driven accordingly. Handling might not be quite as sharp as some competitors, but the ride quality and effortless mile munching abilities more than make up for this.
It would be ridiculous to consider that ownership of a Bentley Continental R could be a budget DIY project. That said, you should not be put off by the fear that parts are difficult to find, and expensive when sourced. John Tupper at IntroCar has built up a business making sure that he can supply replacement parts at a reasonable price for all Bentley and Rolls-Royce models. Simple consumables like an air filter at £19.21 and oil filter at £19.06 must of course be balanced with a rear shock absorber at £526.26 or the front active ride shock absorber at £1314.04 (all these IntroCar prices include VAT). Companies like IntroCar offer high quality advice for owners, and of course, you will get similar help and support from both the Bentley Drivers Club and the Rolls-Royce Enthusiasts' Club (which welcomes Bentley owners). The BDC in particular has a strong reputation for supporting these performance models, so you will find very like-minded enthusiasts there, owners who really enjoy 'driving' their cars. And let's face it, attend any 'dos' put on by either the BDC or RREC and it isn't going to be bad beer and bratwurst that might be on offer from our German rival. When you own a Bentley, especially one like this Continental R, you are displaying an expectation of quality that frankly will not be available from a mass-produced, admittedly efficient, but soulless Teutonic saloon.
Prices for a decent Continental R will be in the £40,000-£50,000 range, although you could find a version for a little less, but it would be worth getting an expert to check it over first. Would it make a good investment? Well, while it is difficult to judge the future, you should expect it to hold its value at the very least, since only around 1500 were built. And let's admit, you are buying a lifestyle. You would be buying a Bentley.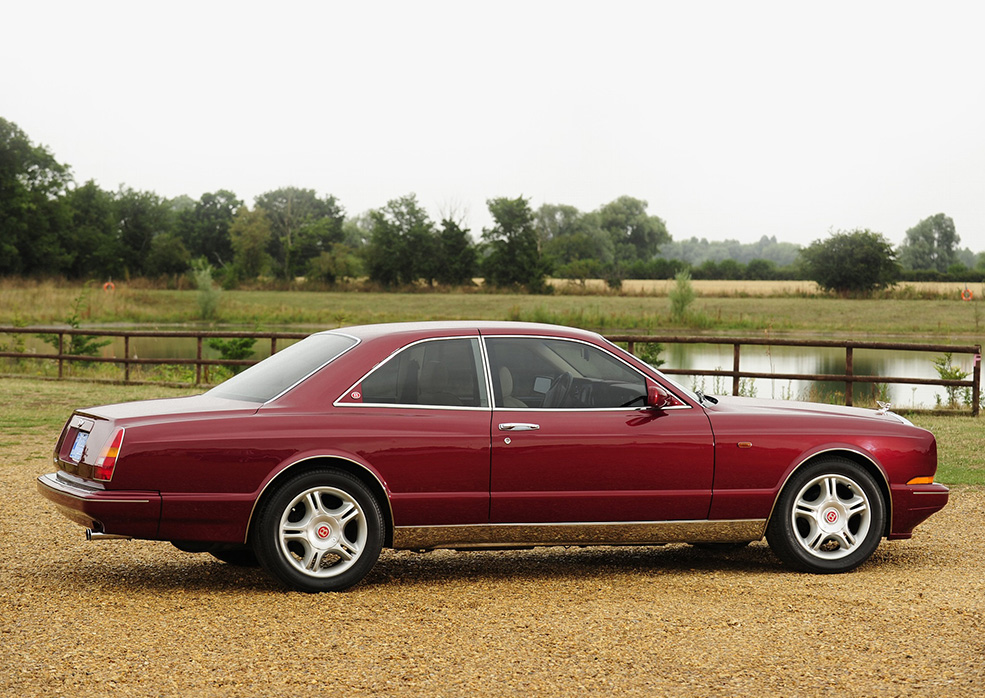 TECH SPEC
BENTLEY CONTINENTAL R
ENGINE: 6750cc turbocharged V8
POWER: 325bhp
TOP SPEED: 142mph
0-60MPH: 6.2 seconds
GEARBOX: Four-speed automatic