The Rover P4 defined Rover in the post-war era yet is largely forgotten in the face of its P5 and P6 successors. Does it deserve a second look? 
Words: Joe Miller  Images: Simon Goldsworthy
For many, Rover's peak was in its post-War, pre-Leyland era, when the company had full creative control to produce durable, luxurious, well-engineered cars on its own terms. The company enjoyed runaway success with its Land Rover off-roader, showed its innovative side via its experimental gas-turbine cars, and built fine mid-sized luxury saloons that became a mainstay of British culture.
Rover was so keen to get going building cars again after World War 2 that it restarted production of its pre-War P2 models, before introducing the visually similar P3 range in 1948. These featured new engines with overhead inlet and side exhaust valves in four and six-cylinder models called the 60 and 75 respectively.
In truth, the Wilks brothers saw these refreshed models as merely a stopgap to restart the revenue stream, and wanted an all-new Rover. The pair were heavily influenced by Americana for their new car's design, particularly Studebaker. So much so, they bought a 1947 Studebaker Champion, removed the body and grafted it onto a prototype chassis for the new Rover. They liked it so much that few details were changed in the transition to production car, and less than four years after ceasefire had been called, the new Rover made its debut at the 1949 Earls Court Motor Show.
Codenamed P4, the 75 name was carried over from the previous model and it was initially powered by the same 2.1-litre engine, albeit featuring twin carburettors. However, the body that engine was carting around wasn't as heavy as its bulk would suggest; steel was in short supply following the war effort, so when Rover approached Pressed Steel to manufacture the body panels for the P4, they made the doors, bonnet and boot lid out of Birmabright, a combination of magnesium and aluminium. This brought two big advantages with it, the first being a lack of rust given it was part-aluminium, and the second being less weight.
Despite pitching the new car as luxurious and upmarket, however, Rover still wanted to offer value and accordingly, the 75 was a useful £115 cheaper than its closest rival, the Riley RMB. The Studebaker-influenced styling drew attention immediately, but one aspect proved uninspired: a spotlight located in the middle of the grille, nicknamed the 'Cyclops eye' Not only did it interrupt what were otherwise rather elegant lines, but it blocked airflow to the radiator and in some climates and circumstances, could be responsible for the car overheating. But Rover had grand ambitions for their new car and weren't about to let one styling stumbling block hold them back – by 1952, the Cyclops eye had been styled out, replaced by a narrow bar down the grille, bearing the Rover crest.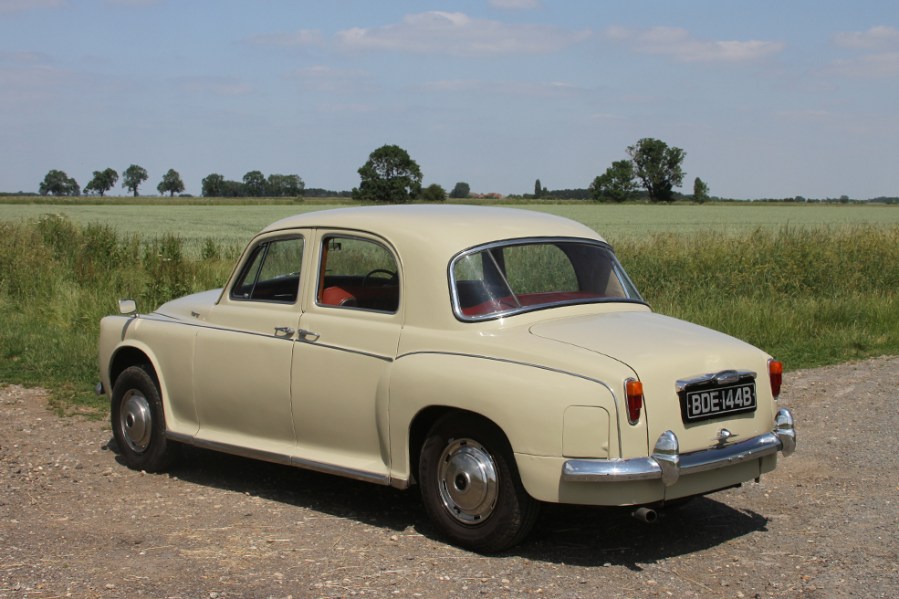 Several more changes came in 1953 – many customers had baulked at the column-mounted gearchange, so a traditional lever was fitted, featuring a curve that meant a third front passenger could still sit in the middle. New trim levels came, too – the base two-litre four-cylinder 60 offered an affordable entry point and the 2.6-litre six-cylinder 90 was the range-topper.
In an effort to keep the model fresh, Rover continued improving the P4 throughout its life – in 1954, David Bache redesigned the back end with a longer, more capacious boot and a wraparound rear window to improve visibility and give an airier feel to the cabin. More variants were introduced later – 1956 brought the 105R, powered by a high-compression, 108bhp version of the 2.6-litre engine that made it capable of over 100mph. You could even spec it with Roverdrive, a two-speed clutchless gearbox that has the honour of being the first ever British-built automatic transmission.
You might imagine that the P5's introduction in 1958 would signal the end of the P4, but the old stalwart continued to prove popular enough to soldier on. The heavily-equipped 100 came in 1959, while more affordable economy models like the 95 and four-cylinder 80 kept the model in production and selling right up until it was discontinued in 1964, a remarkable 15-year life. Even at the very end, Rover continued improving it – the Birmabright doors were substituted for steel items as some customers had complained that slamming them heavily caused the aluminium-based doors to dent. We can only speculate as to how this sort of complaint would've been dealt with under later Leyland management…
A six-cylinder engine and upmarket cabin might give the impression of a Jaguar, but the P4 is no sports saloon in the corners; the steering is extremely vague, heavy at low speeds and almost completely devoid of feel, while the high centre of gravity and soft suspension mean the body roll is extreme, almost frightening at speed. Light for its size it may be, but you definitely feel the P4's bulk when cornering. That said, the soft suspension offers a phenomenal ride, with even the heftiest of speedbumps failing to upset the comfort and it approaches potholes in a manner akin to a steamroller, simply ironing them out. You could imagine cruising down a rutted farm track with just two fingers on the wheel, yet be in total control and comfort.
The engine too is a highlight – our test car is a later 95, featuring a 2.6-litre, 104bhp six-cylinder engine, and what a gem it is. Watch smooth at idle, refined and torquey at speed and making light work of hills and motorways, yet change down and floor it and you're greeted with a glorious rumble that only Jaguar's famed XK can match. Granted, it likes a drink and you'll struggle to break 20mpg, but the smoothness, torque and wonderful soundtrack make the fuel bills worthwhile. It wouldn't see which way a Jag went, but the P4 is a lovely, unusual driving experience.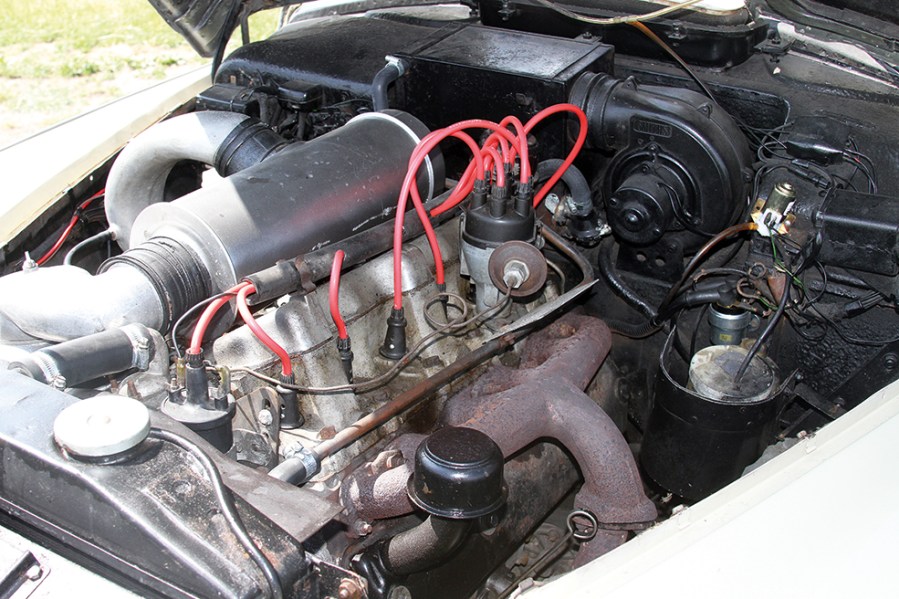 That experience is only enhanced by the interior – the P4 dates from an era when upmarket cars offered luxury in the traditional sense: acres of wood, leather seats so soft they sink what feels like feet when you sit in them and small chrome details that add a touch of sparkle. Every material feels high quality, solid and well-assembled, most of it lovingly created and fitted by hand.
Once again, only more premium marques like Rolls and Jaguar can match this sumptuous cabin. In an age before crumple zones and curtain airbags, the P4's cabin is superbly spacious and while it long predates the days of Euro NCAP, it has a solid, heavy feel to its controls and road manners that makes you feel safe from anything when you're driving it.
In 1964, Road and Track Journalist Bob Dearborn said of the P4: "I believe there is no finer car built in the world today," and driving one seven decades on from the P4's release, you can see what he was on about. It's comfortable, luxurious, refined, extremely well-made, remarkably brisk in six-cylinder guise, charming and stately to look at. During this period the Rover badge represented quality and dignity, traits we in Britain felt we could be proud of. It may not be the muscular P5B or trailblazing P6, but the P4 is a reminder of Rover's golden era, a time when that Viking badge stood for 'best of British'.