Classics World's Rob Hawkins road tests and reviews the Triumph TR7 V8…
Atlantic Garage of Weston-super-Mare was established in 1970 by Ian 'Del' Lines, who became well known as a Rover V8 specialist with a rallying connection associated to Triumph and more prominently, the Rover SD1. By the early Eighties, he was offering TR7 upgrades including rear brake discs and four-link rear axles. Perhaps the most desirable upgrade was a Rover V8 installation, which he became involved with in a big way.
Triumph also saw the attraction of this eight-cylinder engine in the North American market, and they initially developed a batch of LHD fixed-head coupe TR8s (exact production figures are unknown) between 1977 and 1979. They initially opted for the fixed head because it was thought that the USA was likely to ban convertibles, but when this was rejected, Triumph realised that a V8-powered convertible was going to be a better seller and 2088 of them were exported between 1979 and 1980.
Meanwhile, unconfirmed batches of UK-spec fixed head coupe TR8s were produced at the same time, and the relevant clubs and registers have the details of many of the surviving examples. Just like Ken Costello pioneered the aftermarket V8 conversion for the MGB, the TR7 market demanded a similar hero.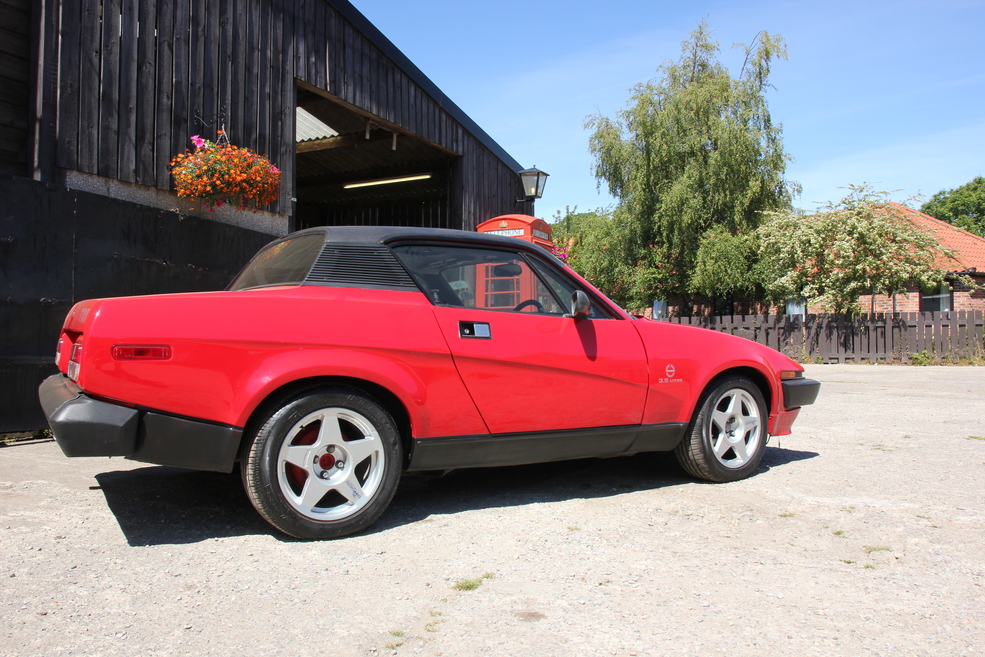 Atlantic Garage became involved in the TR7 modification market by offering turn-key Rover V8 conversions based on brand-new cars. Official figures appear to hover between 33 and 35 brand-new fixed head coupe TR7s that were built and registered as TR8s. According to the TR Register, the Del Lines TR8 shown here was built in August 1981 with a blueprinted 3.5-litre Rover SD1 engine tuned to produce 153bhp at the rear wheels (standard at the time was around 135bhp), a five-speed gearbox and finished in red with a black vinyl roof and grey leather interior. It was registered two years later in 1983.
This car was used for competition sprints between 2004 and 2006, taking class wins. During this time, the suspension was uprated with polyurethane bushes, adjustable rear dampers, new front struts and new coil springs all round. The propshaft was reconditioned and a new-old stock limited slip differential was fitted. Receipts show that roughly £5000 was spent on this TR8.
There are more receipts from 2011 when a further £5000 was spent on having the exterior resprayed, a new exhaust system fitted and the engine and brakes serviced. A roll cage had been fitted, possibly from when the car was built, but this was removed and standard door cards were fitted, changing the rally spec of the original car to a more civilised daily driver.
Looking over this vehicle, it's a clean-looking and usable classic. The 15-inch Compomotive alloy wheels were possibly fitted by a previous owner because Del Lines would have fitted gold-coloured alloy wheels. Inside, the grey leather upholstery, matching door cards and plastic dashboard are typical of British Leyland from the Seventies and Eighties, and there are a few areas that could be improved or repaired including a tear on one of the door cards. Under the bonnet, the engine bay is functional and clean – a good starting point should you wish to improve it and win some show trophies.
ON THE ROAD
On the road, this TR8 feels solid and sure-footed. The Rover V8 engine is responsive and quick, and the suspension appears to cope with its demands. The steering is heavy, which may be caused by the choice of wheels along with a set of 205-section tyres. There are several panel rattles, which could probably be fixed with soundproofing and refitting the interior with new fastenings.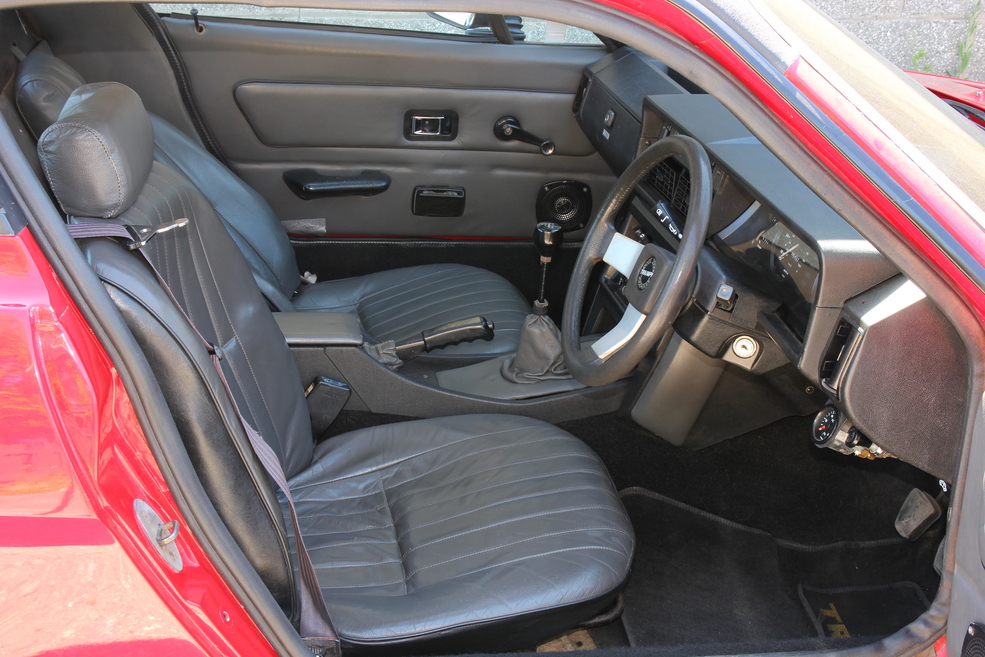 TECH SPEC
ENGINE: 3532cc V8
POWER: 153bhp
TOP SPEED: [TR8] 135mph
ECONOMY: 27mpg
GEARBOX: 5-spd man