Classics World's Paul Bussey test drives and reviews the Tornado Fiat 600 Lotus …
Tornado Cars of Rickmansworth, Hertfordshire. were one of the better known independent specialist car manufacturers back in the 1950s/60s, producing a variety of sporting models, using GRP bodywork. The company was later purchased by 1950s/60's racing driver John Bekaert, who implemented the building of three cars based upon a Fiat 600 bodyshell, which became known as the Tornado Fiat 600. One of the cars was run by Bekaert and powered by a dry sumped Ford 1850cc engine, which was particularly successful in motorsport and achieved a terminal speed of 130mph at the Brighton Speed Trials!
One of the other two Fiat Tornado 600s was initially powered by a 1500cc Ford engine, which was later replaced with a Ford 1558cc Twin-cam engine, as used in the Lotus Cortina. This car was hugely successful in motorsport in the hands of David Render and was eventually acquired by Tony Castle-Miller, proprietor of the Abarth UK nerve centre, Middle Barton Garage. It was successfully campaigned again in the hands of TC-M for a good many years and was then dismantled.
TC-M eventually acquired all the original Tornado parts of the ex-David Render Fiat 600, which were used in a major ground-up rebuild to full original specification, using a mint, corrosion free, correct period 1966 LHD Fiat 600 bodyshell, which is only a few numbers adrift from the serial number of the original car. It was rebuilt between 2007/2008, using a first series Lotus Cortina Twin-cam engine that's been highly tuned with Sprint cams, C-type rods, Sprint valves, etc. It is believed to be the sole survivor (albeit a recreation using a replacement bodyshell), of the three original cars produced. Naturally using a corrosion free bodyshell, means that the dreaded tinworm has been kept at bay, having not got its jaws anywhere near this car.
During the last nine years since it was completed, the mileage clocked up is approximately 2,000, when the car was demonstrated at shows, exhibitions, driven by a few selected and approved motoring journalists (your humble scribe included!) and has generally led a cosseted life. The bodywork remains in excellent condition, as does the red paintwork, with just the odd very minor blemish. Some of the original badging has the odd chip, par for the course for a competition car and all part and parcel of its history. The 5.5×13 Minilite wheels remain undamaged and are in excellent condition. They are shod with Dunlop sports tyres, which are a fine combination for track and road use.
The interior of this car doesn't have a headlining, though the rest of the trim is all standard Fiat 600, other than the figure hugging competition driver and passenger seats, full harness safety belts and a comprehensive FIA rollcage. There's also full Tornado instrumentation, with a safety cut out switch for the ignition and a huge oil pressure warning light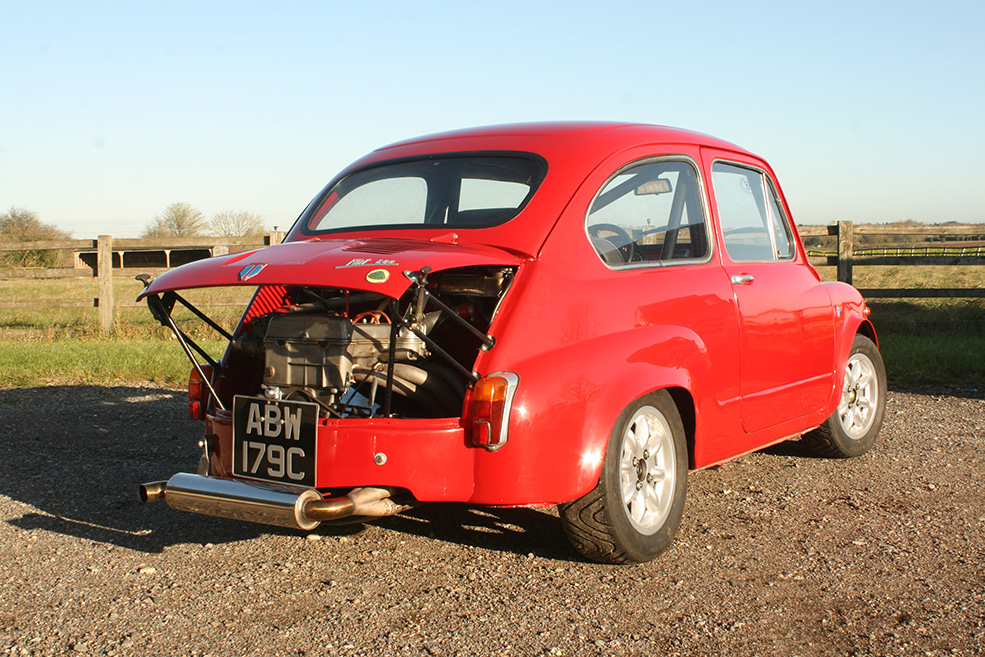 Test Drive
I've driven this car five years ago in December, on my birthday and today's test drive was almost a carbon copy of that very sunny day, with a biting cold wind, gin clear blue skies and rather greasy slippery surfaced Oxfordshire lanes! Ensure the ignition safety cut out switch is on, turn the starter key and then that familiar twin 40s carburettor induction roar definitely heightens your senses. I pull away and immediately stall the engine. I repeat this process twice more, until I carefully judge clutch pedal's bite, which is uprated.. TC-M looks on grinning and shaking his head! The steering is a tad heavy, manouvreing around MBGs yard, but once we're on the move, it becomes exceptionally light and wonderfully precise. The induction roar and exhaust bark from the rear mounted 1558cc engine is ever present and becomes mellifluously addictive.
Make no mistake, this is one seriously quick car and I'm doing my best not to overstep the mark on the greasy surface. I remembered from my last drive, that when you put this car into a corner at great speed on the ragged edge, you don't lift off on the accelerator pedal half way around, you keep your right foot firmly planted down, or otherwise you'll upset the equilibrium, start to develop a pendulum effect and the outcome isn't going to be good. I've known TC-M for around 20 years and I wasn't going to bend this unique car (TC-Ms pride and joy) on the occasion of my 61st birthday, no way! The suspension is on the firm side, it has to be, to cope with the fabulous handling. The speedometer wasn't working on our test drive, but it will be remedied prior to sale. In a nutshell, the car performs and handles far better than it should!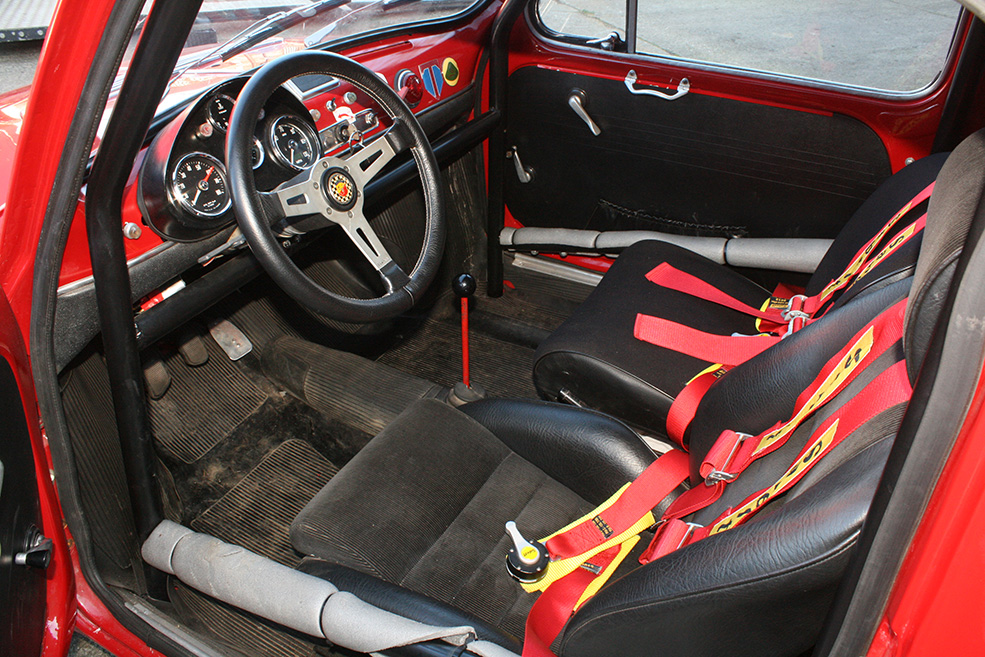 Verdict
A once in a lifetime opportunity to acquire this historic car, that's been lovingly recreated, with all the original parts, but even better engineered than the original cars and expertly set-up by TC-M and MBG. This further work has made the running gear much more bullet-proof, robust and reliable. Who needs mind boggling complex exotica with potential running/repair costs that could bleed you dry? This car is the quintessential adrenalin pumping, addictive, mega fun factor pocket-rocket. It may not be everyone's cup of tea, but for thrill seeking petrol heads, with a passion for small cars, the buzz you'll get from driving it on a track day would be orgasmic!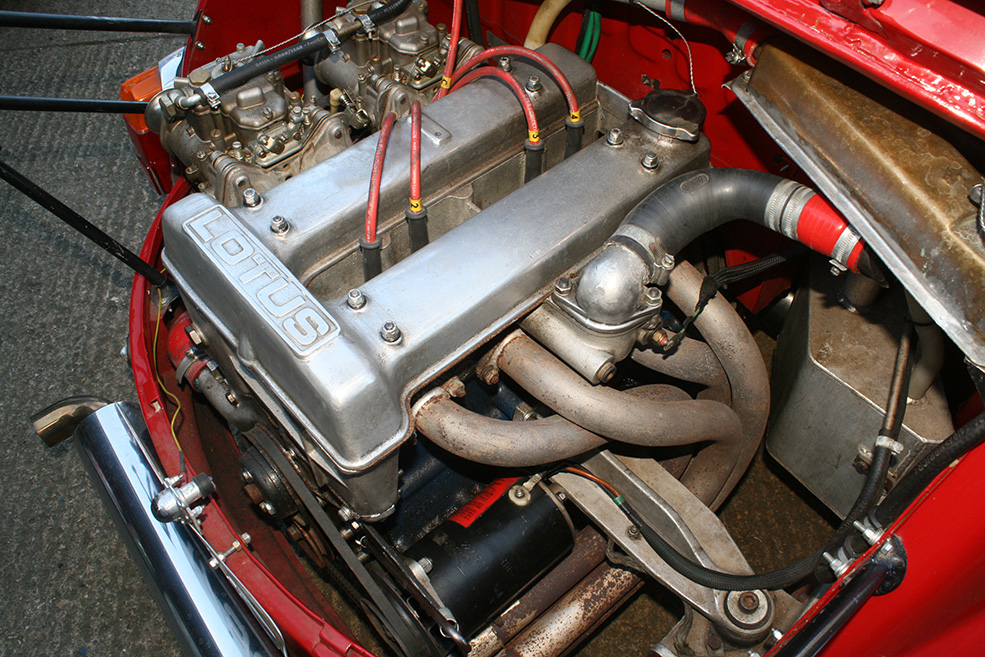 Tech Spec
Engine: 1558cc Lotus Twin-cam
Power: 135bhp@5500rpm
Top Speed: 115mph
0-60mph: 5.5 secs
Economy: 26 mpg
Gearbox: Four-speed manual