Classics World's Paul Bussey test drives and reviews the MGB Roadster…
Launched at the Earls Court Motor Show in September 1962, the MGB was a replacement for the MGA and went on to become a best seller. The new MGB was built using a monocoque structure and was one of the early cars to incorporated safety crumple zones. Power came from the B-Series 1798cc engine with a four-speed manual gearbox, fully synchronised from 1967 and an optional overdrive was also available. The MGB was initially offered as a two-seat Roadster, joined in October 1965 by a fixed roof two-seat GT, with a sporting style glass hatchback, that was extremely practical. The MGB underwent a variety of changes over the years, but none more dramatic than the introduction of rubber impact bumpers in 1974. The MGB is without doubt one of the most popular, hugely successful two-seat sports cars of the era: practical, economical and nowadays still enjoying a fanatical following
This MGB Roadster, has been the subject of an older restoration by Ricketts Restoration Ltd in the early 2000s, but remains in very good overall condition. The white paintwork is very presentable and it's not immediately obvious that there's a very small colour variation on the offside front wing and rear quarter panel. These have clearly been the subject of a little paintwork rectification over the years. There is the odd minor blemish here and there, but nothing that requires any attention and indeed, the underside of the bodywork is well undersealed to enhance longevity. The car sits on silver painted wire wheels, shod with 175-70/R14 Yokohama Advan tyres which look fairly new. Protection from the elements is courtesy of a black vinyl soft top in excellent condition, as is the plastic rear window. All brightwork is in good condition and there's an additional stainless steel luggage rack and a mesh front grille.
The interior features black leather-trimmed seats, which remain in very good order and free from any tears, while the black door cards and carpets are similarly all well preserved. The walnut veneer dashboard is showing signs of the lacquer beginning to crack in places. Additional gauges fitted in the centre console include a Smiths analogue clock and an ammeter, plus a very basic radio/cassette.
ON THE ROAD
This MGB Roadster has undergone an engine conversion, upgrading the power to 1950cc Stage 2 specification. It's surprising how just another 150cc can make quite a difference to the performance, giving this Roadster that extra edge over a standard one. The acceleration, particularly ascending a hill is quite noticeable. Another useful option is the overdrive, which smoothly engaged in third and fourth gears at the flick of the switch located on the right-hand side of the dashboard. In general this Roadster drove extremely well, offering plenty of comfort and better than average performance, with crisp and taut handling. It gave the impression of being a very well-sorted car in every department, particularly the brakes, which were beautifully adjusted.
We noted that the oil pressure was a healthy 60psi in the cruise and 30psi at idle when warm, while the water temperature was well within limits. The B-Series engine's very distinctive exhaust note is accentuated by the stainless steel system fitted to this car. The MGB also comes with a wind stop accessory, that slots into place behind the seats, by means of a couple of brackets. This helps to prevent your hair getting blown to bits, when the soft top's down.
There are sports cars out there that may purport to be more exotic, powerful and luxurious, but there's no getting away from the fact that the humble MGB Roadster does everything it says on the tin, practically and economically, while still offering a great degree of fun factor. Club support and spares backup is as good as it gets!
VERDICT
This Roadster comes complete with a very comprehensive and detailed history file, documenting a great deal of work undertaken in the past. Indeed, there's some £9000-worth of bills and invoices. Plenty of provenance always offers a great degree of reassurance that the car has been well maintained and looked after. It's a very well-appointed car, with leather trim, wire wheels, luggage rack, headlamp stone guards etc and while purists may baulk at the engine upgrade, it can only enhance performance and overall driving pleasure! It does tick a great many boxes, there's no remedial attention required, other than to perhaps have the dashboard refurbished at some time. Simply fill the tank with petrol, jump in and enjoy. It's also very keenly priced too!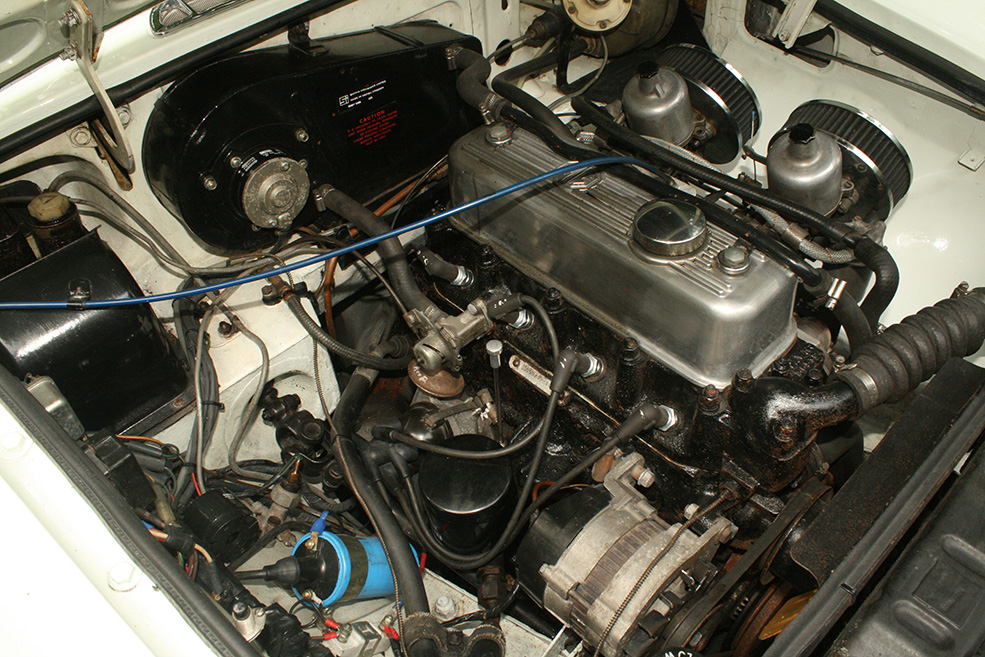 TECH SPEC
ENGINE: 1798cc
POWER: 91bhp@5400rpm
TOP SPEED: 103mph
0-60mph: 10 secs
ECONOMY: 27.1mpg
GEARBOX: 4-speed manual o/d