Classics World's Paul Bussey test drives and reviews the 1967 Mercedes-Benz 250SE…
Launched at the Frankfurt Auto Show in 1965 the Mercedes-Benz W108 line-up consisted of the 250S, 250SE and the 300SE, a continuation of the successful W111 range of luxury saloon cars. The 250SE was powered by a straight-six fuel injected engine (M129 16) with transmissions either a four-speed manual as standard or a four-speed automatic as an option. The W108, its predecessor the W111 and later models, went on to establish a superb reputation for Mercedes-Benz as builders of cars, offering the best in German engineering for quality and reliability. Indeed, the W-series were incredibly popular with taxi operators around the world, with a great many cars clocking up inter-galactic mileages!
Our 250SE has a most interesting history, having been sold new in Botswana, where it remained for many years, until being imported into the UK in 1998, when it underwent a major mechanical refresh, with extensive details of all work completed. It was then owned by a tilted eminent heart surgeon, took part in the London to Lisbon Rally in 2000 and has been known to vendor Kim Cairns since 2000. The bodywork is in exceptional condition, rust free, with barely a blemish at all. All four-doors shut with that satisfying quality 'clunk' and the size of the boot is really quite cavernous, which has retained the original floor mat.
It's thought that some paintwork has been renewed over the years and remains in excellent condition, as does all the brightwork. The only fly in the ointment is that there's a small crack in the rear nearside tail lamp cluster. The car sits on steel wheels, shod with 185-R14 Toyo tyres to the rear and 185-R14 Michelin tyres at the front.
The interior of the this 250SE is every bit as impressive as the exterior, with the lovely red M-B Tex trimmed seats, free from any significant wear and certainly no tear.
What's also noticeable is the highly polished metal reclining front seat mechanisms, no cheap and nasty plastic here! Also in fine fettle is the headlining, door cards and carpets, almost certainly the original. Just about the only sign of any ageing to the interior, is on the wooden dashboard veneers, which have a matt finish lacquer, that's now showing only minor signs of a little surface cracking here and there, par for the course on a car of this age. Music on the move is courtesy of a period Radiomobile radio and there's also a Kienzle analogue clock mounted at the top of the instrument binnacle. The facia panel that fits in front of the gear selection indicator needs remounting.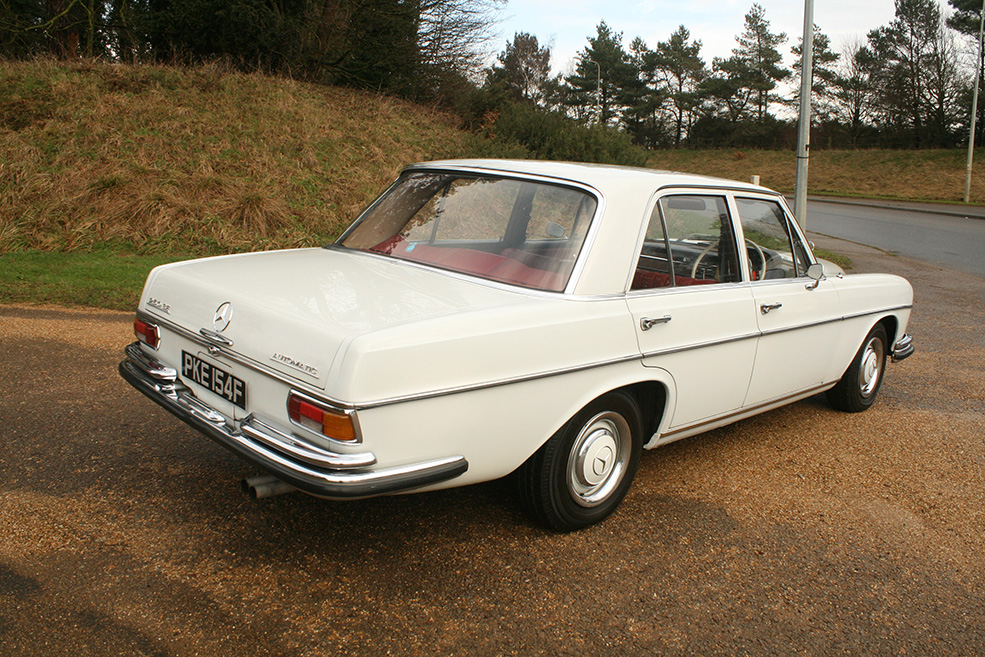 TEST DRIVE
Sitting comfortably in the driver's seat, the huge cream coloured steering wheel is a dominant feature and proved to be quite tactile, as we proceed along on our test drive. The straight-six engine pulls extremely well, (showing excellent oil pressure and water temperature at 175) and has some really useful torque. There's a positive engagement, rather than imperceptible, when the automatic transmission selects gears.. Extensive refurbishment of the underpinnings back in 1998 paid dividends and ensures a smooth and very comfortable ride and the effectiveness of the brakes is impressive. The large amount of glazing, offers a very light and airy ambience to the interior and this car was built in an age, when front opening front quarter light windows were still in vogue, we absolutely love them and mourn their passing . Forget climate control and aircon, a refreshing breeze from quarter lights, on the hottest of summer days remains a fine way of keeping cool! This is a car that would cover great distances with aplomb, offering its occupants fine comfort and drove very well indeed.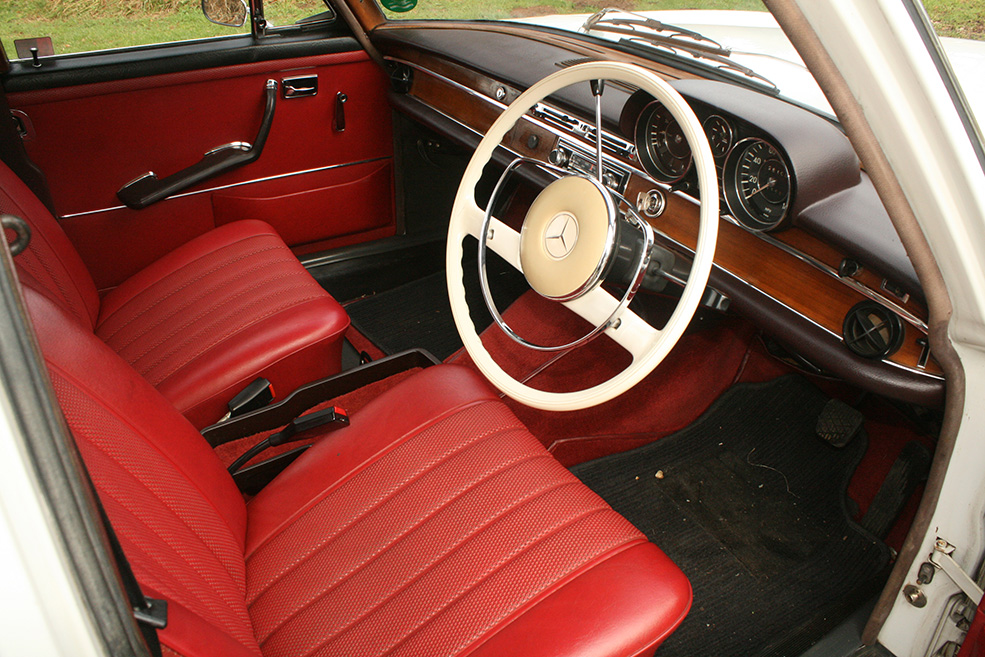 VERDICT
Everything about this 250SE exudes quality, excellence of integrity and engineering. The adage "Quality is remembered long after the purchase price is forgotten," would apply here! It's one of the most impressive, ostensibly original and genuine examples currently for sale and if you're looking for a really superb 250SE, in a lovely bright colour combination of white with a red interior, here it is! A car with a huge amount of interior space and plenty of room for luggage in the boot. There's a great deal of interesting documentation, covering servicing and maintenance, during its time in Botswana and later in its life. A rust free, rock solid example, on the button and ready to go.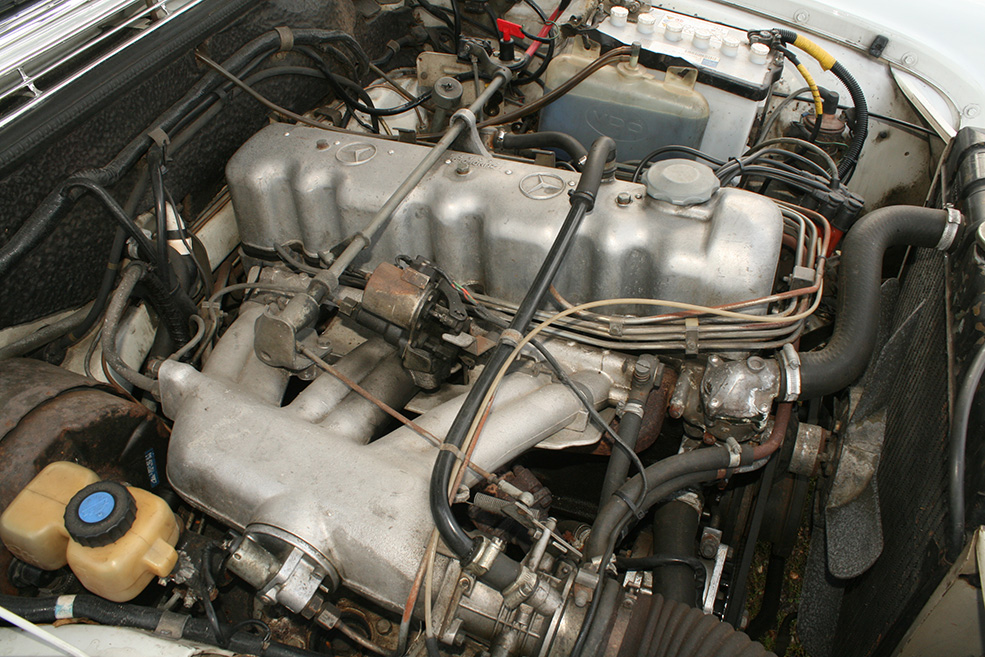 Tech Spec
Engine: 2496cc straight-six
Power: 170bhp@5600rpm
Top Speed: 115mph
0-60mph: 9.3secs
Economy: 16.3mpg
Gearbox: Four-speed auto