Classics World's Rob Hawkins test drives and reviews the 1962 Ford Popular Deluxe 100E…
With the classic car market booming and prices soaring, bargains and cheap cars are hard to find, especially if you want something that's in good condition and doesn't need a thorough restoration.
This 1962 Ford Popular Deluxe 100E seen here is priced a little lower than most of the competition, especially when compared with any show-winning examples or recent restorations. It may seem a little tatty around the edges, with surface corrosion along the lower edges of the sills and arches, and a few marks on the upholstery but its history file suggests it could have more about it than you might think.
Its first owner had the car for 20 years and sold it with 8500 miles on the clock. Then it quickly went through a couple of owners before being adopted by The Patrick Collection museum in 1984 for nine years, and in 1992, there were still only 13,616 miles on the clock.
The last owner kept the car for 24 years and also kept all of the MoT test certificates, helping to prove its current low mileage – covering less than 100 miles during ownership.
There are plenty of receipts included with this car, including £2500 being spent in 2009 when the underside was rustproofed with Dinitrol, the head gasket was renewed (and the tops of the pistons de-coked), the coolant hoses were renewed, the all-round drum brakes were overhauled and the ignition components were renewed and uprated to electronic.
Having been part-exchanged at the Classic and Sports Car Centre for yet another Ford Popular that was in better condition, and consequently more expensive, is this early model a bargain?
As a dealer, C&SCC cannot legally sell a car with major problems – and with a reputation to protect, wouldn't want to either. This meant I was test-driving the car before it had been prepared for a customer to purchase. Consequently, an earthing issue with the indicators was due to be fixed. Andrew at C&SCC also suspected the clutch might be slipping and explained that this would have to be renewed if it was the case.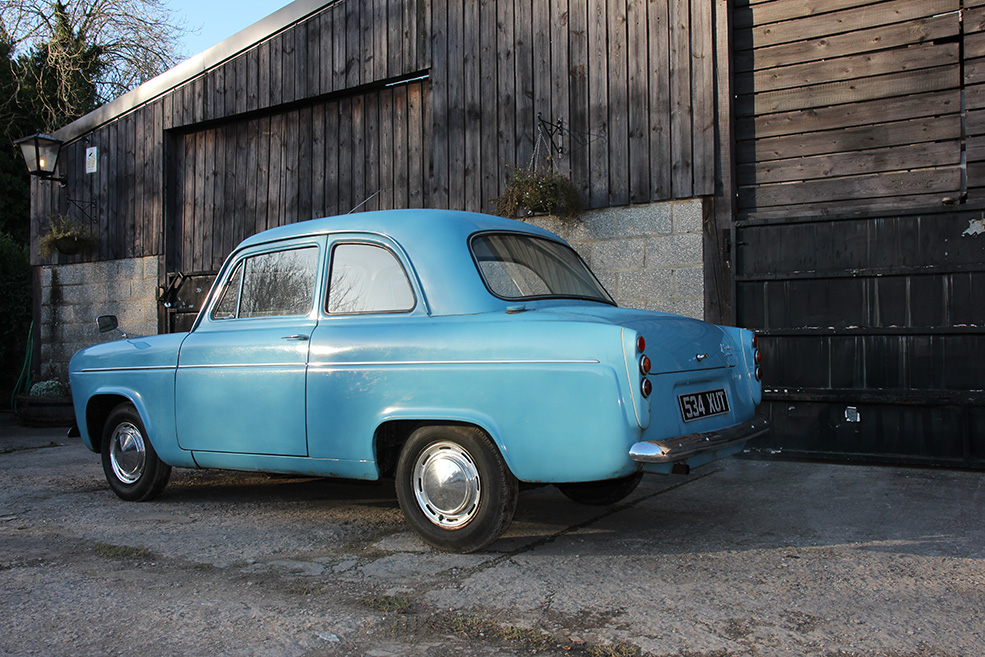 ON THE ROAD
There's definitely an element of nostalgia associated with driving this small four-seater saloon. The seating position is fantastic, with good all-round visibility, making the car very easy to manoeuvre. The gearbox is easy to operate, but it's important to know what you are doing. With only three forward gears, reverse is where first gear should be on most gearboxes. There's no lockout, but it crunches if you try to select it when going forwards.
First gear is where second gear is usually positioned, meaning that second and third are also in different positions. The novelty value of this arrangement doesn't wear off after time, but seems to make sense, especially on the move, where switching between second and third is quick and easy – the Citroën 2CV gearbox shares a similar pattern.
I soon became familiar with driving this 100E. It's nimble and quite lively at low speeds. There's a big difference when switching between second and third gear. Top gear is like an overdrive, so you need plenty of engine revs in second, and speed of course, before moving up to third. If I changed up too soon and pushed hard on the throttle pedal, the slipping clutch that Andrew had described seemed to emerge, but I wasn't sure whether it was simply a case of labouring the engine, as there was no sign of this problem under hard acceleration in second gear.
The liveliness of the 1172cc side valve engine that powers this 100E is quite surprising, especially considering there's a mere 36bhp at the flywheel and a claimed top speed of around 70mph. It seems to run out of steam at around 55-60mph, but that's sufficient for a '60s classic, especially on the country lanes I was driving on. And with drum brakes all round, I pushed hard on the middle pedal to slow the car down, which thankfully did the job.
Cornering and handling were sufficiently predictable without any nasty surprises. For a rear-wheel drive car that has a short wheelbase, it's well balanced and comfortable to drive.
VERDICT
Comparing this 100E to similar saloons of the Sixties, such as a Morris Minor, I think I'd choose this one. I like the quirkiness of the three-speed gearbox, although this might not help fuel consumption because the engine needs to be worked harder at slower speeds. Overall, the car feels lively to drive and is certainly a lot of fun. It may need a little tidying around the edges, but this is reflected in the price. If you're happy with a car that has a patina to it instead of a brand-new look, then unmolested cars like this with low mileage and history are hard to find.
Tech Spec 1962 Ford Popular Deluxe 100E
ENGINE: 1172cc
POWER: 36bhp
TOP SPEED: 70mph
GEARBOX: 3-sp manual