Classics World's Paul Bussey test drives and reviews the Ford Cortina Mk3 Super Speed…
Following on the from the highly successful MkII Cortina was the MkIII, introduced in 1970, with its classic "Coke Bottle" body styling, available as a two and four door saloon, an estate and a two-door coupe. Engine options included the base 1.3 litre, a 1.6 litre Pinto and 2.0 litre Pinto, with either a four-speed manual gearbox or three-speed automatic transmission. The tried and tested MacPherson strut front suspension layout, that had served Ford cars so well over the years, was superceded by double wishbones. The MkIII was a much larger car than the MkII, heavier too and top of the range was the GXL, which was to be replaced by the 2000E, more luxuriously appointed and recreating the ethos of the previous MkII 1600E. Fitment of Rostyle wheels and metallic paintwork, helped to 'jazz up' the exterior aesthetic appeal.
Our tried and tested car is arguably the most desirable of any MkIII Cortina, it features a Super Speed conversion with Essex V6 power, as rare as hen's teeth, as one other is known to exist, but that has been customised. Our car is also believed to be the sole example fitted with a five-speed ZF gearbox and ZF LSD at the time of conversion. Run by Mike and John Young in Ilford, Essex, Super Speed were renowned for making Dagenham's finest more humble cars,go that little bit faster, with the help of a 'suped up' motor and beefing up the underpinnings. Super Speed Conversions Ltd was a specialist racing company set up in the late '50s by two brothers, Mike and John Young in Essex.
In the late '50s and through the '60s, Ford Motor Company did not have their own Works race team and outsourced this activity to three professional race car preparers. These teams were Alan Mann Racing, Broadspeed and Super Speed. During the Sixties, Super Speed operated from a garage behind the local Ford dealership at Ilford, East London and specialised in preparing and racing Ford Anglias for race drivers Mike and John Young, as well as Chris Craft and Nick Brittan.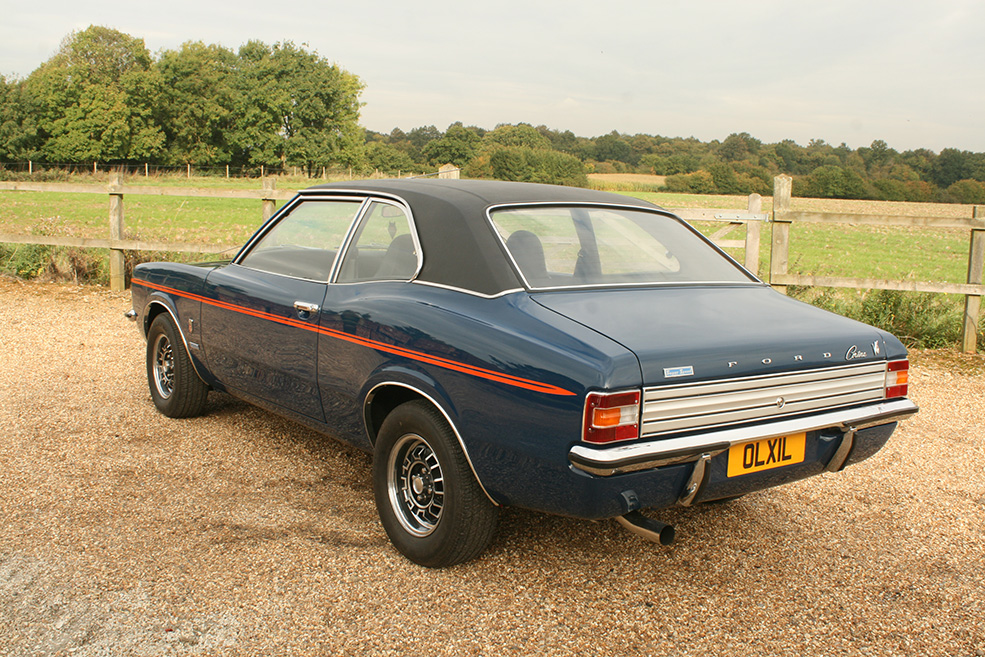 While our Super Speed Cortina has retained its original shell, which remains in excellent condition, the front wings and sills have been renewed and the car has previously undergone a complete restoration by a Ford aficionado around five years ago. The car has been repainted in its original shade of blue, that's been detailed with the correct orange stripes and Super Speed stickers. The paintwork is excellent, as is the condition of the black vinyl roof. There's only one slight fly in the ointment with the exterior, the chromework is beginning to peel a little on the righthand side of the rear bumper, which at the moment is simply a very minor issue. The car sits on its original chromed Dunlop wheels which suit it very well.
For those enthusiasts who appreciate and admire a clean, shiny and retailed engine and bay, the V6 lurking under the bonnet is an extremely sanitary installation. The bulkhead and inner wings were repainted at the time of restoration, the engine block is painted pale blue and there's a pair of chrome valve covers , etc.
The interior is, shall we say, very black! The front seats (recovered) have a smooth Dralon type material, the squabs being nicely contoured and very supportive. At the sides of the front seats and to the rear, the covering is black vinyl, which has a few nicks in it, at the base of the driver's seat back. The rear seat (original) has a small hole in the back rest, about pencil size and the stitching is slightly coming apart on the lefthand side, by about a quarter of an inch, but we are being really picky! Mounted just below the dashboard in the centre is a binnacle housing oil pressure, water temperature, ammeter and fuel gauges, which are all canted slightly to the right.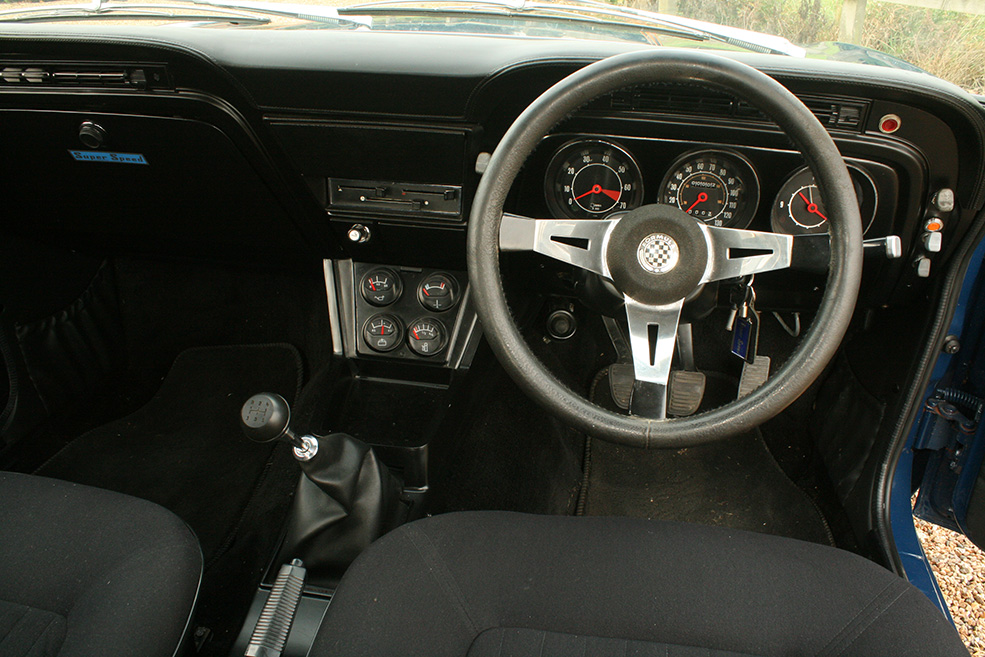 ON
THE ROAD
The first thing that's a little unfamiliar, is the five-speed dog leg manual gearbox, initially we weren't sure what gear was selected, though with the V6 engine being endowed with plenty of torque, this wasn't too much of an issue. Our Super Speed Cortina has actually been fitted with a freshly built V6 to 3.1 litre specification. This has included a Kent V63 camshaft, big valve ported cylinder heads, steel timing gear, HP oil pump and sitting atop is a Holley carburettor. A standard 3.0 litre engined Super Speed Cortina is reasonably quick, our car almost certainly having the edge.
The most reassuring aspect about this car is its handling, which was rock solid and stable, which coupled with a well tuned engine, equates to a reasonably lively performance. Being fitted with a rather small sports steering wheel, does mean that the steering gets much heavier at low speeds, especially negotiating roundabouts, where you have to haul the car around. We did detect a slight wheel imbalance at 50mph plus, perhaps down to tyre pressures or maybe the front wheels need rebalancing? Motor Sport Magazine were certainly impressed with the Super Speed conversion when they drove it in period, we concur.
VERDICT
This superbly restored Cortina MkIII makes for a rather unusual and most interesting classic 1970s Ford. It offers huge individuality, with a fine performance and handling, plus the uprated ZF 'box and diff, being very desirable. Spares include the original Essex V6 engine with Swaymar heads, which will require a rebuild and if so desired, would return the car to a higher standard of originality, but it would be shame to upset the current uprated specification. There's also a set of Revolution alloy wheels that need refurbishing. No remedial work is required, other than to the speedometer which is inoperative. A rare chance to purchase a very rare Ford indeed!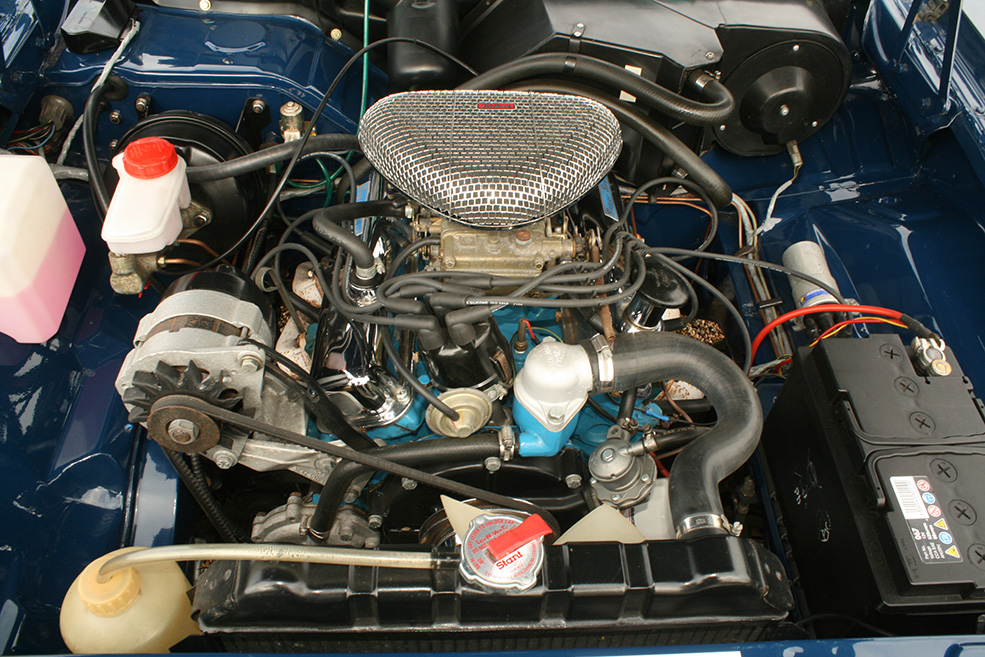 TECH SPEC:
Engine: 2994cc V6
Power: 136bhp@5000rpm
Torque: 173lb ft@3000rpm
Top speed: 114mph
0-60mph: 8.5 secs
Economy: 26mpg
Gearbox: Five-speed manual