Classics World's Paul Bussey test drives and reviews the Austin-Healey 3000 Mk3 BJ8
The Healey 100 was introduced at the Earls Court Motor Show in 1952. Following a collaboration between the Healey Motor Company and Austin, the car went on to be produced at the latter's Longbridge factory, culminating in the Austin-Healey 100. This British sports car was powered by a four-cylinder 2660cc engine, as used in the A90 Atlantic.
Subsequent development saw power upgraded to a straight-six engine with the 100/6 in 1956. The Austin-Healey 3000 model arrived in June 1959 in the form of the Mk1 BN7, which also featured front disc brakes.
The final model was the 3000 MkIII BJ8, produced between 1965-1967. Also colloquially referred to as the Big Healey, the 3000 model triumphed in motorsport, both in circuit racing and rallying.
The 3000 has established an enthusiastic following and for very good reason – it's a quintessential hairy-chested British bulldog of a sportscar!
EXTERIOR AND INTERIOR
This Austin-Healey 3000 MkIII BJ was for sale for £95,000? Can a MkIII BJ8 ever be worth £95,000? Our tried and tested example certainly isn't the cheapest on the market, but when you learn the full details of its no expense spared restoration then you'll appreciate just what's gone into this rather special car.
Prior to its restoration around a year ago, in 2003 our Austin-Healey underwent a meticulous rebuild of its 2912cc straight-six engine at marque specialist Denis Welch Motorsport.
The brief was to build it to fast road specification and invoices totalled £6118. In 2015 the car was delivered to Classic and Sports Cars Essex, initially for a little remedial work, which very soon escalated into a major rebuild.
The steel panels were replaced by lightweight aluminium ones, which came to in excess of £10,000. These included the shroud, front wings, bonnet, rear wings, doors and bootlid.
A huge amount of time has been taken to ensure perfect fit panelwork, which includes non-standard vented front wings and a louvred bonnet to help with airflow and heat extraction from the engine bay.
Then the body was repainted in gloss black to a very high standard, leaving a stunningly deep and shiny finish, bereft of any blemishes, chips or other marks.
Open the bonnet and you gasp in admiration. The straight-six engine has been converted to a triple 45DCOE Weber set-up with aeroquip hoses. Everything has been beautifully painted and detailed – it's as pretty as a picture.
The interior also underwent a full retrim in Cherry Red leather to the highest of standards. Then a bespoke Wilton carpet set was fitted. Protection from the elements is courtesy of a new black mohair hood and full tonneau. The car sits on Minilite knock-on replica alloy wheels shod with brand new 185/70-R15 Fulda tyres.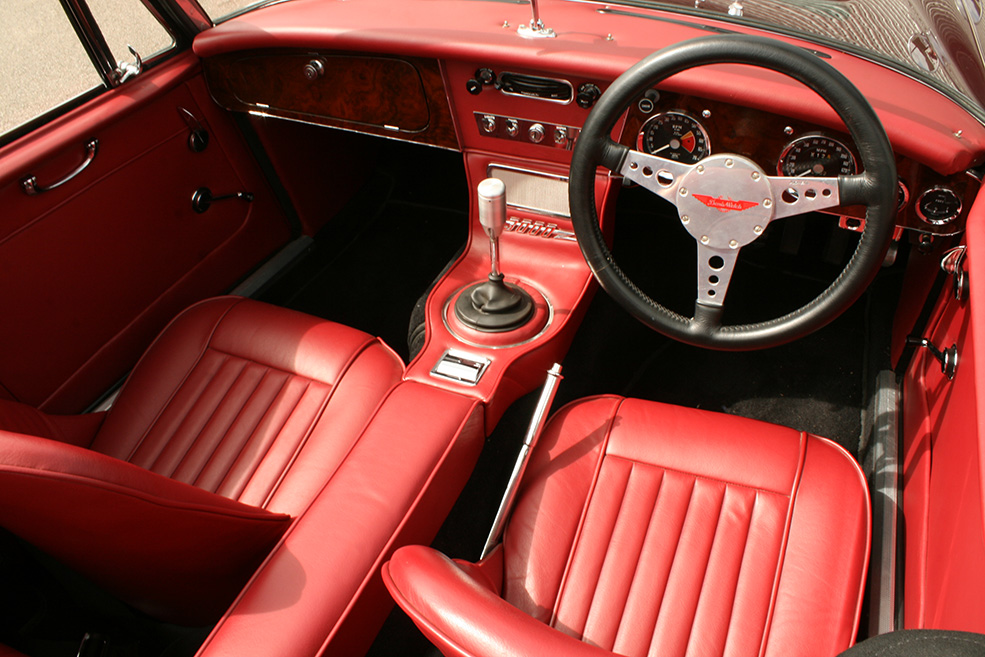 TEST DRIVE
Now that it's time to put this Austin-Healey 3000 through its paces, those with a shy and nervous disposition should look away!
You sit fairly upright in the cockpit and the chunky leather-trimmed steering wheel proves most tactile.
The brake and clutch pedal are quite close together, so wearing narrow shoes is recommended.
The straight-six engine bursts into life. The bespoke shifter, which has an overdrive switch mounted at the rear for fumble-free operation (the original was mounted on the dashboard), needs a good positive input, changing up and down with alacrity.
Flooring the accelerator pedal on a long straight section of road all hell breaks loose. The throaty induction roar from the Webers, coupled with that glorious howl from the straight-six via the bespoke stainless steel exhaust system, definitely stirs the soul.
This 3000 is a beast that's been unleashed. Attacking bends on twisting B-roads is a combination of exhilarating and scary at the same time.
Engine oil pressure is 60psi when cruising and 35-40psi at idle. Water temperature is 190F. Uprated and polybushed suspension ensures taut handling and it remains surefooted, even as we approach the ragged edge.
It might be another story if the road were wet. But it seemed equally happy pottering through villages at 30mph.
Also hugely impressive is the abundance of engine torque. This car has a rear disc brake conversion and they are pin sharp, inspiring great confidence. This is a seriously quick car and at full chat you need to know you can stop without any fuss. A top trunnion bearing kit, which replaces the bronze thrust washers, helps to reduce friction and lightens the steering.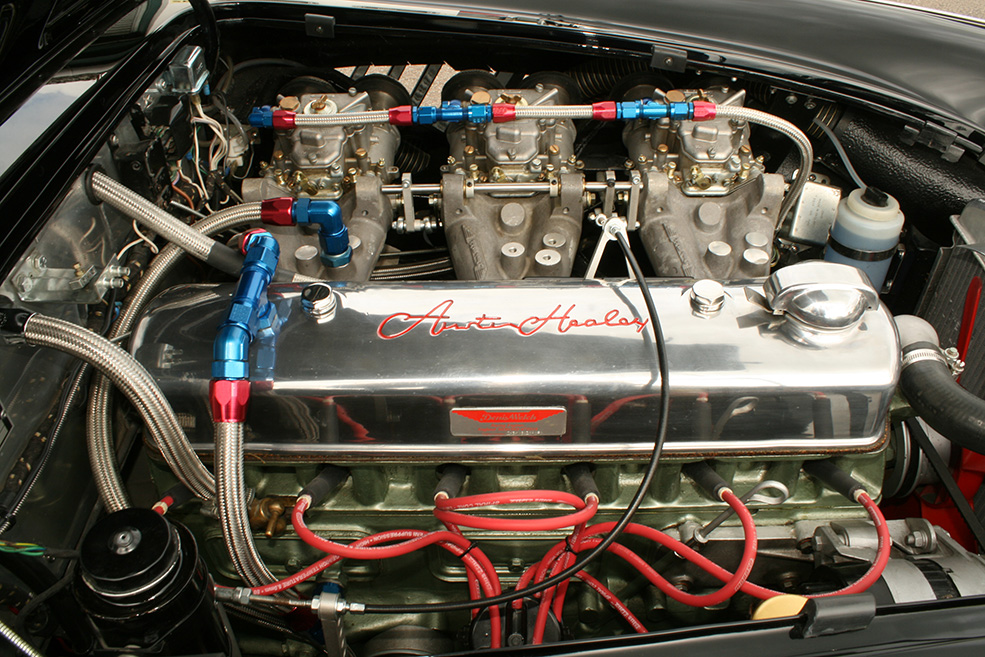 VERDICT
This car has been built with speed and handling as a priority and boasts a very comprehensive technical specification. The chassis and engine are superbly set-up and are what you would expect from a company fully conversant with historic race car preparation.
Cooling is taken care of by an aluminium radiator and an additional Kenlowe fan.
There are a great many eulogies to describe this car. It is definitely much further developed than a standard example and the attention to detail throughout is stunning. It's not cheap, but the best never is.
It's a very special car for the discerning enthusiast. The thought of taking it for a track day session is irresistible!
TECH SPEC
ENGINE: 2912cc
POWER: 150bhp
TOP SPEED: 120mph
0-60mph: 8.3secs
ECONOMY: 20.9mpg
GEARBOX: 4-spd man O/D