Classics World's Paul Wager test drives and reviews the 1999 Morgan Plus 8…
A perfect day for a Morgan," commented a fellow editor here at Kelsey as I left the office, camera and tripod in hand and he was right: blue sky, not too hot, not too cold and a location in the south Gloucestershire countryside. It all sounds perfect for the unique old school appeal of the Morgan – but be in no doubt, a Plus 8 isn't all picnic hampers and gentle cruising down sun-dappled lanes: these are serious performance cars and indeed the Plus 8 was at one point Britain's fastest-accelerating car.
The marriage of traditional Morgan and Rover V8 has been with us since 1968 when the story goes that Rover approached the Malvern firm with a takeover in mind but although Morgan proved not to welcome the idea, it did lead to discussions about replacing the soon-to-be obsolete Triumph engine in the Plus 4 with the newly-acquired ex-Buick V8.
Clearly the V8 was in a different league from the worthy but plodding Standard-Triumph engine and lifted performance to an entirely new dimension.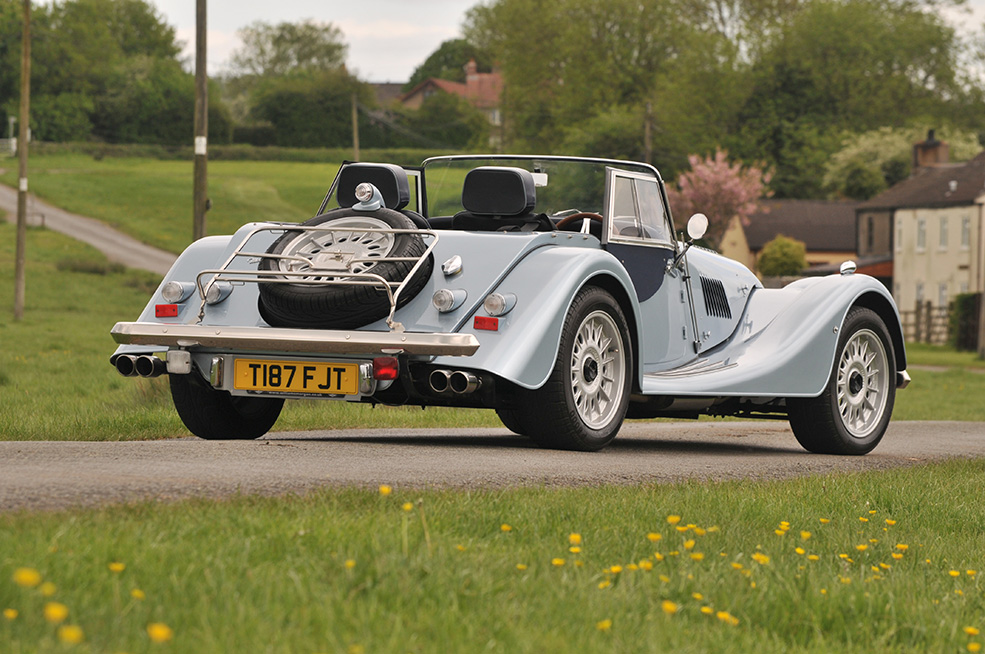 Early cars ran 160 bhp on twin SU carbs, but the Plus 8's engine spec kept broadly in step with developments for the contemporary Rover and Land Rover production models, meaning that in 1983 it gained the fuel injection as fitted to the Range Rover, the unit then growing to 3.9 litres in 1990 and then from 1996, the 4.6-litre unit shared with the P38a Range Rover.
The car was produced in this spec until 2004 when production of the Rover engine was discontinued and the model took a brief break until returning with BMW power in 2012.
Being a 1999 model, this Plus 8 would be regarded as one of the most desirable of the classic models by many enthusiasts, coming as it does with the most powerful version of the Rover engine and the R380 five-speed gearbox.
It also comes with a host of other appealing features, including a low mileage of just 24,000 in the hands of two former owners and a long list of options. No, the Morgan brochure doesn't list things like heated cup holders and reversing cameras but this car's first owner still raided the options list to add the distinctive centre-lock alloys, plus uprated suspension, mohair hood, full-width bumpers, luggage rack, mesh grille, sports exhaust and tread rubbers for the running boards. And that's just the outside: interior options include blue leather-trimmed seats, radio, walnut dashboard, stainless mirror, door check straps and a Moto-Lita steering wheel among other things.
Despite the value they command and the love they obviously inspire, it's not uncommon to find Morgans which are all too obviously well-used but this one has clearly led a pampered life. From the clean and tidy interior to the unmarked Azure Blue paintwork and pristine wheels, it's really very nicely presented and could pass for a car half its age.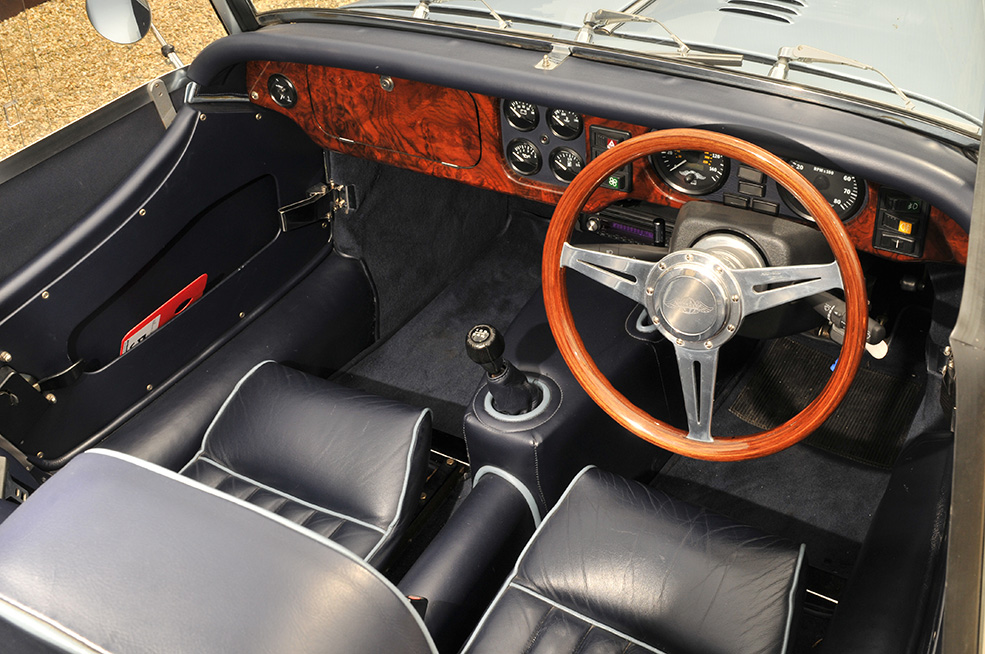 ON THE ROAD
A spin in a Plus 8 is always a treat even for those of us who drive and write about old cars for a living and this one didn't disappoint. It's been a while since I've sampled a Morgan of any vintage but it only takes a short distance to become accustomed to it again: the low seating position, the view out along the long louvred bonnet and the visible movement of the wings over rough surfaces all reinforce the point that you're in something which first saw the light of day in the 1930s but which can still cut it today.
Give it a clear road and there's no surprise that the Plus 8 took that fastest-accelerating car title back in the day: they're a quick car with a great muscular feel, especially in injected 4.6-litre form and pack a punch which belies those traditional looks. The soundtrack through the sports exhaust on this example is also superb.
Despite the dated layout, the late-model Plus 8 is really very civilised, despite features like the slot-in side screens. The cockpit is comfortably trimmed, the instruments and switchgear are all pretty modern and in truth the car is as easy to drive as an MGB.
Clearly this example has been as well looked-after mechanically as it has cosmetically and in our short test drive I couldn't find a single thing to criticise. All in all it's a very well sorted example.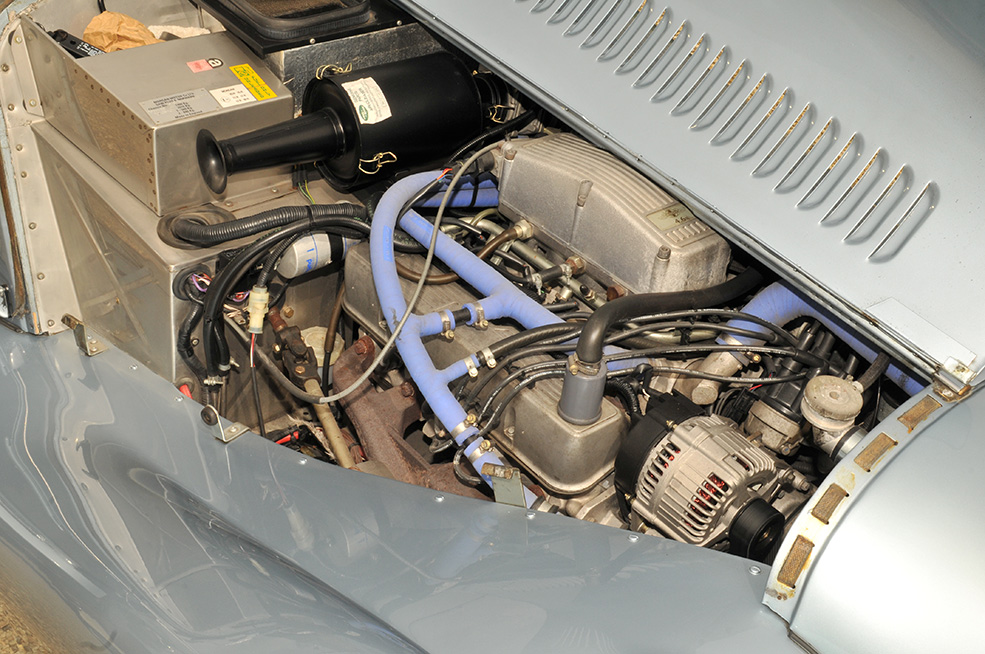 VERDICT
It may not be the cheapest way to get into open-topped British sports cars, but it is one of the classiest and Morgans have traditionally been a pretty safe investment. This must be one of the nicest examples of the 4.6-litre Plus 8 available right now and offers an elegance you just won't find with alternatives like a TVR.
TECH SPEC
Engine: 4555cc
Power: 220bhp
Top speed: 128mph
Fuel consumption: 30mpg
Gearbox: 5-spd man