Classics World's Rob Hawkins test drives and reviews the 1994 TVR V8 S…
TVR's return to the rounder shape that was so successful in the M-series of the '70s was launched in 1986 alongside the popular wedgy Tasmins. The TVR S as it was known, was initially powered by Ford's Cologne V6 engine and sales were healthy, with a total of 2192 being sold.
Whilst the Ford-powered TVR S was seemingly successful, there was always the potential for more performance. The Tasmins had moved on to the Rover V8, so it seemed sensible to do the same with the TVR S. The first V8-powered S appeared in 1990, and production figures state that a total of 408 were built up to 1994 when the S finished and the likes of the Griffith and Chimaera took over.
On paper, the V8 S was noticeably faster than the Ford powered model. A 3.9-litre version of the ex-Buick all-aluminium engine was adopted, but equipped with gas-flowed cylinder heads, a high-lift camshaft and a quoted compression ratio of 10.5:1. With a revised engine management system and a limited slip differential, power output was 240 bhp and torque was 270 lbf.ft, meaning its acceleration from standing to 60 mph was a match for a Ferrari Testarossa.
Under the skin, the V8 S retained the same front double wishbone suspension set-up and rear trailing arm assembly, but with a slightly wider track, and disc brakes all round, whereas the V6 cars had drum brakes on the rear.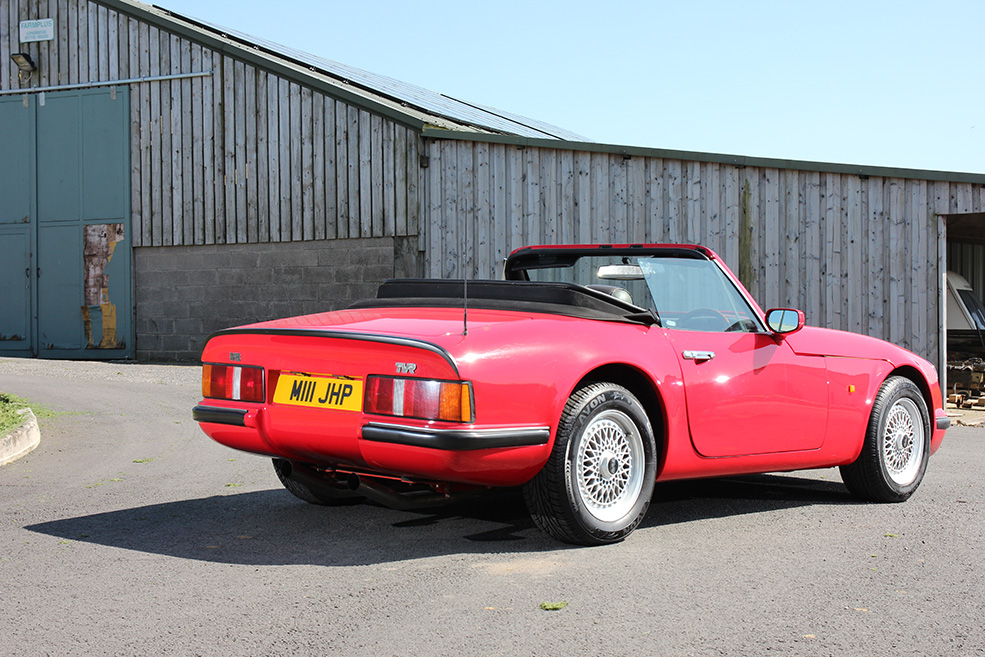 There are a few cosmetic differences on the V8 model. There's a hump in the bonnet, which was designed in anticipation of fitting a supercharger, although only a couple of supercharged V8 S models were manufactured. The standard specification included half-leather interior trim, a walnut dashboard, mohair hood, OZ alloy wheels, driving lamps and electric door mirrors and windows. However, optional extras may mean some V8 S models are different.
This car is possibly one of the last examples to be manufactured, having been registered on the August 1, 1994. Raise the forward-hinging bonnet and the Rover V8 sits neatly in the chassis, tucked back from the front wheels to help keep the weight balance in the centre. It's mated to a five-speed LT77 gearbox (as used on early Griffiths) that's hidden under the dashboard and centre tunnel, resulting in a traditionally large centre console and a wide division between driver and passenger.
The interior is a tasteful blend of leather and walnut with TVR-badged instruments. The hood is a clever design and a credit to TVR from an era when the mainstream manufacturers had only just perfected the art of an easy-to-operate framework.
There's no mistaking the sound of a V8 and this TVR doesn't disappoint. Once on the move, it feels in many ways like a typical V8-powered open-top two-seater sports car. It's not as wallowy as an older MGB GTV8, but not as refined as a later MG RV8 or TVR Chimaera. This is certainly a driver's car that should belong to someone who's proud to own a piece of British motoring history.
Needless to say, a sympathetic approach to build quality is required. On this car for instance, the bottom of the doors don't sit flush to the bodywork, and it may be more hassle than it's worth to tweak and align them; the driver's electric window wasn't working, some of the trim needed refurbishing and there were several panel rattles when driving the car. Some of these problems can be fixed, but some are just part and parcel of the TVR experience.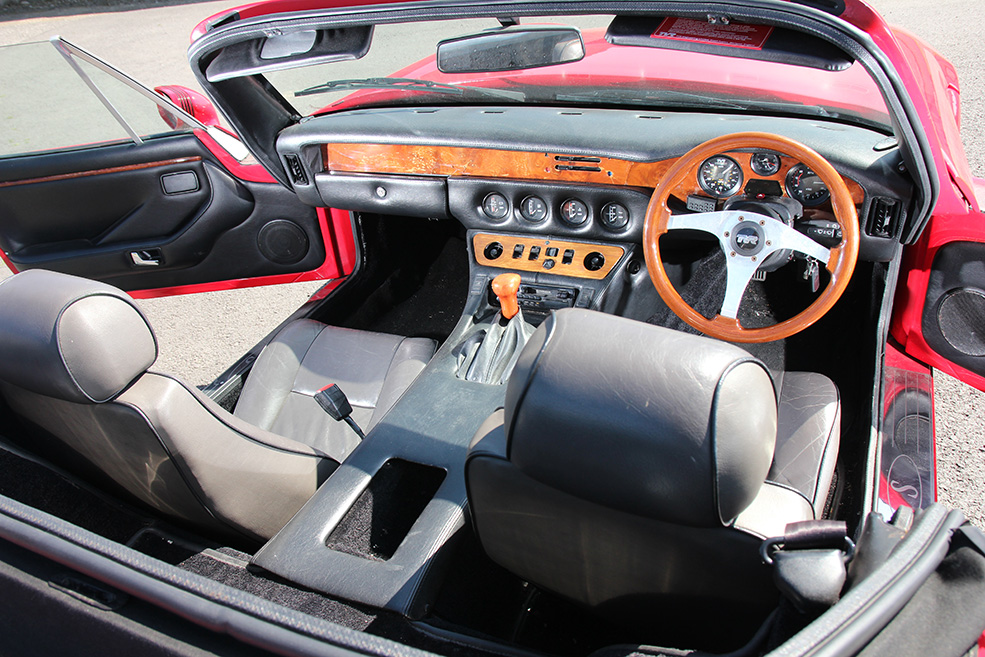 Verdict
The TVR V8 S clearly offers more performance than a Ford V6-powered model and we came away smitten by the TVR V8 S. AH's proprietor Andrew Henson has owned four of them and appreciates them for what they are; they're not the most expensive of the V8-powered classic sports cars (at £13,500 for this one, you'll be hard pushed to find an equivalent MG RV8), they're not as refined as similar cars, but that's maybe the challenge of owning one.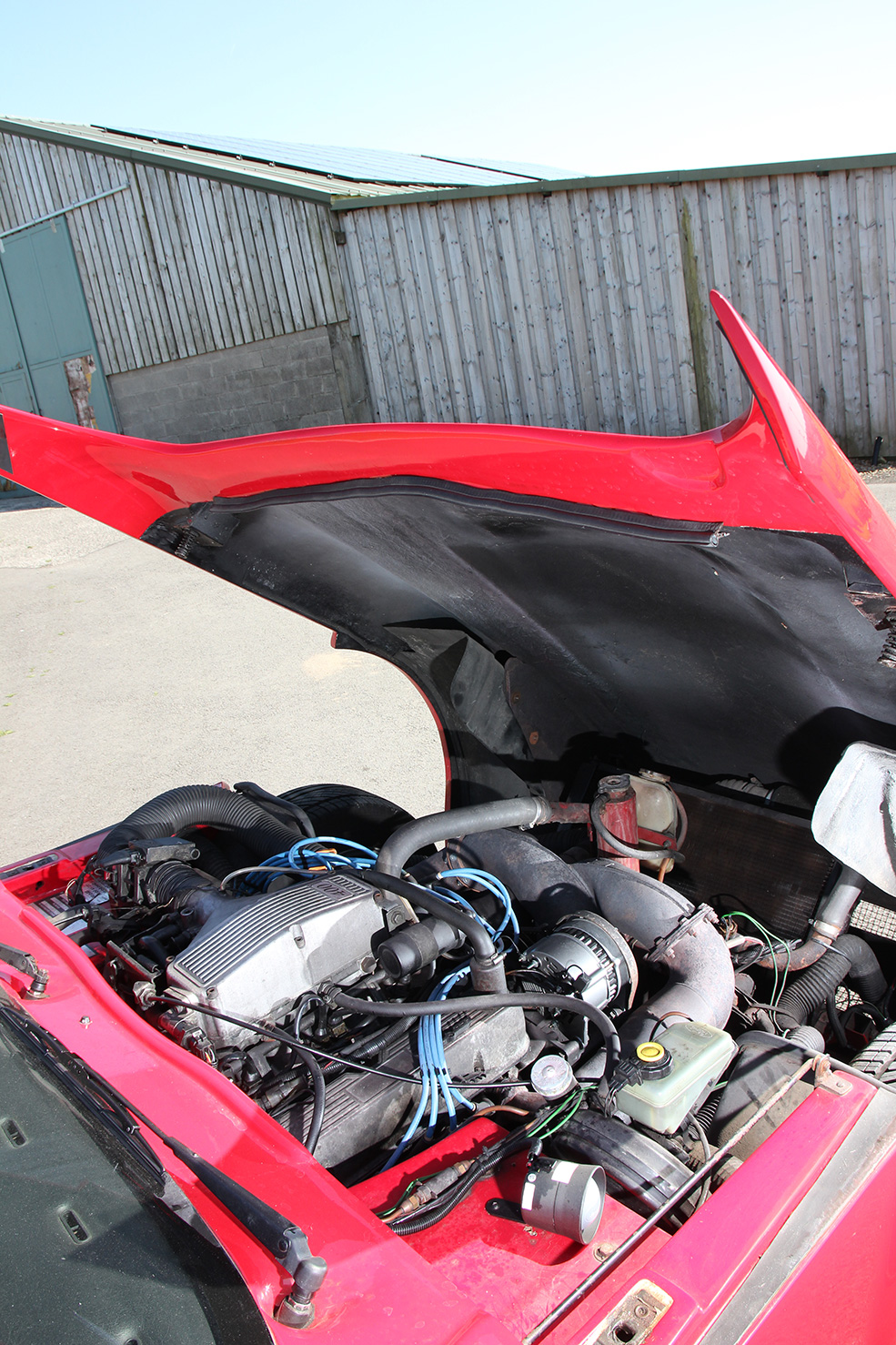 TECH SPEC
Engine: 3905cc
Power: 240bhp
Top speed: 148mph
Fuel consumption: 18mpg
Gearbox: 5spd man