Classics World's Sam Skelton test drives and reviews the 1992 Mercedes-Benz 400SE…
This 1992 Mercedes-Benz 400SE Crystal Green example is in truly outstanding condition. It's original paint, on a well cared-for car, with not so much as a scuff to a plastic panel. The wheels – S-class specific – are in excellent condition too, and wearing good tyres. All the little touches work neatly too, from the boot lid handle which protrudes and retracts when required down to the little rear aerials to aid reversing. What little chrome remained as part of the S-Class package by 1992 is still in good condition, and it's nice to see an early car which has retained orange indicator lenses rather than suffer the indignity of a "modernising" facelift.
The Fir Green interior is not going to be to everyone's taste, but it's all in excellent condition. The electric seats work in every direction, and the cost-option walnut trim is unmarked. The carpets are immaculate – whether they have been protected from day one with mats or whether they have responded well to cleaning, they certainly don't let this interior down. Although such things are rarely considered, the boot is just as tidy as the rest of the interior.
It starts well, settling down to a good idle. Oil pressure is less easy to ascertain; when we tested the car it was suffering an instrument binnacle fault which knocked the temperature, oil and fuel gauges out – this will be rectified prior to sale. There are no signs of fuel leaks under the bonnet, all the levels are right, and nothing sounds or feels amiss.
It changes up and down through its four gears nicely, and despite only being the baby V8 there's a pleasant enough turn of speed to it. Cars of this size are rarely easy to place, but the S-Class belies its girth and feels no harder to manoeuvre than an E-Class – albeit with a slightly longer nose. It's comfortable, quiet, and a lot of fun.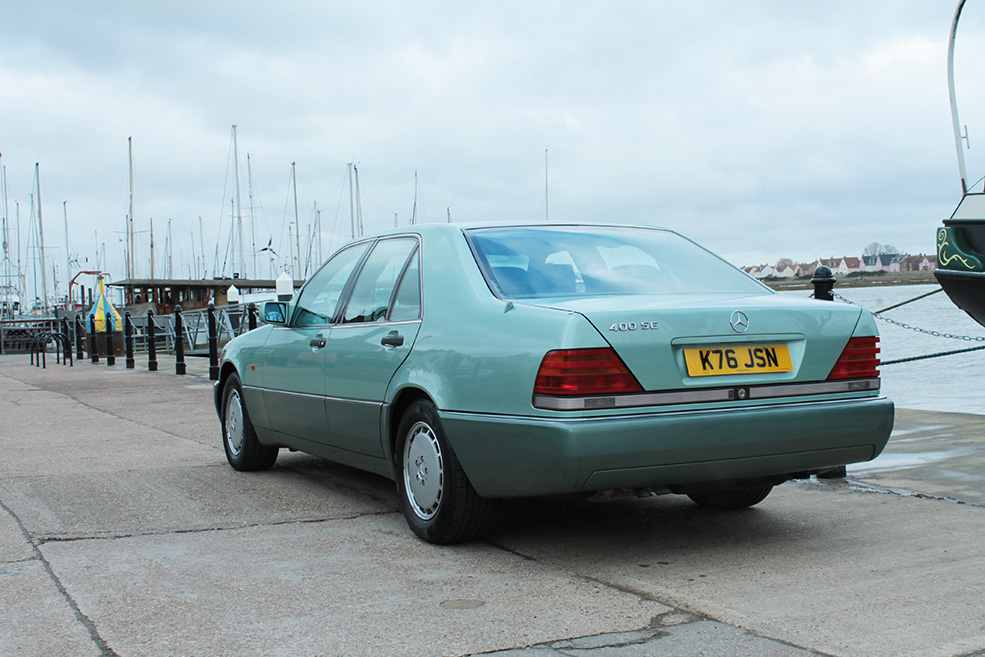 Sadly, the downside to this car is its near-total lack of history. Barring a V5 which shows previous owners, there is no paperwork in the file – although there is a full complement of keys. 2 infra red keys, 2 standard keys and a wallet key in their own presentation box is a mark that however scant the file, this car has been well cared-for by its previous owners. It's a pity about the paperwork – but it wouldn't put us off this example.
VERDICT
The colour scheme really isn't for everyone – and in all honesty detracts from the resale value of what is otherwise an excellent example. We love unusually specced cars here at CW though, so it wouldn't prove to be a deciding factor for us. The 400SE is a rare variant, and this is one of the best W140s we've driven. On that basis, we'd advise you to view it – after all, you' need to make your mind up on the green leather before purchase…