Classics World's Rob Hawkins test drives and reviews a modified 1992 Jaguar XJS V12 Convertible…
If you like large open-top sports cars with a big, powerful engine, then there's a limited choice. There are a number of mass-production saloons with roof conversions, ranging from the Saab 900 and Mercedes SL to several Rollers and Bentleys. The aforementioned Saabs and Mercs can cost under £10,000, whereas Rolls Royce and Bentley convertibles are often ten times these values. However, one British manufacturer that has always had a favourable reputation for making a big-engine sports car is Jaguar. The iconic E-Type roadster set the bar, but it's now unaffordable for most of us, and it seems the XJS convertible appears to be slowly heading the same way.
This XJS convertible is one of the last of the 5.3-litre V12 engine models. The following year after this XJS was manufactured in 1992, the 5.3-litre V12 engine was updated and stretched to displace 5994cc continuing production until the V12 was axed in February 1997 (the XJS finished in 1996, replaced by the XK8, which was initially powered by a 4.0-litre V8).
Supplied by Doves Jaguar in Surrey and delivered to its first owner on August 4, 1992, the car's first service is recorded for August 26 that year. Over the next sixteen months, the car covered almost 11,000 miles and was regularly serviced by H.R. Owen of Colchester and then Ipswich for the next six years, clocking up 5,000-6,000 miles in between. Between 2005 and present date, just over 5,000 miles have been covered in the last 13 years.
The only dilemma with Jaguar's V12 engine is that it needs to be frequently run to ensure the piston rings don't seize inside the cylinder bores. Plus, the rope oil seal at the back of the crankshaft can dry out, resulting in rubbing and leaking. Such problems can be identified by running the engine and looking around it for oil leaks.
This XJS convertible is being sold by the Classic and Sportscar Centre of Malton in North Yorkshire. It's the second time that it has been sold by them, a trait that is common where customers trust them with their cars to sell them on or trade them in for something else.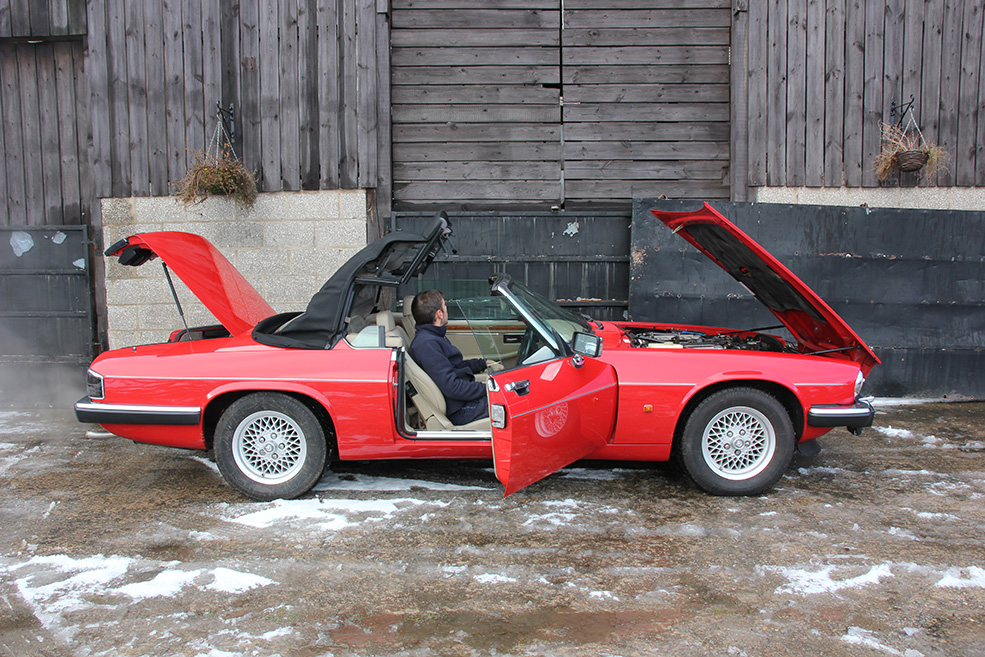 ON THE ROAD
Sitting inside the XJS is nothing short of luxurious. The leather upholstery is immaculate and the seats are as comfortable as armchairs, complete with electronic switch controls for adjustment. Firing the V12 into action results in a refined engine noise and it's hard to tell there are 12 cylinders under the bonnet producing an impressive 266bhp. With a four-speed automatic gearbox mated to the V12, selecting drive with a cold engine that's seemingly running on 'choke' (it's fuel injected so the engine revs a little faster on cold) doesn't result in it lurching forward and fighting to get going. It's a little enthusiastic, but settles down once the engine has warmed up.
Out on the country lanes surrounding C&SC, the XJS is a pleasure to drive. It doesn't offer neck-snapping acceleration, although on paper it boasts a 0-60mph time of 8.2 seconds. However, with a kerb weight of 1825kg, there's a lot of mass to transport, so acceleration can be refined and deceptive. The handling, brakes and steering are all smooth.
This is a grand tourer with a 480-litre boot that rivals most modern-production saloons and is built for long road trips if you can afford the petrol – the V12 is quite thirsty at around 19mpg.
Returning to C&SC, we test the hood, which requires two safety catches to be undone, the engine to be running on and the handbrake applied before it will fold down and back up again automatically. Back in the nineties, automatic hoods like these were not only a luxury, but a rarity.
The handbrake is a fly-off type on this XJS. It's positioned to the right of the driver's footwell, so it ideally needs to remain flat to the floor whether it's on or off. Sadly, this means that the handbrake can remain on unless you are familiar with how a fly-off system works.
THE VERDICT
Anyone who remembers a time when a top of the range V12-powered XJS convertible was a third of the price may wonder whether this car will sell. Yet, this sort of money will only buy you a restoration project if it is an E-Type, so maybe the price is right for the current climate of the classic car market. An XK8 convertible is a cheaper option, for now, but if you want to rekindle your memories of the eighties or early nineties with the last of the 12-cylinder engine open-top sports cars, then this XJS is surely an affordable dream.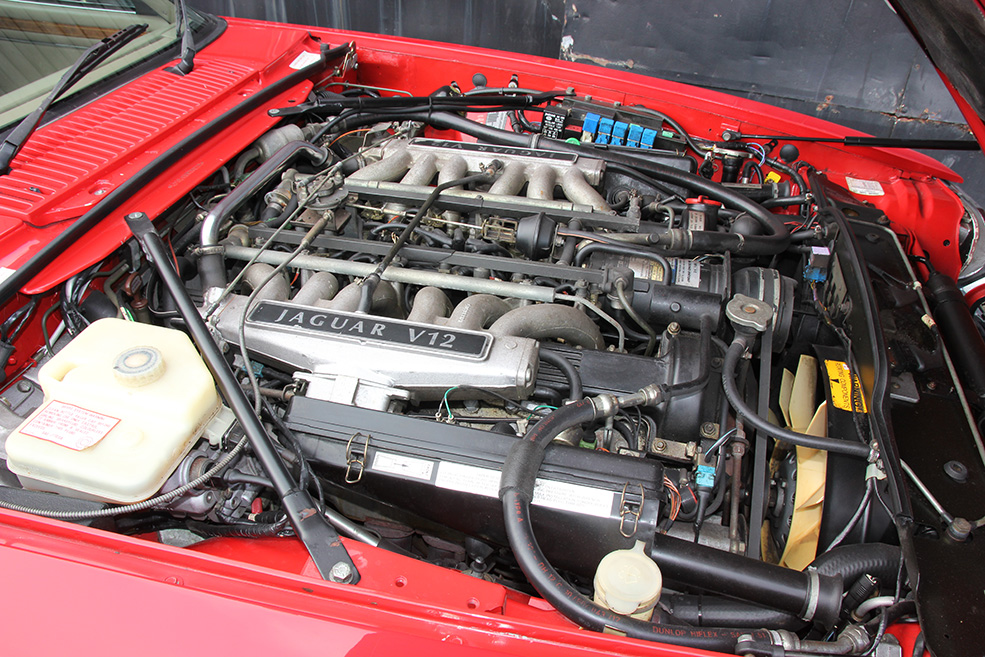 Tech Spec
ENGINE: 5343cc
POWER: 266bhp
0-60mph: 8.2 seconds
GEARBOX: 4-sp automatic
BRAKES: Discs all round