Classics World's Sam Skelton test drives and reviews the 1991 Mercedes-Benz 500E…
The body is in fantastic shape, with not even a parking dent to besmirch those fine Blue-Black flanks. The wider arches are in perfect condition on all corners, as are all the lenses and the glass. The wheels are perfect, shod with Dunlop SP Sports all round. This car previously wore AMG five spokes – while these 8-hole wheels are more in keeping and are what the car would have worn new, they are unlikely to be the original set. There's a little stress cracking to the top of the rear bumper, but it's 27 years old and perfection can't reasonably be expected. There's nothing to confirm when this car was facelifted to the post 1992 nose, but as it is a 500E it should wear the earlier bonnet and grille if originality bothers you.
The grey leather is in excellent order too, with front sports seats and the individual rear seats alike smelling and looking perfect. The wood is unblemished, even the 500-specific items such as the wood around the speaker grilles on the top of the dash. There's a rare half-walnut wheel in here too, a desirable extra and one which wouldn't be cheap to retrofit. The car has a more modern Alpine radio head unit, and a Bury Bluetooth system fixed to the dash. Sensibly, someone has wired in a permanent live 12v feed for a satellite navigation system behind the dash, to avoid unsightly trailing wires. The rear sunblind works, as does the sunroof – though on test the sunroof inner trim did not retract with the outer panel. The original first aid kit is present, and appears unopened.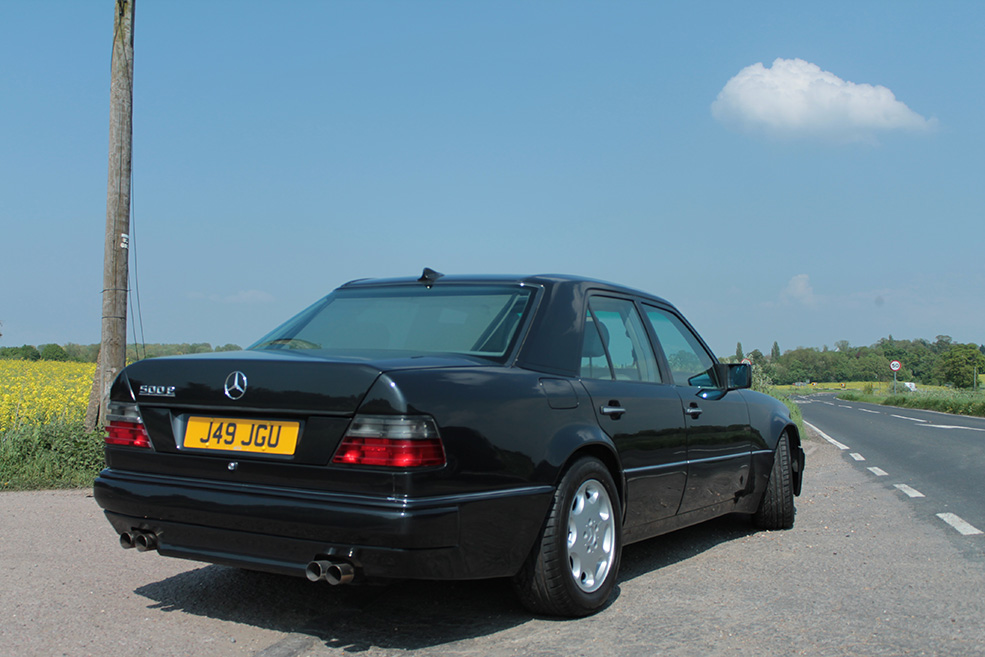 Starting the car is easy when you know how the immobiliser works, and it settles to a perfect idle. Gear changes are perfectly smooth, as is the suspension. On the road this car feels absolutely perfect – a fact borne out by the excellent condition of the engine bay. The kickdown is rapid – and the acceleration is certainly rapid too. It's a little sharper than most W124 models, though left hand drive puts UK drivers at a slight disadvantage. We shouldn't count that against this car though – all 500Es were LHD regardless of market. You'd be forgiven for thinking that the 23000 miles shown is its total – in truth, it did 134000 kilometres (approximately 84000 miles) before being fitted with a UK-spec speedometer.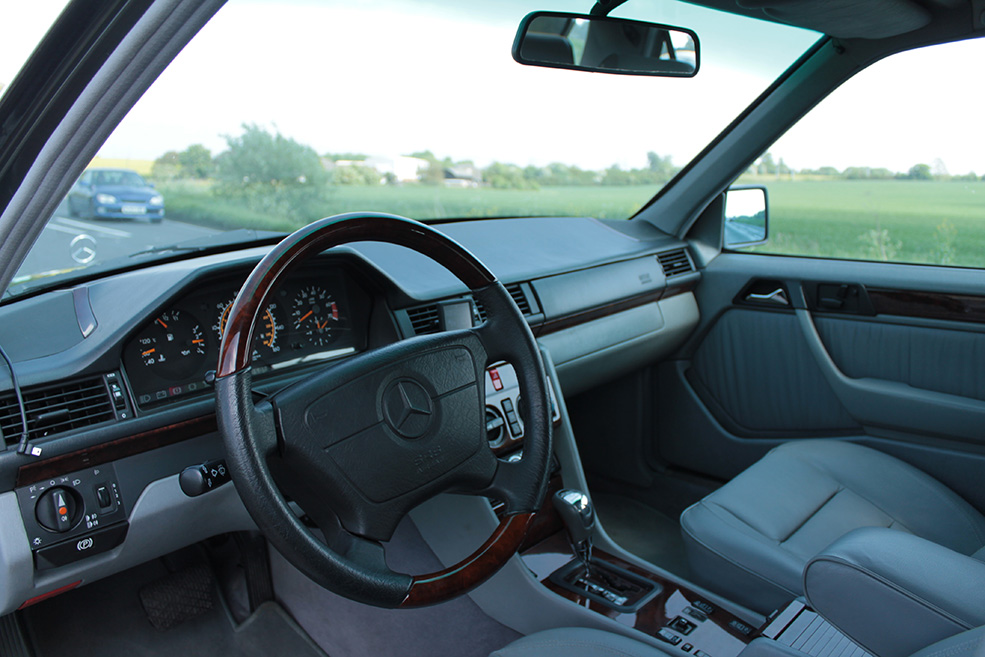 The history files shows incredible detail from 2009 onwards, including regular servicing and an engine rebuild. Unfortunately a previous owner lost the original service book, but there is a written account of telephone conversations which shows the extent of the original file.
If you want a really good 500E, buy this one. Not only is it the best colour, but it's original, largely unmolested and in near mint condition. And while £24,995 would seem a lot for a W124, this is a car that has doubled in value over the last decade. There's more investment potential in it yet…
Tech Spec
Engine: 5.0-litre V8
Power: 326bhp
Top speed: 155mph