Adding four-wheel drive to the world's most famous sportscar, the 964-generation Porsche 911 Carrera 4 set a precedent for all-weather sports cars
Words: Paul Bussey
Designed by Benjamin Dimson and introduced at the 1988 Paris Motor Show, the Porsche 911 Carrera 4 (964) was produced between and 1989. The iconic styling was still instantly recognisable, albeit with a rear spoiler that was raised at speeds in excess of 50mph, but the essence of this new Type 964 model was in its underpinnings.
There was a new all-wheel drive system, a greatly improved suspension set-up (which saw the previously-used torsion bars replaced by coil springs and dampers), not to mention a lusty 3.6-litre flat-six air-cooled engine rated at 250bhp. Indeed, it's reckoned that the 964 was an 85% new model over the previous 911.
Performance equated to a top speed of 163mph with a rapid 0-60mph time of 5.5secs. The car was available with coupe, Targa and convertible body styling. A rear wheel drive model became available six months after launch.
This particular example of the 911 Carrera 4 is one of the first of its generation and boasts a remarkably low mileage for its year and has retained a great deal of originality. The bodywork remains in exceptional condition, with excellent panel fitment and superb Guards Red paintwork, which still gleams with an impressive radiance.
It's virtually impossible to detect that the front bumper was repainted a good many years ago, hence it's bereft of any stone chips and there's virtually no blemishes to be seen. The original Design 90 alloys are a particular highlight of the design.
The 911's interior is light and airy and trimmed in the very attractive Linen leather seats with red piping. These are wonderfully preserved, nicely mellowed and showing only minor signs of wear on the outer bolsters and squabs. Just about the only sign of any significant wear is to the gear knob. The carpets are also remarkably clean and well preserved, with entertainment provided by a period-correct Blaupunkt Sevilla radio/CD player.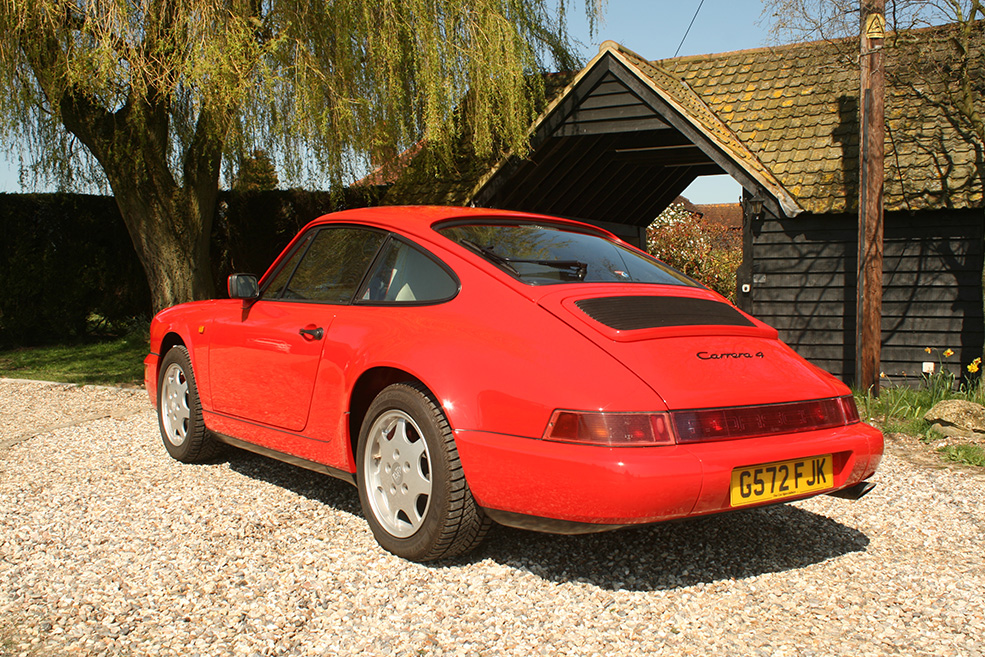 The driving position in the 911 is low and the seats are extremely figure hugging and supportive.  The pedals are slightly offset to the left and are reasonably weighty. We manage to stall the engine twice while reversing out of the yard, prior to becoming accustomed to how much throttle is required when pulling away!
Once out on the open road, we find that that gear selection requires a positive shove when changing up and down. It goes without saying that this is one fast coupe and a heavy right foot releases a really impressive smooth delivery of instant power, accompanied by that glorious howl from the flat-six engine.
The power steering is beautifully weighted, still giving plenty of feedback to the driver. But it's the all-wheel drive that's one of the most impressive driving aspects, making the car feel incredibly taut and stable, soaking up undulations and imperfections in the road with aplomb. The car never wavers a jot, staying glued to the road.
Huge disc brakes at all four corners ensures supreme braking effectiveness. This is a car for going places in at speed – a splendid long-distance grand tourer. The 250bhp engine is more than adequate to offer a truly spirited performance, it's indecently quick and 60 mph is showing on the speedometer in a whisker. This 911 is definitely not the kind of car that you want to return to the dealership in a hurry. We relish its performance and optimum handling qualities – the all-wheel drive being quite a revelation.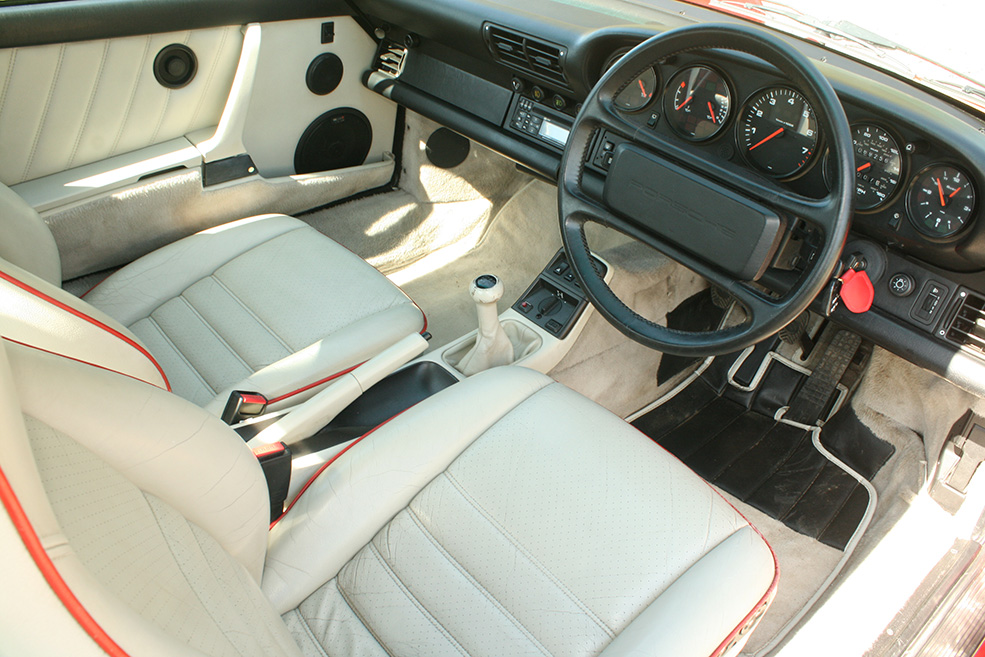 Porsche 911 (964) Carrera 4: our verdict
The 911 Carrera 4 has a great many positive aspects. While complex and in requirement of regular servicing, a well-maintained example such as this will happily go on for hundreds of thousands of miles.
If you want a slightly more modern-feeling take on the 911 recipe while retaining its core air-cooled character, any 964 is worth the cost of entry. For the ultimate in year-round usability, however, it's the Carrera 4 that takes the spoils.