Classics World's Jack Grover test drives and reviews the 1979 Triumph Spitfire 1500…
Speaking for myself, I have always preferred the MG Midget over the Triumph Spitfire. Of course there was a certain degree of interbreeding between the two once they both became British Leyland products. My own Midget, sadly sold last autumn, had the engine and gearbox from the Spitfire 1500, as represented by this very tidy example at the Classic & Sports Car Centre. It's even the same colour – Vermillion.
There is certainly no better ambassador for the Spitfire to try and win me over. This 1500 is a remarkable survivor in original condition and with a specification that would have a concours judge giddy with joy. The Triumph has covered just 25,000 miles since 1979 and had only two owners until 2011. It then covered less than 100 miles in the next five years. Once it was at Malton, the Spitfire was treated to a thorough going-over which included a rebuilt gearbox, almost completely new brake components, numerous new gaskets and seals, new trunnions for the front suspension, new suspension bushes, fresh dampers front and rear and new differential and transmission mounts. All this work is documented in the car, proving that it has received work totalling a value not far off the asking price!
That work stands alongside a car which has still only covered 25,000 miles. So it is in perfect condition both structurally and cosmetically. Many Spitfires have wonky bonnet shut lines and doors that scrape on the sills, courtesy of indifferent restorations or poorly-shaped replacement panels. No such issues here – everything is straight and true. The front spring seats, the battery tray and the footwells are all free from any signs of rust. In fact the same goes for the entire undercarriage, as with the bonnet raised the entire front structure and running gear is laid out before you and even the springs and wishbones are still a uniform shade of chassis black paint, without any surface rust or dirt. I also notice that both of the SU carbs have their original yellow instruction tabs under their damper pot caps – the sort of things which usually end up on the garage floor after the first service. The interior is similarly impressive, with an unblemished wooden dashboard and seats freshly retrimmed in black vinyl and checked cloth.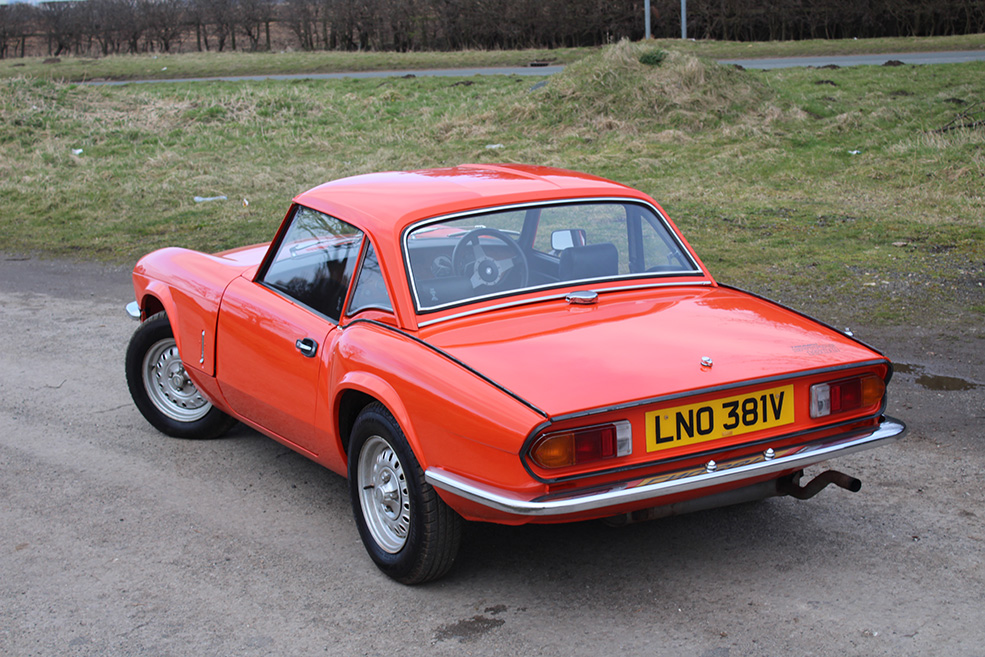 ON THE ROAD
The cockpit is certainly less cramped than the MG's, and has a nice, low-slung and leg-extended driving position once you're seated. The only snag as far as I'm concerned is that during my test drive the Spitfire was wearing its original matching steel hard top (in just as nice condition as the rest of it), and at a fairly average six foot my head was pressed firmly into the pristine headlining, forcing me to drive with a slight hunch! The folding hood was wrapped up in the boot, ready for summer.
The 1493cc engine barked to life virtually the instant the pistons began to move and the oil pressure light went out at once (a good sign with the 1500 motor). The gearbox has the usual narrow gate and slick shift, and selects gears both up and down without complaint and without any signs of worn bearings, tired synchromesh, tired mounts or differential backlash. This might be the only classic Triumph I have ever driven without any whine from its final drive!
The Spitfire certainly impresses with the suppleness of its ride. It's still definitely an old-fashioned sports car with fairly stiff springing but it has more give and travel than a Midget, even my relatively squashy 1500. The much more comfortable and supportive seats in the Triumph also go a long way to making this a less kidney-jarring experience, even when your head is touching the roof (which certainly brings the idea of feeling connected to the car to a whole new level). Once warmed up a bit the engine runs smoothly, although, as is typical of its type, it majors more on delivering punchy torque and a good noise in the mid-range than true strung-out revs.
The temperature gauge settled one notch higher than it should, but there were no other signs of anything amiss, so perhaps it's a case of a mismatched sender and gauge. All the other dials and switches worked perfectly and the heater quickly made the compact cockpit very cosy on a breezy March evening. The overdrive (a desirable option on the Spitfire which was not even offered on the Midget) works smoothly and certainly makes cruising at main road speeds a much less raucous and stressful experience. On a brief test drive of a few miles on sweeping single carriageway roads, the Spitfire swished from corner to corner in a tenacious and communicative fashion, displaying none of the twitchy oversteer that the type is, apparently, so infamous for.
Other Spitfires (and its siblings on the same chassis) have felt somewhat rattly and less cohesive, more like a collection of parts going down the road than a complete car, but this pristine example felt (and sounded) very solid.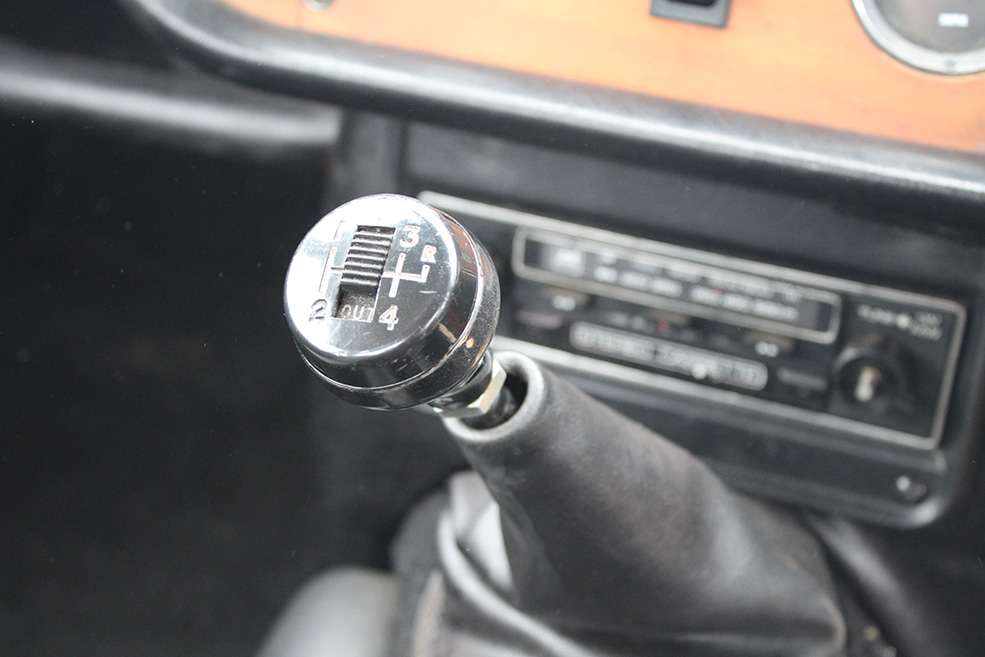 VERDICT
The Spitfire has always been a popular choice, combining svelte looks, easily-maintained mechanicals and a fun-loving character. The biggest difficulty is always getting a truly good example in the first place and this is absolutely what's on offer here. A 1500 may not be the most desirable version of the Spitfire, but I would take this very special Triumph over a 'better' earlier mark which didn't feel as right or be as correct and original down to such a fine degree of detail. You could certainly pay more for an earlier Spitfire in inferior condition, which makes this Vermillion car worthy of a test drive at the very least.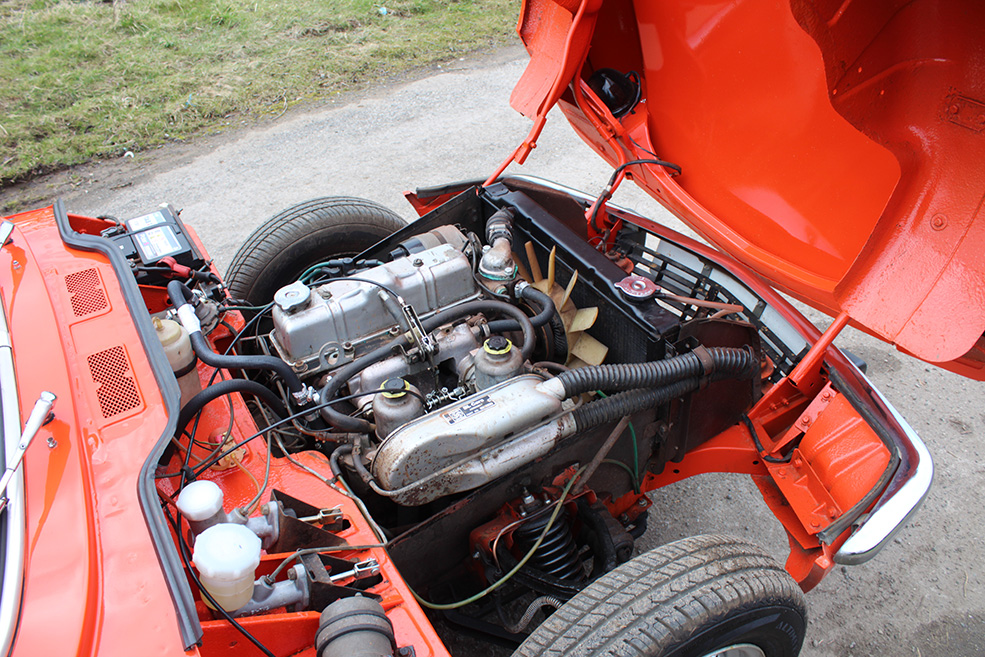 TECH SPEC 1979 TRIUMPH SPITFIRE 1500
ENGINE: 1493cc 4-cyl
POWER: 69bhp
TOP SPEED: 101mph
0-60mph: 13.2 secs
ECONOMY: 28mpg
GEARBOX: 4-sp manual w. o/d