Classics World's Rob Hawkins checks out a 1975 Datsun 100A…
If you're nervous about buying a classic car from an auction because there's no opportunity to test-drive the vehicle and make sure everything is in good working order, then buying a restoration project is possibly a safer option.
This rare 1975 Datsun 100A (also known as the Cherry) looks tempting as a restoration project, especially if you remember the seventies when British Leyland were drowning in disputes, so many a Mini and Austin 1100/1300 owner switched to buying the all-new Datsun Cherry.
It first appeared in 1970 as either a two- or four-door saloon, along with a bread van styled two-door coupe and an estate (released in 1972). A 998cc overhead valve engine powered the front wheels via a four-speed manual gearbox with synchromesh in all gears. To top it all, there was independent suspension all-round, with MacPherson struts at the front and springs and dampers at the rear (the estate had a beam axle with semi-elliptic springs in the anticipation of carrying heavy loads).
According to Lancaster Insurance's website, UK sales began in July 1971 and a month later, Autocar stated this model was 'the most formidable Japanese challenge yet.' When Car magazine tested the 100A against a Hillman Avenger 1250 De Luxe, a Simca 1000 and a Renault 6 in 1972, they stated it was 'the best handling of the bunch' and it had 'light steering – almost like the legendary Mark One Sprite which was feather light'.
With luxuries such as a reversing light, two-speed wipers, hazard warning lamps, and electric windscreen washers as standard, the 100A was ahead of the competition. Lancaster Insurance points out that in 1972, the Datsun cost £10 less than a basic, entry-level Avenger. And the Avenger only came with one sun visor, no fresh air vents or rear ashtray and even a fixed passenger seat.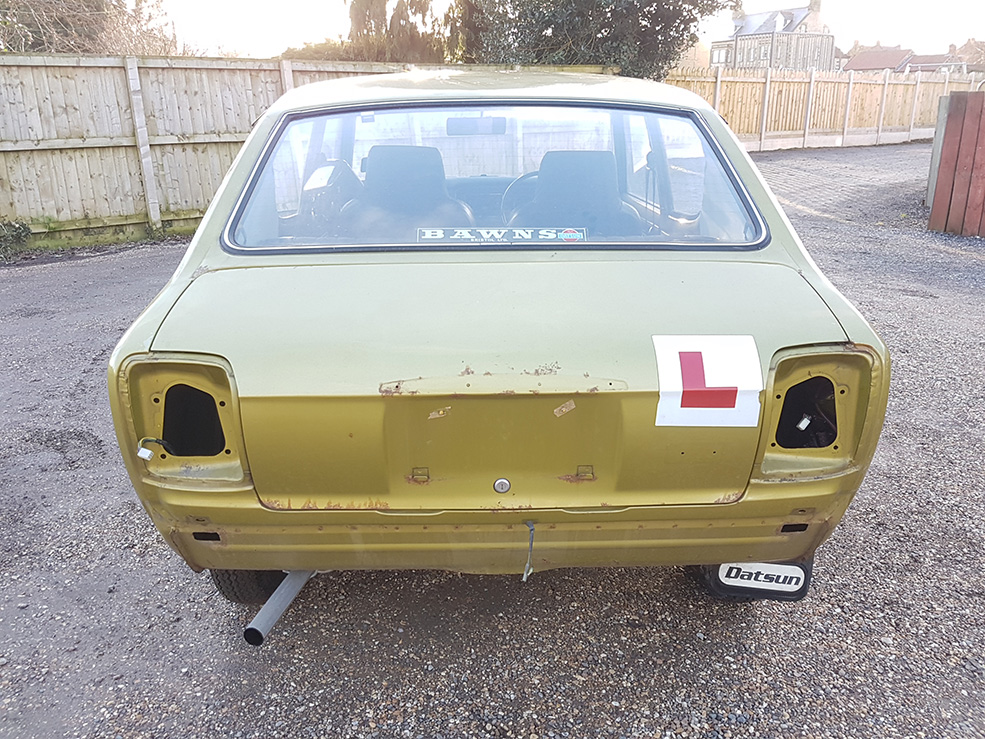 In 1973, Datsun sales in the UK topped approximately 60,000. And when the 100A finished in 1977, the manufacturer had roughly 6% of UK new car sales. The subsequent Cherry, Sunny and Micra have all become top sellers, so maybe the 100A is to be thanked for its contribution.
Looking over the Datsun 100A seen here, you could argue that it's good to see that some of the panels have already been removed and the rust spots exposed. A search of its registration (HTC695N) via the government's MoT history check website reveals the car was last MoT tested in December 2013. Initially, it had failed on brake performance, headlamp aim, blown bulbs and worn tyres. We can assume these were fixed, and the only advisory that remained on the certificate was that there was slight corrosion on the underside of the entire car.
We couldn't poke too much around the underside of the car when we saw it at Mathewson's of North Yorkshire, a few weeks prior to it being auctioned off on Saturday 10th February. The outer sills appeared to be solid after feeling and tapping along them, although this doesn't reveal what's inside. Reassuringly, both doors open and close with ease, suggesting no signs of problems with the door hinges and more importantly, the A-posts they are mounted to.
The rust patches over the bodywork don't appear to have formed any holes, so they can possibly be treated without having to cut them out and weld in new metal. The wheel arches also feel solid.
The missing offside front wing and side glass are actually supplied with this car. Mathewson's have a couple of front wings for the vehicle and the rear side glass and bumpers are inside the car. Spares specialists appear to be a little scarce for the 100A in the UK, although the Datsun and Nissan OC  may be able help.
There's a mere 46,640 miles showing on the odometer of this 100A, and looking at the condition of its interior, it's likely to be true. The seats are showing very little signs of wear and the carpet needs a thorough clean after being covered in dirt from all the parts that have been stored inside.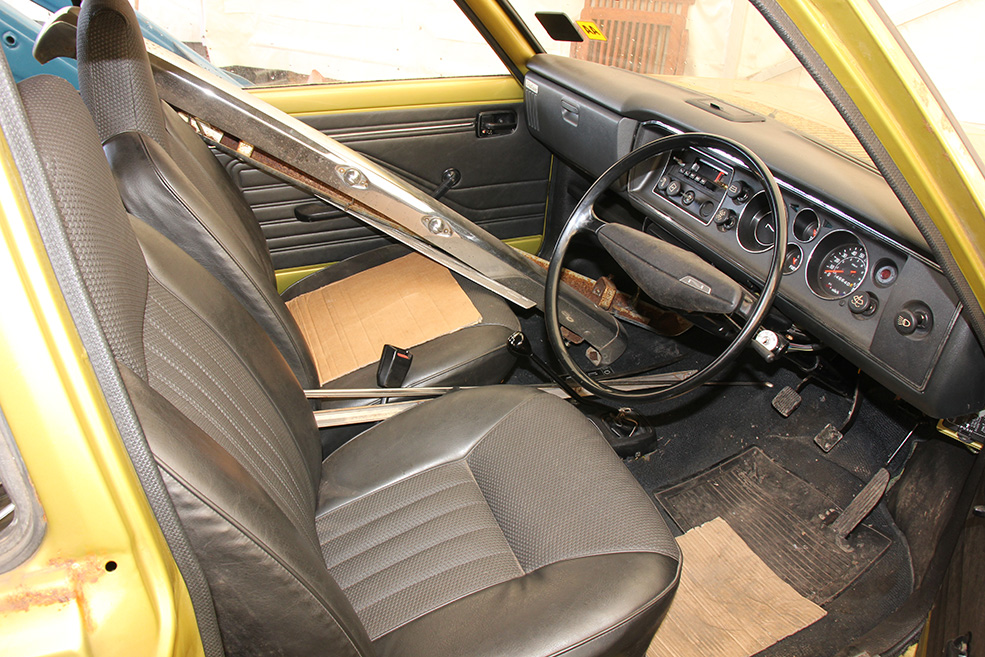 VERDICT
From the outside, this Datsun 100A looks like a relatively straightforward recommission, but be prepared for more work than a mere respray and reassembly. It would definitely be worthwhile completely stripping the bodyshell, renewing the brake and suspension components, servicing the engine and reassembling the car to make it as good as new, instead of trying to quickly recommission it. All of the parts appear to be there, so providing the auction bids don't get too out of control, maybe this rare Datsun 100A is a good opportunity for a project.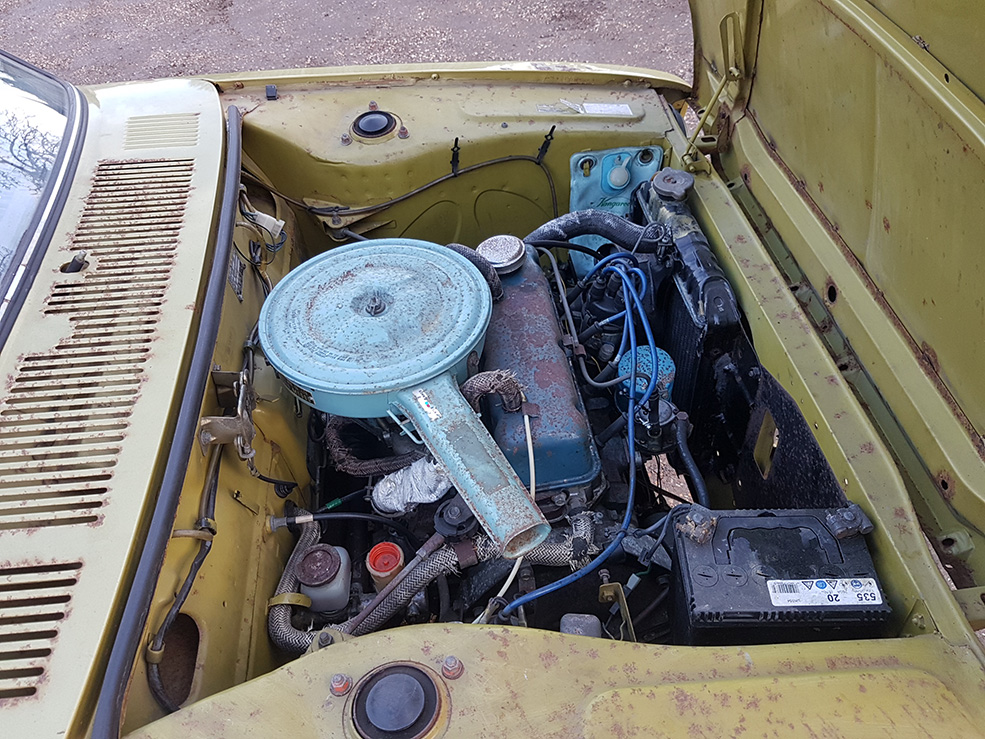 TECH SPEC
ENGINE: 998cc
POWER: 45bhp
GEARBOX: 4-sp manual
BRAKES: Disc/Drum