Classics World's Paul Bussey test drives and reviews the 1973 Triumph TR6…
The finale to the long running TR model line-up, the TR7 didn't quite live up to all that had gone before, but the penultimate TR model (the TR6) earned itself a most respected place in history. Produced between 1969 and 1976, the majority of TR6s sold for export and were powered by a 2.5-litre straight-six engine, with either twin carburettors or fuel-injection set-up. The front suspension arrangement of wishbones, coil spring and telescopic dampers and IRS by semi-trailing arms, with coil springs and lever dampers at the rear, offered fine handling qualities. Hardtops were also available for comfortable all-year motoring.
CONDITION
Our tried and tested TR6 was indeed an export model that found its way to the USA when new and originally left the factory painted in French Blue. It was imported to the UK and registered here in 1990, converted to RHD and repainted in original Triumph Pimento Red. It has undergone some restorative work a good many years ago, believed to have been completed by a TR specialist and is still extremely presentable, though not concours. No doubt spending many years in a dry state in the USA has helped preserve longevity with the bodywork, which is very straight, with good panel fit and the red paintwork shows signs of the odd very minor blemish. The chrome bumpers are almost certainly original and are very lightly patinated in places.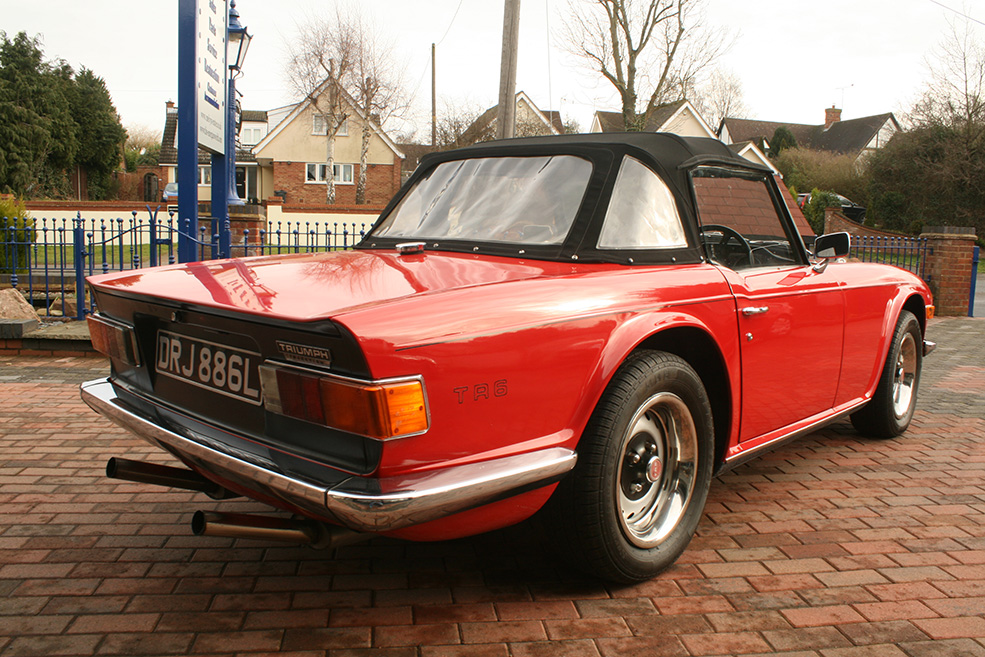 You can't help but approve of the TR6s slightly tail-down purposeful poise. Its steel wheels are shod with a set of 205-60/R Federal Super Steel tyres, which look almost new. The black Mohair style hood is in excellent condition and there's a Mohair style tonneau cover and vinyl hood frame cover. We also noticed a very slight distortion in the form of a small arc in the front windscreen, that's almost certainly been there since new. The engine bay is also fairly clean and tidy. The interior of the car looks to be very original and the black vinyl trimmed seats are free from any damage. The black carpets are also quite serviceable. The dashboard instrumentation bezels and walnut veneer have aged mildly and there's a modern JVC radio/CD player with a six-CD stacker in the boot.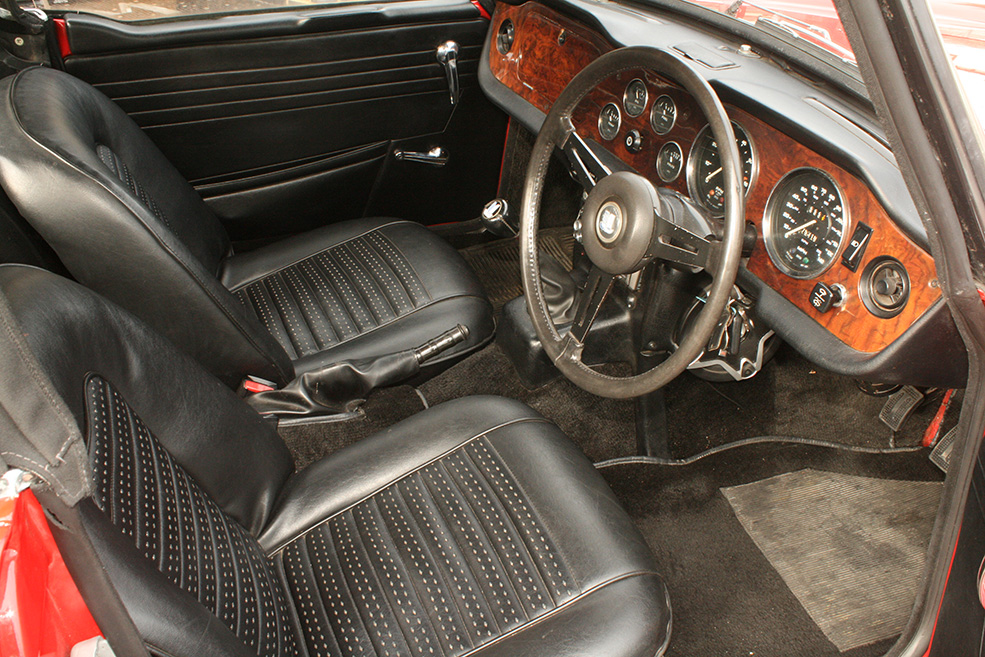 TEST DRIVE
This car is fitted with an ignition imobiliser which first needs to be de-activated; apply a small amount of choke, turn the ignition key and the lusty straight-six bursts into life. A stainless steel exhaust system only adds to the aural delight of the note, which is ever present and a little intoxicating, but not too raucous to be tiring. Soon we are off and the engine delivers very smooth and crisp acceleration. We soon push the choke fully in and are pleased to report that at no time did the engine ever give the slightest cough, wheeze or hesitation, even on an exceptionally cold winter's day, thus suggesting that the fuel injection system is well set-up. The gear shift has a slightly notchy feel to it and the steering feels nice and taut.
We check the brakes and find there's quite a bit of travel in the pedal before they bite. New shoes and rear wheel cylinders have just been fitted so need to bed in prior to further adjustment and reduction in pedal travel. Your humble scribe can remember driving Triumph 2.5 PI saloons when new, which offered fabulous acceleration. Sticking a 2.5 PI engine in a car as small as the TR6 equates to a serious performer, with British Bulldog spirit! Autocar said of the TR6 back in 1969: "It is very much a masculine machine, calling for beefy muscles, bold decisions and even ruthlessness on occasions. It could be dubbed the last real sports car."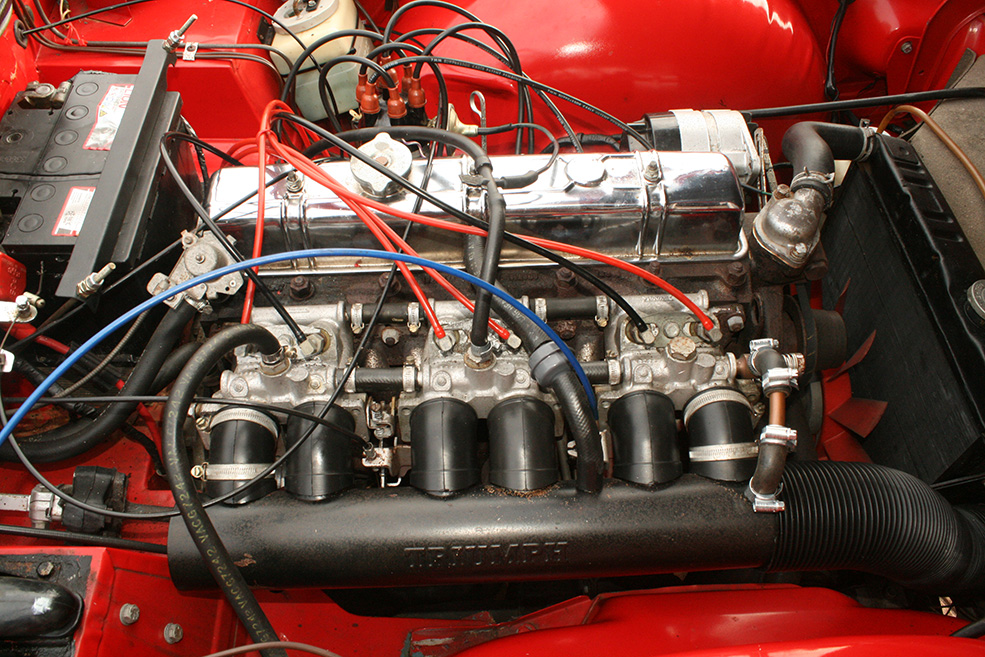 VERDICT
This TR6 represents a thoroughly useable and mostly original example, ready and waiting to provide its new owner with plenty fun motoring this summer. There are no concerns about imminent purchasing of a new soft top or a set of tyres, and there's no paintwork rectification or rechroming required. Club support and spares availability for the TR6 is impressive. The car comes complete with some UK documentation for servicing and new parts fitted, including a new metering unit and pipes for the fuel injection system, along with an original handbook. As far as TR6s go, this one is competitively priced and will be fully serviced prior to sale, with a full year's MOT.
TECH SPEC: TRIUMPH TR6
Engine: 2498cc
Power: 150bhp@5500rpm
Top Speed: 119mph
0-60mph: 8.2secs
Economy: 19.8 mpg
Gearbox: Four-speed manual