Classics World's Chris Stacey test drives and reviews a 1972 Fiat 500 Abarth replica…
Fiat's diminutive city car set the standard for four wheeled micro cars in the 'Sixties and 'Seventies. Designed to navigate the narrow streets of Italy's medieval cities, with only two cylinders but four wheels and four seats, it was barely bigger than a bubble car and even managed to make a Mini appear generously-proportioned. From its launch in 1957, the baby Fiat was a huge sales success in Italy and went on to become a common sight in most European cities. Cheap to buy and cheap to run, it was bargain basement motoring for the masses and ideal transport for short hops within cities. The Fiat 500 offered an entry point to four-wheeled motoring more basic and frugal than either German people's car the Beetle or Britain's Mini.
And that's the essence of the Fiat 500's appeal, it does everything a proper car should do but in the most minimalist manner, while still possessing uniquely Italian automotive flair. No wonder with the current fashion for retro cars, Fiat have reprised the 500 as a competitor to BMW's MINI range.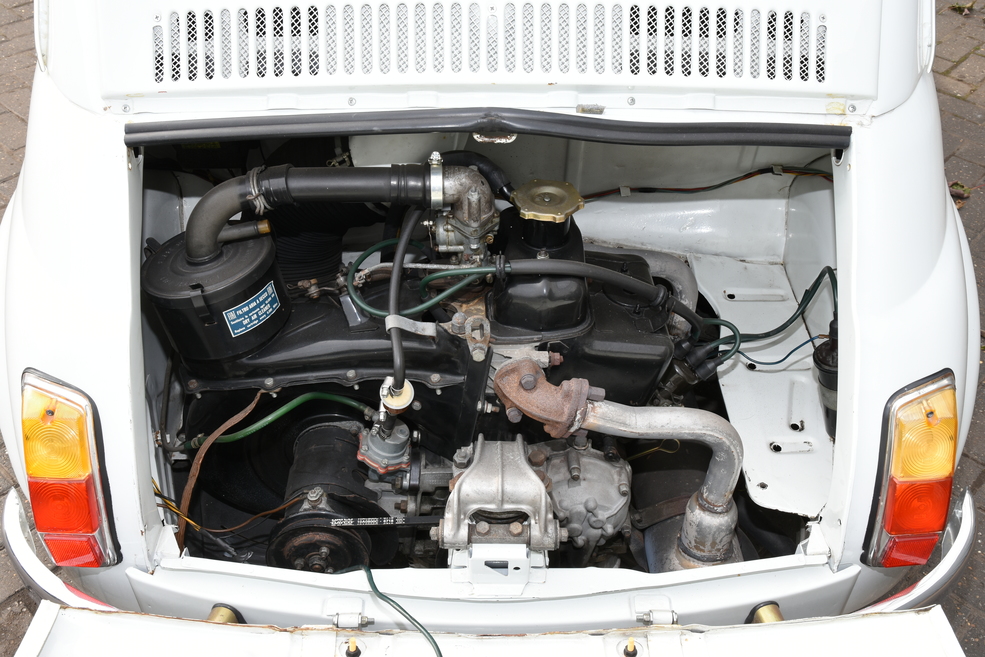 By the time production of the original 500 finished in 1976, almost four million had been built. During its life, Fiat steadily developed and improved the 500 without ever departing from the first cars' Spartan ethos. Early cars had an engine of just 479cc and 13 horsepower, then from 1960 the engine's capacity was increased slightly to 499cc, and power output went up to a whopping 17 horsepower for the 500D, allowing a top speed of around 60mph. For the final two years of production, the very last Fiat 500R models received the Fiat 126 594cc engine.
It was no surprise that enthusiastic Italian drivers wanted a little more power and performance, and predictably the Abarth tuning company obliged, building tuned Fiat 500s with larger engines from 1966 until 1971. The Abarth cars had either 595 or 695cc versions of the Fiat twin cylinder motor, good for 30 and 37bhp respectively. Top speed increased to 72mph and for once, it was possible to quote a 0-60mph acceleration time!
Naturally with a production run of only 5 years, the Fiat 500 Abarth has always been something of a rarity; today only a few hundred genuine cars are thought to survive, most in Italy. With the reputation of the Abarth name and ready availability of their parts, there was always going to be demand for replicas. Many Abarth clones have been made and the best ones can capture all the spirit of the original, without the need for a second mortgage. Any classic enthusiast searching for a 500 Abarth should not be put off buying a replica or 'evocazione', the key factor is the quality of the conversion.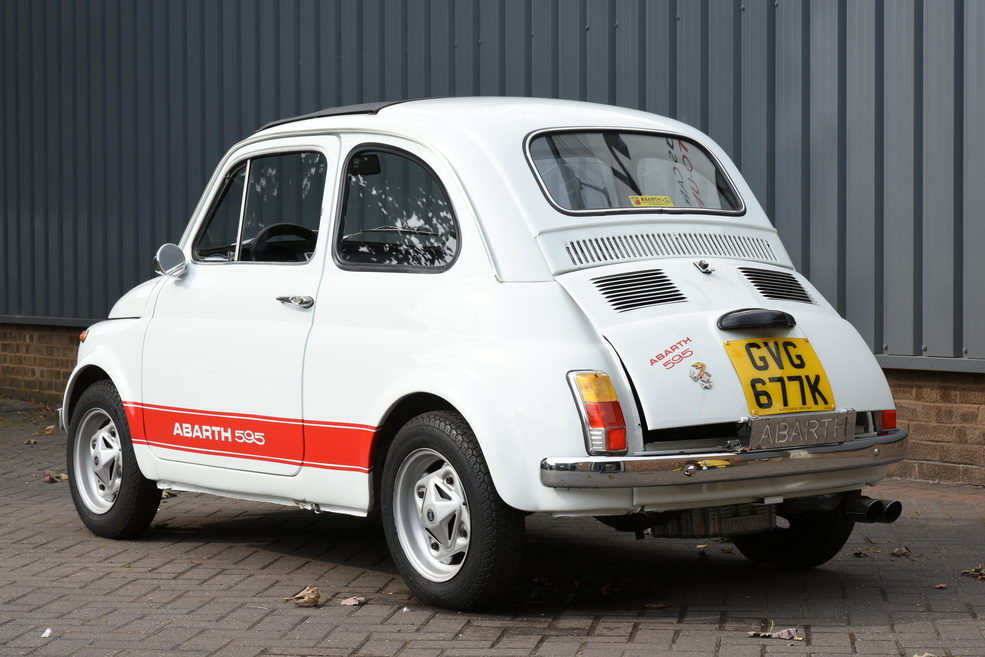 This white Abarth recreation was restored and converted some years ago in Italy. When the Italian lady owner moved to London, she brought her little Fiat with her to use in the city. However she soon found her 'bambina' wasn't getting as much use as expected and so it needed to find a new home. Looking over the car, it appears to have all the key Abarth ingredients in place, sitting on the proper vented steel wheels with decent Uniroyal tyres. The lifted engine cover is period-correct, aiding cooling for the stretched 595cc engine. Its engine bay is neat and tidy with no sign of oil leakage down the Abarth alloy sump, visible beneath the rear bumper.
Externally the white paintwork is sound, there's no trace of rust and the car is adorned with the right Abarth stripes, stickers and badges. The chrome gleams: wearing UK age-related number plates, it certainly looks the part! The folding sunroof is in good order and will be an asset for sunny summer runs out.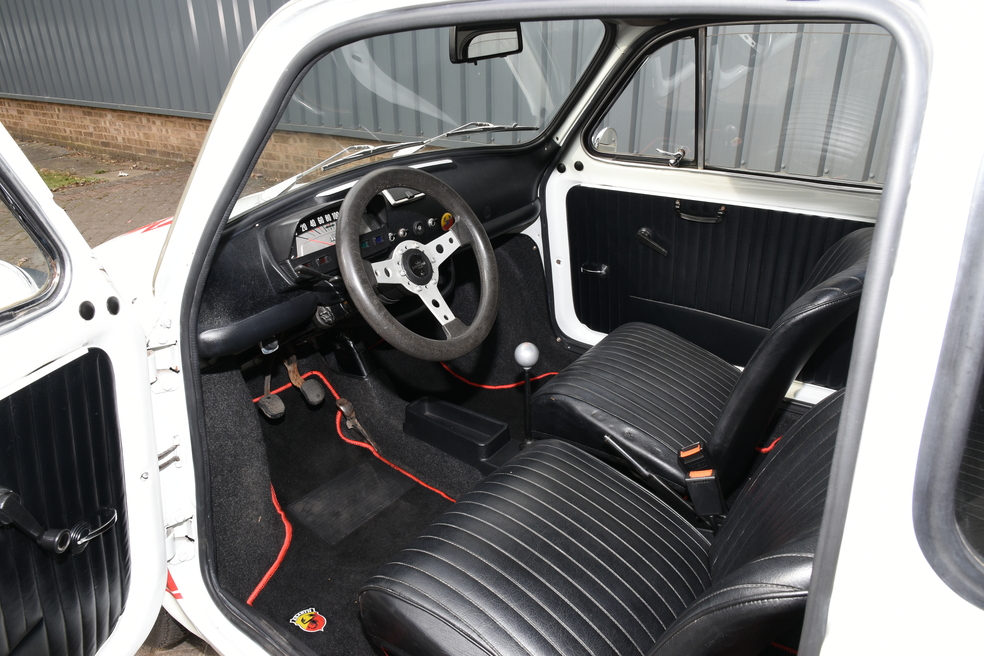 The black vinyl interior has been retrimmed, with seats that are comfortable – by Fiat 500 standards – and free from any marks or damage. Start the engine with the lever between the front seats and the two cylinders quickly cough into life. Pulling away, my regulation size 9 feet need to get used to the tiny pedals. The little Fiat pulls off smoothly and manages to feel quite nippy through the crash gearbox. Steering is light and precise, the car drives straight and true and the brakes work, though needing a strong shove to slow down from 40mph. In short, this Abarth drives exactly as it should.
Verdict
Everyone loves the Fiat 500's cheeky look and the tuned Abarth version is the best of them all. This car may be a replica but it's been converted in Italy and done to a very high standard, with all the correct period parts. As an Abarth, it's got enough power to cope with modern traffic, always a limitaqtion in a standard Fiat 500.
This baby Fiat looks smart, drives well and is ready to give its next owner a huge dose of classic fun!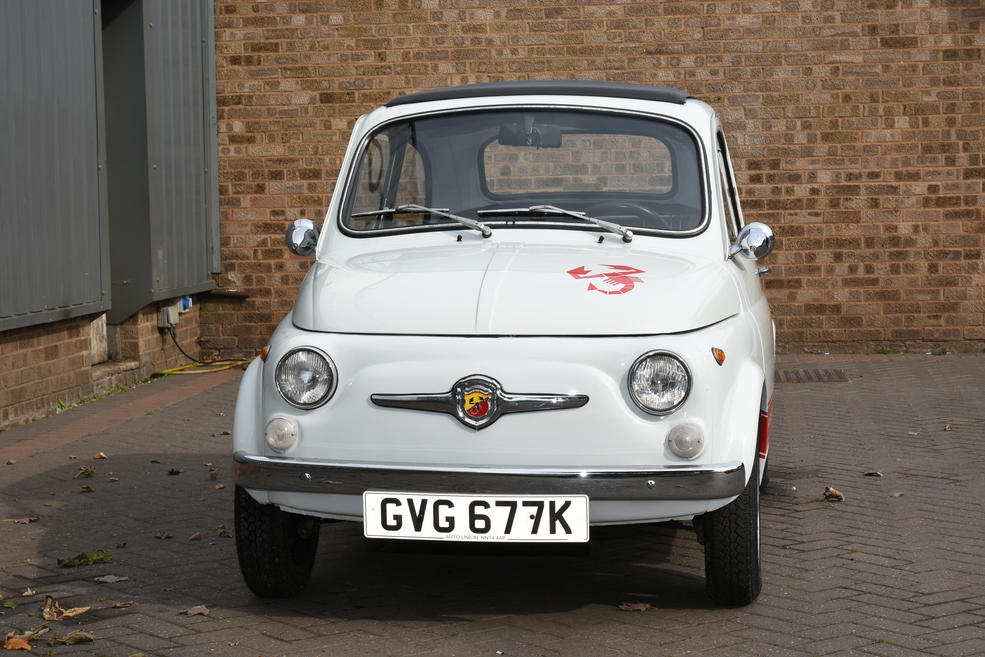 Tech Spec
Engine: 595cc
Power: 30bhp
Top speed: 72mph
0-60mph: 25.7 seconds
Economy: 47mpg