Classics World's Paul Guinness test drives and reviews a 1971 Fiat 500L…
When Fiat's 'Nuova' 500 was launched in Italy in 1957, it was hardly the last word in power and speed thanks to its 479cc (later upgraded to 499cc) two-cylinder air-cooled motor initially producing a meagre 13bhp. This Italian bambino thrived on high revs and hard work, however, and felt nippy in any city situation, with its 'chuckable' handling and tiny turning circle making it ideal for the busy streets of Rome or Milan. Fast-forward six decades (yes, the humble 500 celebrated its 60th anniversary earlier this year) and the same is very much true.
During a production run lasting well into the '70s, the Fiat 500 received various upgrades and minor power increases, but at no time was it in danger of losing its character, its charm or its utilitarian appeal. The final 500L may have been marginally less basic than its forebears, but it still offered no-nonsense urban transport – and had just 18bhp to play with.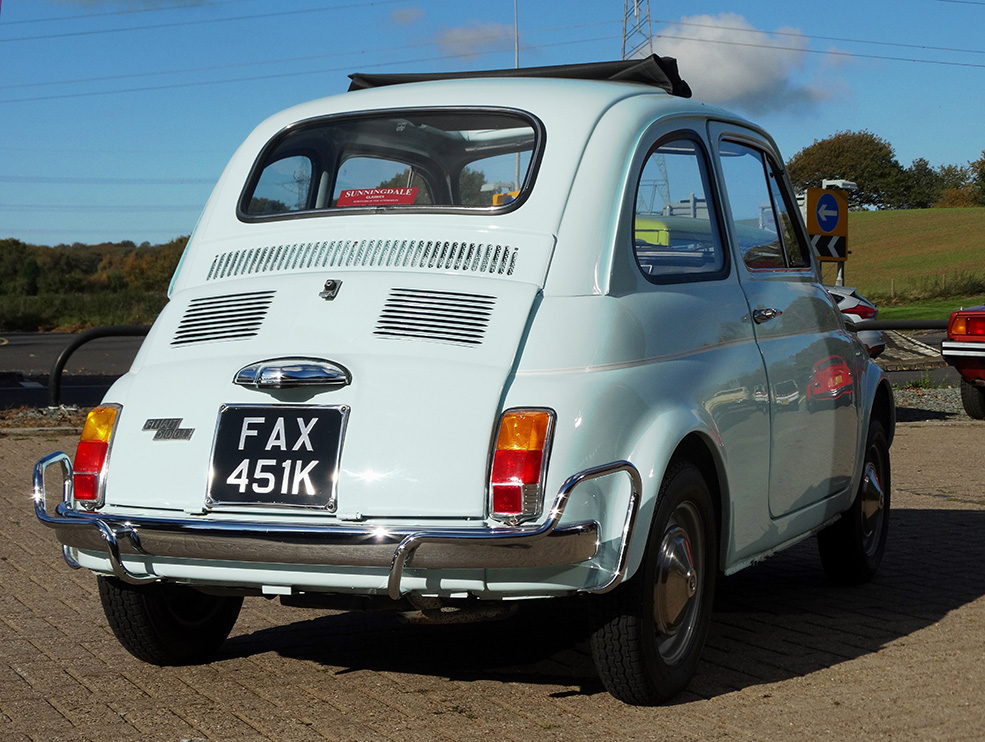 It's an example of the 500L that we have here, a 1971 left-hand drive car that's been in the UK for the last two years. Finished in its original hue of very pale blue, the Fiat came from a private museum in Cosenza, Italy, where it formed part of a display of People's Cars from around the world. It's since been registered and MoT'd in this country, and is now ready to drive away and enjoy.
Soaring prices of the 500 in recent years means that five-figure valuations are no longer unusual for the very best examples, making this one look reasonable value. It's certainly an excellent survivor, with very impressive bodywork that shows no potential problems. If a restoration has been carried out, it was presumably some time ago and to an excellent standard, as this 500 shows no signs of wheelarch repairs or replacement panels, with even the rust-prone floor looking remarkably original.
Any remedial work in the past certainly stands the car in good stead, as does the decent paint finish; only a couple of very small chips on the nearside front wheelarch are worthy of mention but easily dealt with. The chromework is equally impressive, with the bumpers and over-riders (the latter a standard feature on the 500L) being very well preserved and showing no signs of pitting. The fabric sunroof is almost certainly a replacement given its condition, but it's well fitted and of a very good quality.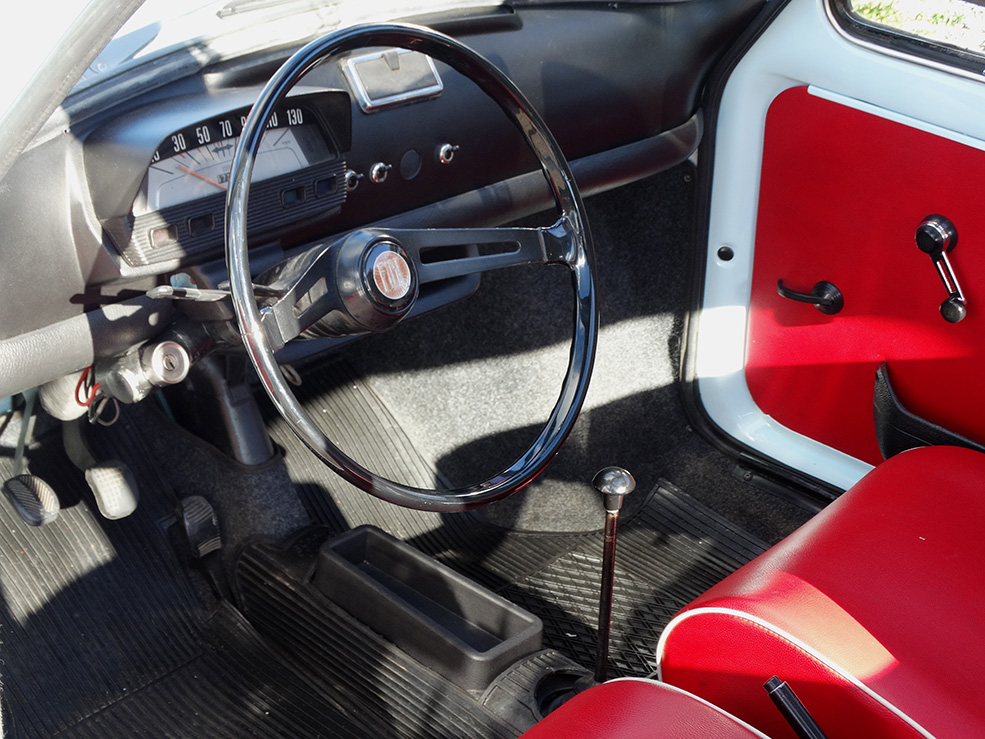 The inside of the 500L is equally smart, with the red and white seats and red door cards being in excellent order, as are the rubber floor mats. Even the damage-prone plastic door pockets have survived in perfect condition. I suspect the interior has been re-trimmed or replaced at some point, as the later 500L seats were plainer in finish than these bright and cheery items, but that's no bad thing. The end result is a classic little Fiat that's as fun to look at as it is to drive.
Anyone who's never driven a 500 before (I had one many years ago) might find the lack of synchromesh something of a bind to begin with, and yet double-declutching becomes second nature after a few miles.
This particular car still features its standard-spec 499cc two-cylinder engine (a lot of 500s have been upgraded to 652cc power from a Fiat 126), but is still hugely entertaining and feels surprisingly nippy round town. There's little point talking about performance in the conventional sense, as the car's top speed of 60mph ensures it's no long-distance cruiser; but by making the most of the eager powerplant, keeping the revs high and exploiting the Fiat's fairly slick gearbox, it's easy to make good progress.
Everything about this car feels well-sorted, with the light but direct steering, surprisingly effective all-drum brakes and impressive grip all contributing to what is a great driving experience. The odometer shows 67,000km (or less than 42,000 miles), which could be correct given this Fiat's ex-museum history and overall standard of preservation.
At just shy of £10,000 at the time of sale, this wasn't the cheapest 500L on the market but it is an impressive example in so many ways. The ultra-straight bodywork, excellent interior and what appear to be very healthy mechanicals ensure it's a car that's ready to enjoy. It wouldn't look out of place on any showground, and is sure to entertain the driver en route. If a 500 needing no remedial work is something that appeals to you, this one's well worth a closer look.
Fiat FIAT 500L TECH SPEC
ENGINE: 599cc 2 cyl
POWER: 18bhp
TOP SPEED: 60mph
FUEL CONSUMPTION: 50mpg
GEARBOX: four-speed manual