Classics World's Paul Bussey test drives and reviews the 1968 MGB Roadster…
The ubiquitous MGB needs absolutely no introduction to the classic car cognoscenti. It has been a favourite amongst owners for a very long time, as a 'cooking' eminently affordable fun sports car, with a tremendous following and boasting one of the largest owners' clubs in the world. The MGC, however, is a slightly lesser-known sibling of the MGB. Produced in far lower numbers between 1967-1969, some would say that it's more of a grand-tourer than a sports car. It was developed as a possible replacement for the Austin-Healey 3000, amidst quite a bit of consternation, not least from Donald Healey himself!
Powered by a 2912cc straight-six engine (also used in the BMCs Austin 3.0 litre) – 209lbs heavier than the MGB's 1800cc engine – and built as both coupe and roadster, the C looked much the same as the MGB. Noticeable changes were to the bonnet, with bulges to clear the engine's valve cover and twin carburetors. The other difference was in its beefier underpinnings. Unfortunately, it didn't receive rave reviews from the press; though the last of the breed were developed further to include Downton-tuned engines, along with a complete triple carburetor set-up.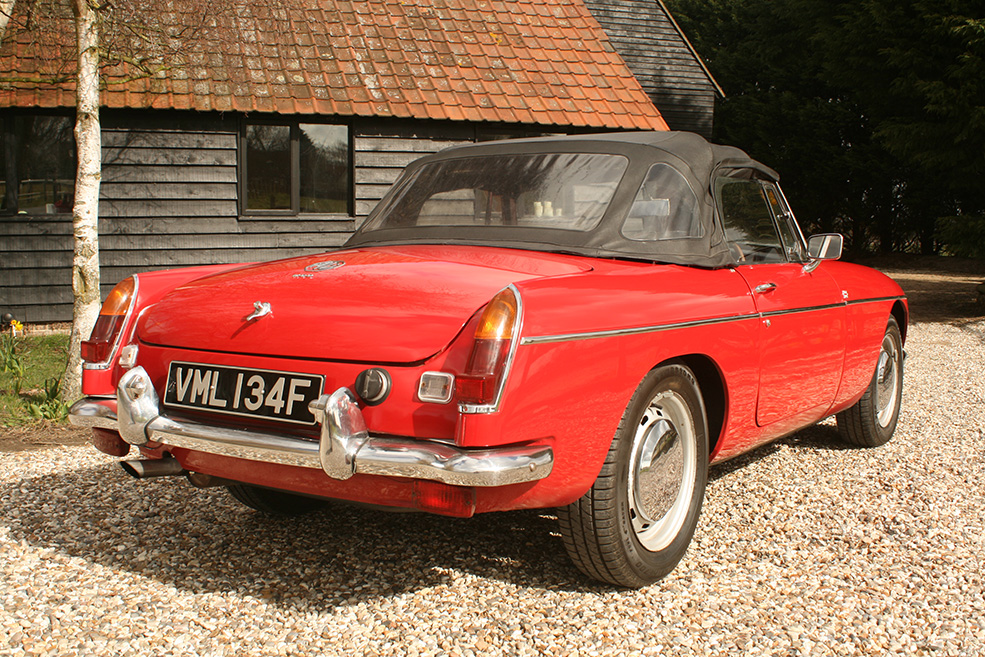 Exterior and Interior
Our tried and tested MGC Roadster is one of 4,542 built and is finished in the eye catching colour of Tartan Red. It has pleasingly-straight bodywork and good panel fitment. The red paintwork is also shiny and in very good order, if a tad orange peely on the front valance and showing a little sinkage in places, along with the odd minor blemish here and there. In essence, this is a very solid example and benefits from having had the floorpans replaced.
The black vinyl soft-top is in excellent condition, other than a tiny tear of about half an inch at the base to the rear, which is fairly negligible. This car sits on steel wheels, which are due to be repainted prior to sale, which are shod with Firestone Firehawk 185-65/R15 tyres with plenty of tread remaining. All brightwork is very presentable.
The interior sports black leather-trimmed seats with white piping that remain free from any wear and certainly no tears – clearly replacement covers and not the originals. A woodrim Moto-Lita steering wheel breaks up an otherwise quite black ambience, while a fully carpeted boot is also most welcoming. A cursory glance at the dashboard reveals a low budget radio installation, featuring a dummy cover – pull it off and you're greeted by a modern shiny Kenwood radio/CD player. It's an odd way of concealing the ICE system from prying eyes, but it certainly serves its purpose! The black metal-finish dashboard is showing signs of age and has been touched up, in a few places.
On The Road
It's a coldish late winter's day, the MGC hasn't been driven for a while, so we apply full choke and start the engine, which soon settles into a steady idle. We pull away and note that the shifter needs a hefty shove when changing gear, as it has quite a notchy feel to it. Out on the open road, the unmistakable purr of that straight-six engine is a most welcome accompaniment. The suspension certainly feels that little bit stiffer compared to the MGB; torsion bars at the front, as well as telescopic dampers were fitted to compensate for the heavier engine. The steering doesn't feel overly heavy when cruising along, and the Girling brakes are certainly well up to the job.
There's no questioning that the 2912cc engine is a powerful lump and the car's acceleration is prodigious, rather than dramatic. We revel listening to that engine/exhaust note, as we put this MGC through its paces, performing with aplomb showing oil pressure at a healthy 60psi, with water temperature at 160 degrees. This car feels so rock solid, stable and tight in all respects and we concur that it's more of a GT than a sports car. The optional Laycock overdrive isn't fitted on this car, but the MGC's different axle ratio allows slightly longer legged cruising and it's well at home on fast A roads and dual carriageways.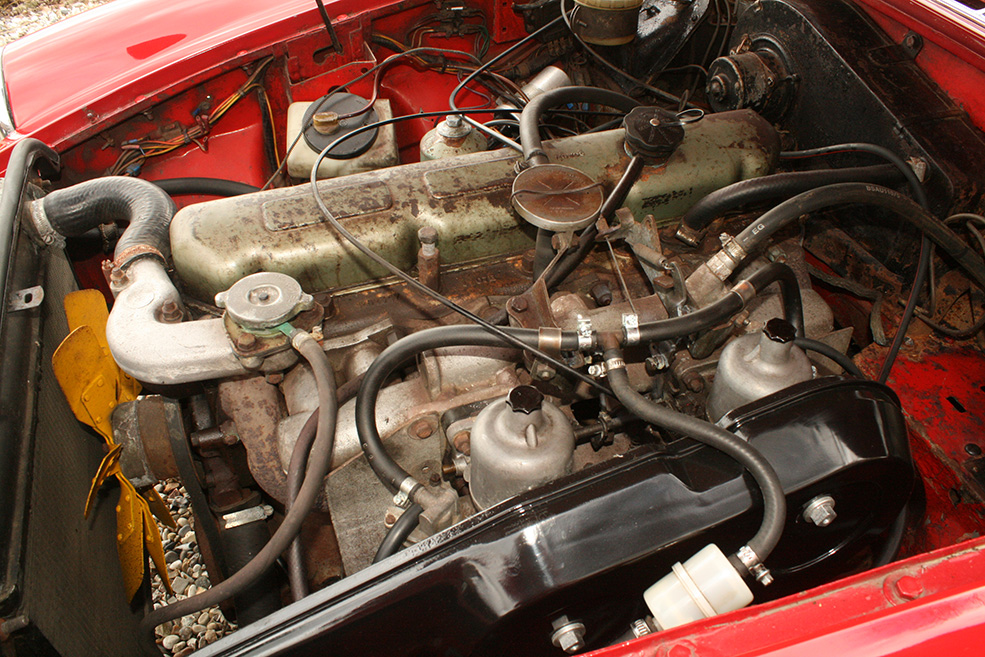 Verdict
This MGC makes an interesting alternative to the MGB and would be ideal for some long distance touring trips. Those enthusiasts who have a penchant for straight-six engines will love it for the extra performance on tap, but also so for its engine/exhaust note on hard acceleration. It's quite a tidy example in general, and the engine bay is ripe for cosmetic detailing if so desired. Maybe fitting chrome wire wheels would also take aesthetics to the next level, though there's absolutely nothing wrong with the stock steel wheels. A relatively rare model, which is becoming increasingly revered and sought after. Competitively priced too. Spring's coming and open top motoring beckons!