Classics World's Iain Wakefield test drives and reviews the 1958 Rover 60 P4
One of the most instantly recognisable Rovers of all time has to be the slab sided P4, a model that was unfairly dubbed 'Aunty' by a period motoring journalist and this unfortunate moniker has stuck ever since. Once the preserve of bank managers and accountants, the Rover P4 was produced in a number of guises and specifications and remained in production until 1964.
When the P4 was launched in 1949, the car's exterior styling was considered bang up to date. Early 2103cc six-cylinder Rover 75's are identified by having a Cyclops spotlight at the base of the grille, a feature that was dropped in 1952. The four cylinder 1997cc P4 60 arrived on the scene in 1953 powered by the same engine used in the Land Rover and a year later Rover unveiled a revised six-cylinder 75 featuring a three-piece wrap-round rear window, a raised front wing profile and optional bucket seats. Later models were offered with attractive two-tone bodywork and optional overdrive.
The 90 first appeared in 1953 and power for this 90mph Rover came from a 2639cc straight six. Rover produced the 105R and 105S between 1956 and 1958; the S having twin carbs, servo brakes and overdrive, while the R had a complex two-speed auto box plus overdrive that proved rather troublesome and was quickly dropped.
By now the P4 featured a restyled rear window plus a revised front wing line and in 1959 Rover introduced the 2286cc 80. By now all P4s were fitted with servo operated front discs and in 1960 the 100 appeared on the scene sporting a new seven bearing 2625cc six-cylinder engine. The final P4s launched in 1962 were the revised 102bhp 95 and 125bhp 110.
The 2.0 litre Rover 60 featured here is currently for sale at Nottinghamshire based Sherwood Restorations and this superbly presented 'Aunty' Rover certainly lives up to its online description of being a genuine low mileage example. Since this Rover rolled off the production line at Solihull back in 1958, the same year America created NASA, this car has only covered an incredibly low 20,000 miles.
This must be one of the best low mileage P4 Rover 60's on sale today and although the two-tone grey bodywork has obviously been repainted sometime in the past, the overall condition of this car can only be described as superb. Opening the driver's door reveals an immaculately presented interior comprising of a comfortable red leather clad front and rear bench seats and a virtually unmarked and highly polished veneered dashboard complemented by matching door cappings.
As would be expected on such a low mileage car, there's no excessive wear on the bright red carpets and all the interior trim, including the headlining, appears to be as good as the day it was fitted. This Rover has a cranked floor mounted gearchange and also features a manually operated freewheel. A common fitting on Rovers of this vintage, the freewheel is meant to be a fuel/transmission saving device attached to the gearbox that allows the driver to undertake clutchless gear changes while on the overrun.
My experience of driving classics fitted with a freewheel device similar to the one fitted to this Rover was that unless the unit has been adjusted spot on, they don't tend to work very well. However, I was assured that this one operated as it should, but my previous experience of attempting to change gear using a freewheel, meant I resisted the temptation to engage the device during my brief test drive.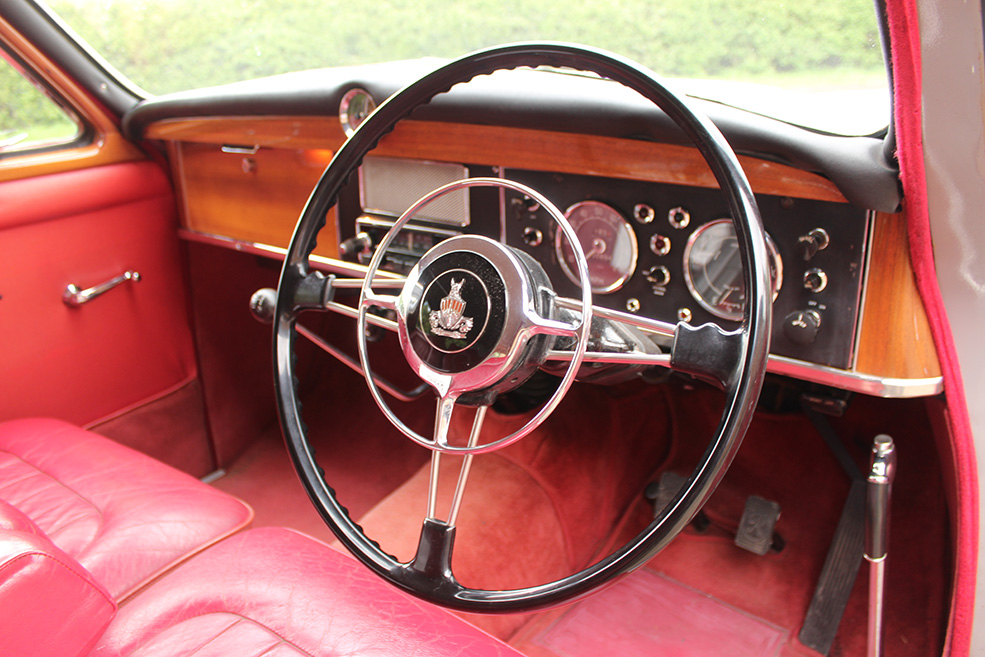 Like all P4s of this vintage, all the doors are clad in alloy to keep the weight down but this is still a heavy car and the performance from the Rover's 1997cc inline four can only be described as stately. The engine starts on the button and sounds wonderfully smooth when warmed up. It pulls well once on the move and makes this a very relaxing car to drive. The Rover's long, wand-like gear lever swishes through the ratios with a satisfying feeling and the servo-operated brakes pull the car up effortlessly with very little pedal travel.
This low mileage Rover certainly drives as good as it looks and back at base a flick through the extensive history file that comes with this car produced a letter from a previous vendor dated 1986 certifying how the Rover's mileage was that year a genuine 8500 and how other documents from the car's original owner backed this claim up.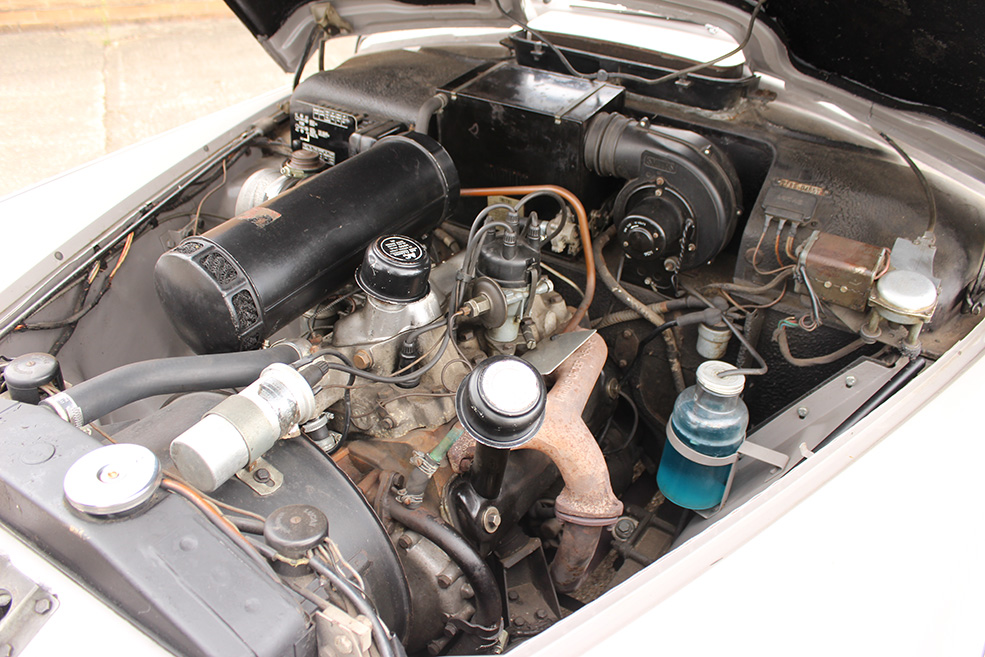 If you're looking to buy a Rover 60, this one is at the very top of the price bracket and would be considered expensive for what it is. But where are you going to find another mint condition 1958 quality built Rover like this with such a low, genuine mileage – and a warranted one at that. This has to be one of the best 2.0 litre P4s on sale today and comes highly recommended.