Classics World's Paul Bussey test drives and reviews the 1935 Morris 8 Series 1 Two-seat Tourer…
The Morris 8 was introduced at the 1934 Earls Court Motor Show and produced between 1935 and 1948. It was soon to establish itself as a very successful model, with in excess of 50,000 being sold within the first nine months of production and more than 160,000 in total. Powered by a 918cc sidevalve engine rated at 23.5bhp, the car had a declared top speed of 60mph and a three-speed manual gearbox. Performance wasn't one of the car's most endearing features, as mentioned by Autocar, who quoted it as "not of paramount importance".
However, the car did offer reasonably inexpensive motoring for the average man on the street and the purchase price of the base model two-seater was just £118. It also boasted 8-inch hydraulically operated drum brakes and dashboard instrumentation included oil pressure and fuel gauges, plus an ammeter. Nowadays these Morris 8s are well liked in vintage car circles and enjoy good club support.
Our tried and tested Morris 8 Series 1 has been the subject of a major restoration, which was completed in 2014, with the car seeing very little use since then. Indeed, the underside is as clean as a whistle and it's doubtful if the car has even been driven on wet roads. There's very little documentation detailing the car's restoration, but fortunately there's photographic evidence of it being stripped down to a bare chassis, with the body removed, which was previously painted red. The car is now resplendent in green paintwork with black wings. The paintwork is a tad orange-peely here and there, with the odd blemish, but it's still very presentable and most importantly the bodywork is bereft of any rust!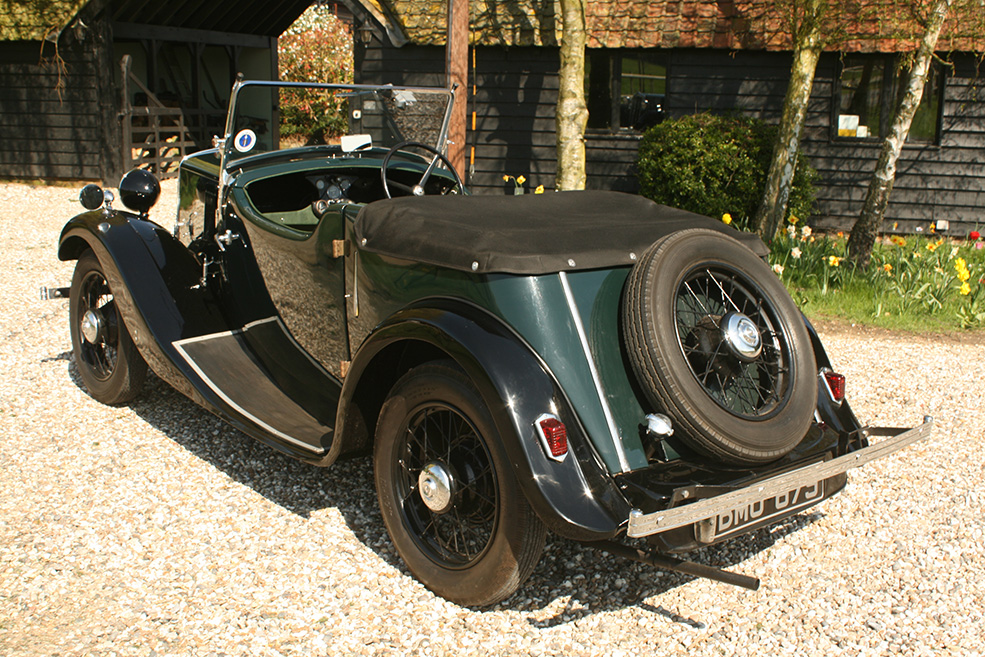 The bodywork is actually fitted with a Series Two radiator shell, though a correct Series 1 is available with the car for restoration. The wire wheels were repainted when the car was restored, but a couple of the tyres could do with replacing due to sidewall cracking. There's no hood or frame, but a new double-duck cover acts as a rear tonneau for the luggage area, which folds forward to keep the seats covered whilst the car is parked-up. The interior has been fully re-trimmed using a green vinyl material, with new green carpets. It's all fairly basic but functional and, as previously mentioned; the dashboard has a good complement of instrument gauges.
Vendor James mentions that first gear is bottom left, as top left is in fact reverse – most important to remember this! The accelerator is currently missing its pedal and there's just a rod, which appears to be very close to the side trim and equally close to the brake pedal. Narrow fitting pointy toed footwear is very much derigueur. We turn the diminutive ignition key to the right, pull the starter button and the engine fires up after a couple of pulls. This car still runs with its original 6v electrics and a new battery has just been fitted. Then, remembering to pull the long shifter straight back into first gear, we pull away. James also mentioned that there's synchromesh only on the top two gears, so better get used to a little double-declutching, which does have its rewards when they are timed to perfection!
We note that there's a smidge of play in the steering, which only needs the slightest turn of the wheel to correct. The base of the seats are well padded and prove quite comfortable. One thing that is very apparent, the Morris 8 is something of a plodder and progress is rather slow, though the brakes seem adequate enough thanks to their hydraulic operation. We cruise along at a sedate pace on a gloriously sunny and warm spring day, enjoying the vintage charm of this tourer. Engine oil pressure reads 40psi when cruising and 20psi at hot idle.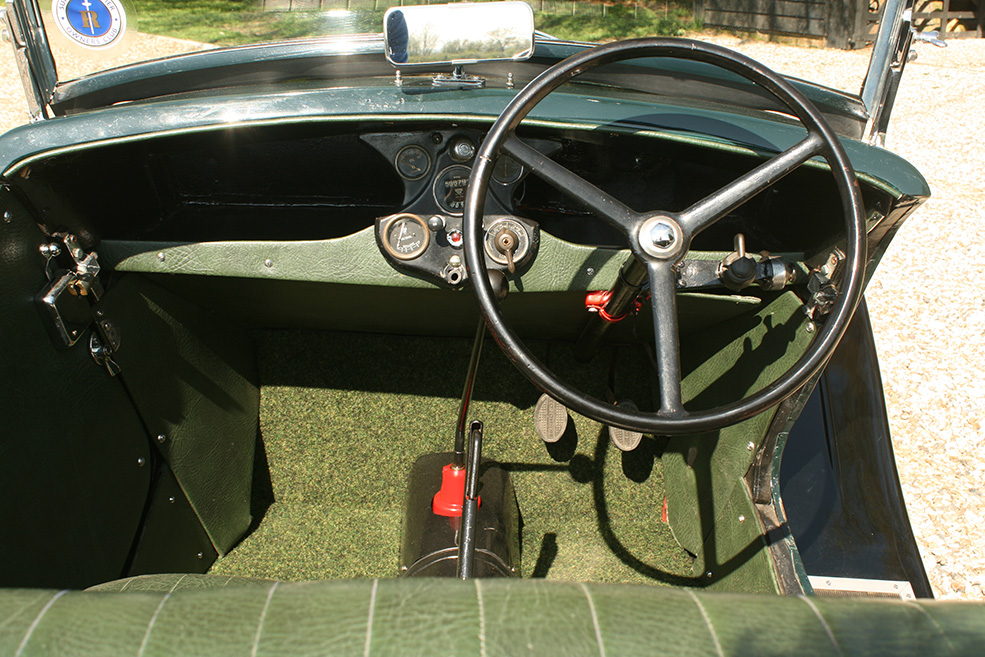 VERDICT
If you're thinking about dipping your toe into vintage car ownership, this car is absolutely ideal, being economical to run, relatively easy to drive and simple to maintain. To sum up, this Morris 8 offers a reasonably comfortable ride quality, adequate brakes and an unhurried performance – perfect for taking in the local sights, in a calm and non stressed manner.
Just the car for pottering around the local country lanes and attending car shows on high days and holidays, but not really suitable for long distance travel and definitely not on motorways. We feel it would be prudent for the next owner to fit auxiliary amber flashing indicators in the interest of safety, as the existing semaphores work but can occasionally stick. Windscreen frame mounted rear view mirrors would also be a useful addition.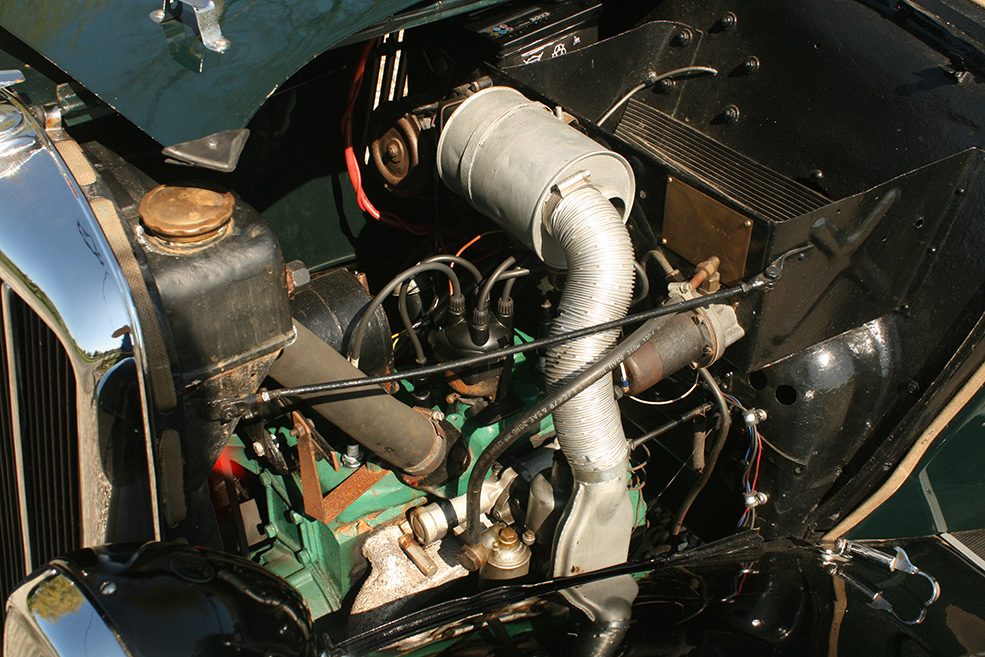 TECH SPEC
Engine: 918cc Four-cylinder sidevalve
Power: 23.5bhp@3900rpm
Top Speed: 60mph
0-60mph: N/A
Economy: 45mpg
Gearbox: Three-speed manual plus reverse