Small, light, grippy and fast, the Peugeot 106 GTi stands as one of the best hot hatches ever made. We get behind the wheel
Words and images: Jack Grover  With thanks to: RFH Classics
The Peugeot 205 GTi was a big act to follow, and there was initially no direct replacement. The 106 was launched in 1991 – close to the 205 in size but slightly smaller and without the 205's larger engine options, while the 306 of 1993 was significantly larger.
At first neither were available in GTi form – a situation that Peugeot would not rectify until 1996 when the 106 range was facelifted and the 306 was made available in GTI-6 guise. Peugeot's logic was that the 106 GTi was not only more affordable but similar in spirit and performance to the much-loved 205 GTi, while the bigger, higher-performance 306 GTi-6 was for buyers wanting the ultimate in modern hot hatchbacks. Both were very well received and remain highly regarded for their handling and dynamics.
Of the many qualities possessed by small Peugeots of the 1990s, durability is not generally one of them. Which makes this 1998 car exceptional in both senses of the word, having been treated well and looked after by multiple previous owners over the years. Just under 79,000 miles makes this a low-mileage car, although it appears much fresher than that number would suggest. It comes with a very thick history file detailing both routine (and very regular) servicing and running repairs and rectifications made to the 106 over the years.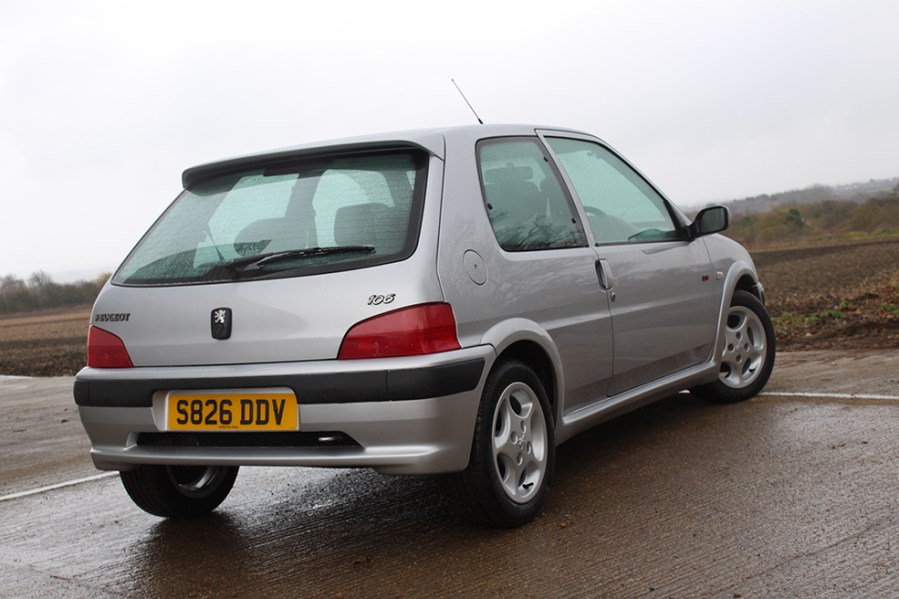 The 106 is a car that can hide its rust spots and look far better than it is. That assertion is doing this example (for sale at RFH Classics, Bedfordshire at time of writing) a disservice, however, since what can be seen is verging on the immaculate. There is no rust in or around any of the wheel arches, no bubbling paint creeping out from the plastic sill trims, no corrosion setting in around the badges or indicator repeaters, no scratches around the door handles and not even any signs of dents or dings. Under the bonnet the strut mounts and inner are clean and solid, and even the bonnet slam panel and the empty sheet metal up near the scuttle have only slight freckles of rust. This gives every confidence that this Peugeot is as smart and solid underneath as it appears to be.
More remarkable than the exterior is the condition of the interior, which shows no signs of being 25 years old. It has even avoided almost all aftermarket modifications – the exceptions being a later radio and new speakers cut into the parcel shelf. The leather/Alcantara seats are in great condition, with only slight wear on the driver's bolster and none on the other seats. The dashboard is free of splits and cracks, and details like the original '106 GTi' floor mats and the gear lever gaiter are present and in good condition.
The 1.6-litre 16-valve engine fairly fills the engine bay. Everything is present and correct, with no oil leaks, clean-looking fluids where they should be, a recently changed battery, hoses and brake lines in good condition and a healthy-looking radiator.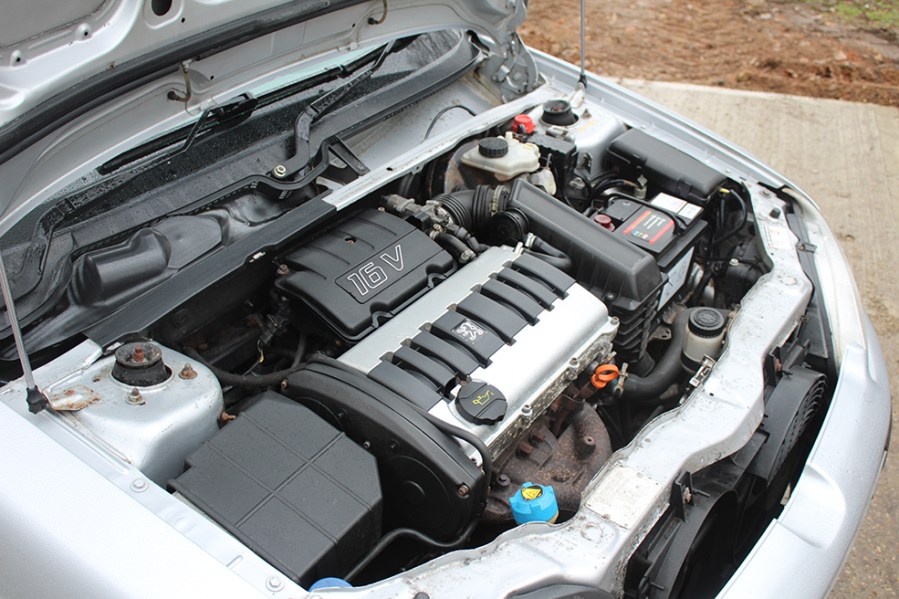 Wet and muddy conditions prevented us from driving the Peugeot as much as we'd have liked – which would have been a lot, because it's great fun. It's a powerful motor in a sub-1-tonne car, so the acceleration is impressive, and because it comes from a simple, free-revving naturally aspirated engine, it's gloriously linear as well. The gearbox shifts smoothly across a lovely well-defined gate. The steering wheel feels chunky in the hands, which suits the equally chunky nature of the response – a progressive but very positive turn in and huge amounts of front-end grip.
Of course, the 1990s Peugeot party piece was always combinin class-leading dynamics with a well-developed ride and the 106 GTi is no exception. It flows down the road while many other hot hatches would be shuddering and shaking, proving not only how good Peugeot's design team were in this time but also that the springs and dampers of this one are still in first-rate condition.
Peugeot 106 GTi: our verdict
There will never be another car like the 106 GTi – something this light, this simple and this mechanical simply isn't possible in today's climate. For that reason alone, it should be treasured. This one deserves to be driven and enjoyed, so long as the next owner can keep up with the standards laid down by their predecessors in terms of upkeep.