Classics World's Paul Bussey test drives and reviews the 1959 Jaguar XK150 SE DHC…
As a direct replacement for the Jaguar XK140, the XK150 model was introduced in 1957 and had a relatively short production run of five years. The car did bear a strong resemblance to its predecessors, the XK120 and XK140, but it was much more refined in many respects and gone was the split front windscreen, which was replaced by a single screen.
The legendary straight-six engine was continued however, with a new cylinder head, being available in 3.4-litre ad 3.8-litre states of tune. Transmissions included a four-speed manual and three-speed Borg Warner automatic. Interestingly, the XK150 was the first production sports car in the world to feature all-round disc brakes, in this case being made by Dunlop. The underpinnings were similar to the previous XK models, with steering courtesy of rack and pinion, but not power assisted.
Our tried and tested Jaguar XK150 is something of a real find, as it's virtually totally original and unrestored in every respect, still retaining its original registration number and correct specification crossply tyres. This DHC also features SE specification, being equipped with a twin exhaust system and wire wheels. The car was first registered in Beaconsfield, Buckinghamshire, on December 4, 1959, and was sold by Charles Follett. Its last owner (since 1967) was a doctor who passed away a while ago, when the car was stored. The bodywork is impressively straight, the Mist Grey paintwork has undergone various 'blow-ins' here and there, but it's not a patchwork of rectification by any means.
The paintwork is subject to some blemishes here and there, one or two mildly scabby bits and it's down to bare metal in places on the bonnet, but this isn't a car that should be confused with 'oily rag' condition, far from it. Even more remarkable is the condition of the original French Grey soft top, which is wonderfully preserved. The front and rear bumpers are in very good order, though the rear lights and other brightwork have become heavily patinated with age. Close inspection of the boot area reveals really rock solid and clean metal, indeed, this is a very solid car all round.
The seats are covered in light blue leather and are beautifully mellowed, a little cracked in some areas where the colour has worn away. Other areas that show this car is almost 60 years old are the original carpets, which are a little grubby and the headlining is also a little scruffy and tatty in places. On a more positive note, the interior is completely, untouched and unmolested, with the exception of the instrument gauges being refurbished by Speedy Cables (£565) and it's still very much in a usable condition.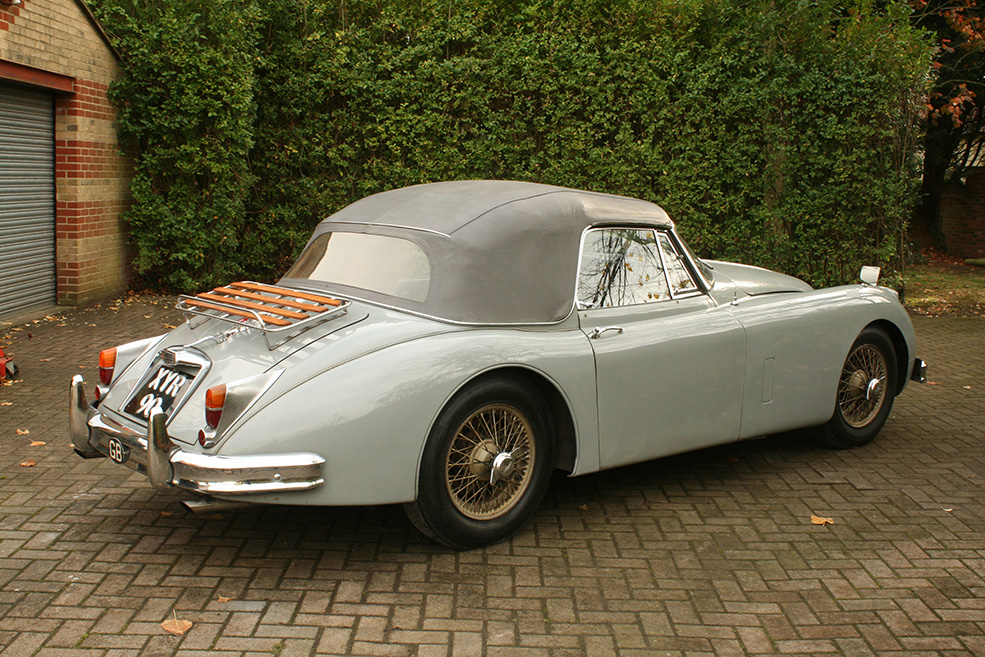 ON THE ROAD
The cockpit is dominated by the huge four-spoke steering wheel, which proves most handy for hauling on, with low speed manouvrebility as there's no power assisted steering, making it rather heavy. However, once on the move it becomes noticeably much lighter. The automatic transmission is operated via a small lever located just below the tachometer and speedometer in the centre of the dashboard. Gears are selected from left to right, P. N. D. R. Blip the accelerator and you are rewarded with the mellifluous bellow of that glorious straight-six engine, the note even more accentuated through the stainless steel exhaust system.
Running on crossply tyres (fitted in 2012 costing £1200) and progressing along less than perfectly surfaced roads, did make for an interesting drive, but everything seemed to be fine, especially the efficiency of the brakes, which were superb, with a most reassuring retardative bite. The straight-six engine pulled strongly, but we did detect a slight hesitation and it wasn't running as sweetly as it could.
Vendor Stuart Isaacs assures us that the engine has been the subject of a full tune-up, but with the car having been standing for sometime, he reckons it needs nothing more than a long blast up the motorway, which would do it the world of good. We didn't have this opportunity, but Stuart has been selling cars for almost 45 years and knows his stuff!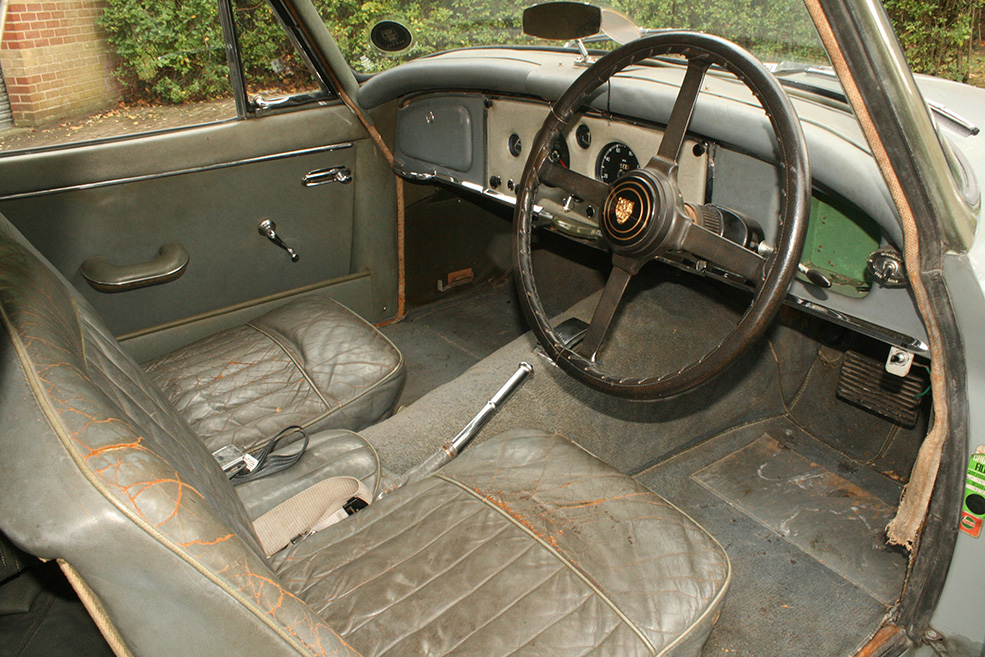 VERDICT
An incredibly rare opportunity to purchase a fabulously original XK150, complete with a bespoke set of luggage, buff log book and documentation. A car is only ever totally original once, it can be restored any number of times. This car is to all intents and purposes all about preservation, not necessarily restoration. Paradoxically it would almost be sacrilege to complete a nut and bolt restoration!
It's fully usable in its current condition, but needs a new owner who understands the full concept of originality and patina. However, should that owner decide in a few years time to undertake some sympathetic refurbishment, perhaps a repaint and re-trim, this is still a wonderful solid example to begin with. We say leave it as it is for the time being and revel in patination!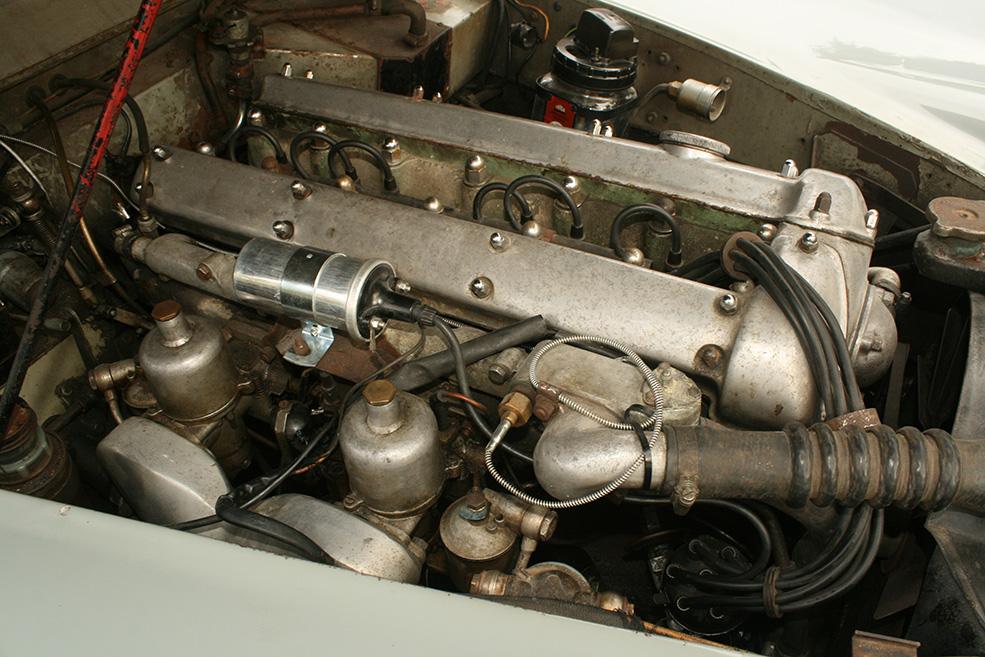 TECH SPEC
Engine: 3442cc
Power: 210@5500rpm
Top speed: 132mph
0-60mph: 7.8 secs
Economy: 22 mpg
Gearbox: Three-speed automatic