If you're not a slave to originality, the E-type Series 3 has massive potential. We sample one man's vision of a sharper V12 with input from some famous Jaguar names
In the world of performance cars, the options for someone wanting just that little bit more are endless: BMW can offer you a Competition model of most of its M cars, a Golf GTI can be ordered in Clubsport guise and of course Jaguar's own R and R-S models of recent memory added a decisive edge to already quick cars.
No, it's not a new phenomenon and the cash cow that is the determined petrolhead has been exploited ever since the days of the BMW 3.0 CSL and Porsche 911 RS. Back then though, Jaguar's SVO-modified range-toppers were still in the distant future and when it came to the Series 3 E-type the standard showroom model was pretty much your only choice. Although quite possibly it was felt that 5.3 litres of V12 power was quite sufficient for anyone buying a road car.
Which is why if you want the equivalent of an E-type 'R' then you'll need to build it up yourself and that's precisely what Colin Horwath, the owner of this 1971 example, did. The roll call of people involved in its creation also gives it a nice Jaguar link: the engine work was performed by a former development engineer and the car was set up by the grandson of the firm's former chief engineer.
The car itself left Browns Lane on June 10, 1971 as a Regency Red coupe with Cinnamon interior and factory-fitted manual four-speed, its destination being the USA – rather chillingly listed in the build sheet as 'British Leyland New York.'
Its eventual home wasn't the damp East Coast though, but the deep south: Georgia to be exact, where the climate is rather kinder to mild steel sports cars and presumably its first owner enjoyed the factory-fitted air conditioning.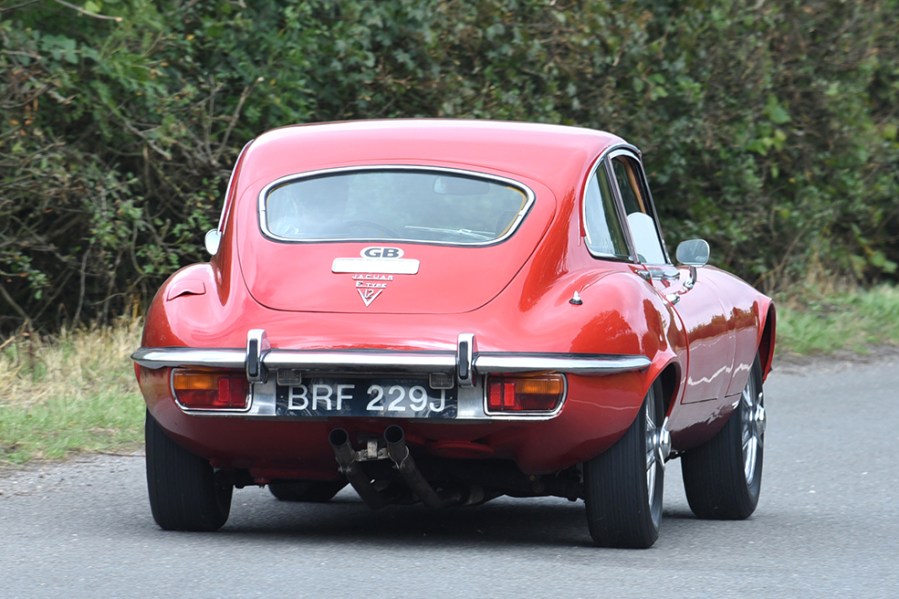 Two decades later the Jaguar found itself returning from the USA courtesy of Don Law, who back then was just starting out in a business which would grow to become the global centre of knowledge for all things XJ220 – and who would eventually be handed official responsibility for the cars by Jaguar itself.
Back in 1989 though, the company letterhead still mentioned 'E-type a speciality' and the story goes that Don had originally imported the car for himself. When Colin expressed an interest in it though, the two came to a deal and the original correspondence remains in the car's history file. For the agreed purchase price the car was to be MoT'd, repainted in Signal Red and generally tidied up, Don pointing out even back then that a manual V12 was a rare proposition.
It was in this form that a presumably delighted Colin ran the car for a while, the left-hand drive not presenting an obstacle. "I'd always intended using the car abroad," he explains and at the time converting it to right-hand drive would also have meant losing the air conditioning. What he did do though, after driving the car for a year was replace the original Jaguar four-speed box with a Getrag five-speed and it was at this point that another famous name entered the picture: the late Ron Beaty, legendary Jaguar engine builder and formerly a development engineer working on the V12 and XJ13.
Fast forward some seven years though and our man found himself wanting more excitement than the standard 5.3-litre V12 could offer and another call was made to Ron Beaty.
A self-confessed hoarder when it comes to the car, Colin naturally still has the invoice from Ron and it makes fascinating reading. The innocuous line "Remove engine, gearbox assembly. Refit after rebuild," neatly glosses over a major makeover which saw the engine bored out to Ron's popular 5.7-litre capacity, receiving new pistons, liners and crankshaft in the process.
Being a US-spec car, in its standard form the E-type would have been down on power compared to the European-market cars – Ron himself claiming in a Motorsport interview back in 1972 that the emissions kit alone is responsible for losing 50bhp. Unsurprisingly, the engine work decisively altered that and it's testament to the excitement it added that Colin has been enjoying it ever since. "Ron did offer me a six-litre engine shortly after it was finished," muses Colin. "I did consider it…"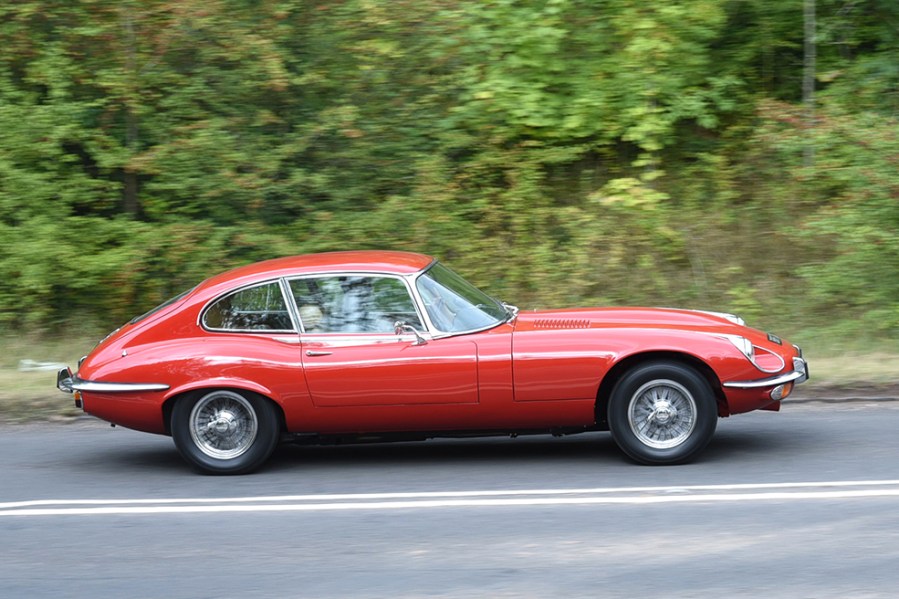 The story doesn't end there though. By 2011, the paintwork needed tidying and the car received its second respray in the brighter Signal Red it had worn since 1989, Colin particularly pleased when the bodyshop reported that remained was very solid.
A few niggles needed sorting though, including some broken dash vents which were letting the side down, but Colin remembers finding it hard to find anyone to take on the work. Until, that is he found William Heynes in Warwickshire who was happy to sort it out and also converted the hubs to take wire wheels. While the car was in the workshop, some floorpan rust was sorted out, while much attention was also put into getting the non-standard carburettors set up properly. It was also discovered that the car was running at the incorrect ride height and it was duly restored to the standard height.
As we discovered during our short test drive, the net result is an E-type which is really very well sorted and far, far sharper than any Series 3 we've sampled before. The Getrag box involved re-routing the exhaust and we imagine Colin needed little persuasion that a straight-through system was the way to go. The sound is quite unlike any roadgoing Jaguar V12 you've heard before, certainly in road car form and when Colin fired it up for the first time it put me in mind of the XJ13 I'd watched in action just a few days earlier.
Even manoeuvring the car out of the driveway, it's obvious that the Beaty engine is noticeably more responsive than standard, but vicious speed bumps on the residential street initially reduce us to a crawl for fear of ripping something expensive from the underside.
No matter, it gives the engine a chance to warm through and also gives me a few minutes to acclimatise to the left-hooker layout before tackling the urban traffic. I'm no stranger to driving left-hand drive cars on UK roads, but most of them have been American cars bulky enough to encourage you to hug the kerb and bounce along in the gutter. Not so with the E-type which betrays its 1950s origins with a width of just 66 inches which makes it easy to live with on British roads.
Which is just as well when the traffic clears and we can finally discover what a 5.7-litre, five-speed E-type has to offer. A huge amount of fun, as it turns out but also coupled with something of a split personality.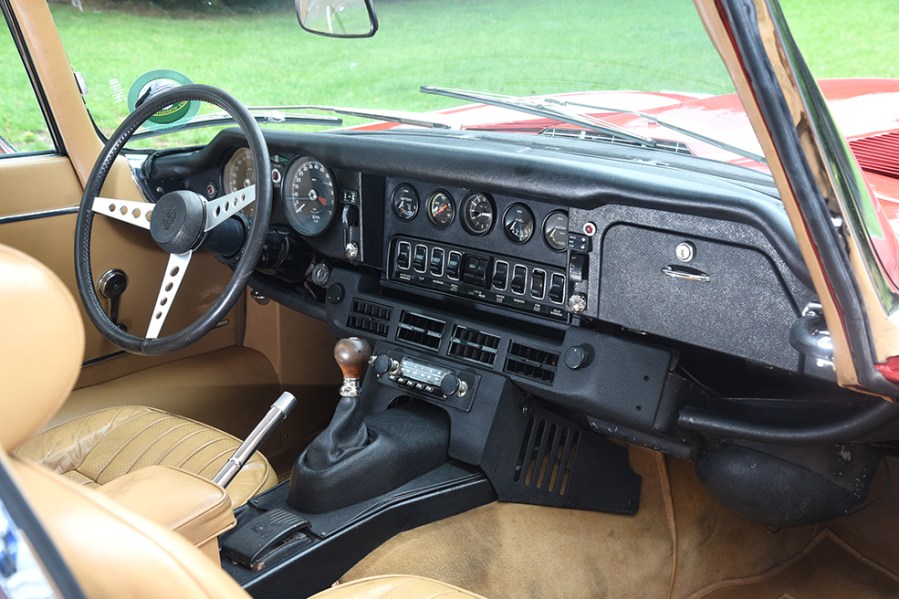 Crack the throttles open in a low gear and the E-type really takes off, the Beaty engine spinning far more eagerly than any factory-spec Series 3 I've encountered and the experience accompanied by a tremendous exhaust note. The Getrag box offers a tight gate with minimal lever movement between gears which takes some getting used to, but once you've mastered it, the close ratios transform the car over the factory four-speeder. Oh and the slight crackles and pops on a well-executed downshift remind you that you're driving a car which in engineering terms is every bit as sophisticated as any product of 60s Modena.
At heart of course this is still an old car by any standards, meaning caution needs to be exercised when wielding what is generally reckoned to be over 300bhp in a 1500kg chassis but one thing which is particularly reassuring is the brakes. Big four-pot AP calipers, they really work well with a progression which suits the car nicely.
The love of old cars isn't all about headline power outputs and red mist though and one area where a modified classic which often fall down is when the photographer asks you to make a repeated series of passes for some panning shots. Constant bouts of accelerating past the camera, finding a convenient spot to turn round and then repeating until commanded to stop is often where heavy steering and overworked cooling systems start to make themselves felt, but Colin's Jaguar behaved itself perfectly, neither driver or machine getting hot and bothered.
And when, with photography chores done, we reluctantly turn the E-type round and head back to return it to its owner, the other side of its character is revealed. Slipping the Getrag into fifth, the engine revs are reduced dramatically to the point where 40mph is achieved at a little over 1500rpm, the immense torque maintaining this even uphill. A quick bit of mental arithmetic reveals that this translates to vastly reduced engine revs at motorway cruising speeds over the four-speed box and gives the E-type the long-legged cruising ability Colin was after originally. Speaking of which, he admits that the usual pressures of everyday life mean the Jaguar hasn't spent quite as much time in Europe as he'd have liked but he has managed a few enjoyable trips across the Channel, one memorably involving a blast along the Mulsanne straight.
In a similar vein, it's lack of use which has ultimately meant he's made the decision to move the E-type on to a new owner. With an X150-generation XKR on the drive, he'll still have a very fast Jaguar on the premises and were sure we heard him mention something about an XJS as we were leaving.
You'll find the uprated E-type in the September 24 Classic Car Auctions sale at the Warwickshire Event Centre, with viewing on the Thursday and Friday prior. The guide price for the E-type is £48,000–56,000 and you'll find more details at www.classiccarauctions.co.uk