Never officially sold in Britain, the original Twingo was a masterpiece of small car design and a worthy successor to the likes of the Citroën 2CV and the Renault 4. But is it a future classic?
If a classic car is one that perfectly embodies the time and place it was made in, then the case for the Twingo is already made. Few other cars are quite so quintessentially 'Ninties as the little Renault, looking as does like an iMac computer on wheels, packed full of bright-coloured plastics and garish neon-striped cloth trim. It is the automotive embodiment of 'funky'. It also perfectly encapsulates the optimistic mood of the early part of the decade. The Cold War was over, the Gulf War had been a walkover. The recession was over and the West was set for a high-tech, liberal, prosperous future for all. What better car to offer this world than a jaunty little economy car that was both functional and fashionable?
The Twingo's birth began in the early 'Eighties as the starting point for a project to replace the Renault 4. The R4 had been a decidedly practical car and early proposals for its successor looked at a small multi-purpose van but Renault's chief designer, Patrick Le Quément, wanted something more fashionable and with a broader appeal. He instructed his staff to turn the idea into an attractive city car that could comfortably carry four adults, plus an average load of shopping. It had to be light and agile enough for city conditions as well as capable of motorway use. Above all he wanted the car to be fun to own and drive, with a distinctive image and personality that would mark it out against more conventional rivals.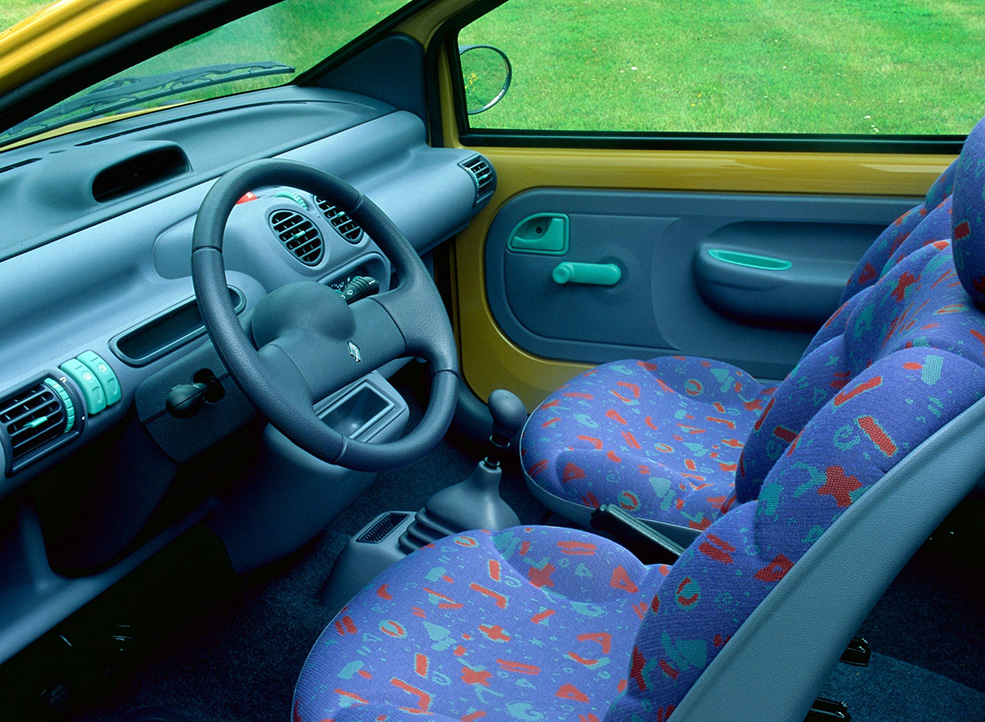 The finished product, launched in 1993, was just over 11 feet long and the 'one box' shape meant that the Twingo offered height, width and leg room that was better than anything in its class. The styling included slightly 'bug-eyed' headlamps and a smile-like grille aperture in the full-width unpainted front bumper (ideal for dealing with Parisian parking knocks). Like so many great small cars, the Twingo made styling details of its functional parts, with an asymmetric intake for the heater on one side of the bonnet and a large pantograph-type single windscreen wiper. The interior as made of durable moulded grey plastic with a centrally-mounted instrument pack and a strip of LED warning lights in front of the steering wheel. The rear bench seat could slide on rails to provide more leg room at the expense of boot space, or could fold forward for load-carrying. Alternatively all the seats could fold flat to create a bed for impromptu camping trips. The column stalk, the gear lever, the heater knobs, the door handles and other fittings were made from bright apple-green plastic.
Renault's marketing strategy for the Twingo was to emphasise its simplicity and let the car speak for itself. To that end there was only one trim level and one engine – a 1.2-litre four-cylinder unit with 55 horsepower. The only options were a full-length fabric sunroof and air conditioning. The initial adverts took an anti-consumerist stance – the Twingo was a car you bought for yourself, not to impress other people.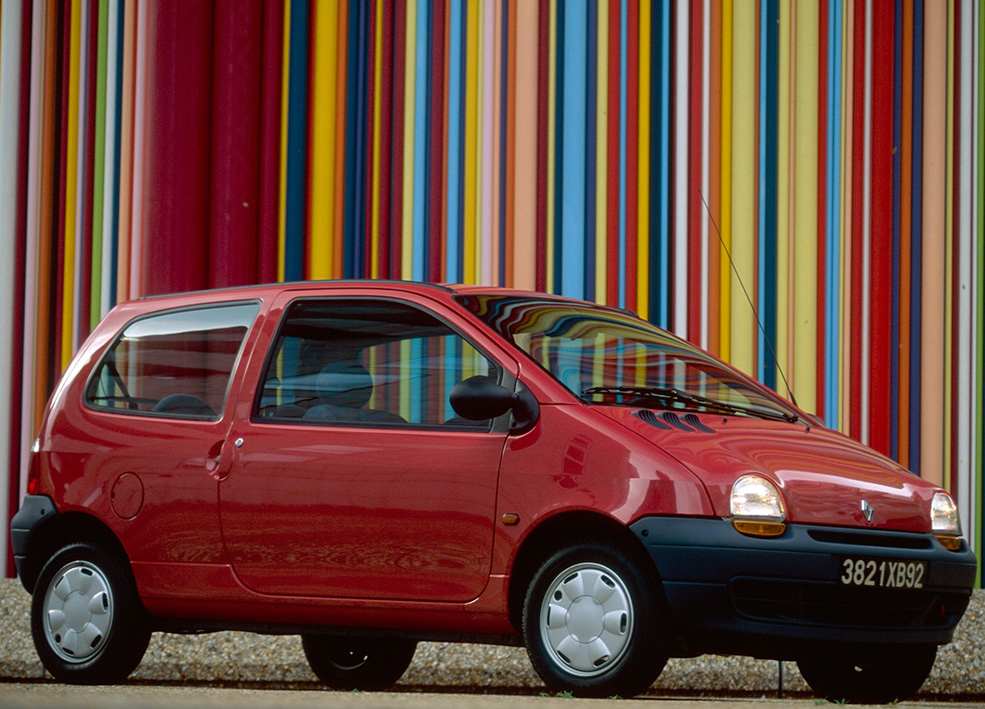 The Twingo was spot on. Like the Citroën 2CV and the Renault 4 it offered practical and economical transport at a low price, while also, in that uniquely French way, being packed with character and clever design that made it more than just a cheap small hatchback. Like its illustrious forebears the Twingo was soon ubiquitous all over France, in both town and country. Over 200,000 were sold in the first full year of production.
It wasn't long before British holidaymakers noticed the cute little hatchback with the funky colours and began clamouring for it to be sold in the UK. But the mechanical packaging of the Twingo meant it could only be produced in left-hand drive, making official imports on a large scale impossible. Continued demand in the UK led to several dealers ordering batches of left-hand drive Twingos, all of which sold almost instantly. Worried about legal ramifications Renault head office quickly put a stop to such deals, however many dealers found ways around the ban, such as guiding would-be Twingo buyers through the process of buying a car as a personal import while being sure to keep the dealer's name of any of the paperwork, or by reaching agreements with a local private dealer to import Twingos which the Renault franchise would sell as 'used' examples. By such means did a steady trickly of Twingos kept flowing into the UK. In fact the unobtainable, almost ilicit, nature of the car only added to its curious mystique, making this cheap hatchback a piece of exotica akin to a Ferrari or a De Tomaso.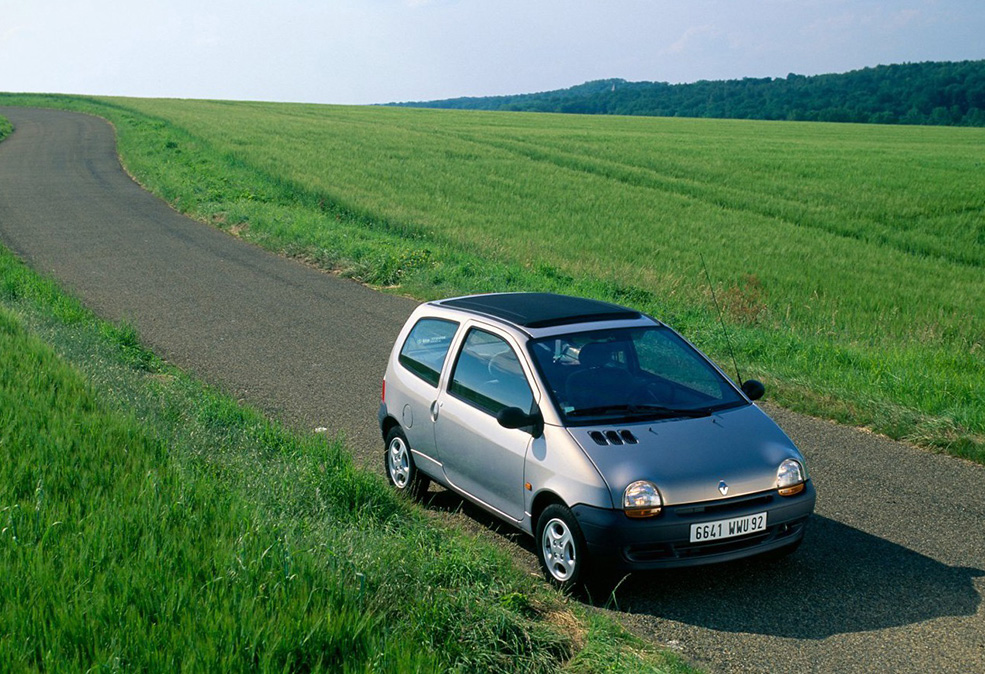 Like all the great European economy cars, the Twingo was such a sound design that it scarcely changed during its long production run, the biggest changes being the addition of a 16-valve engine and a semi-automatic gearbox as options in 2001. Production finally ended in Europe in 2007 but continued in Colombia until 2012.
The first Twingo is a truly worthy classic in its own right, but it also holds a special place in automotive history. It represents the last in the long line of 'people's cars', designed to be economical and functional but packed with clever design and advanced thinking. It is a car for all purposes and all people. It had no pretensions to be sporty or luxurious and made no statement about itself or its owner. It also marks the last time that French cars were unmistakeably unique to France, when going abroad meant encountering a motoring culture different to your own. That alone makes it worthy of classic status.