In the wake of the Ford Fiesta's demise after 47 years, we look back at the halo hero that turned the successful third-generation model up to 11 – the Fiesta RS Turbo
Words: Jeff Ruggles  Images: Paul Walton  With thanks to: WB & Sons
With Ford confirming that the Fiesta nameplate will finally be dropped next summer, there's understandably been an outpouring of emotion and affection for its long-running supermini. But while it's the Mk1 and Mk2 cars that tend to be remembered with nostalgic fondness and the Mk7 and Mk8 cars that continue to receive plenty of acclaim among pundits, we shouldn't forget the importance of the Mk3. Not only did it propel the Fiesta to the top rung of the UK sales charts for the very first time, but it also marked the transition of the sporty halo model finally going from lukewarm to hot – or from madras to vindaloo, as Ford put it.
Following its UK launch in 1977, it took the Fiesta a while to warm up. Early on, 'The Sporty Side of Fiesta', as the brochure exclaimed, was taken care of by the 53bhp 1100S and the 66bhp 1300S – the 1100 available from launch and the bigger-engined car a year later. In July of 1980, Ford created the Supersport as a limited-edition model of 3000 based on the 1300S and coupled with extras from the Series-X accessories catalogue. This in turn would be the forerunner for the 1.6-litre XR2, which got 84bhp and would crack 105mph – not bad at all for the period.
Come 1984 and the launch of the Mk2 XR2, the old Kent engine had been replaced by the same 1596cc CVH engine fitted to the Mk3 Escort XR3, thus upping power by 12bhp and resulting in a top speed of 112mph. For the later lean burn cars, however, power dropped to 90bhp, which meant the XR2 had lost some of the sparkle that had accompanied the Mk1 version.
The first-generation Fiestas were undoubtedly major successes, but the basic platform remained unchanged for 13 years. A car that had originally been launched to fend off the Peugeot 104, Fiat 127, Volkswagen Polo and the original Renault 5 increasingly found itself against much stiffer competition, such as Peugeot's ground-breaking 205 and the Vauxhall Nova.
The Mk3 Fiesta, on sale from April 1989, was Ford's response. One of the Fiesta's big problems was that the Mk2 was only available as a three-door, while almost all of its rivals were offered with a five-door option. But thanks to an entirely new platform with a wheelbase lengthened by 158mm, there was now space to incorporate the extra pair of rear doors if buyers so desired. The rear suspension was also switched from a beam axle to a semi-independent torsion beam set-up, improving the ride and handling. And, in a first for a small car, the Mk3 featured optional anti-lock brakes.
Five months later, the XR2 was back, but this time as the XR2i. It retained the 1.6-litre CVH engine but had fuel injection for the first time – boosting power from 94bhp to 105bhp. It still wasn't overly quick or even that dynamic, but it had blue piped bumper trim and came with quad driving and fog lights, so it certainly looked the part and was indicative of Ford's genius marketing ability.
Indeed, an impressive one million examples of the revamped Fiesta would go on to roll off the assembly lines in its first two years, and after topping those UK sales charts in 1990, it did so again in 1991. That began quite a legacy that would see the Fiesta as the UK's best seller in 1996, 1997, 1998 and each year from 2009 right through to 2020.
During 1990, the XR2i lost its position as the halo model. That honour now went to the 133bhp RS Turbo instead – launched as the first ever RS-tagged Fiesta. It essentially used the blown CVH motor from the Escort RS Turbo, but with a different intercooler, Ford's own EFI EEC-IV engine management rather than the Escort's Bosch system, a different inlet tract and a bespoke manifold. It also had the smaller Garrett T2 turbocharger rather than the T3, which spooled up at lower revs for greater response and less lag. The same tried and tested Ford B5 five-speed gearbox from the Escort was used too, but the Fiesta RS Turbo was equipped with a lower final drive for an even more eager response.
Elsewhere, Ford's famed SVE department tweaked the suspension with stiffer springs than the XR2i, plus gas-filled dampers, a rear anti-roll bar and a quicker steering rack. It also got new 14-inch wheels with 185-section tyres, becoming one of the very few cars to look good on three-spoke alloys in the process.
Otherwise, the Fiesta RS Turbo was externally similar to the already attractive XR2i, save for even cooler green detailing rather than blue, a colour-coded boot spoiler, bonnet vents and that all-important RS Turbo script on the rear. The interior was critcised for being too plain at the time, but you did get a leather-rimmed steering wheel and superb Recaro front seats – the latter becoming a legendary retro-fit upgrade for a host of other cars over the years.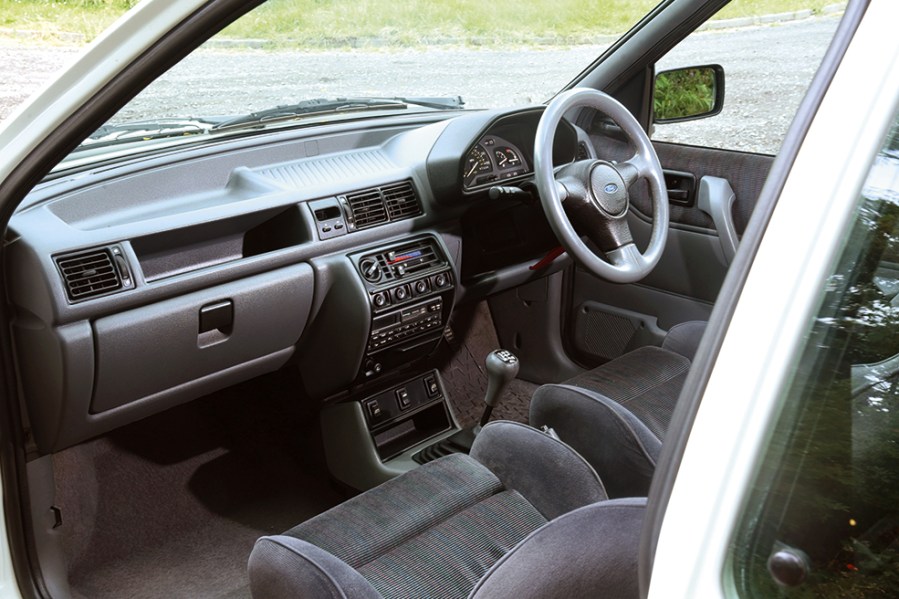 None of this came cheaply, it has to be said. Although the Fiesta RS Turbo was cheaper than a Peugeot 205 GTi 1.9, at £11,950 it was £1600 more than the 5 GT Turbo, over £2000 more than an Uno Turbo and even £455 more than the bigger Lancia Delta HF Turbo. In any case, buyers didn't have long to snap an RS Turbo up; the impending requirement for catalytic converters in 1993 saw the end for the blown CVH motor and the model would be replaced in 1992 by the RS1800 with its 130bhp, 1.8-litre Zeta (later Zetec) engine. Indicative of a wider move away from turbo'd engines to bigger multivalve units without forced induction, the RS1800 was competent but not as quick or boisterous as its predecessor. The spiralling insurance costs of the early 1990s did not help either, with the RS turbo being a particular target for thieves.
Around 4500 Fiesta RS Turbos were sold, but the further factors of galloping rust, accidents and bad modifications mean the model is now very rare. Fortunately, we were able to drive this 1991 example before it was hammered away for a staggering £24,725 by WB & Sons – that's just £341 shy of an auction record for the model. As an unmodified example with just 47,000 genuine miles, it gave us a real window back to the early '90s.
Settling into those Recaros and setting off on a drive, it quickly becomes apparent that this is a fast car even now. The Fiesta's 0-60mph figure of 7.9 seconds achieved when new is 0.1 seconds slower than a 205 GTI 1.9, but it's 0.7 quicker from 30-70mph and it's that mid-range shove you really notice – overtaking is effortless. The turbo lag is quite minimal by the standards of the day and so is any torque steer, though the latter does manifest if the car is being driven hard. And though the CVH is characteristically vocal when being driven hard, it's absolutely fine when cruising.
Less impressive is the gearchange, which feels rather vague and isn't helped by a long gearlever. And it's a mixed bag elsewhere, too. The seats are comfortable and hold you in place, but the extra stiff suspension makes things uncomfortable, especially on badly maintained roads. We wouldn't go as far as to say the ride is "simply inept" as per Autocar & Motor's review of June 1990, but it's not exactly the last word in refinement.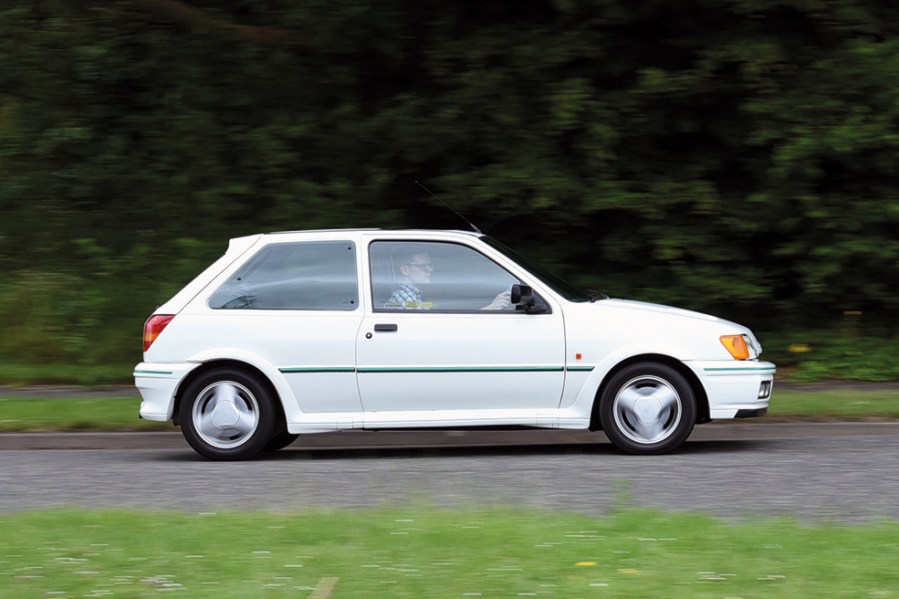 That stiff suspension does cut down on body roll though, and the quicker rack contributes to an impressive turn in even though the non-assisted steering is generally quite lacking in feel and very heavy at low speeds. The lack of precision is not as bad as many make out and a whole lot better than the 1.1 Popular Plus I used to own with a knackered universal joint in the column, but it's found wanting when compared to contemporary rivals. Thankfully, there's plenty of grip and Fiesta puts its power down well despite the lack of LSD. I didn't get close to any hairy moments, but I experienced enough to conclude that you'd have to be really going at it or experience a serious bump mid-bend to get the car out of shape.
Besides, it's a lot easier to see where you're going than in today's bulky hot hatches. Visibility is excellent and there's a simplicity to the whole car that borders on rudimentary but is very endearing. It's an attention grabber too, thanks to its sporty bodykit and green detailing, which is just how a hot hatch should be.
Ford Fiesta RS Turbo: our verdict
As dynamic or as engaging as a 205 GTi the Fiesta is not, and for the same money as a good one you could buy a Mk8 Fiesta ST, which is leagues ahead to drive. But that would be missing the point. Ford's uncanny knack of making you want their cars even if they weren't at the forefront of their game still holds true for the RS Turbo more than 30 years on. It still looks fantastic to my eyes, and takes me back to a golden era of hot hatches before huge insurance costs led to real lull for the genre – by late 1995, the fastest Fiesta had a 1.4 engine.
There are better hot hatches than the Fiesta RS Turbo, of that there can be no doubt. However, there are very few I'd rather look at and jump in for a drive every so often.