Almost 60 years ago, on a sunny Friday, December 5 and with much press fanfare, Prime Minister Harold Macmillan took his seat in the back of a black Austin Sheerline limousine. Setting off from what is now Junction 31 of the M6, it officially became the first car to travel on the new Preston By-Pass – the inaugural British motorway. Today, though, the eight-or-so miles between junctions 29 and 32 of the M6 would appear to be just another stretch of UK motorway that we've come to take for granted. And yet it's surely the most historically significant stretch of all.
The plan for a by-pass had its roots back as far as 1937, when 200 impressed delegates travelled to Germany to view autobahn construction. Among those taking in the sights was James Drake, a long-time motorway advocate who would become Surveyor and Bridgemaster for Lancashire County Council in 1945.
Drake's persistence saw the Minister of Transport eventually give the go-ahead for the by-pass in 1953, with construction beginning in June 1956 which saw completion in December 1958.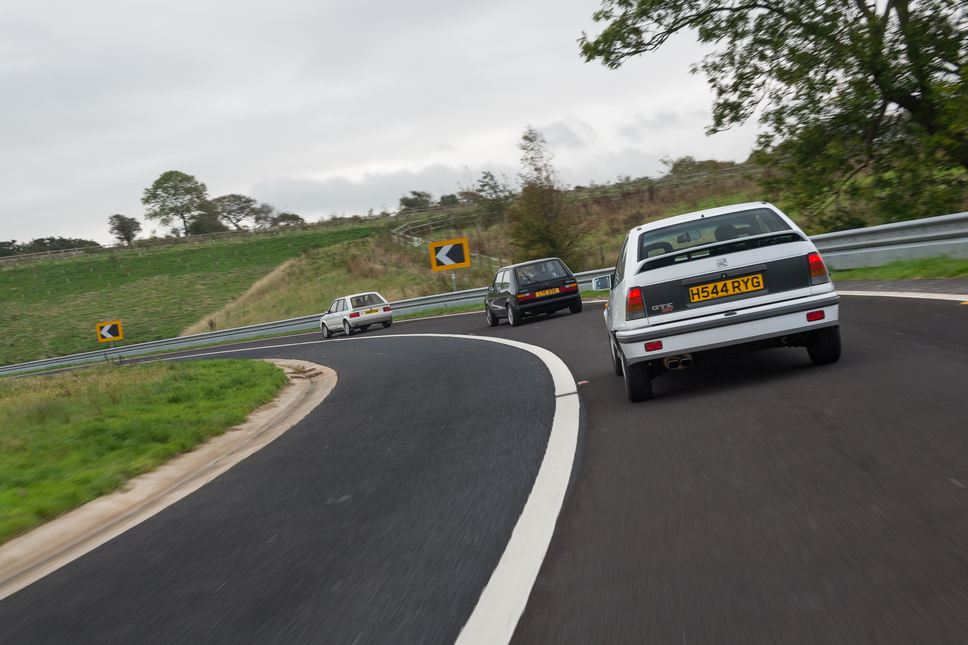 The by-pass comprised of 22 bridges, two of which were viaducts crossing the valleys at Walton Brook and Salmesbury; a roundabout on the A6 at Bamber Bridge and a roundabout marking the end of the by-pass near Broughton.
More important was what the first motorway symbolised. Britain was a country on the brink of new, modern era in 1958. The Conservatives had swept to victory in 1951 with a promise to "Set the People Free," rationing had come to an end and young people were demanding a new freedom. Built with almost no opposition at all, the motorway accelerated that freedom. This was a brave new world for the motorist.
The route
To mark the 60th anniversary of the by-pass, we wanted to celebrate that sense of freedom. We opted to pay tribute to the first road that brought such excitement to the masses with a genre of vehicle that would do just the same 20-odd years later; the hot hatch.
The choice of cars were Vauxhall Heritage's very own Mk2 Astra GTE 16v, an MG Maestro 2.0-litre and Lancaster Insurance Services' Mk1 Golf GTI. Best of all, the Golf could be yours – Lancaster will be giving it away to a lucky winner, with online entries closing on November 30. You can enter and see the car for yourself on its stand at the Lancaster Insurance Classic Motor Show, with Discovery, which takes place at Birmingham's NEC from November 9-11.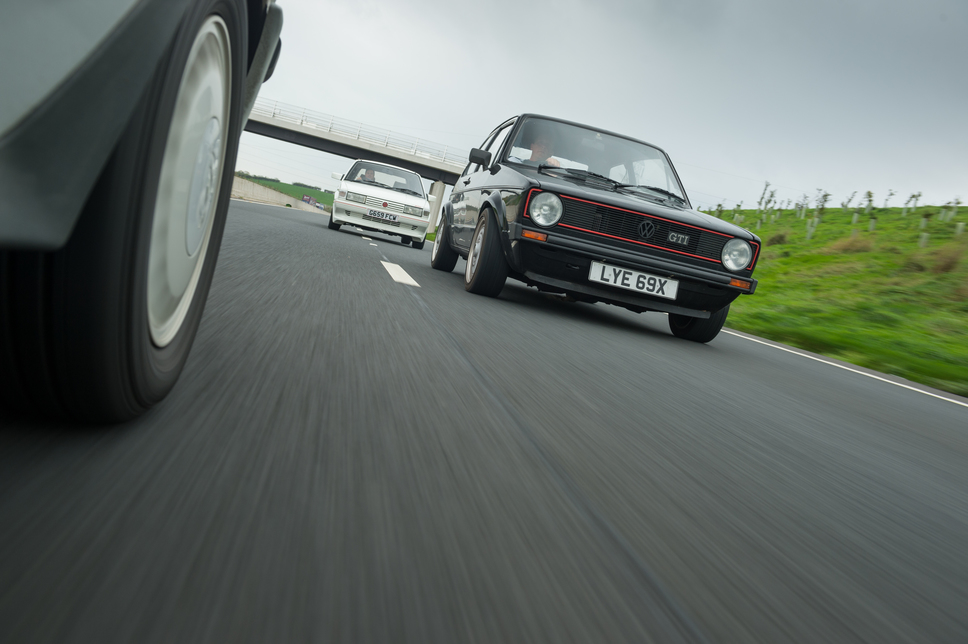 The trip aptly began in Lancaster with the first leg of the journey being a short haul up to Lakeland Motor Museum in Backbarrow, south Cumbria. Despite turning up unannounced, the staff were more than happy to accommodate us with photo opportunities and even a tour of the museum.
The collection of 30,000 exhibits includes well over 150 classic cars and motorbikes of all ages, with everything from pre-War machinery to a one-off TVR Cerbera Speed 12 road car, and everything in-between.
From here there was time for a quick stop by a drizzly Lake Windermere before we headed south again, bound for Morecambe seafront. A new series of dual carriageways and roundabouts en route to the Lancashire resort proved ideal for our motors – especially as the roads were now dry. The Astra was comfortably the quickest, with the Golf providing the swansong for looks. The Maestro was perhaps the underdog, but its low-down torque and good appearance, it fared well in tough company.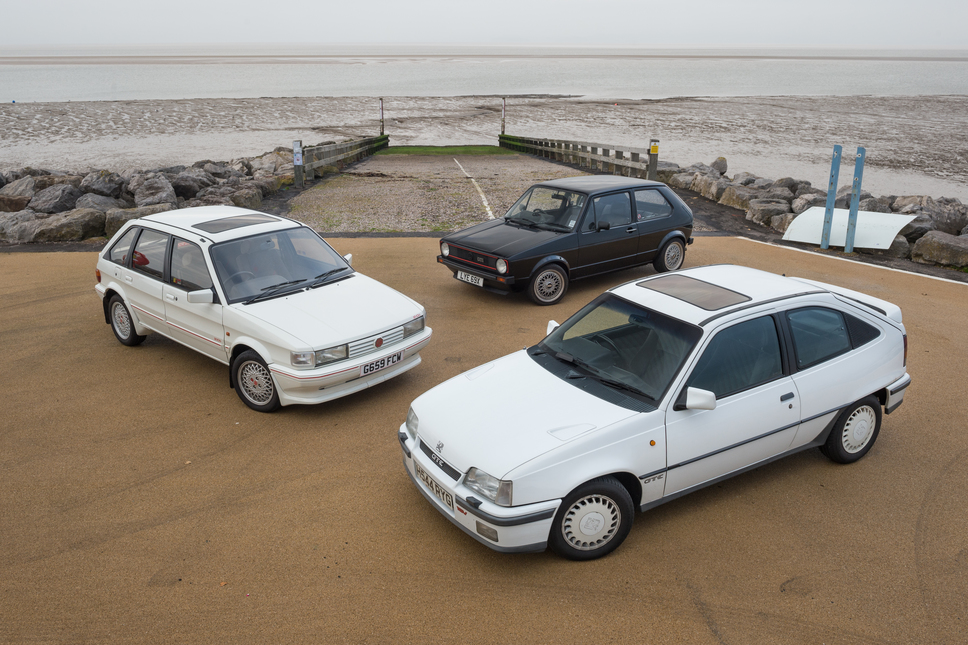 With Morecambe in the background, we headed back down the M6 to one of its most notable spots:  Forton Services. This is not part of the by-pass, but has become an emblem of the area in its own right thanks to its Oh-So-'Sixties Pennine Tower. The tower was designed to resemble an air traffic control tower, and originally featured chefs manning a swanky restaurant at the top. Unfortunately the top part is now off-limits and the dining experience is somewhat subdued.
From Junction 32 we were on the Preston by-pass good and proper. Back when it was opened, nobody knew how drivers would behave on this new road specially designed for speed and ease of movement. Indeed a 'Motorway Code' was widely distributed to educate drivers, but such advice wasn't always heeded to.  With frequent high-speed accidents occurring on the M1 in particular, a temporary 70mph speed limit was introduced on motorways and made permanent by Barbara Castle two years later.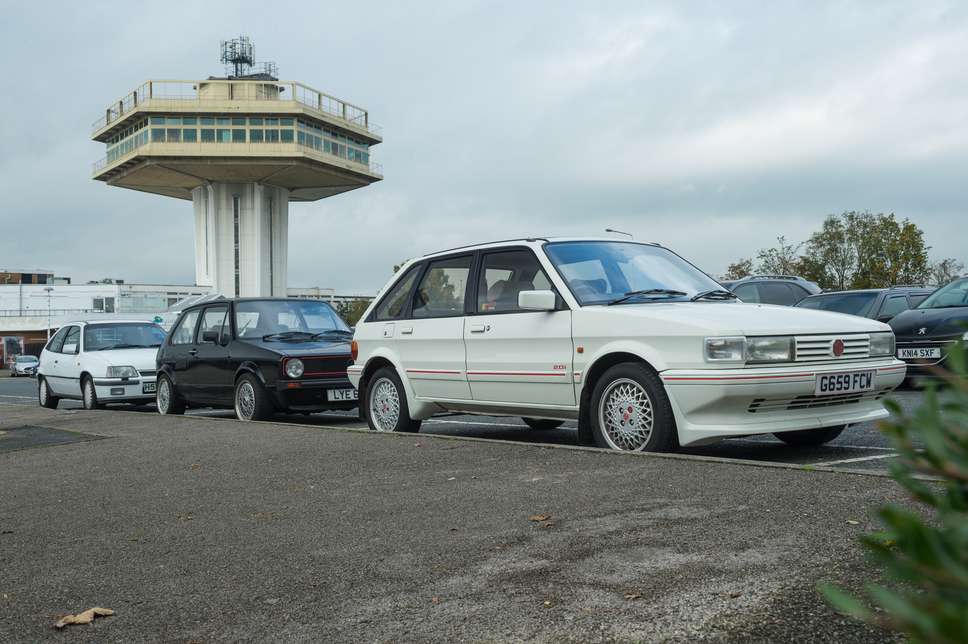 The early years of the Preston by-pass saw changes came thick and fast. One of the first things to be improved were those inadequate hard shoulders in 1965. By 1966 it had been widened to accommodated three lanes in both directions. Despite this, traffic still built up and a proper solution arrived in 1995 which widened it again to four lanes between the M61 and M55.
The Samlesbury Interchange was part of the original by-pass formation and was a fitting end to our trip. We'd love to say we planned it, but it was by chance we stumbled upon the commemorative plaque unveiled back in December 1958. We couldn't resist a photo!
Verdict
With our trip at an end, that just left us to ponder on our cars. Which was best? With everyone a staunch advocate for their own choice of wheels, any conclusions were tough. Perhaps surprisingly, the Maestro elicited the most popular response among our social media audience, though if you'd have asked any of us which car we'd have driven home there and then, it had to be the ultra-rapid Astra. For sheer desirability though, the winner had to be original hot hatch – the iconic Golf. It's going to make someone very happy when the keys are handed to a lucky new owner, but until that happens, we can reflect on a job well done by three great cars. All represent a lot more than just transport, and as we discovered, so does an unassuming stretch of the M6 near Preston…