Elegant, luxurious and expensive, the Bentley Continental is one of the finest examples of the breed. We get behind the wheel
Words: Aaron McKay
The image conjured by the words Rolls-Royce or Bentley is normally of a richly adorned limousine, the shape of a Phantom or perhaps a Bentley Mulsanne. But there is magic beyond the familiarity and function of these cars, and for years it has been a spell cast by coachbuilders.
Commissioned officially by Rolls-Royce, in 1966 Mulliner Park Ward produced a two-door saloon version of the Silver Shadow, and then a convertible in 1967. They would outlive the Silver Shadow, gaining a separate identity first under the Corniche name from 1971, then becoming exclusively dropheads from 1981 and finally from 1984 until the end in 1995 it was the Bentley Continental and the Rolls-Royce Corniche. Through their 27 years, these models were constantly developed and by the time the car on test here was built in December 1991, there were some substantial improvements over the original MPW cars. The engine size had increased from 6230cc to 6750cc, there was now fuel injection, rack and pinion steering, the Silver Spirit's new rear suspension, ABS, electronic engine management, and all sorts of cosmetic details changes.
It can seem a bit silly that Rolls-Royce once wouldn't disclose the power outputs of its engines. Working back from the performance, good estimates have been ascertained in the region of 230bhp. You could also take a tape measure out along a Corniche's full length and you'd measure it to be 5258mm – just as long as the Silver Shadow in fact. And in case you wanted to know, a 1974 Autocar test informs us that just 40lb of force on the brake pedal is required for the Corniche to produce deceleration of 1g. That none of this matters is immediately apparent as soon as you see the car, and a whole new set of rules is established as soon as you drive it.
There's no denying that this 1991 Bentley Continental is a large car, yet it also couldn't be accused of being too big or too small. It is simply perfectly proportioned, managing to be both imposing and elegant simultaneously. This example makes the very most of the colour-coded bumpers by featuring optionally colour-coded bumper tops and grille veins too, something which gives it an even lower visual stance. Twin coachlines trace a swage line substantially lower than on the Silver Shadow, and with the wing tops given more substance the headlights appear to sink deeper into the bonnet. You can even begin to try and perceive the extra three degrees of forward rake on the grille (added from the 1971 Corniche on). The stylist's flick over the rear wheel gives it substantial visual weight at the rear, and it looks more planted to the road, wider too, but in fact it's no wider at all and the wheelarches are actually less flared out than on the Silver Shadow. It's all backed up with fascinating detail once you get closer too, from the intricate alloy wheels, deep paintwork (this is Royal Blue), to the beautifully simple door handles.
The interior is trimmed from floor to ceiling in rich materials, and there is that classic full-width facia of glossy veneer across the dashboard, here in English Light Oak. On this later example the centre console rises up more dominant into the dash, helping to group together six minor gauges including an analogue clock.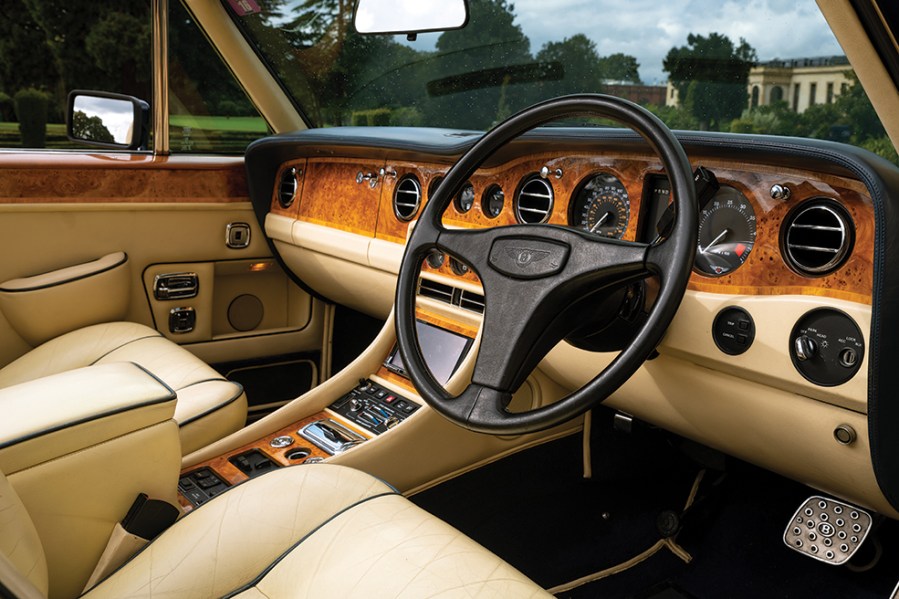 Follow the console down, away from the traditional show of chromed air-vents, the fine inlays of wood and stitching of leather, and it fades a little into the 1990s – if you're to ignore the Alpine head unit here. Below this are the neatly arranged upper and lower heater controls, and further back are those for the electric seats along with memory function and two-stage heated seats. There is a deliberate use of chrome on the climate controls and the electric mirror controls too, but the seat controls are more Mercedes black plastic than coachbuilt wonder. It's here that the catching up to technology is most obvious, particularly when you compare with the unchanged electric window controls on the doors.
A turn of the dash-mounted ignition key and somewhere in the distance a V8 stirs quietly. A nice touch is that the floor-mounted parking brake releases automatically when you engage drive, making a little electric whir as it does so. Then you proceed. It's all so quiet and relaxed that your inputs quickly acclimatise to suit, a gradual squeeze of the throttle and measured, consistent movements of the wheel keeping that bonnet hovering over the road smoothly.
It's all set up to let you drive like this, and the brake pedal, while surprisingly full of positive feel, has just the right amount of assistance and progression to allow effortless and imperceptible stops.
With big, soft but supportive seats, well-placed arm rests, and a generous amount of room in the back, the Continental proves to be exceptionally comfortable for four adults. In the front, powerful heated seats and a heating system that quietly wafts warm air around you means that even in the crisp autumn air, having the roof down is a real treat. There's a surprising lack of buffeting, although the high back including the roof cover will be at least partially responsible for this.
Prod the throttle and the car responds immediately, but it's better to lean into it and let the nose lift slowly. The rev-counter will climb too, not too quickly as its main hauling gear between 35 and 80mph is second gear but there is enough shove that often you are happy with just a little less than full throttle to really get a move on. With anti-dive geometry built into the front suspension, there's actually less drama in scrubbing off speed than there can be with an aggressive bout of acceleration.
This car has the famous Harvey Bailey handling package and so this surprising degree of composure continues not only through the corners where it rolls far less than you'd imagine but maintains excellent control over bumps and directional changes at speed. This is even more useful today, when modern traffic tends to demand higher speeds over roundabouts and through other technical sections. While this would normally upset passengers in a Rolls-Royce or traditionally sprung Bentley, with better control and less roll everyone is happy inside the car as well as the impatient, unrespecting folk outside.
While its talents are obvious at a standstill or at a low speed cruise, showing off its looks or simply luxuriating its passengers in some scenic place like the Riviera, the Continental also fully lives up to its name as a conveyance across borders. It has a huge 23.5-gallon fuel tank, even if that still only means a 300-mile cruising range, powerful headlights, and tall gearing of 26.2mph per 1000rpm, with the torque to back it.
It's also wonderfully quiet, even with that vast fabric roof threatening to cause a nuisance – it simply doesn't. Multi-layered, precisely fitted and with luxuriously soft headlining it doesn't utter more than a whisper of wind noise at motorway speeds and is also impressively watertight. Luggage space is good too, providing more than enough opportunity to pack multiple outfits for different occasions, although it might be a squeeze for four passengers over anything more than a weekend.
A Rolls-Royce or Bentley is a special car. The two-door saloon and drophead coupes that became Corniche and Continental are special examples of that breed. In the same way that you might compare one with a Mercedes, or even a Silver Shadow with a Corniche, it's more than anything that could be put down on a Top Trumps card. These are cars that are beautiful to behold, to be driven in and to drive, in ways more than can be measured.
Of course, there is one measure that comes somewhere close to pinning a quantity to it however, and that's cost. While a Silver Shadow might cost you £20,000, even a middling condition Corniche will be in the region of £50,000. An early Mulliner Park Ward drophead coupe or a late Bentley Continental like this one will command a premium, and once in a condition good enough for the shows prices rise to well above £100,000. Values are bound to appreciate over the long term, perhaps not dramatically, following the trend of the Silver Cloud and Continental of the previous generation.
There is also the point that the SY generation is becoming increasingly noted as something of a last of an era, and the Corniche/Continental really do push the timeline an exceptional distance into the 1990s. The interesting thing to consider, too, is that while any Rolls-Royce/Bentley is going to be a considerably expensive car to own, relatively speaking it would be the dropheads that are most worth keeping. In for a penny, in for a dollar doesn't seem quite right, but whatever it is, you'd certainly net a whole lot of sky and that something else unquantifiable.